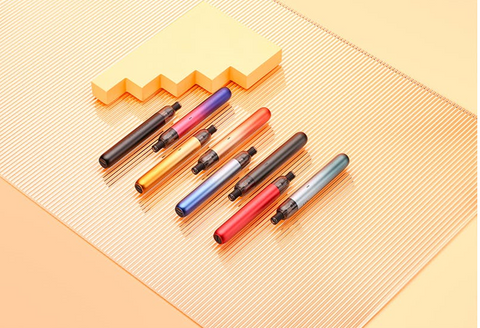 Compact is the word when describing these vape pens. The Wenax series is not called the Lightest Flavor Vape for nothing. Many vape pens would boast of portability but theirs is nothing compared to the Geekvape Wenax series. Studying the design, one would almost think the manufacturers were being very particular about its minimalist design. In this product review, we will explore the general features and functionalities of the Geekvape Wenax, shedding light on its design, performance, and overall vaping experience.
What is Geekvape Wenax vape?
The Wenax series was produced by the GeekVape company in China. The Geekvape Wenax is a vaping device that combines compactness, simplicity, and portability for a satisfying vaping experience. Designed with user-friendliness in mind, this device is perfect for both beginners and experienced vapers looking for a convenient and hassle-free option. Whether you're on the go or simply prefer a compact setup, the Wenax offers a range of features that make it a popular choice among vapers. Asides from the Wenax series, Geekvape also has other amazing series that you can try out as well, however, the Wenax series is one of the best Geekvape has to offer.
General Features
Design
The Wenax is designed to be small and lightweight, making it easy to carry and use on the go. This device is also known as the Lightest Flavor Vape, hence, it can fit into your pockets or purses and gives you that seamless and discreet vaping experience.
Some versions of the Wenax have an adjustable airflow system, allowing you to customize the airflow to your preference ranging from Mouth-to-Lung (MTL) to Direct Lung (DL) draw. Despite its compact design, the  Geekvape Wenax vapes  come with  safety features such as short-circuit protection, low voltage protection, and overheat protection.
Pod System
The Geekvape Wenax vaping device uses a pod system, which means you can fill the pods with your preferred e-liquid or use pre-filled pods, depending on the model. Although it originally comes pre-filled with nicotine salt e-liquid, you can either replace it with pod or refill it once the e-liquid is depleted.  The only issue is that it might not be easy to refill considering its minimalist design.
Battery
The Wenax is powered by an internal rechargeable battery. The capacity and charging method may vary depending on the specific model. For instance, the Wenax M1 series comes in a battery capacity of 800mAh, while the Wenax H1 series comes in a battery capacity of 1000mAh.
Depending on the Wenax series, the Geekvape Wenax may have a fire button for manual activation or be draw-activated, meaning you can inhale on the device to activate the heating element. The draw activated system however helps to conserve battery more than those that come with buttons.
Flavors
Just like every other vaping device, the Geekvape Wenax series is flavored as well. The fact that it has a minimalist design doesn't mean that the flavor has been compromised. It delivers topnotch flavors without leaving you with a burning or itching sensation in your throat.
Relevant Youtube Videos on Geekvape Wenax Vapes
Reviews: Are Geekvape Wenax vapes good?
Geekvape Wenax M1
The Geekvape Wenax M1 sets a new standard for compactness as the smallest Wenax device to date. Designed in the form of a sleek vape pen, or as Geekvape describes it, the shape of a cigar, this device offers a perfect balance of portability and functionality. With its simple and intuitive design, the Wenax M1 is an ideal choice for both beginners and experienced vapers seeking a hassle-free vaping experience.
The Wenax M1 utilizes replaceable pods that can hold up to 2 mL of e-liquid. These pods are available in two different resistances, allowing you to tailor your vaping experience to your preference. Powered by an 800 mAh battery, the Wenax M1 offers ample battery life for on-the-go vaping sessions. Charging is convenient and efficient with the included Type-C charging port.
Simplicity is key with the Wenax M1, as it features no buttons or airflow adjustments. It is a purely auto-draw device, meaning you can simply inhale to activate the device and enjoy a smooth and satisfying vape. This straightforward approach makes the Wenax M1 one of the easiest refillable vapes available on the market, particularly suitable for those new to vaping.
Features
Dimensions: 16 mm x 115.5 mm
Weight: 34 grams
Stand-by current: up to 15 uA
Capacity: 2 mL of Nicotine Salt Concentration
Battery capacity: 800 mAh
Output power: 9-16 watts
Resistance range: 0.4-3.0 ohm
Charging port: 5V/1A
Low voltage: 3.2±0.1 volts
Charging specification: USB-C
Pros
Very compact and lightweight
Excellent draw sensor
Good build quality (metallic construction)
Beginner friendly
Great medium to tight MTL draw
Good coil life and flavor
No leaking
Great battery capacity for its size
Cons
Mouthpiece is hard to clean
No info on battery indication LEDs
Geekvape Wenax H1
The Geekvape Wenax H1 takes the much-loved MTL (mouth-to-lung) draw from the Wenax line and elevates it with extra features for vapers who enjoy fine-tuning their vaping settings to achieve their perfect sweet spot.
In the classic pod vape shape and form, the Wenax H1 accommodates replaceable 2.5 mL pods, available in two resistances. Notably, these pods boast a five-layer anti-leaking design, ensuring that pesky droplets are kept at bay and away from the device's contacts. This advanced feature enhances the device's durability and reliability, ensuring a consistently smooth vaping experience.
Powered by a robust 1000 mAh battery, the Wenax H1 offers an impressive battery life that ensures extended vaping sessions without frequent recharging. The convenience of a Type-C charging port ensures quick and efficient charging when needed.
One of the standout features of the Wenax H1 is its versatility in vaping styles. Vapers have the option to use it with a button for manual activation or switch to auto draw mode for a more effortless and hands-free experience. This added flexibility allows you to choose your preferred vaping method based on personal preference or situational convenience.
Features
Dimensions: 22 mm x 13 mm x 113 mm
Battery capacity: 1000 mAh
Coil resistance: 0.4-2.0 ohm
Power output: 7-19 watts
Pod capacity: 2.5 mL
Low voltage warning: 3.2V+0.1 volts
Charging specification: USB-C Charging Port 5V
Stand-by current: up to 15uA
Pros
Simple and elegant design
Satisfying MTL draw
Anti-leaking pod design
Three power settings
Rubberized bottom to protect the device from falls
Cons
No charging cable in the pack
Need to tilt device to check e-liquid levels
Frequently Asked Questions (FAQs)
How do I fill the Geekvape Wenax pods with e-liquid?
To fill the Wenax pods, you need to remove the pod from the device and locate the fill port on the side or bottom of the pod. Open the fill port seal, insert the e-liquid nozzle into the port, and squeeze the e-liquid into the pod. Be careful not to overfill, and make sure to properly seal the fill port afterward.
How long does the battery last on the Geekvape Wenax?
The battery life of the Wenax can vary depending on the model and usage patterns. Generally, smaller compact devices like the Wenax have smaller battery capacities, ranging from around 600mAh to 1000mAh. This should provide several hours of vaping, but it's always a good idea to have a spare battery or charger available, especially for heavy vapers.
Are the Wenax pods refillable or disposable?
The Wenax pods come in both refillable and disposable options, depending on the specific model you choose. Refillable pods allow you to fill them manually with your preferred e-liquid, while disposable pods come pre-filled and are discarded once the e-liquid is depleted. It's important to check the product specifications or packaging to determine whether the pods are refillable or disposable for the particular Wenax model you have.
Can I adjust the airflow on the Geekvape Wenax?
Some versions of the Wenax may feature an adjustable airflow system, allowing you to customize the airflow to your preference. This feature can enhance the vaping experience by providing either a tighter draw or a more open airflow, depending on your personal preference.
Are there any safety features on the Geekvape Wenax?
Geekvape devices generally include several safety features to ensure a secure vaping experience. These may include protections against short-circuiting, low voltage, overheat, and overcharging. However, it's always advisable to read the user manual or product documentation for the specific model you have to understand the safety features and guidelines associated with it.
Best vape wholesale supplier-UPENDS
Indulge in an unparalleled vaping journey with UPENDS—a remarkable retailer specializing in high-quality vaping products at affordable prices. Positioned as a leading retailer in China, we take immense pride in selectively sourcing our products solely from reputable factories within the country. To guarantee a curated catalog that surpasses the highest standards of excellence, our team of experts in research and development meticulously vets each product.
At UPENDS, we present a diverse selection of disposable e-cigarette offerings that excel in quality, taste, design, and overall aesthetics. Immerse yourself in an extraordinary shopping experience by opting for UPENDS. Choose us, and we promise to deliver e-vape products that will provide you with unparalleled satisfaction.
UPENDS is looking for authorized disposable e-cigarette agents, distributors, wholesalers worldwide, if you are interested, please contact us now!