Geek Vape, a renowned name in the vaping industry, is known for producing exceptional mods that offer a perfect blend of portability and performance. With their innovative designs and cutting-edge technology, Geek Vape mods have gained a loyal following among users worldwide.
These mods prioritize both convenience and power, allowing users to enjoy a superior vaping experience wherever they go. Whether you're a seasoned user or a beginner, Geek Vape mods are designed to deliver optimal performance without compromising on portability.
In this article, we will explore the range of Geek Vape mods and delve into the remarkable features that make them stand out in the market. Get ready to discover the perfect balance of portability and performance with Geek Vape mods.
Geek Vape Mods products
Geekvape AQ
The Geekvape AQ (Aegis Q) Pod Kit presents a sophisticated and dependable vaping solution, offering an unmatched experience for enthusiasts. Crafted with durable aluminum alloy and adorned with sleek leather accents, this device incorporates tri-proof protection, ensuring your safety throughout your journeys.
Powered by an internal 1000mAh battery, the device boasts an impressive maximum output of 20W, guaranteeing a flavorful vape with dense clouds. The top-fill Q cartridge simplifies refilling, while precise airflow and output adjustments enable a personalized vaping encounter.
The Geekvape AQ (Aegis Q) Pod Kit offers options for draw or button activation, MTL & RDL choices, and the ability to fine-tune airflow and output, making it suitable for both new and seasoned vapers.
Specification
Power Output: 5-20W
Cartridge Capacity: 2ml
Coil Resistance: 0.80ohm
Battery Capacity: 1000mAh
Charging Port: Type-C
LED Indicator: 3 Colors (Green/Blue/Red)
Battery Status Instructions:

Red Light (<30%)
Blue Light (30%~70%)
Green Light (>70%)

Output Adjustments Instructions:

Red Light = 3.1V
Blue Light = 3.4V
Green Light = 3.7V

Working Temperature: -20°C ~ 60°C
Overtime Protection:

If one puff lasts longer than 10S+1S, the red light blinks 2 times, and the device stops working.

Short Circuit Protection:

The red light blinks 8 times, and the device stops working.

Low Battery Protection:

The red light blinks 5 times, and the device enters standby mode after 30s.

Weight: 49.4g
Features:
Easy Top Fill Design
Enhanced Tri-proof Safety Features
Accurate Airflow & Output Customization
Integrated 1000mAh Battery
Maximum 20W Output Capability
Choice of Draw or Button Activation
Supports Both MTL & RDL Vaping Styles
Geekvape H45 Classic
The GeekVape H45 Classic pod kit offers a compact, robust, and adaptable vaping solution. With its waterproof, dustproof, and shockproof features, this device is perfect for on-the-go vaping. Powered by a built-in 1400mAh battery and capable of delivering 5-45W output, it suits both MTL (Mouth To Lung) and DTL (Direct To Lung) vaping styles.
The kit includes a 2ml H45 pod and two GeekVape Aegis Boost mesh coils to kickstart your vaping journey. Setting up and operating the H45 is effortless, thanks to the Smart mode that automatically detects the coil in your pod and adjusts the wattage accordingly, removing any guesswork. For those seeking further customization, the Variable Wattage mode allows you to manually set the power output between 5 - 45W to achieve your desired flavor and vapor production balance.
Features
1400mAh Battery
5-45W Output Range
Suitable for MTL & DTL Vaping Styles
Smart Mode for Automatic Wattage Adjustment
2ml Capacity Pods
Equipped with Mesh Coils
Features Dustproof, Waterproof, & Shockproof Protection
Package contains
GeekVape H45 Classic Mod with, 1400mAh Battery
H45 2ml Reusable Pod
Includes 0.4 Ohm Boost Coil
Comes with 0.6 Ohm Boost Coil
USB-C Charging Cable Included
User Manual for Easy Setup and Operation
Wenax K2
The Geekvape WENAX K2 Kit boasts a sleek and finely crafted metallic pod system, aiming to deliver an unparalleled MTL (mouth-to-lung) vaping encounter. Equipped with a built-in 1000mAh battery, this kit provides a maximum 18W output, ensuring satisfying vapor production.
The intelligent LED indicators keep you updated on the battery status, while the choice between auto-draw or button-triggered activation adds convenience. With precise airflow control and a 3-level power adjustment feature, you can easily customize your vaping experience according to your preferences.
The kit works with the GeekVape Wenax K1 (SE) Pod Cartridge, which has a 2ml capacity and a longer lifespan. Accept the WENAX K2 Kit's convenient and user-friendly design, which makes it a great option for both novices and seasoned vapers.
Features
Dimensions: (H)115mm * (W)11mm * (L)22mm
Power Output Range: 7-18W
Cartridge Capacity: 2ml
Coil Resistance Options: 0.8Ω and 1.2Ω
Battery Capacity: 1000mAh
Charging Port: Type-C
Battery Status Indicators: Red Light (0-30%) / Blue Light (31%~69%) / Green Light (70%-100%)
Output Adjustment Indicators: White - Low Output / Blue - Medium Output / Green - High Output
Working Temperature: -10~45℃
Button Functions: Power On/Off, Ignition, Output Adjustments
Accidental Press Protection: Activate this function by pressing the button five times.
Wenax Q
Geekvape's Wenax Q and Sonder Q stand out as their finest pod vapes to date. Not only are they top-of-the-line pod devices from Geekvape, but they also rank among the best pod vapes currently available in the market.
The investment Geekvape made in research and development is evident in the vaping experience offered by these Q series pods. They deliver abundant flavor, exhibit excellent e-juice-wicking capabilities, and maintain consistency from one refill to another.
For those seeking simplicity, the Sonder Q is the ideal choice. Simply insert a pod, fill it up, and draw on the mouthpiece to enjoy your vape. The remainder is handled by Sonder Q. On the other hand, if you prefer to fine-tune your power output and prefer button-activated firing, then the Wenax Q is the way to go. Regardless of your choice, you can expect an outstanding device that excels in essential areas such as flavor delivery and pod longevity.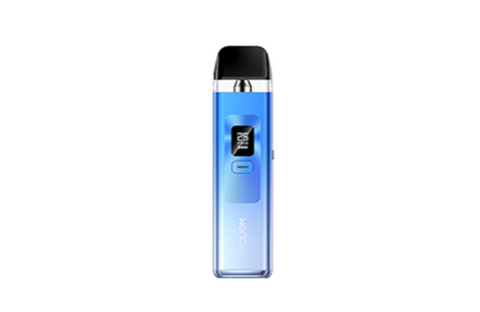 Features:
Size: To Be Determined (TBD)
Battery Capacity: 1000mAh
Wattage Range: 5-25W
Resistance Range: 0.6ohm / 1.2ohm
Body Material: Zinc-Alloy Chassis
Charging Port: Type-C
Activation Method: Draw-Activated
Pod Series: Geek Vape Q Pod
Refill Method: Top Fill System
Pod Material: PCTG
Pod Capacity: 2mL
Pod Connection: Magnetic
Indicator Light: LED Indicator
Protection Features: Short-Circuit Protection, Overtime Protection, Low Battery Protection
Display Type: High-Definition OLED Display
Box content?
Pod
Tanks
USB cable
User guide
Other product suggestions
Upends UpBar GT
The UpBar GT exudes a sense of refinement and sophistication, featuring a slender and polished body adorned with captivating lines and intricate details, resulting in an aesthetically pleasing appearance.
The UpBar GT pods have a spacious 2ml capacity, allowing for a generous amount of e-liquid to be held. These pods come pre-filled with 20mg of nicotine, delivering a satisfying and enjoyable vaping session. The inclusion of a mesh coil within the pods ensures superb flavor delivery and impressive vapor production. Each pod offers approximately 600 puffs before requiring replacement. 
A standout feature of the UpBar GT lies in its extensive selection of flavors. With a diverse range available, users can explore various enticing options that cater to their individual preferences, promising a delightful and customized vaping experience.
Features
E-liquid Capacity: 2ml
Battery Capacity: 400mAh
Approximate Puffs: 600 puffs
E-liquid Ratio: 50PG/50VG
Coil Resistance: 1.4ohm mesh coil
POD SALT ORIGIN GO 60
Indulge in the refined elegance of a velvety and mild tobacco flavor, expertly balanced and subtle in its delivery. Enriched with delicate notes of caramel, it offers a delightful sweetness with each puff. Crafted with pride in Britain, these extraordinary disposable vapes have earned esteemed accolades.
Experience unparalleled convenience with the Pod Salt Go, an ideal companion that lets you carry our renowned nicotine salts wherever your journey takes you. This portable disposable device is the ultimate vaping solution for those on the move.
Features
2ml E-Liquid Capacity
2% Nicotine Salts
600 puffs
460mAh battery
50VG/50PG ratio
Draw activated
LED light battery indicator
FAQs about Geek Vape mods
What is the power range of Geek Vape mods?
The power range of Geek Vape mods varies depending on the model, but they typically offer a wide wattage range to cater to different vaping styles and coil resistances.
Are Geek Vape mods beginner-friendly?
Yes, Geek Vape designs some of its mods with user-friendly features, making them suitable for both beginners and experienced vapers.
Best Vape Wholesale Supplier-UPENDS
We cordially invite you to become a part of our community and experience an extraordinary vaping trip. Learn about a variety of exclusive deals that will improve your vaping experience and make you utterly happy.
At Vape UPENDS, we take great pride in our state-of-the-art innovations, sophisticated designs, and rigorous attention to detail. Our team of skilled craftspeople is dedicated to creating flawless, stunning products that will captivate your senses. With each breath, we hope to titillate your sophisticated taste buds and inspire awe, providing you with amazing experiences that will astound you.
Our ultimate goal is to give you a remarkable vaping experience, and we are eager to start this transformational journey with you. Allow us to show you why Vape UPENDS is the best option for discerning clients who want nothing less than the best. Take time to unwind.