Have you ever heard of Black Ice Vape? Have you been opportune to enjoy a rare vaping experience with Black Ice flavor? You haven't? Well, you are missing out on a whole lot of goodness. The Black Ice Vape flavor is incomparable amidst all the flavors you have ever tasted. Sit back and join us as we delve into what Black Ice Vape is all about, its features, its pros, its cons, as well as answers to the questions that have been plaguing your mind.
What is Black Ice Vape?
"Black Ice", otherwise referred to as Black Mint, is a popular term used to describe a particular vape flavor that combines different taste elements. It refers to a blend of menthol, blackcurrant, and aniseed flavors, resulting in a cool and refreshing vaping experience with a hint of sweetness. It comes in different prices and sizes but this is solely dependent on the brand. The menthol base provides a refreshing blast, instantly awakening your senses with its chilling breeze. As you exhale, you'll notice the distinct taste of juicy blackcurrants, adding a touch of sweetness and tanginess to the mix.
Now infuse an aniseed taste to this mix, heavenly! This intriguing addition gives depth and complexity to the flavor profile, creating a vape experience that's both bold and invigorating. The fusion of these three distinct flavors harmonizes perfectly, leaving you with a well-rounded and satisfying vape that you'll want to enjoy all day long. Whether you're a fan of menthol, or fruit, or love experimenting with new taste sensations, Black Ice is the perfect vape flavor to quench your cravings. It's a perfect blend of flavors that delivers an icy punch and leaves you feeling refreshed and revitalized with every puff you take.
General Features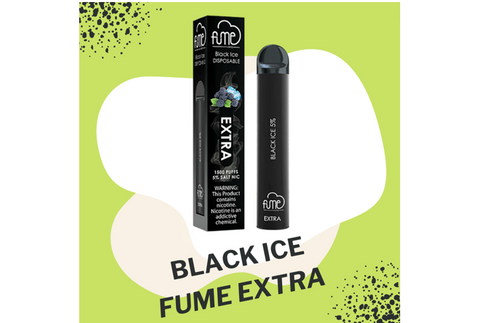 Firing System
The draw-activated mouthpiece of Black Ice vapes around the vaping industry is an innovative and convenient feature that eliminates the need for buttons, making vaping effortless and intuitive.  A brand stands out in this, which is the Fume vaping brand.
How it works is that the draw-activated firing system seamlessly senses the user's inhalation, triggering the device to produce a symphony of flavors with each draw. The mouthpiece's ergonomic design enhances comfort and aesthetics, ensuring a perfect simulation with the device. It appeals to vapers of all levels, offering instant reward for a vape  well-inhaled vapor and a hassle-free experience.
Flavor
The Black Ice vape flavor is a combination of flavors that are in sync! No other combination measures up to Black Ice Vape.  It is an extraordinary symphony of taste, captivating vapers with its unique blend of taste sensations. Each inhale delivers a chilling breeze that instantly awakens the senses, while the exhale unveils the delectable fusion of fruitiness and anisewd complexity. The Black Ice flavor is a delight for vapers seeking a well-rounded and invigorating experience, leaving them with a refreshing and revitalizing sensation with every puff.
Quality
The Fume Black Ice vape is a testament to exceptional quality, crafted to deliver an unparalleled vaping experience. From its premium ingredients to its meticulous manufacturing process, every detail is carefully considered to ensure top-notch performance and flavor. Fume Black Ice Vape testifies of premium quality,  hence, the reason why the black ice flavor comes out so well.
Battery
The Black Ice vape comes equipped with a powerful and long-lasting battery, ensuring extended vaping sessions without interruptions. Fume's impressive battery capacity ensures vapers can enjoy the flavors of Black Ice throughout the day without worrying about frequent recharging. Whether exploring the outdoors or relaxing at home, the robust battery guarantees a reliable and consistent performance. The Fume Unlimited Black Ice Vape offers up to 7000 puffs, while other Fume products like the Fume Ultra can last up to 2500 puffs. With this remarkable battery capacity, vapers can indulge in all the goodness this vape has to offer.
Compact and Portable Design
The Fume Black Ice vape boasts of a compact and portable design that offers unparalleled convenience for vapers on-the-go. Its sleek and ergonomic build ensures easy handling and fitting perfectly into pockets. Whether at home or traveling, the Black Ice vape effortlessly accompanies you while providing discreet and hassle-free vaping pleasure. Despite its size, this compact device packs a punch, delivering the enchanting flavors of Black Ice with every draw, making it an ideal choice for vapers seeking both convenience and exceptional taste in a single, portable package.
Relevant Youtube Videos on Fume Black Ice Vape
Review: Is Black Ice Vape Good?
Fume Unlimited Black Ice Vape
Fume Unlimited does the work better in terms of black ice flavor delivery. No other brand comes close to this 7000 puff vaping device. This disposable vape offers a substantial 7000 puff count for all-day vaping enjoyment. The flavor profile creates a revitalizing and refreshing sensation by mixing the boldness of blackcurrant with the coolness of menthol. Each inhale releases a rush of tart and sweet blackcurrant taste, while each exhale sends a menthol wind to chill you up.
The device is a simple and hassle-free solution for vaping on-the-go because it is pre-filled with e-liquid and doesn't need maintenance or refills. Enjoy the chilly and crisp flavor of the disposable Fume Unlimited Black Ice 7000 puffs vaping device.
Features
Type: Disposable Vape
Puff Count: 7000 plus
Flavors: Black Ice
Nicotine Strength: 50mg
E-liquid Capacity: 14mL
Battery capacity: 400mAh (rechargeable)
Pros
It is easy to use
It is rechargeable
Draw activated firing mechanism
It has a sleek and portable design
Heavy vapor production with high flavor hit
Cons
Contains nicotine which is an addictive chemical
You may not enjoy this flavor if you are not a fan of menthol or minty flavors.
2. Fume Ultra  Black Ice Vape
Fume Ultra is a mini me of the Fume Unlimited,  but with slight differences. Vapers can enjoy this fantastic blend of juicy blackberries and menthol flavor if they don't really like anything overly sweet or candy-like. The color of this elegant disposable vape product is jet-black.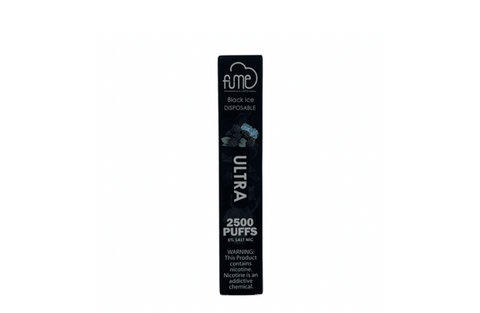 This is discrete and perfect for people who don't want to stand out. You'll find it difficult to put down this device because of the throat-tingling menthol and rich blackberry flavor. The Fume Ultra offers more than 2,500 puffs per device, which is ideal for both new and experienced vapers.
Features
Battery capacity: 1000mAh
E-liquid capacity: 8mL
Puff count: 2500 puffs
Nicotine salt: 5%
Flavor: Black Ice
Type: Disposable
Pros
It has a sleek and compact design
It is disposable in nature.
Strong battery capacity
Easy to use
Cons
It doesn't have as much puff counts as Black Ice Fume Unlimited
You may not enjoy this flavor if you are not a fan of menthol or minty flavors.
It contains nicotine which can be an addictive chemical.
Frequently Asked Questions (FAQs)
What is Black Ice vape flavor?
Black Ice vape flavor is a special blend that combines menthol, blackcurrant, and aniseed flavors. It offers a refreshing and cool vaping experience with a touch of sweetness and a twist of aniseed complexity. This Black Ice vape flavor is suitable for all types or vape.  However, individual tastes vary, so it's always best to try a small amount before committing to a larger purchase if you are yet to try this flavor.
Is Black Ice vape flavor safe?
Just like every other vape flavor, Black Ice vape is very safe for consumption. However you should note that vaping e-liquids, including Black Ice, should only be used by adults who are current or former smokers. While vaping is generally considered a less harmful alternative to smoking traditional cigarettes, it's not entirely risk-free. Always use vape products responsibly and avoid using them if you have any underlying health conditions.
What is the nicotine strength available for Black Ice?
Nicotine strengths of Black Ice vape largely depend on the brand, hence, they vary from product to product. However, common nicotine strengths range from 0mg (nicotine-free vapes) to higher levels like 3mg, 6mg, 12mg, or more.
Can I mix Black Ice with other vape flavors?
Black Ice vape flavor exists as a result of the mixture of blackcurrant, menthol, and aniseed flavors.  So Yes, you can experiment with mixing Black Ice with other compatible vape flavors to create unique blends tailored to your taste preferences. Just make sure the flavors complement each other well. Who knows, you might discover the next flavor hit.
Best vape wholesale supplier-UPENDS
How can you ensure that you're getting only the right vaping products that guarantee your safety during usage? It starts with buying from a remarkable retailer that specializes in providing high-quality vaping products at affordable prices. UPENDS is a leading distributor of vape products with an impressive catalog that reveals the highest standards of excellence.
One of our top notch products is the Upbar-GT, a new generation disposable vape with more puffs, stronger taste and no oil leakage. Choose UPENDS for disposable vapes that offer unparalleled satisfaction.
UPENDS is looking for authorized disposable e-cigarette agents, distributors, wholesalers worldwide, if you are interested, please contact us now!