As the popularity of vaping continues to rise, so does the demand for a safer and more customizable smoking experience. While concerns surrounding nicotine addiction and the potential risks of vaping persist, an intriguing alternative has emerged: flavorful vaping without nicotine.
In this article, we delve into this new trend, shedding light on the advantages it offers for individuals who enjoy vaping but seek a healthier option. Join us as we explore the world of nicotine-free vaping, where indulging in an array of delightful flavors becomes a guilt-free pleasure.
What Is A Nicotine-Free Vape
A nicotine-free vape refers to an electronic cigarette or vaping device that does not contain any nicotine in its e-liquid or vape juice. It is designed to deliver the enjoyable flavors and sensations of vaping without the addictive substance. Nicotine-free vapes typically utilize e-liquids free from nicotine, allowing individuals to experience the act of vaping without the potential health risks associated with nicotine addiction. This option has gained popularity among those who appreciate the vaping experience but wish to avoid the negative effects of nicotine consumption.
Why Choose Nicotine-Free Vape
First and foremost, it is crucial to acknowledge that vaping without nicotine is significantly less harmful than traditional smoking or vaping with nicotine. The harmful effects of nicotine, such as addiction, increased heart rate, and elevated blood pressure, are largely absent when vaping nicotine-free e-liquids. It is the nicotine content in traditional cigarettes and nicotine-containing e-liquids that poses the greatest health risks.
Nicotine-free vaping offers a range of benefits to those who wish to indulge in the flavors and sensations without the addictive substance. One of the primary advantages is the elimination of nicotine dependence. Nicotine addiction can be incredibly challenging to overcome, and by switching to nicotine-free vaping, individuals can gradually reduce their reliance on this addictive substance. Moreover, vaping without nicotine removes the risk of withdrawal symptoms associated with nicotine cessation, such as irritability, anxiety, and cravings.
Another significant advantage of flavorful vaping without nicotine is the customization it allows. E-liquids come in a vast array of flavors, ranging from fruity and sweet to savory and even exotic blends. By opting for nicotine-free e-liquids, users can explore a myriad of flavors without compromising their health. This level of customization adds a sense of novelty and enjoyment to the vaping experience, making it an appealing choice for those seeking a unique and flavorful alternative to smoking.
Nicotine-free vaping offers a social advantage. Many people enjoy the act of vaping and the camaraderie it can foster among users. By eliminating nicotine from the equation, individuals can partake in the vaping culture and enjoy the social aspects without the negative health effects associated with nicotine addiction. It allows individuals to engage in vaping-related activities without risking the harmful consequences of nicotine consumption, making it an inclusive and healthier option for social gatherings.
Nicotine-Free Vape Products
CUBE Zero
The VaporTech Cube Zero disposable device offers an impressive 3000 puffs of nicotine-free flavor. Experience the convenience of adjustable airflow and long-lasting flavor with this latest e-cigarette device from VaporTech USA. This vape pen guarantees rich and dense hits right from the moment you open the package, without the need for charging or refilling.
The Cube Zero is a one-time-use disposable device that delivers satisfying mouth-to-lung hits to users everywhere. The draws are exceptionally smooth, providing a pleasant inhalation experience without any harshness. With the Variable Flow Rate feature, you can customize the puff level to your preference. Each device contains a generous 11mL of authentic liquid for your enjoyment.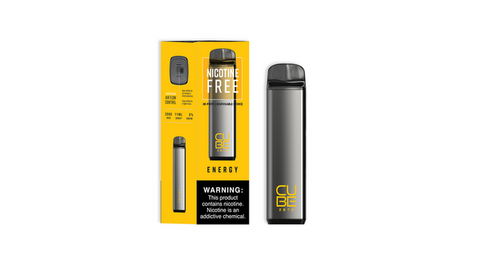 Features
11 mL e-liquid capacity
Adjustable airflow
Good hits even though they contain no nicotine
21 flavors options
5% nicotine salt
Beard Vape Co.
Beard Vape Co. No.71 is an irresistible combination of tangy and sweet flavors infused with the essence of juicy peaches. Despite its name and packaging, No.71 evokes fond recollections of delightful peach gummy candies coated in a dusting of sourness. This e-liquid delivers a delightful and rejuvenating vaping experience, even without the presence of nicotine. Its flavorful profile remains robust and satisfying, making it a perfect choice for nicotine-free vaping.
No. 71, created by the renowned mixologists at Beard Vape Co., is a unique and expertly crafted blend. This e-liquid is meticulously formulated to achieve a flawless balance of sweetness and tanginess, using ripe, hand-picked peaches as the foundation. It is a highly recommended flavor that should not be missed by vaping enthusiasts seeking an exceptional vaping experience.
Features
Nicotine Strengths: 0MG, 3MG, 6MG
VG/PG Ratio: 70/30
Available Bottle Sizes: 120ML and 60ML
Avida CBD Vape Pen
Avida Full Spectrum CBD vapes have dimensions of approximately 16 mm width, just over 100 mm height, and around 8 mm thickness. They are lightweight, weighing about 20 grams. While the website states that the USB-C cable is not included, it may vary as mine came with it, likely due to being part of the review package.
The vapes feature a white color with a square liquid window. They have a textured surface on one side for improved grip and the Avida logo at the bottom. On the other side, the strain name and CBD dosage are displayed in small print. Additionally, there is a small LED light that indicates the battery life.
Features
Battery life of 280 mAh (charges rapidly)
Provides a more intense vaping experience compared to isolate-based vapes
Does not specify the type of strains used (indica/sativa/hybrid)
Vaporess XROS 3
The XROS 3 Mini is a compact and straightforward pod system designed specifically for non-nicotine vape juice. It is the latest addition to the impressive Xros lineup, boasting a remarkably compact design housing a 1000mAh battery. While the Xros 3 Mini does not offer airflow adjustment, it excels in delivering a tight MTL (mouth-to-lung) draw, making it one of the finest pod systems in this category.
Additionally, it features an excellent top-fill system that is easy to use and now comes equipped with an improved 1.0Ω mesh pod. Vaporesso provides a variety of resistance options for the pods, including 1.2Ω and a 0.8Ω Mesh Pod, ensuring an exceptional vaping experience without the need for nicotine. The XROS 3 Mini supports USB-C charging and is available in six appealing colors.
Features
Pre-Installed Vaporesso Xros Pod with a resistance of 0.6 Ohm
Additional Vaporesso Xros Pod with a resistance of 1.0 Ohm
USB-C Charging Cable
User Manual
1000mAh battery
Caliburn A3
The Caliburn A3 is an updated version of a highly popular pod vape. The A3 pod vape is equipped with a 520mAh battery and supports Type-C charging. With a maximum output of 13W, the A3 retains its outstanding top fill system and juice window.
The A3 offers the flexibility of auto-draw or manual button firing, with the option to deactivate the manual button. It is a user-friendly pod vape that provides an excellent mouth-to-lung (MTL) draw, making it perfect for zero-nicotine vape juice.
Uwell's 1.0Ω pods are compatible with the A3, and the device includes two of them in the package.
Features
Dimensions: 109.8mm x 21.3mm x 11.7mm
Chassis Material: Aluminum-Alloy
Wattage Range: Up to 15W
Battery Capacity: 520mAh
Charging Port: USB Type-C
Output: Direct Voltage Based
Operation: Firing Button / Draw-Activation
Fill System: Top-Fill with Removable Mouthpiece
Pod Material: PCTG
Pod Capacity: 2mL
Pod Connection: Magnetic
Pro-FOCS Flavor Technology
LED Battery Life Indicator
Ignition-Lock Function
Short-Circuit Protection
Low-Voltage Protection
Overtime Protection
Open-Circuit Protection
FAQs
Why do people vape without nicotine?
People vape without nicotine for various reasons. Some individuals enjoy the sensory experience and hand-to-mouth action of vaping, while others use it as a way to gradually reduce their nicotine consumption or quit smoking. Additionally, some people simply enjoy the flavors and social aspects of vaping without the addictive component of nicotine.
Best Vape Wholesale Supplier-UPENDS
Experience the enchanting world of Vape UPENDS, where innovation and style seamlessly come together, inviting you to embark on an unforgettable vaping adventure. We warmly welcome you to join our community, where a plethora of exclusive offers awaits to enhance your vaping experience with pure delight.
At Vape UPENDS, we take immense pleasure in our state-of-the-art innovations, elegant designs, and meticulous attention to every detail. Our team of skilled artisans pours their passion into crafting flawless and awe-inspiring products that will captivate your senses. We strive to awaken your refined taste buds with each inhale while igniting a sense of wonder that will leave you amazed by the extraordinary moments we have prepared for you.
Our ultimate goal is to provide you with an extraordinary vaping journey, and we are thrilled to embark on this transformative endeavor together. So take a moment to relax and let us show you why Vape UPENDS is the top choice for discerning customers who expect nothing less than excellence. Get ready to immerse yourself in a world where creativity, fashion, and pure wonder blend harmoniously, creating an experience that will mesmerize you and leave you longing for more.