In this article, we will discuss one of the most sought-after vape mods - the FireFly Vape 2+...
FireFly Vape 2+: An Introduction
The FireFly Vape 2+ is a portable dry herb vaporizer that is known for extracting the most accurate flavor profile of any vaporizer. It is the third generation of the original FireFly vaporizer and has gained immense popularity since its launch. Its predecessor was a pioneer in battery-powered convection vaping. Convection is the indirect style of heat and, therefore, better preserves flavors.
This is one of the best portable vaporizers available on the market by FireFly Vapor. It offers great quality flavorful flower (dry Herb) rips and is also one of the best vapes to use with concentrates. Apart from an outstanding taste, the clean-up is a breeze. The vape uses a controlled heating algorithm with a pure convection heat source. The process helps it to produce some of the best-tasting vapor.    
FireFly Vape 2+ Specifications and Features
A Portable Convection Vaporizer
On-Demand Heating
The Ghost MV1
Dynamic Convection Heating
Super Fast 3-Second Heat Up
Borosilicate Convection Heating Chamber
33% More Airflow
Touch Sensor Activation Buttons
Wide Temperature Range: 200-500F
Flower Vaporizer
Concentrate Vaporizer
Dry Herbs and Concentrates
4-5 Bowls Average Battery Life
Replaceable and Rechargeable Battery
Cradle / 45 Minutes Charging Type
Smartphone App Compatible
FireFly Vape 2+ Pros and Cons
Pros…
Out of this World Flavor
Convection Heating
Flower and Concentrates
On-demand Heating
Great for Micro-Dosing
Lightweight and Portable
Easy to Clean and Maintain
Replaceable Battery
Cons…
Messy Loading & Unloading
Needs Stir
Short Battery Life
Not Good for Groups
FireFly 2+ Vaporizer Review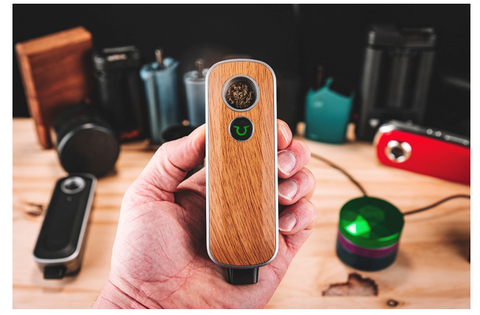 Design and Build Quality
The Firefly vape feels great in the hand and has a unique design compared to similar products in the market. The buttons are responsive and the lid secures tightly so that there's no leakage. Also, no burn offs required and you can easily wipe it down with an alcohol pad before throwing the herb in it immediately.
The device looks similar to the original FireFly 2 with the only difference that it has a window that highlights the new logo. The logo is placed underneath the viewing portal and looks good. It has a similar magnetic cover, touch sensors, and other features. However, this device is fairly large but it has a shape that is pretty easy to carry around.
The body and lid of the FireFly 2+ are made from magnesium alloy while the viewing portal is made from quartz. As far as the heating chamber is concerned, it is made of a ceramic superalloy and it works great with the borosilicate glass airpath. It ensures the purity of the weed you vape and also the overall manufacturing quality is commendable.
Features and Functionality
FireFly Vape 2+ is one of the best weed vapes that comes with an on-demand heating feature. It means that it heats up and cools down almost instantly. This gives you the freedom to vape a single oven anytime, anywhere. In regular vapes, users need to vape the whole oven in a single session but this is not the case with this device. You can break up the oven into mini sessions and also micro-dose as per your specific needs.
Thanks to the dynamic convection heating, the FireFly Vape 2+ doesn't have the problem of higher draw resistance. The draw resistance is much lower compared to other convection weed vapes which makes it much easier on the lungs. The ideal time for each draw is about 10 to 30 seconds and it feels like a mini session. The flavor is stronger and you won't have to worry about the device getting hot, no matter the temperature setting you've chosen.
Vapor Quality and Temperature Flexibility
When properly used, the vapor quality delivered by the FireFly Vape 2+ is certainly among the top compared to similar products. It delivers incredibly smooth vapor that is quite potent and delicious also. Moreover, this is one of the few devices that perform great with both dry herbs and concentrates. The temperature goes high enough to do the job appropriately and melting a glob into the mesh pad helps to get extremely flavorful hits.
Additionally, you can control the temperature using the smartphone app and also use the onboard presets for dry herbs and concentrates. You can use the pre-set temperature settings even without the app through the sensor buttons. You can get cool enough to try herbs like lavender and hot enough to combust herbs or enjoy low-temperature dabs.
Battery Life
The FireFly Vape 2+ comes with a Lithium-Ion 7.4 770mAh 5.7Wh battery, the same as the FireFly Vape 2. However, there are some firmware tweaks, and also the overall battery life is increased compared to its predecessor. The battery from the FireFly Vape 2 will also work with FireFly Vape 2+ and you can use them interchangeably.
Overall Experience
The FireFly Vape 2+ is a great vaporizer with excellent build quality, impressive features, and unbeatable functionality. It was a top performer when it was released but it has a learning curve and if you could manage to learn the proper draw technique, it's an unmatchable device.
How to Use the FireFly Vape 2+?
Here are a few simple steps to use the FireFly Vape 2+….
With Dry Herbs…
Remove the lid and place your preferred herb in the chamber. Now, replace the lid.
Gently pressing the touch sensors will start the heating process.
Check the logo, when it stops blinking and turns solid green, it means heating is complete.
Now wait for around seven to ten seconds before inhaling from the mouthpiece.
Your device is ready to use and you can enjoy vaping.
With Concentrates…
Remove the lid to place your selected concentrate into the heating chamber.
Now dab some wax onto the pad before replacing the lid.
Gently pressing both tough sensors will start the heating process.
When the logo stops blinking and turns solid green, it means that the heating process is complete.
Wait for seven to ten seconds and now your device is ready to use.
What's In the Box?
1 x FireFly 2+ Vaporizer
1 x Replaceable Rechargeable Battery
1 x Charging Cradle
1 x USB Cable
Concentrate Pads
1 x Instruction Manual
Moreover, you can download the  FireFly app for both Android and iOS operating systems.
FAQs About FireFly Vape
For whom the FireFly 2+ is ideal?
The FireFly 2+ is a dry herb vaporizer and there is a bit of a learning curve. So, it is not ideal for beginners but once mastered, it delivers the best-tasting vapor.
What is new in FireFly 2+?
The reinvented FireFly 2+ comes with many new features and improvements. It has 33% more airflow, the hits are bigger, and it also comes with a new logo.
What makes the FireFly 2+ stand out?
It comes with a glass chamber and a see-through air path that shows off clearly. The vapor quality from your herbal terpenes will taste heavenly right from the start till the end of the session.
How does FireFly 2+ work?
The FireFly 2+ heats up quickly with its full convection heater and requires a slow and steady draw to get started. As it comes loaded with medium-coarsely ground herbs, stirring every few draws is necessary.
What is a weed vaporizer used for?
A weed vaporizer is used to create vapor from dry herbs and buds. It offers a smooth vaping experience compared to smoking which gives harshness and combustion with marijuana.
Do weed vaporizers smell?
Not exactly, they produce a far less potent smell compared to traditional smoking but may still create some odor. The smell of vaping weed is mild and it also dissipates quickly.
UPENDS: Best Place for Best Vape Products
Maybe you're here because you're looking for the best vape brand where you can find a premium selection of vape products. If yes, you're in the right place as UPENDS is a renowned brand in the vaping community offering a wide range of high-quality, tested vape products.
We are known for bringing the most innovative designs to life and providing feature-packed products for a great vaping experience. If you're looking for some stylish yet functional products, check out our latest collection which includes UPENDS MIRROR, UpBar GT, and UpBar NANO.
The MIRROR is a compact vape pen that is designed to deliver a luxurious vaping experience while the UpBar GT is ideal for car lovers as it is inspired by sports cars. The UpBar NANO is an ultra-compact and portable vape pen that you can easily carry around.
At UPENDS, we want to provide every vape user with a wonderful vaping experience. Also, we want to provide the best quality products to our global customers. To help us with this mission, we are looking for authorized vape distributors and agents for different locations.
If you're passionate about vaping products, we welcome you to contact us…