Being a novice in any field can present its challenges, and seeking guidance from experienced individuals often becomes crucial for our learning journey. They generously share useful tips, insights from their own mistakes, and valuable information, which can ultimately determine the line between success and failure.
While the world of vaping may seem daunting, fear not, for you will discover a vibrant community of like-minded individuals eager to assist you in mastering the art of vaping. In the spirit of supporting and giving back, we present this concise and user-friendly guide to the best vape options for beginners. Our hope is that you'll find the answers you seek here, and above all, we wish you triumph in your vaping journey.
If you're a beginner in the world of vaping and seeking the finest options, your search ends here! We've curated a comprehensive list of top-rated vapes tailored for beginners, ensuring your decision-making process is simplified. The prospect of starting to vape can indeed be intimidating, given the plethora of devices available, making it challenging to pinpoint the ideal one to begin your vaping journey. To alleviate your concerns, we've carefully assembled a collection of the best vape starter kits currently available.
This compilation covers a diverse range of vape devices suitable for beginners, encompassing disposable vapes, user-friendly pod systems, and the most exceptional vape pens specifically designed for novices like you. With this detailed guide at your disposal, you can confidently embark on your vaping experience.
Best Disposable for Beginners
Elf Bar 5000
The Elf Bar BC5000 presents a compact and stylish disposable vape kit, delivering a hassle-free and gratifying vaping encounter. It is an ideal choice for individuals who appreciate a sleek and uncomplicated aesthetic. One of its notable attributes is the extensive range of flavors available. With a diverse selection to choose from, each flavor boasts a distinct and well-balanced taste profile.
These flavors are meticulously crafted, devoid of any harsh or irritating ingredients, ensuring a smooth and enjoyable vaping experience. Whether you have a penchant for sweet, fruity, or menthol options, the Elf Bar BC5000 caters to a wide spectrum of preferences.
The Elf Bar BC5000 also shines in terms of its compact size and portability. The device is minimal and lightweight, effortlessly fitting into your pocket or bag. This makes it a perfect companion for those seeking a discreet and convenient vaping solution, whether you find yourself at work, at home, or on the move.
Features
5000 Puff
13ml Juice Capacity
650mAh Battery
5% Nic Strength
Zovoo Dragbar 5000
Experience the remarkable Dragbar 5000, a remarkable disposable vape device that boasts a distinctive and practical two-tone bottle-inspired design. With a generous 13ml pre-filled juice capacity and a robust 630mAh internal battery, this device ensures extended vaping sessions without any inconvenience. Offering an impressive 5000 puffs per bar, the Dragbar 5000 guarantees a long-lasting and satisfying vaping experience. Charging the device is a breeze, thanks to its USB Type-C compatibility.
In addition to its exceptional performance, the Zovoo Dragbar line presents a range of authentic and delectable flavors. Each flavor is meticulously crafted to deliver an unrivaled taste sensation, allowing you to indulge in a delightful vaping experience. With the Dragbar 5000, prepare to explore a world of enticing flavors that are sure to leave you craving for more.
Features
5000 Puff
13ml Juice Capacity
630mAh Battery
2Ω Coil Resistance
5% Nic Strength
Upends UpBar RS (0 % nicotine)
Introducing the Upends UpBar RS, a disposable vape bar specifically designed as a nicotine-free option, catering to individuals seeking to quit or reduce their nicotine consumption. Its sleek and compact design allows for effortless portability, easily fitting into your pocket or bag for on-the-go convenience.
The UpBar RS comes pre-filled with 1.2ml of premium e-liquid, providing approximately 300 puffs of sheer satisfaction. Crafted from top-notch ingredients, the e-liquid delivers a smooth and flavorsome vaping encounter, ensuring an enjoyable experience with every inhale.
Additionally, the UpBar RS boasts a leak-proof design, preventing any e-liquid spillage and ensuring a hassle-free vaping session. With the Upends UpBar RS, embrace a nicotine-free alternative that combines convenience, flavorful vaping, and a commitment to your well-being.
Features
2 ml e-liquid
0% nicotine
400mAh battery
600 puffs
Best Pod Vapes for Beginners
Caliburn A3
Introducing Uwell's newest addition to the Caliburn pod vapes series, the A3. This device boasts a 520mAh battery that can be conveniently charged via Type-C. With a maximum output of 13W, it automatically sets the power, catering to the needs of beginner vapers. The A3 features a user-friendly top-fill system, complemented by a juice window for easy monitoring.
It offers both auto-draw and manual firing options, providing flexibility in vaping style. Delivering an outstanding MTL (mouth-to-lung) vape experience, the A3 is compatible with Uwell's 1.0 Ohm pods, which are included in the kit.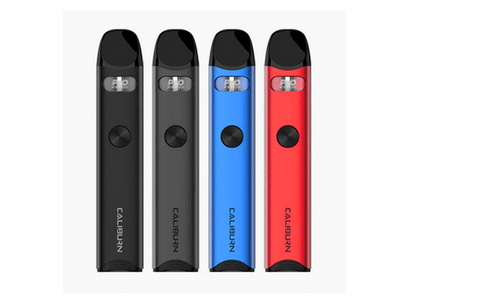 Features
2ml Juice Capacity
Refillable fixed coils Pod Type
0Ω Coils
Medium-tight MTL Draw
520mAh Battery
13 watts Power output
Vaporesso Xros 3
Experience the cutting-edge Vaporesso Xros 3, the newest addition to the renowned Xros line. This upgraded version showcases a slightly refreshed design, complemented by the inclusion of the advanced Axon chipset and a battery status light, providing enhanced functionality. Retaining its powerful 1000mAh battery, adjustable airflow system, and leak-proof top fill mechanism, the Xros 3 ensures seamless operation and convenience.
Moreover, it maintains compatibility with all Xros pods, including the latest edition of the 0.6Ω restricted DL option, delivering an exceptional vaping experience characterized by impressive flavor and vapor production. Embrace the innovation and superior performance of the Vaporesso Xros 3, elevating your vaping journey to new heights.
Features
2ml Juice Capacity
Refillable fixed coils Pod Type
6Ω, 0.7Ω, 0.8Ω, 1.0Ω, 1.2Ω Coils
Tight to loose MTL Draw
Adjustable Airflow
1000mAh Battery
5-25 watts Power output
VooPoo Vinci Q
Experience the Voopoo Vinci Q, a compact and lightweight vape device that seamlessly combines exceptional performance with a user-friendly design. Simplified to its core features, the Vinci Q boasts a 900mAh battery that can be conveniently charged via a Type-C port. It offers both top and side-filling pod options, allowing for effortless refills.
The device can be operated using either the button or auto-draw function, providing flexibility in vaping style. With its availability in six vibrant colors, the Voopoo Vinci Q lets you choose the one that suits your style best. Enjoy the perfect balance of performance and simplicity with the Voopoo Vinci Q.
Features
2ml Juice Capacity
Refillable fixed coils Pod Type
8Ω, 1.2Ω Coils
Medium MTL Draw
900mAh Battery
11-15w Power output
Vape Pens for Beginners
GeekVape Wenax SC
Discover the Geekvape Wenax SC, a cost-effective and exceptional vape pen designed specifically for MTL (mouth-to-lung) vapers who prefer a draw reminiscent of traditional cigarettes. Equipped with a built-in 1100mAh battery, the Wenax SC supports Type-C charging and offers three power levels for personalized vaping experiences.
It utilizes Series Coils and comes with 0.6 Ω and 1.2 Ω Mesh coils included. The intelligent coil recognition feature automatically adjusts the power to ensure optimal performance. With its user-friendly design and beginner-friendly features, the Geekvape Wenax SC is the perfect vape pen to kickstart your vaping journey.
Features
2ml Juice Capacity
The rubber plug on the side Fill method
0Ω & 1.2Ω Coils
USB-C Charging port
Non-adjustable Airflow
1500mAh Battery
Draw or button activation
FAQs
Are these beginner vapes easy to use?
Yes, these vapes are designed with simplicity in mind and are easy to use. They typically feature user-friendly interfaces, straightforward operation, and convenient features like refillable pods or disposable options.
Can these vapes be charged?
Yes, most beginner vapes come with rechargeable batteries and can be charged using USB ports or Type-C charging cables, ensuring convenient recharging options.
Are there different flavors available for these vapes?
Yes, beginner vapes often come with a variety of flavor options to suit different preferences. Common flavors include fruit, menthol, dessert, and tobacco-inspired options.
Best Vape Wholesale Supplier-UPENDS
We sincerely welcome you to join our community, where a plethora of exclusive offers await to enhance your vaping journey and bring you sheer joy.
At Vape UPENDS, we derive immense pleasure from our cutting-edge advancements, elegant designs, and meticulous attention to detail. Our team of talented artisans gives their all to producing faultless, stunning products that will captivate your senses. Our goal is to delight your refined taste buds with every inhale while evoking a sense of awe through the extraordinary moments we have prepared for you.
Our ultimate mission is to provide you with an exceptional vaping experience, and we are ecstatic to embark on this transformative journey together. Take a moment to relax and let us demonstrate why Vape UPENDS is the ultimate choice for discerning customers who demand nothing but excellence. Prepare to immerse yourself in a world where creativity, fashion, and pure marvel blend harmoniously, creating an experience that will enchant you and leave you craving for more.