When you think of fruits and vapes at the same time, something should come to your mind. Esco Bars Vapes! Because why not? This disposable vapes offers you authentic and mouthwatering flavors to go with your vaping experience.  They come in attractive designs to catch your attention and leave you salivating.
Are flavors the only strengths of this vape? Absolutely not! You get to enjoy massive puff counts with a very strong battery to go with it. There is so much more the Esco Bars vapes have to offer. Spare some few minutes on this product review to discover more, you would be glad you did.
What are Esco Bars Vapes?
Esco Bars Vapes are disposable vapes manufactured by the Pastel Cartel Brand. This brand was established in Texas in the year 2020 by Darrel Suriff. Since the existence of this brand, their vape products have been nothing but excellent. The Esco Bars vapes come with a prefilled e-liquid (5% of nicotine salt).
They are lightweight and very easy to use. They come in various models, which are classified based on their puff counts ranging from 2500 puffs to 6000 puffs. In fact, they even have water vape as one of their products. You don't get to see a brand that caters for various needs as this one.
The Esco Bars Vapes feature sturdy mesh coils that enhance the quality of your inhales and firing experience. They come in different e-liquid capacities ranging from 6mLs to 15mLs. Also, the batteries come with different mAh capacities, depending on the specific model you choose.
Esco Bars disposable vapes offer a range of flavors sourced from different fruit varieties. The vapor and flavor production of these vapes is very impressive. This vape utilizes a draw activated firing mechanism.  The heating mechanism is superb as it uses the mesh coil for its heating. If you are looking for a vape that doesn't contain cannabis or tobacco, this is an excellent choice for you.
General Features
Portable and Easy to use
Any vaper who's always on the go and needs a vape that will match this lifestyle can get that from the portable Esco Bars Disposable. These are pre-filled with 50mg of nicotine salt concentration, all in a handy and easy to use pack.
The size of this disposable vape also allows for discreet vaping sessions. Esco Bars vapes eliminates the hassle and worry of refilling and recharging. It is incredibly easy to use. So all vaping newbies are welcome, as well as experienced vapers.
In-built Battery
Esco Bars Disposable vapes feature an in-built 1000mAh battery, hence, you need not to worry about charging until your vaping session is complete. You can also enjoy over 2500 puff counts in one go with this battery.
This disposable vape makes a fantastic addition to your e-cigarette collection, offering a diverse range of flavors. Although Esco Bars vape is disposable. Some come with rechargeable options, mostly the 6000 puff vapes and the Esco Bars Mega series.
Mesh Coil
The incorporation of built-in mesh coils in Esco bars vapes ensure an excellent flavor production and a delightful vapor experience. The mesh coil allows for more efficient and even heating of the e-liquid, resulting in smoother and more consistent vapor production.
The mesh coil design has an increased surface area which ensures better flavor extraction. As a result, this enriches the flavor journey and provides a gratifying sensation. 
Flavors
The Esco bars vape come in 12 flavors with which you can choose from. Each flavor has the reviving and mouthwatering taste to hit the throat and soothe the plate without any harsh throat sensation.
Get ready to bask in Esco Bars vapes flavors because the breathtaking taste of each puff will have you pumped with its goodness all day long.
Disposable
Esco Bars Vapes are disposable in nature, including the rechargeable ones. Its disposable nature offers you the convenience of not having to fill or replace e-liquids. No maintenance requirements, while you experience user-friendly draw-activated operation, immediate use, and affordability in the long run. It also ensure you enjoy discreet vapor production and a low-risk way to explore vaping.
Relevant Youtube Videos on Esco Bars Vapes
Reviews: Are Esco Bars Vapes Good?
Esco Bar Mesh (2500 Puffs)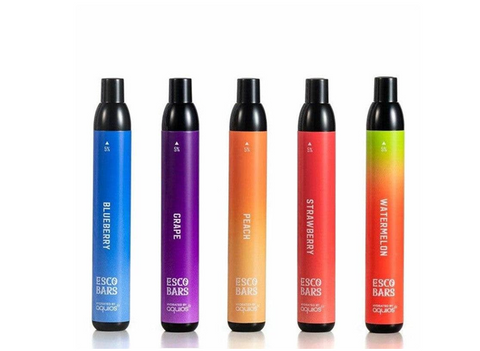 The Esco Bar Mesh 2500 disposable vape stands out as an excellent choice especially if you are new to vaping. It delivers an impressive tally of 2500 satisfying puffs per vape and it is activated by drawing on the mouthpiece thereby providing you with high-quality hits.
It comes in a 6ml pre-filled nic salt e-juice, ensuring a gratifying vaping experience. The inclusion of Mesh-coil heating further contributes to the delivery of robust hits and flavorful puffs.
In addition, it has a 1000mAh battery that offers ypu an ample time for an enjoyable vape session before disposing. The 6ml e-juice provided boasts a 5% nicotine strength, enhancing vapor production and flavor richness. A diverse array of mouthwatering flavors awaits you with this disposable vape. They include Peach Ice, Banana Ice, Strawberry Ice, Rainbow, Grape Ice, Bubble Gum Ice, Razzle-Berry Pomegranate, Pink Lemonade, Spearmint, Black Dragon Ice, Mango Ice, Blue Cotton Candy, Red Apple, and many more to explore.
Features
Pen-style
2500 puff counts
5% nicotine strength
6mL e-juice capacity
Battery capacity: ranges from 1000 or 1100 mAh
Pros
Quality mouthwatering flavor and Vapor Production
Portable and easy to use
Draw-activated firing mechanism
Quality vape device
Strong battery
High puff count
Cons
It is not rechargeable
It is disposable
2. Esco Bar Vape 5000 (Esco Bar Mega)
The Esco Bars Mega is a notable advancement over the previous variant, presenting an enlarged design that makes it unique. Designed to be substantially larger, it takes the form of a broad vape pen that grants an impressive 5000 puffs for each vaping session.
With a capacious e-juice reservoir of 14ml, it boasts a battery capacity of 600mAh. An added update is the battery's rechargeable feature, thereby providing the convenience of charging at your preferred time.
Similar to Esco Bars Mesh, it maintains a 5% nicotine content, contributing to the creation of rich vapor and flavorful hits. However, it has a different flavor variety from the Esco Bars Mesh including the Blueberry Raspberry Ice and Blood Orange Tangerine.
Features
Wide pen-style
14mL e-juice
5000 puff counts
5% nicotine strength
600 mAh battery
Pros
Larger E-juice Capacity
Portable and compact
Rechargeable Battery
Draw-activated firing mechanism
Easy to use
Higher puff count
Cons
Lesser battery capacity when compared with Esco Bars Mesh.
Frequently Asked Questions (FAQs)
What ingredients are found in Esco Bars?
Some of the ingredients that can be found in the Esco Bars vape include 5% nicotine, vegetable glycerin, food flavorings and propylene glycol. These all contribute to its effectiveness and flavor.
How many cigarettes are equivalent to an Esco Bars vape?
An Esco Bars vape, like the Mesh 2500, offers around 2,500 puffs, which is roughly equivalent to smoking about 312 cigarettes. This saves you the hassle of having to purchase numerous cigarettes to cater to your lifestyle.  The good thing is that the Esco Bars Mesh 2500 is disposable. 
Where can I purchase Esco Bars vapes?
Esco Bars vapes are available for purchase at various retail locations and online vape shops including UPENDS. However, we advise that you purchase these vapes from official Esco Bars website or a certified retailer so as not to purchase fake vapes products.
What is the usage process for an Esco Bars vape?
Using the Esco Bars vape is straightforward and easy. It utilizes a draw-activated firing mechanism and requires no buttons. To use an Esco Bars vape is simple, just draw on the device's mouthpiece. These disposable vapes are designed to be beginner-friendly.
What is the lifespan of an Esco Bars vape?
Depending on your vaping habits, an Esco Bars Mesh 2500 vape can last approximately a couple of weeks on average. Although, if you tend to vape heavily, you might find that the device runs out more quickly. However, you can purchase the Esco Bars 6000 puff so as to enjoy the vape for longer periods if you are a heavy vaper.
Can I refill an Esco Bars vape with my own e-liquid?
No, Esco Bars vapes are designed to be disposable and pre-filled. There is no provision for you to refill  them with your own e-liquid. You can explore other Esco Bars flavor options to fully enjoy this product. You can also try the Esco Bars water vapes.
Best vape wholesale supplier-UPENDS
UPENDS guarantees you the opportunity to invest in disposable vapes that let you enjoy the experience without worries or hassles. This is one of the best vape wholesale suppliers in the vaping market which specializes in providing budget-friendly and top-tier vaping products.
You can check out the Upbar-GT which is one of the superstars of the vaping world. Every puff from this disposable vape is a delight to behold and it leaves you wanting more. Plug in for maximum satisfaction.
Want to be an authorized disposable wholesaler, distributor and disposable e-cigarette agent for UPENDS? Please contact us now to join the fun.