Introducing the Geek Vape Aegis Pod System, a cutting-edge gadget with outstanding features for a vaping experience. The Aegis Pod Kit radiates a rich and opulent appeal thanks to its sturdy zinc alloy construction and stitched leather embellishments. This device has an IP67 protection classification, meaning it is made to endure stress from drops as well as water, dust, and other elements.
The Geek Vape Aegis Pod has an internal 800mAh rechargeable battery that provides enough power for lengthy vaping sessions. Depending on the inserted coil, its clever wattage setting automatically changes the output between 12 and 18W to ensure optimal performance. Your preferred e-juices or nicotine salts can be used in the 3.5mL refillable pod for a delightful daily vaping experience. Through the Type-C USB Port, convenient charging is made possible.
What Is Geekvape AU Pod Kit
The Geek Vape Aegis Pod Kit 800mAh, inspired by the Aegis Design, is a remarkable pod system that combines the elegance of fine leather and aluminum accents. With its durable construction and tri-proof protection, this pod device offers a comfortable hand-fit and delivers reliable performance.
It boasts a maximum output of 20W and is equipped with a powerful 800mAh battery, ensuring a long-lasting vaping experience. Experience the freedom of vaping with the Geek Vape Aegis Pod Kit and enjoy its exceptional features.
Features
Design made of leather
Protection against water, dust, and shock
Automatically activated when drawn
Battery with a capacity of 800mAh included
7Ω/1.1Ω Coil Resistance
Can hold up to 2 ml of liquid
Compatible with U Cartridges
Charged using a Type C charger
LED light indicates battery life
Mouthpiece designed for comfort
Protection against short circuits
Protection against high temperatures
After ten seconds of inactivity, it automatically turns off.
Includes a Type-C USB charging port
Colors
Gunmetal
Beetle Black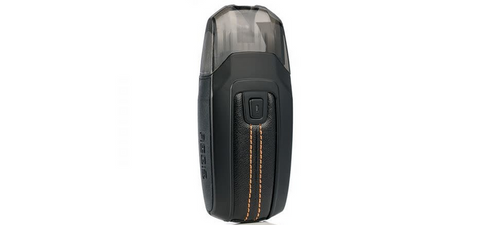 Silver Chafer
Tamamushi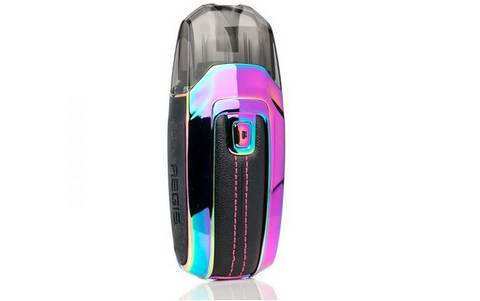 Box Contents
Geekvape Aegis Pod Device (1 unit)
Aegis Pod with a capacity of 3.5mL (1 unit)
Type-C USB Cable (1 unit)
User Manual (1 unit)
Warranty Card (1 unit)
Pros
The device has a high IP67 rating, making it highly durable.
It offers a satisfying flavor experience.
It supports fast charging with a Type-C connection.
The device is compact and easily portable.
The coils efficiently absorb and distribute liquid for a smooth vaping experience.
Cons
Removing the pod from the device can be challenging.
The battery life is average or mediocre.
Why Choose Geek Vape Aegis Pod
Build Quality & Design
Upon first glance, the Aegis Pod is easily identifiable as a Geekvape product. It retains the distinctive "Aegis" aesthetic, characterized by a stitched leather patch encircled by metal bezels and the recognizable rubberized sides.
Despite having a unique shape compared to other Geekvape devices, the Aegis Pod remains faithful to the classic Aegis design.
The most notable distinction of the Aegis Pod from other Geekvape devices is its compact size.
Measuring merely 88mm in height, 40.3mm in width, and 18mm in thickness, it is undeniably the slimmest and smallest Aegis model to date.
Currently, the Aegis Pod is offered in four color options: black, silver, gunmetal, and rainbow.
Each color variant features black leather, with variations in the stitching and body color depending on the chosen option.
Pod
The pod is subtly tinted to complement the device's aesthetics, yet it remains transparent enough to easily observe the e-juice level.
With a capacity of 3.5ml, the pod slightly reduces its capacity compared to the 3.7ml capacity of the Aegis Boost pods.
The pod serves a dual purpose as both the e-liquid container and the mouthpiece. It features a wide and convex shape, which may require some adjustment period to get accustomed to.
The pod is inserted into the device through a pressure fit mechanism and secured in place with clips, ensuring a strong and secure connection. In fact, it may even be considered too secure due to its tight fit.
Located at the bottom of the pod, the fill port is covered by a thick rubber plug. This plug effectively seals the fill port, and it can be easily removed to provide access. Upon removal, users are greeted with a spacious and circular fill port that accommodates any size or type of e-juice bottle or nozzle.
Charging & Battery Life
The Aegis Pod is equipped with a built-in 800mAh battery, which falls within the average range for pod devices.
Charging the Aegis Pod is a swift process, as it boasts fast charging times.
Performance
The Aegis Pod stands out for its user-friendly nature, making it an excellent option for beginners venturing into vaping.
Unlike its predecessor, the Aegis Boost, the Aegis Pod does not feature airflow control or wattage adjustment, further enhancing its simplicity.
Despite its straightforward design, the Aegis Pod delivers impressive performance without compromising on flavor. Vaping with it is highly enjoyable, offering a satisfying taste experience.
Other Related Product
Geekvape Aegis Boost Plus - Pod Kit
The Geekvape Aegis Boost Plus kit offers a maximum power output of 40 watts, providing an impressive vaping experience. It utilizes an 18650 battery (sold separately), which offers significantly more battery capacity compared to devices of similar size. This feature allows you to easily swap out the battery, ensuring your device remains operational even when you're on the move.
The device supports both Direct-Lung and Mouth-to-Lung vaping styles, depending on the power and coil resistance settings you choose. Additionally, an upcoming RDTA pod will enable you to engage in DIY vaping, adding further versatility to your vaping experience. 
With its ultrasonic-sealed Aegis Boost Plus pod, you can enjoy vaping without any concerns about condensation. The device is designed to be waterproof with an IP67 rating, capable of withstanding immersion in water up to 1 meter deep for 30 minutes. It is also dustproof with the same IP67 rating, ensuring excellent protection against dust particles. Moreover, the device incorporates shockproof technology, making it highly durable and capable of withstanding accidental drops.
Features
Water resistance rating: IP67
Dust resistance rating: IP67
Shock resistance
Dimensions: 49.5mm x 28.6mm x 114.2mm
Refillable pod/cartridge system
Output wattage range: 5 - 40W
Resistance range: 0.1 - 3.0ohm
E-liquid capacity: 5.5ml
Instant firing speed: 0.02s
Temperature control mode
Pod cartridge sealed with ultrasonic technology
Quick lock and release cartridge system
Easy access top refill design
Easy access airflow valve design
96" TFT color display screen
Coil Boost formula for higher satisfaction
Requires (1) high amp 18650 battery (sold separately)
Includes (1) empty refillable pod cartridge
Contains (1) (Pre-installed) G. Coil Boost Mesh Coil 0.4ohm Atomizer Head (25 - 33W)
Includes (1) G. Coil Boost Mesh Coil 0.6ohm atomizer head (15 - 25W)
Micro USB charging port
Colors
Gunmetal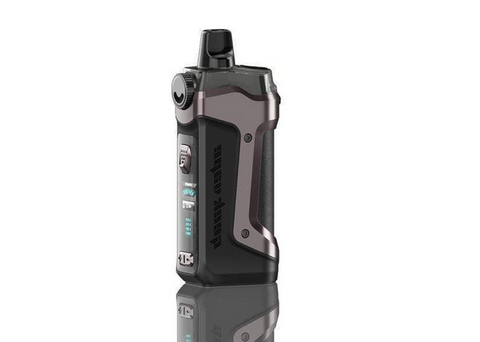 Aura Glow
Classic Silver
Devil Red
Almighty Blue
Space Black
FAQs
Which e-liquids are compatible with Geekvape Aegis Pod?
High VG e-liquids with a VG:PG ratio about 70:30 work best with the 0.4 coil. Higher PG e-liquids with VG:PG ratios of 60:40 or 50:50 can be utilized with the 0.6- coil.
The Geekvape Aegis pod is intended for whom?
For vapers who need a pod mod with a long battery life and dual MTL and DL vaping capabilities, this gadget is suitable. Vapers who require a device suitable for outdoor use will find it to be ideal as well.
Best Vape Wholesale Supplier-UPENDS
Experience the captivating world of Vape UPENDS, where innovation seamlessly merges with style, inviting you to embark on an unforgettable vaping adventure. Join our community and discover an abundance of exclusive deals designed to make your vaping experience even more delightful.
At Vape UPENDS, we take immense pleasure in pushing the boundaries of technology, crafting sophisticated designs, and paying meticulous attention to every detail. Our team of talented artisans dedicates their expertise to create flawless and magnificent products that will captivate your senses. With each inhalation, we aim to tantalize your refined palate and ignite a sense of enchantment, ensuring your left astounded by the extraordinary experiences that await.
Our ultimate goal is to provide you with an exceptional vaping journey, and we're excited to embark on this life-changing adventure with you. So, take a moment to unwind and allow us to show you why Vape UPENDS is the premier choice for discerning customers who expect nothing but the best. Prepare to immerse yourself in a world where creativity, fashion, and awe combine to deliver an encounter that will leave you spellbound, craving  more.