When it comes to the world of vaping, Elf Bar is a brand that stands out from the crowd. With their unwavering commitment to innovation and exploration, they consistently push the boundaries of vape ideas and technologies, solidifying their position at the forefront of the market. With each new product release, Elf Bar manages to bring even more exciting features to the table, setting themselves apart from their competitors.
What makes Elf Bar truly special is their diverse range of vapes. Not only do they offer advanced functionalities, but they also boast trendy designs and an impressive array of flavorful options. To fully grasp the extent of their collection of disposable vapes, one need only visit Elf Bar Flavors Official.
As a brand dedicated to constant growth and expansion, Elf Bar has recently introduced some noteworthy additions to their portfolio. Today, we will delve into a comprehensive comparison between two of their best-selling devices: the BC5000 and the BC5000 Ultra.
By examining their performance and durability, we aim to provide you with the necessary insights to make an informed decision about which device suits your needs and preferences best. So, let's dive in and explore the differences between the Elf Bar BC5000 and the Elf Bar BC5000 Ultra, helping you find your ideal vaping companion.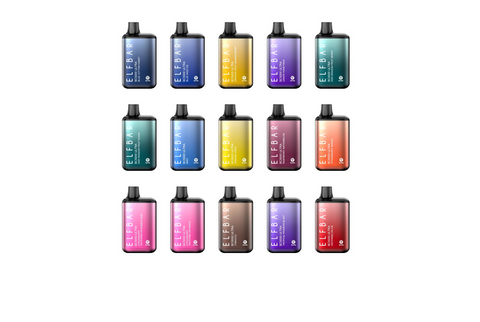 Elf Bar BC5000 Ultra Disposable Vape
Elf Bar presents a fresh addition to their lineup with the Elf Bar BC5000 Ultra, featuring an innovative quad tech mesh coil. This advancement brings a remarkable 30% improvement in flavor compared to the original Elf Bar BC5000 while maintaining a consistent delivery of 5000 puffs from start to finish. The Elf Bar BC5000 Ultra retains its ergonomic box shape but now boasts an aluminum chassis, providing an elevated sense of premium quality.
The Elf Bar Ultra disposable vape is equipped with a generous 13ml liquid capacity, delivering a salt nicotine concentration of 20 mg/ml. With its rechargeable 650mah Type-C battery, you can expect a long-lasting performance that will easily endure throughout the day.
Features
5000 puffs
650 mAh Battery
2% Salt Nicotine
13ml E-liquid capacity
Mesh Coil
Adaptive Design
Elegant Metal Chassis
Draw Activated
Comfortable Mouthpiece
Long-Lasting Flavor
Elf Bar 5000 Puff Disposable Vape
The Elf Bar 5000 Puff Disposable Vape offers a compact yet powerful vaping experience. Designed with a flagon container, this handheld vape pen ensures comfort and ease of use. Once you hold it in your hand, you'll instantly appreciate its ergonomic design. Equipped with a dual coil, this device guarantees the delivery of exceptionally pure flavors.
What sets this vaporizer disposable apart is its rechargeable capability, eliminating the worry of running out of power. Every puff of this portable vape pen is also made a little bit more enjoyable and unique by the vivid and striking hues.
The rechargeable 5000 puff EB disposable vape has a 650mAh battery and a pre-filled vape tank. Each BC5000 vape is filled with a 50mg nic salt vape juice, ensuring a strong nicotine hit for adult users. To recharge, simply connect the device to a power source using a USB-C charging cable.
Features
5000 Puffs
13ml E-Liquid Capacity
650mAh Battery
Dual Mesh Coils
5% Nic salt
USB-C port (Charger not included)
Elf Bar Ultra vs Elf Bar: Differences Between BC5000 And BC5000 Ultra
With each successive release, Elf Bar consistently strives to bring something fresh and distinctive to their product lineup. The latest addition to their collection is the BC5000 Ultra disposable vape, an upgraded iteration of their BC5000 model. While both devices have their unique selling points, the disparities between them are quite significant. In this article, we will delve into a detailed exploration of the dissimilarities between these two disposable vapes.
Elf Bar Ultra vs Elf Bar: Performance
Both the Elf Bar Ultra and the Elf Bar offer excellent performance in their own ways. The Elf Bar Ultra introduces a new quad-tech mesh coil, providing a 30% improvement in flavor compared to the original Elf Bar. This enhancement ensures a more satisfying vaping experience with a rich and nuanced taste. On the other hand, the Elf Bar is known for its reliability, consistency, and smooth airflow, delivering a consistent vaping experience from beginning to end. The BC5000 Ultra takes vaping technology even further by incorporating a state-of-the-art mesh coil from Quaq, resulting in cleaner and smoother vapor production. This upgraded technology enhances flavor longevity and taste, offering an overall improved vaping experience.
Flavor Options: BC5000's (Classic Flavors) vs. BC5000 Ultra's (Exotic)
Elf Bar has consistently impressed users with their extensive range of exclusive vape flavors, and it continued to do so with the release of the BC5000 model. The BC5000 offered a diverse selection of unconventional flavors such as Triple Berry Ice, Strawberry Kiwi, and Kiwi Passionfruit Guava. Additionally, it featured a separate flavor list in its Limited Edition category, which included enticing options like Blueberry Energize, Rainbow Cloudz, and Strawberry Pina Colada.
However, Elf Bar didn't stop there. With the introduction of the BC5000 Ultra, they raised the bar even higher by unveiling a brand new lineup of eight e-juice flavors. Vapers can now indulge in delectable options like Dragonfruit Banana Berry, Blue Cotton Candy, and Grape Honeydew, among others. These fresh and exciting flavors add an extra layer of enjoyment to the vaping experience, providing vapers with even more options to satisfy their taste preferences.
Finishing: BC5000's (Matt Finish) vs. BC5000 (Ultra's Metallic)
The Elf Bar BC5000 introduced an elegant design with a stunning matte finish, showcasing its sophistication. However, Elf Bar took their design innovation to the next level with the BC5000 Ultra, completely revolutionizing the appearance by introducing a stylish metallic finish.
Holding this upgraded version of the vape in your hand provides a truly satisfying experience, and when you first lay your eyes on it, you can't help but be captivated by its stunning aesthetic. The combination of the sleek design and the metallic finish creates a visual appeal that leaves a lasting impression.
Elf Bar Ultra vs Elf Bar: Throat/Mouth Hits
The throat hit is a crucial factor when it comes to evaluating the performance of any vape, ensuring a satisfying experience without any discomfort. Both the Elf Bar BC5000 and the BC5000 Ultra address this requirement, albeit in different ways.
The Elf Bar BC5000 delivers a strong and pronounced throat hit, accompanied by an immediate rush of flavors as soon as you take a puff. The flavors in this model linger on the palate, providing a lasting and memorable sensation.
In contrast, the BC5000 Ultra offers a more subtle yet incredibly satisfying throat hit. The flavor reproduction in this model has been significantly enhanced, surpassing its previous version by 45%. This improvement results in an amplified taste experience, accompanied by the utmost attention to safety.
Elf Bar Ultra vs Elf Bar: Durability
Durability is an essential factor to consider when investing in a vaping device. The Elf Bar Ultra boasts an aluminum chassis, elevating its build quality and providing a more premium feel. This sturdy construction enhances its overall durability, ensuring it can withstand the rigors of daily use. Meanwhile, the Elf Bar, with its ergonomic box shape and robust design, has already established a reputation for durability in the vaping community. Both devices are crafted with longevity in mind, guaranteeing a reliable vaping experience that stands the test of time.
FAQs About Elf Bar Ultra vs Elf Bar
What are the key enhancements in the Elf Bar Ultra?
The Elf Bar Ultra introduces an all-new mesh coil technology from quad tech, delivering up to 30% better flavor compared to the original Elf Bar. It also features a rechargeable 650mAh Type-C battery for extended usage.
Can I expect the same level of reliability and consistent performance from both devices?
Yes, both the Elf Bar and Elf Bar Ultra are designed to provide users with a remarkable vaping experience. The Elf Bar is known for its reliability, consistency, and smooth airflow, while the Elf Bar Ultra takes it a step further with its upgraded coil technology for enhanced flavor
Best Vape Wholesale Supplier-UPENDS
Welcome to the intriguing world of Vape UPENDS, where we effortlessly merge innovation and style to create an unforgettable vaping journey. Join our vibrant community and discover a wealth of special deals designed to make your vaping experience even more delightful.
Our dedicated team of talented artisans pours their passion into crafting faultless and magnificent items that will captivate your senses. We take pride in our cutting-edge innovations, sophisticated designs, and meticulous attention to detail.
Let us take you on a life-changing journey, where each inhale arouses your sophisticated taste buds and stokes your sense of enchantment. Get ready to immerse yourself in a world of creativity, fashion, and awe, leaving you yearning for more. Welcome to Vape UPENDS, where the best awaits you.