Element E-Liquids, a renowned and highly esteemed American brand, have garnered widespread recognition and popularity within the UK vaping community. Famous for its commitment to crafting top-tier and authentic flavors, this premium e-liquid label consistently leaves a lasting impression with its captivating and distinctive range of tastes.
Element E-Liquid is dedicated to meeting the diverse preferences of vapers, catering to a spectrum of needs ranging from high VG short-fills to e-liquids with elevated nicotine content. In their most recent endeavor, Element has partnered with the vaping company Aspire and entered the market for nicotine salt-based e-liquids. This collaboration has paved the way for their flavors to be available in pre-filled pods tailored for the Gusto Mini pod system.
What is Element E-Liquid?
Element E-Liquid is a brand that produces a wide range of e-liquids for vaping. Their products come in various flavors and nicotine strengths, catering to different preferences.
Element E-Liquid Options
NS20 NIC SALT BOOSTER
The NS20 Salt Nicotine Shot Booster E-Liquid, crafted by Element, is a flavor-neutral salt nicotine enhancer specifically formulated for enhancing shortfill e-liquids.
This salt nicotine enhancer boasts a nicotine strength of 20mg. When incorporated into a 50ml shortfill of 0mg e-liquid, it yields a 60ml e-liquid with a nicotine foundation of 3.3mg. With a VG ratio of 65%, this nicotine booster is ideally suited for utilization with starter kits and pod devices.
Salt nicotine e-liquid refills derive their nicotine foundation from the natural salts inherent in the tobacco leaf. The objective of nicotine salt e-liquids is to deliver a more potent nicotine impact than what most conventional e-liquids currently offer. It's important to note that this nicotine shot is not intended for standalone vaping.
Features
10ml E-Liquid
2% Nicotine Strength
35% PG/65% VG
Childproof Cap
Tamper Evident Seal
NS20 Honey Roasted Tobacco
Element's NS20, NS10, and NS5 Honey Roast Tobacco salt nicotine e-liquid present a delightful and intricate fusion. Initially, a robust tobacco essence takes the lead, accompanied by hints of honey, and further enhanced by vanilla, caramel, and nutty undertones, resulting in a harmoniously velvety conclusion.
The Honey Roast Tobacco nicotine salt vape juice ensures a smoother inhale, catering to a gentler throat sensation, and is conveniently accessible in potency levels of 10mg, 5mg,or 20mg. This extensive range facilitates the effortless discovery of your preferred flavor intensity.
Boasting a 65% VG composition, this e-liquid is adaptable to a diverse array of vape setups. The 5mg variant accommodates both sub-ohm and Mouth To Lung vaping kits. Meanwhile, the 10mg and 20mg options are tailored exclusively for Mouth To Lung devices.
Masterminded by Element, the NS20, NS10, NS5 series showcases timeless flavors meticulously blended with nicotine salts.
Features
10ml Nic Salt
Available in 5%, 10%, and 20% strengths
Composition: 65% VG / 35% PG
Variants designed for MTL (Mouth To Lung) Kits
Crafted and Packaged in an ISO 7 Cleanroom
Equipped with a Childproof Cap
Features a Tamper Evident Seal
Frost 50/50 E-Liquid by Element
The Frost e-liquid from Element's 50/50 line is a menthol-infused blend that seamlessly intertwines refreshing and sugary undertones. This minty flavor possesses an authentic floral nuance, harmoniously paired with the invigorating sensations of menthol.
Presented in a compact and convenient 10ml bottle adhering to TPD regulations, Frost e-liquid is offered in nicotine strengths of  6mg, 3mg, 12mg, and 18mg.
These e-liquids boast a balanced 50% VG content, making them perfect for utilization with pod devices or starter kits that prioritize delivering distinct flavors.
The 50/50 assortment by Element constitutes a selection of premium flavors meticulously tailored for mouth-to-lung vaping experiences.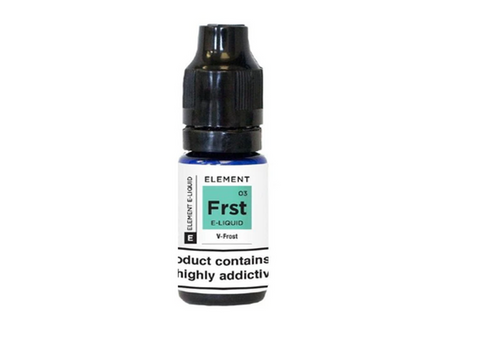 Features
E-Liquid Bottles in 10ml Volume
Balanced Ratio: 50% VG / 50% PG
Nicotine Levels Available: 3mg, 6mg, 12mg, and 18mg
Tailored for Pod Devices & Starter Kits
Produced in the United Kingdom
Complies with TPD Regulations
Equipped with Childproof Cap
Secured with Tamper-Evident Seal
555 Tobacco 50/50
Element's 555 Tobacco vape liquid embodies a revived rendition of the timeless RY4 tobacco essence, enriched with a more profound flavor profile. The amalgamation of tobacco, vanilla, and caramel during the inhale stages crafts a velvety and sugary foundational tone. This is artfully complemented during the exhale by a nutty fusion featuring hazelnut and walnut notes.
Presented in a travel-friendly 10ml bottle adhering to TPD regulations, the 555 Tobacco e-liquid offers nicotine strengths of 0mg, 6mg, 12mg, or 18mg, catering to a range of preferences.
Boasting a 50% VG composition, these e-liquids are optimally designed for utilization with pod systems or starter kits that prioritize clear and distinct flavors.
The 50/50 assortment from Element showcases a lineup of premium flavors meticulously crafted for mouth-to-lung vaping enthusiasts.
Features
E-Liquid Bottles: 10ml capacity
Composition: 50% VG / 50% PG
Available Nicotine Strengths: 0mg, 6mg, 12mg, 18mg
Specifically Crafted for Pod Devices & Starter Kits
Adheres to TPD (Tobacco Products Directive) Compliance
Equipped with a Childproof Cap
Features a Tamper Evident Seal
Frost 100ml Shortfill E-Liquid
The Frost Dripper shortfill e-liquid from Element presents a unique menthol essence, characterized by an overall invigorating taste. This blends harmoniously intertwines both sweetness and a refreshing chill, combining layers of mint and icy elements to deliver a wholly revitalizing vaping encounter.
The Frost shortfill e-liquid is conveniently available in 100ml volumes, leaving room for the inclusion of 2 x 10ml nicotine booster shots. As an illustration, incorporating 2 x 10ml 18mg nicotine shots into this 100ml shortfill will yield a final 120ml of e-liquid with a strength of 3mg.
Boasting an 80% VG composition, this e-liquid yields voluminous clouds of vapor. Its denser consistency is most suitable for sub-ohm vape kits, ensuring both ample vapor production and a distinctly crisp flavor profile.
Features
100ml Shortfill E-Liquid
0mg Nicotine Strength
Capacity for 2 x 10ml Nicotine Booster Shots
Composition: 80% VG / 20% PG
Intended for Sub Ohm Vaping
Crafted and Bottled within an ISO 7 Cleanroom
Equipped with a Childproof Cap
Features a Tamper Evident Seal
Bottle is Recyclable
Other product suggestions
UpBar GT
The UpBar GT stands as a chic vape apparatus featuring a look that draws parallels to luxurious sports cars. Its slender and graceful form, alluring contours, and embellishments contribute to its striking attractiveness.
The UpBAR GT pods provide room for 2ml of e-liquid and contain 20 mg of nicotine. These mesh coil-fitted cartridges offer approximately 600 draws. The UPENDS UpBAR GT comes in a range of flavors to choose from.
Features
2ml E-liquid capacity
50VG/50PG E-liquid ratio
2% nicotine salt
Coil: 1.4ohm mesh
410mAh Battery capacity
600 puffs
Draw activated
Upbar-nano
The UpBAR Nano presents a compact, disposable vape in a box-like form, ensuring ease of carrying and usability for vaping on the go.
Benefit from improved usage of e-liquid through the groundbreaking FRESOR innovation. The advanced Next-Gen Mesh Coil incorporates a skillfully crafted flat-stack arrangement, leading to better energy usage and an increased number of puffs.
Thanks to the patented FRESOR mechanism, every UpBAR Nano is created with accuracy and uniformity, guaranteeing strong flavor, impressive flavor recreation, thick vapor, and consistent leakproof functionality with each inhalation.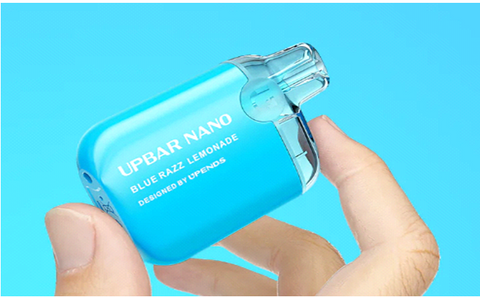 Features
2.0 E-liquid capacity
410 mAh battery capacity
20 mg/ml nicotine salt
4.0 Ω Resistance
FAQs
What flavors does Element E-Liquid offer?
Element E-Liquid offers an extensive selection of flavors, including fruits, desserts, menthol, tobacco, and more. Their flavor lineup is designed to provide a diverse vaping experience.
What is the PG/VG ratio in Element E-Liquids?
PG (Propylene Glycol) and VG (Vegetable Glycerin) are components of e-liquids that affect factors like throat hit and vapor production. Element E-Liquid offers various PG/VG ratios, so you can choose a blend that suits your preferences. Common ratios include 50/50, 70/30, and 80/20.
Are Element E-Liquids suitable for people trying to quit smoking?
Many people use vaping as a way to transition away from traditional smoking. Element E-Liquids offer a variety of flavors that can help replicate the experience of smoking while providing different nicotine strengths, potentially aiding in the quitting process.
Where can I buy Element E-Liquid products?
Element E-Liquid products are often available in vape shops, online retailers, and authorized distributors. You can visit their official website or other trusted platforms to find their products.
Best Vape Wholesale Supplier-UPENDS
Welcome to Vape UPENDS, our fervor lies in metamorphosing the act of vaping into an all-encompassing sensory voyage that captivates every facet of your senses. Our squad of specialists is dedicated to the pursuit of devising unparalleled and stylish vaping merchandise, transcending your vaping escapades to an entirely novel echelon.
Employing cutting-edge technology and an unwavering commitment to precision, we meticulously fashion devices that not only perform with flawless precision but also serve as a visual delight.
As an esteemed ambassador for Vape UPENDS, you'll be granted access to our exclusive array of offerings, destined to mesmerize your patrons and leave them yearning for more. Embark on this exhilarating expedition with us and uncover why Vape UPENDS stands as the ultimate haven for all discerning vaping enthusiasts.