There is a big difference between smoking and vaping. Experts say that smoking is more dangerous than vaping. This means buying an e-cigarette will be a good step and gives you versatility. There are various e-cigarette brands in the market, but today I want to inform you about the EGO X6 vape pen.
This vaping device is ideal for starters and intermediate vapers. The X6 vape pen is durable due to its build quality and has a long-lasting battery. So, in this review, you will get to learn more about the X6 vape pen.
Continue reading to learn more.
Features and Specifications of EGO X6 Vape Pen Vaporizer
What sets this e-cigarette among the best in the market? For that, here you will get to know about its features and specifications.
3 Variable Voltage
When you consider buying the X6 vape pen, then you will have three vaping modes. This is because it has three variable voltage.  They include;
To change the voltage, you need to press the vaporizer's button five times. While at 3.6V, the vape pen illuminates red. At 3.8V, it lights purple/pink and blue while at 4.2V.
Technology
The EGO X6 vape pen uses BCC (bottom coil changeable) technology. This technology ensures that your e-juice retains its pure taste. Additionally, the vape pen doesn't produce a burning smell.
Color
This vaporizer comes in seven colors. The colors comprise clear, purple, blue, black, pink, red, and green. This gives you variety as you will not miss a color of choice.
Build Quality
The X6 vape pen has a large body but not so big. The body of this vape pen is made of stainless steel. This material is solid and easy to clean. Thus, making it more durable so you don't have to worry about its quality.
Furthermore, this vaporizer is resistant to corrosion, meaning you can vape during any weather condition without any worry. Also, the body has threads and knurling to increase grip. This reduces the risk of you accidentally losing the vaping device.
Battery
This vape comes with an Ego 1300mAh battery. The maximum vaping hours of this vaping device is about 6.5 hours. But this depends on the voltage you are using; as for charging, use a USB cable that comes with the device when you buy.
It approximately takes two to four hours to charge fully. Lastly, the device uses a Li-ion battery.
Protank Vaporizer Clearomizer Atomizer
The functionality of this vape pen is made possible by the Protank 1 atomizer. This atomizer is 60mm in length and 19mm in diameter. The capacity of this atomizer's tank is 3ml which ensures you vape for long.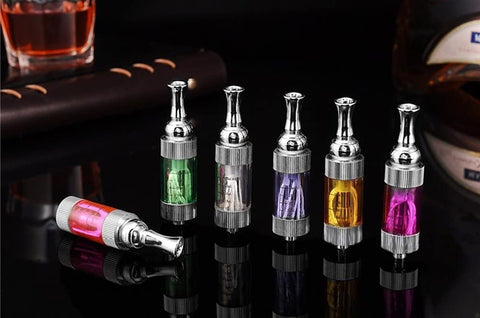 The batter connection of this atomizer is the 510 threads. The tank is made of Pyrex glass and has a non-removable chrome drip tip. Additionally, you can replace the atomizer heads. You can change the head with either a 2.5ohm or 1.8ohm atomizer head.
Cleaning and filling the atomizer is simple. So, you don't have to be a pro to refill your e-juice to the tank. Another thing about this atomizer is that it doesn't leak. But when using this device, you must be cautious. When the vaporizer falls on a hard surface, the tank's glass might break.
Brand
Do you want an original equipment manufacturer or original design manufacturing? You can get any of these brands depending on your preference. When you go for an ODM, you will ensure that the company spends less cash and effort.
OEM ensures that the firm produces high-quality products for its customers. When you go for such a product, you will get the best vaping device.
Weight
The X6 vape pen weighs 55 grams. This is lightweight, thus making the vaporizer portable. This means you can carry it to any place. However, this device comes with a zipper case bag that acts as a good storage facility.
Price
A single X6 vape costs $15.10. This affordable with a guarantee of an excellent vaping experience. When you are buying the whole starter kit, it will cost you $49.99. The starter kit comes with a leather zipper case, AC adapter, needle bottle, USB cable, atomizer, user manual, and a vape pen.
Pros and Cons
Pros
Lightweight and portable
Good battery life
Easy to clean and refill
Three variable voltage
Different colors
A high-quality build quality
Easy to use
Cons
The atomizer has a non-removable drip tip
When it falls, the tank can break as it is made of glass
Specifications of X6 Vape Pen
| | |
| --- | --- |
| Battery Capacity | 1300mAh |
| Technology | BCC |
| Weight | 55g |
| Charging time | 2-4 hours |
| Working Voltage | 3.6V, 3.8V, 4.2V |
| Screw thread | 510 and Ego |
| Dimension | 103 x 20 mm |
| Color | Silver (transparent), gold, purple, blue, green, red, and black |
Howto Use X6 Vaporizer
Are you new to vaping using the X6 vaporizer? Then you might be having issues with its use. Don't worry about that as in this section I will inform you about that and more.
Power on and Off
To turn on and off the X6 vape, you need to take the X6 battery and press the power button five times to power it on. Do this also while powering the device off.
Change Variable Voltage
The X6 has three variable voltage 3.6V, 3.8V, and 4.2V.
Changing the voltage to that of your choice involves pressing the power five times. When you power on the device, the variable voltage is 3.6V which lights red.
To change to 3.8V, press the power button five times again. It will light pink. Do that also when you set the highest 4.2V while illuminates purple.
Filling the Tank
When it comes to filling the tank, all you need to do is detach the atomizer from the X6 1300mAh battery. Now, open the bottom part of the atomizer. Take your needle e-juice bottle and fill the tank by directing the e-juice's bottle on the small hole.
Make sure you fill the tank 80%; when you are done, close the atomizer and fix it to the battery. Start vaping by pressing the power button and set your preferred voltage.
How to Charge
Take the wall charger and fix it on your socket. Then connect the USB cable to the wall charger and the X6. When you are done, switch on the socket, and the device will start charging.
When charging, the cable will light red while the vape will be blinking. When the X6 is fully charged, the USB cable will illuminate green. Remove the charger and the USB cable and store them on your leather zipper case.
Watch this YouTube video to learn more about the X6 Vape Pen
FAQ
How Long Does the X6 Vape Charge?
This vaping device takes two to four hours to charge fully. The X6 uses a Li-ion 1300mAh battery which lasts approximately 6.5 hours.
How Much Does the X6 Starter Kit Cost?
The X6 starter kit cost $49.99. The starter kit comprises the X6 battery, atomizer, needle e-juice bottle, charger & USB cable, and leather zipper case.
Where Can I Buy the X6 Vape Pen?
There are various online stores where you can buy the X6 vape pen. But the credible stores include the DH Gate and Amazon.
Visit these stores and get to buy an X6 vape pen of your choice (in terms of color).
UPENDS Products
Suppose you want a different vape device, consider buying an UPENDS product. They have another vape device that includes disposables, pod systems, and pod mods.
So, which is your favorite? Visit UPENDS to get the one that will suit you. If you are looking for a disposable vape, go for the Upone.
It is a great vaping device as it comes with a 4.5ml and an 850mAh battery. It is relatively one of the best in the market. Furthermore, it comes in different flavors that include;
Lychee crush
Raspberry blueberry
Cool mint
Juicy grape
Pineapple ice
Cubari tobacco
In case you want to buy a pod, the system there are four different pod systems. They consist of the UpOX, Uppen Plus, Upcott, and Uppen.
The UpOX is a mini-open pod system that guarantees you quality vaping time. It comes with a 400mAh battery and a 2ml e-liquid tank capacity. Filling the tank is simple as it uses side-set filling. This is because it has a side-set filling hole.
This ensures that you don't detach the drip tip and the coil to refill the tank. Also, it comes in four colors devil black, sapphire blue, chili red, and astral silver.
UPENDS products are compatible with freebase e-liquid, nic salts, and CBD oils. Never use THC or thick oil with these vape devices.
Additionally, pre-filled devices come with a six-month warranty. As for refillable, they have a 12-month warranty.