In the world of vaping, where quality and innovation reign supreme, Freemax has carved out a prominent place for itself as a leading brand. Renowned for their exceptional vaping tanks and devices, Freemax is highly regarded by enthusiasts who value top-notch craftsmanship and cutting-edge technology.
Freemax tanks are meticulously designed to deliver an unparalleled vaping experience, boasting exceptional vapor production and captivating flavors. These tanks are not just ordinary accessories; they are a testament to Freemax's unwavering commitment to excellence. By incorporating advanced coil technology and adjustable airflow systems, Freemax tanks offer users the freedom to customize their vaping journey according to their unique preferences.
Compatibility is key when it comes to enjoying the wide variety of e-liquids available, and Freemax tanks excel in this aspect. They are built to accommodate various types of e-liquids, ensuring a seamless vaping experience no matter the flavor or composition. Whether you prefer direct lung (DL) inhales or the more traditional mouth-to-lung (MTL) style, Freemax tanks offer a range of options to cater to different vaping styles.
One standout series from Freemax is the Fireluke collection. Revered for their impeccable construction, Fireluke tanks combine high-quality stainless steel and glass components to create durable and visually appealing devices.
For those seeking an extraordinary sub-ohm vaping experience, Freemax presents the Mesh Pro and M Pro series. These tanks incorporate revolutionary mesh coil technology, revolutionizing the flavor and vapor production game. By utilizing a mesh design, these coils provide exceptional heat distribution, resulting in intensified flavors and denser vapor clouds that tantalize the taste buds.
Freemax Tank Options
FIRELUKE 4
The latest addition to the renowned Fireluke Series, the Freemax Fireluke 4 Tank, has gained immense popularity for its sleek design and exceptional flavor. With a generous capacity and a replaceable 810 drip tip and 510 bases, this tank offers both versatility and convenience.
It features a top filling system, making it incredibly easy to refill your tank with your preferred freebase e-liquid. What sets this tank apart is its cutting-edge FM COILTECH5.0/Double-D Mesh technology.
It provides a 50% increase in taste and heating speed over the X1-D Mesh Coil thanks to its unique parallel mesh construction, which connects two single mesh coils. This means you can expect an unparalleled vaping experience with enhanced flavor profiles.
Features
FM COILTECH5.0/Double-D Mesh technology
Compatible with X/TX/904L X Mesh Coils
Child Resistant Top Fill Design
Size: 28*50.5mm
Thread: 510
Drip Tip: 810
Includes 1pc Glass Tube
Extra Silicone Ring
User Manual
FIRELUKE 22
Introducing the remarkable Freemax Fireluke 22 Sub-Ohm Tank, renowned for its impressive features. This tank boasts a generous 3.5mL capacity and a sliding top fill system, making refilling a breeze. It is designed with high-quality stainless steel, ensuring durability and reliability.
The Fireluke 22 Tank is compatible with the innovative Freemax CoilTech 4.0 Mesh Coils, providing exceptional performance. Whether you prefer mouth-to-lung (MTL) or direct-to-lung (DTL) vaping, this tank caters to both styles and even includes a spare drip tip for added convenience.
Additionally, the tank features a dual-slotted airflow control system with 5 bored airflow holes, allowing precise adjustment of airflow to suit your preferences.
Features
22mm Diameter
5mL Bubble Glass Capacity
2mL Replacement Glass Capacity
Sliding Top Fill System with a Single Fill Port
Freemax FM CoilTech 4.0 Series
Single DTL mesh coil rated at 0.5 ohms and 15 to 30 watts
Single MTL Mesh Coil, Rated @ 1.0 Ohm, 10-15W
Single MTL Mesh Coil Rated for 8-12W, 1.5 ohm
Press-Fit Coil Installation
Tea Fiber Cotton Wicking Medium
Threaded 510 Connection
Child-Resistant Top Fill Design and Leak-Proof Mechanism
Compatible with DTL & RDL & MTL
FIRELUKE 3
The Freemax Fireluke 3 vape tank is an enhanced version of the popular Fireluke 2 tank, catering to sub-ohm vaping enthusiasts. Designed for intermediate and advanced vapers, this tank is compatible with high-wattage devices and introduces a new range of coils to deliver an optimal vaping experience.
With a 2ml e-liquid capacity, the Fireluke 3 incorporates a redesigned top-fill mechanism to prevent leakage. Refilling is convenient, eliminating the need for tank disassembly, and a secure fit is ensured with three steel balls. The tank's dual adjustable airflow allows for customizable inhales, offering options for both tighter or looser draws.
The Freemax X coils are specifically designed for the Fireluke 3 tank, delivering exceptional flavor and vapor production. Each tank comes with the X1 0.15 Ohm and X2 0.2 Ohm mesh coils, capable of rapidly heating e-liquid for an optimal vaping experience. To achieve the best results, it is recommended to pair this tank with high VG e-liquids, preferably with a VG content of 60% or higher.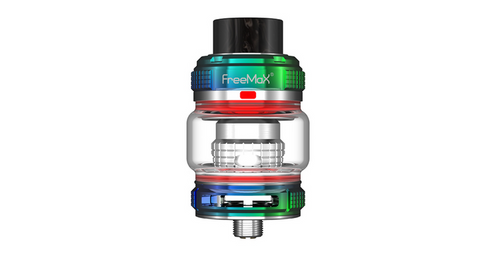 Features
510 Connection
2ml E-Liquid Capacity
Top Filling Mechanism
Supports Direct-To-Lung (DTL) Vaping
Compatible With High VG E-Liquid
904L X1/X2/X3/X4 Mesh Coil
GEMM DISPOSABLE
The FreeMaX GEMM Disposable Tank is a disposable tank made from food-grade PCTG plastic. It comes with a non-removable sub-ohm mesh coil and utilizes an organic tea fiber cotton-wicking medium. The tank is available in various options, offering a wide selection of disposable tanks and coils.
The GEMM Disposable tank is made of plastic and has a top refill mechanism with a silicone stoppered fill outlet that makes it simple to refill. It has a capacity of 4-5mL, accommodating popular e-juices. The wicking medium consists of 90% tea fiber cotton and 10% organic cotton, ensuring efficient wicking without altering the flavor.
The 4 and 5mL GEMM Disposable Tanks come with a variety of single, triple, dual, and quad-meshed coil configurations to suit the needs of both novice and seasoned vapers.
Features
25mm Diameter
5mL Capacity
4mL Capacity
Food-Grade PCTG Plastic Construction
510 Connection
Available in Clear, Blue, and Silver color options
Comes in a pack of two (2).
G1/G2/G3/G4 Mesh Disposable Tank
Longer life span - 30-40 refills
FIRELUKE 2
The FreeMaX FireLuke 2 Mesh Sub-Ohm Tank features a push-to-open top-fill system, dual bottom airflow slots, a maximum capacity of 5mL, and the ground-breaking Tea Fiber FireLuke M Coils. With its 5mL eJuice capacity, the FireLuke 2 Tank allows for easy and ergonomic top-fill access.
The updated FireLuke Mesh Coils, which keep the high-performance mesh design while introducing Tea Fiber cotton for improved flavors, are the outstanding feature. The tank is also equipped with two large bottom-slotted airflow slots, providing an exceptional upgrade from the original model and delivering an extraordinary vaping experience.
Features
5mL maximum capacity
Dual-slotted bottom airflow
Push-to-open top-fill mechanism
5mL maximum eJuice capacity with easy top-fill access
Updated FireLuke Mesh Coils with Tea Fiber cotton for enhanced flavor
Two large bottom-slotted airflows for an improved vaping experience
Patented 90% cotton made of tea fiber and 10% cotton
Diamond Pattern Mesh Coil Structure
TX1/TX2/TNX2/TX3/TX4 Mesh Coil options
Easy Slide-to-Open Top Filling mechanism
FIRELUKE M
The Freemax Fireluke M Sub-Ohm Tank, a recent addition from a renowned hardware brand, is designed to excel in today's vaping industry. With its innovative mesh coils, the Fireluke M delivers exceptional flavor and dense clouds.
The tank features a convenient top-fill mechanism, making it user-friendly and hassle-free. It is crafted to provide an enjoyable vaping experience with its impressive performance and user-centric design.
Features
3mL Juice Capacity
510 Threaded Connection
Suitable with X1, X2, and X3 Mesh coils
Top-Fill design for easy refilling
Supports performance range of 40W-90W
FAQs About Freemax Tank
Which series of tanks are notable from Freemax?
The Fireluke series is a notable tank series from Freemax. These tanks are praised for their high-quality construction, stainless steel and glass components, and efficient coil systems. Freemax also offers sub-ohm tanks like the Mesh Pro and M Pro series, which utilize mesh coil technology for enhanced flavor and vapor production.
Best Vape Wholesale Supplier-UPENDS
Welcome to the captivating realm of Vape UPENDS, a place where innovation and style seamlessly intertwine, awaiting your arrival for an unforgettable vaping adventure. We extend a warm invitation to join our community, where an abundance of exclusive deals awaits to enhance your vaping pleasure.
At Vape UPENDS, we derive immense satisfaction from our state-of-the-art innovations, elegant designs, and meticulous attention to detail. Our team of skilled artisans pours their hearts into crafting flawless and extraordinary creations that will mesmerize your senses. Our aim is to tantalize your refined taste buds with every inhale and ignite a sense of wonder that leaves you amazed by the extraordinary experiences we have in store for you.
We are driven by the desire to provide you with an exceptional vaping journey, and we are thrilled to embark on this life-changing adventure together. So, take a moment to relax and allow us to demonstrate why Vape UPENDS is the ultimate choice for discerning individuals who demand nothing but the best. Prepare to immerse yourself in a world where imagination, style, and awe intertwine, creating an experience that will captivate you and leave you craving for more.