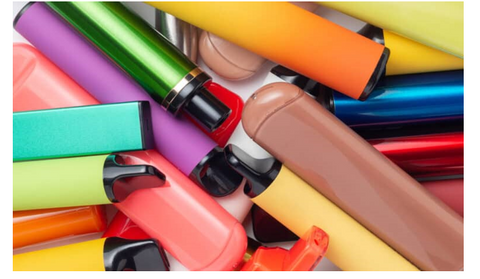 Are you tired of settling for the ordinary when it comes to disposable vapes? Prepare to break the limits of convention as we unveil the world of refill disposable vapes. Say goodbye to the monotony of traditional disposable vapes and embrace a new era of refillable satisfaction. These game-changers blend the convenience of disposables with the boundless possibilities of refillable systems. Get ready to embark on an exhilarating journey with us as we unravel the secrets behind these innovative devices that defy expectations.
What is a Refill Disposable Vape?
Refill disposable vapes combine the convenience of disposable vapes with the flexibility of refillable systems. These devices are designed to be used for a certain period and then disposed of, but they offer the ability to refill them with e-liquid, extending their lifespan and providing a more cost-effective option.
As opposed to the conventional disposable vapes that are discarded entirely after use, refill disposable vapes consist of a battery, an atomizer, and a refillable pod or tank. The battery powers the device, while the atomizer houses the heating coil that vaporizes the e-liquid. The refillable pod or tank is where the e-liquid is stored and can be easily refilled when it runs out.
Refilling a disposable vape is a relatively simple process. All you need to do is to remove the pod or tank from the battery section, locate the fill port, and open it to access the reservoir. The e-liquid is then poured or injected into the pod/tank, and the fill port is securely closed. After allowing the device to sit for a few minutes to allow the wick to absorb the e-liquid, the pod or tank is reattached to the battery section, and the device is ready to be used again.
These disposable vapes are often rechargeable so that the battery life can accommodate this feature. A major advantage of the refill disposable vapes is that you have the liberty to choose from a wide range of e-liquid flavors and nicotine strengths to refill. Another is that it eliminates the issue of pollution, in other words, the refill disposable vapes are eco-friendly.
General Features
Sleek and Disposable Design
Refill disposable vapes are designed to be small, lightweight, and easy to carry around just like the traditional disposable vapes. They are also pocket-friendly and can be conveniently taken anywhere.
Although refillable, these refill disposable vapes still follow the disposable concept, meaning they are meant to be discarded after a certain period or number of refills. This makes them ideal for users who prefer the convenience of disposables but also want the option to refill.
Refillable Pods or Tanks
Refillable disposable vapes feature pods or tanks that can be opened and refilled with e-liquid. These pods/tanks are generally removable from the battery section, making the refilling process simple and convenient. The refilling process however varies from brand to brand. This is because some brands have different refilling processes. Do well to use the manual as a guide.
Battery Life
Refill disposable vapes come with a built-in battery that provides power for heating the e-liquid and producing vapor. Infact, the only difference in battery capacity is the fact that refill disposable vapes can be recharged. The battery capacity varies depending on the specific model, but it is designed to last for the entire lifespan of the device. They also come with a USB cord for recharging.
Customizable Vaping experience
Refill disposable vapes allow users to choose from a wide variety of e-liquid flavors and nicotine strengths.  The coil and atomizer are responsible for vaporizing the e-liquid.  The coil heats up when the device is activated, creating the vapor that you inhale. Once the e-liquid is exhausted, you can simply refill with any e-liquid of your choice. This gives you the flexibility to customize their vaping experience according to their preferences.
Airflow Control
Some refill disposable vapes come with adjustable airflow control. This feature allows you to fine-tune the airflow to your preference, providing a more personalized vaping experience.
Relevant YouTube videos on Refill Disposable Vapes
Reviews: Are Refill Disposable Vapes Good?
Voopoo Argus Z Refill Disposable Vapes
Get ready to experience a vaping marvel that defies its compact size. The VOOPOO Argus Z pod kit is a true titan in a small package, packing an impressive 900 mAh internal capacity battery that's primed to deliver an exceptional MTL (Mouth-to-Lung) vaping experience. Its cutting-edge ITO coil technology guarantees intensified flavors with each satisfying puff.
With adjustable 4-hole airflow, you have the liberty to fine-tune your vaping style, creating a truly tailored experience that suits your preferences flawlessly. The VOOPOO Argus Z boasts pods crafted with multi-layered, leakage-proof design, ensuring a seamless and worry-free vaping adventure.
Features
Dimension: 91.45 mm x 27.5 mm x 14.8 mm
Pod material: PCTG
Capacity: 2 ml
Vape material: Aluminum alloy
Battery capacity: 900 mAh
USB type C charging cord
Adjustable airflow
Output power: 17 W
Output voltage: 3.2 - 3.5 V
Pros
U-Shaped draw activated airflow (adjustable)
Built-in safety protections for overtime,  short-circuit , overcharge, or low battery
Has battery level indicator
Magnetic pod connection
Cost effective
Multi-layered leakage-proof design
Ergonomic mouthpiece
Cons
Can only be replaced with VOOPOO Argus replacement pods.
Vaporessso Xros 3 Mini Bundle Refill Disposable Vape
The new Vaporesso XROS 3 Mini Pod Kit takes vaping to soaring heights, thanks to its remarkable Vaporesso XROS 3 0.6 ohm mesh pod and the revolutionary COREX heating technology. With adjustable airflow at your fingertips, you hold the key to customizing your vaping experience, ensuring each draw is precisely tailored to your liking. Whether you prefer a tighter MTL draw or a more airy DL hit, the XROS 3 Mini has you covered, granting you full control over your vaping destiny.
Behind the scenes, the integrated AXON chipset works tirelessly to deliver flawless performance and fast responsiveness. Equipped with a robust 1000 mAh internal capacity battery, the XROS 3 Mini ensures that your vaping journey never hits a roadblock.
Features
Sleek design
Battery capacity: 1000 mAh
Dimensions: 98.9 mm x 23.4 mm x 13.5 mm
Adjustable draw activated system
Max charging current: 1 A
Pod capacity: 2 ml
Pros
Cost effective
1000 mAh internal battery capacity
Adjustable airflow
Utilizes COREX heating technology
AXON integrated chipset
It has SSS anti-leaking pods
Cons
Can only be replaced with Vaporesso XROS replacement pods
Frequently Asked Questions (FAQs)
How do refill disposable vapes work?
Refill disposable vapes operate on the same principles as regular disposable vapes. They consist of a battery, an atomizer, and a refillable pod or tank. The e-liquid is poured or injected into the pod/tank, and when the device is activated, the battery heats up the coil in the atomizer, vaporizing the e-liquid and producing inhalable vapor.
How many times can I refill a disposable vape?
The number of times a refill disposable vape can be refilled depends on the specific brand and its design. Most refill disposable vapes can be refilled multiple times, ranging from 2 to 10 refills. However, it's important to note that the performance and flavor quality may diminish with each refill, so it's recommended to replace the device after a certain number of refills or when the flavor starts to deteriorate.
What types of e-liquid can I use to refill a disposable vape?
Refill disposable vapes are compatible with a wide range of e-liquids. You can use regular freebase nicotine e-liquids, nicotine salts, or even CBD-infused e-liquids, depending on your preferences and the device's specifications. It's important to choose an e-liquid with a suitable VG/PG ratio and nicotine level to ensure optimal performance and satisfaction.
How do I refill a disposable vape?
The process of refilling a disposable vape varies slightly depending on the brand, but it typically involves the following steps:
Remove the pod or tank from the battery section of the device.
Locate the fill port, which is usually a small silicone stopper or a threaded cap.
Open the fill port and carefully fill the pod/tank with your chosen e-liquid, avoiding any spills or overfilling.
Close the fill port securely, ensuring a tight seal.
Allow the device to sit for a few minutes to allow the wick to absorb the e-liquid.
Reattach the pod or tank to the battery section, ensuring a proper connection.
Activate the device according to its specific instructions to start vaping.
Remember to refer to the user manual provided with your specific refill disposable vape for detailed instructions.
Best vape wholesale supplier-UPENDS
Discover an exceptional vaping experience with UPENDS—an extraordinary retailer specializing in top-quality, affordably priced vaping products. As a top retailer in china, we take pride in sourcing our products from only reputable factories within the country. These are carefully vetted by our experts in research and development, to ensure a curated catalog that meets the highest standards of excellence.
At UPENDS, we offer a diverse range of disposable e-cigarette products that excel in quality, taste, design, and overall aesthetics. Immerse yourself in a unique shopping experience by choosing UPENDS. We deliver e-vape products that will give you unparalleled satisfaction.
UPENDS is looking for authorized disposable e-cigarette agents, distributors, wholesalers worldwide, if you are interested, please contact us now!