Getting the right online store or dealer for your vaping needs can be tasking at times. Most especially when you are trying to avoid being scammed by fake retailers or wholesalers.  We understand the frustration; hence this review on Demand Vape.
In this review, we would introduce you to one of the most trusted vendors you can get your vapes from, featuring top vape brands that you should try out as well as their specifications, pros and cons. The good news is that you can get these products from Demand Vape, so grab yourself a vape as we dive right into this article.
What is Demand Vape?
Demand Vape is an online vaping store that sells vapes and vaping accessories at both wholesalers and retailers level.  Their headquarters is in New York, although it is uncertain if they maintain a physical store apart from their warehouse for shipping and storage.
Demand Vape dominates the e-liquid vaping world and even provides "alternative" smoking devices, presenting a delightful yet slightly overwhelming range of options to choose from. This single article cannot cover all the vaping options as it is very numerous.
Demand Vapes stock items from various vaping brands, encompassing well-known ones like Tesla or Snowwolf, along with lesser-known brands. Although, Demand Vape competes against other large vape stores, it still provides maximum vaping experience to its customers.
If brand preference is your priority, Demand Vape is likely to cater to your needs, almost seeming to possess access to every vaping product available be it pod devices, disposable vapes or even vape part replacements.
General Features
Quality
One of the characteristics of a good vape is one with great quality. With many fakes and counterfeit products out there, finding a quality vape can be difficult. This is where Demand Vape comes in. Demand Vapes boast of supplying quality vapes to their customers.
Your favorite vapes from reputable brands such as Puffbar, Posh vapes, and Mojo vapes just to mention a few disposable ones. They are your one stop shop for all your vaping needs. You would even find your favorite pod devices from brands like Vaporesso and Smok. You deserve the best and Demand Vape is offering you that.
Pricing
Demand Vape wholesale stands out for its competitive pricing in the vaping industry. They enable these businesses to optimize profits while maintaining product quality because they recognize the significance of offering cost-efficient products to retailers and distributors. Demand Vape extends its noteworthy savings to customers by leveraging bulk purchase and healthy manufacturer relationships.
Deals
Is there anyone who does not love getting good deals on their purchases? Absolutely not! The Demand Vape website's deals and clearance section showcases an extensive assortment of vaping items, encompassing mods, tanks, coils, disposables, and e-liquids. Many of these products originate from well-known brands and are offered at substantial discounts.
Certain items might be marked down by as much as 50% from their initial price, presenting you with an exceptional chance to save while indulging in top-notch vaping goods. This section is consistently refreshed with fresh deals, ensuring that you consistently encounter new deals.
Wide Range of Products
Demand Vape stands out in wide range of product. Their website presents a wide-ranging compilation of vaping equipment sourced from both popular brands and less recognized brands.
Their collection of products encompasses mods, tanks, coils, pods, disposables, and various other vaping accessories. Catering to your brand preferences, we can assure you that all your needs will be met here at Demand Vape.
Product Comparison Tool
You can find the product comparison tool on the product pages of the Demand Vape website. This tool presents a side-by-side analysis of chosen products, emphasizing both their commonalities and distinctions. It allows you to assess factors like product specifications, pricing, and customer feedback, helping you swiftly pinpoint the ideal product for your vaping needs.
Furthermore, the product comparison tool offers the advantage of time and effort savings for you. Instead of toggling between individual product pages, you can use the comparison tool to access all vital details conveniently within a single location. This is an awesome feature that the Demand Vape offers.
Relevant Youtube Videos on Demand Vapes
Review: Are Demand Vapes Good?
Geekvape Nova 2
Geekvape is one of the brands you would find in the Demand Vape stores or even on their website and it is one of the highest-ranking brands in the vape industry. The Geekvape Nova 2 is a newer version to the original Nova vape mod and it is known for its impressive design and performance.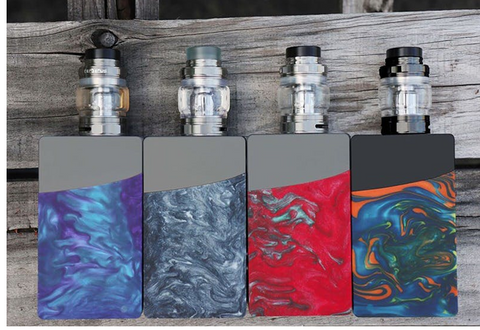 This advanced device boasts a sleek and visually appealing exterior constructed with high-quality materials. The Nova 2 offers a range of wattage options, advanced temperature control settings, and compatibility with dual 18650 batteries for extended vaping sessions. With its improved chipset and user-friendly interface, the Geekvape Nova 2 is designed to deliver a powerful and customizable vaping experience just for you. You can purchase the Geekvape Nova 2 from Demand Vape online store
Features
Advanced AS chip
Maximum wattage output: 200 watts
Large OLED screen
The chassis is constructed with aluminum zinc alloy
510 connection
Micro-USB connection
Pros
High-quality quality
Draw activated firing mechanism
Unique design
No buttons
Impressive power mode performance
Portable and easy to use
Good temp control performance
High amp limit
Really high volt limit (uses boost circuit)
Handles 25 mm without overhang
Cons
It doesn't accommodate preheat functions
Lost Vape Orion Q
Featuring another one of the frequently purchased vapes at Demand Vapes is the Lost Vape Orion Q pod. The Lost Vape Orion Q is a notable pod system that gained popularity for its compact design and user-friendly features.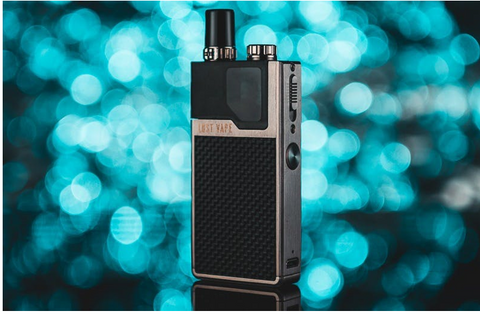 Manufactured by the reputable Lost Vape brand, the Orion Q offers a simplified vaping experience. It features a built-in 950mAh battery, offering ample power for a portable device. The refillable pods are designed for use with nicotine salt e-liquids, providing a smooth and satisfying throat hit.
With its button-operated build and multiple power settings, the Lost Vape Orion Q caters to both new vapers and those seeking a convenient on-the-go option.
Features
Dimensions: 93 mm x 37 mm x 13.5 mm
0-ohm KTR Orion pod - Kanthal
Wattage output (max): 17 watts
2mL refillable cartridge
Stainless steel frame & PC-110 (Food-Grade) pod construction
Temperature protection
Proprietary pod cartridge installation
Low/High resistance protection
Internal 950mAh rechargeable battery
Micro-USB port
Proprietary onboard chipset
Pros
Short-circuit protection
An impressive responsive firing and comes with an adjustment button
Dual adjustable airflow
Threaded cap top-fill design
Comes with intuitive LED lights
Pods are safe to use
Long-lasting battery
Pod release switch
High quality flavor and vapor
Cons
It uses buttons
Weak battery protection
Frequently Asked Questions (FAQs)
What are the products within the Demand Vape catalog?
Demand Vape provides an extensive array of vape products, ranging from vape kits, e-liquids, coils, batteries, to accessories. Their purpose is to cater to both beginners and experienced vapers alike. When you visit their homepage, all whole lot of vape products vying for your attention.
With a constant stream of promotional discounts for new releases and top sellers you would even save money in the process of purchasing from Demand Vapes. If you prefer to avoid scouring an entire website to locate your desired item, you're bound to discover something captivating right on the homepage.
Does Demand Vape have any coupon codes?
While the company doesn't offer targeted discounts for particular groups such as military members or first responders, they do feature a dedicated Deals section on their website. Within this section, you can discover special offers on vape devices and a variety of e-juice selections.
How safe are the Demand Vape products?
Absolutely! Purchasing vape products from Demand Vape is indeed an excellent choice. They exclusively offer products from well established brands that have undergone thorough testing and certification. This safes you from falling prey to the wiles of scammers.
Best vape wholesale supplier-UPENDS
How can you redefine your vaping experience to be sensational and safe? It starts with patronizing the best vape wholesale supplier in today's vaping market. UPENDS will take you on an unforgettable adventure alongside a vast catalog of vaping products that will give you a blast. This one-of-a-kind store is a treasure trove of delight that will satisfy your cravings without breaking the bank.
Check out the star of the show, the Upbar-GT. This is more than your average disposable vape as it provides more puffs than you can count and flavors that will take your taste buds on an unforgettable journey. Here's your one-way ticket to unparalleled satisfaction.
Want to be an authorized disposable wholesaler, distributor and disposable e-cigarette agent for UPENDS? Please contact us now to join the fun.