If you've recently acquired a Cookies vape pen or are considering getting one, this comprehensive guide is here to ensure that you have all the information you need to enjoy a smooth and satisfying vaping experience. Whether you're a beginner or an experienced vaper, understanding the proper usage, maintenance, and best practices for your Cookies vape pen is essential.
In this guide, we will walk you through step-by-step instructions, covering everything from basic operation to troubleshooting tips. Get ready to unlock the full potential of your Cookies vape pen and elevate your vaping journey to new heights of enjoyment. Let's dive in!
What Is a Cookies Pen?
The Cookies pen is a pre-filled cartridge vaporizer that comes in a range of flavors. OG Kush, Gelato, and GSC are the most sought-after flavors among users.
Cookies provide a diverse selection of vape cartridges, all crafted with top-notch ingredients and equipped with ceramic coils.
Cookie pens boast impressive battery life and deliver a pleasurable vaping experience with rich flavors. They are user-friendly and guarantee a consistent hit with every use.
In summary, the Cookies pen is a fantastic pre-filled cartridge vaporizer that is bound to satisfy any vaping enthusiast.
Features
5ml E-liquid Capacity
350mAh Battery
4ohms Resistance
Rechargeable
510 Thread Type
USB-C Charging Type
Pros
The Cookies Pen offers a lot of positive aspects, but you should be aware of a few potential negative aspects as well before making a purchase.
The best benefit of the Cookies Pen is its long-lasting battery. Even if you use this pen regularly, it will last all day. The quality of the carts is another significant plus. This pen has excellent cartridges that emit a lot of vapor.
Cons
The cost is a little exorbitant. Similar pens are available for less money.
You will need to purchase a carrying bag separately if you want to safeguard your purchase since the pen does not come with one.
Why Choosecookies vape pen
Design and Internal Build Quality
The build quality and design of the Cookies pen are exceptional. The pen is constructed using premium materials, resulting in a tangible sense of quality when held.
The weight of the pen is ideal, and its ergonomics are meticulously crafted. Additionally, the cartridge exhibits a well-thought-out design, incorporating an effective airflow system that guarantees satisfying hits consistently.
Battery
The Cookies Pen provides a superb battery and top-notch cartridges. The pen boasts a sleek and user-friendly design, offering a pleasant weight and tactile experience when held.
Filling the cartridge is a breeze, thanks to its wide opening and ample airflow. The flavor profile is exceptional, striking a delightful balance between sweetness and richness.
All in all, this pen is outstanding for generating ample vapor and delivering remarkable flavor.
How To Use A Cookies Pen
If you have a Cookies Pen and cartridges ready, follow these steps to use it. Begin by unscrewing the cartridge from the pen.
Afterward, securely screw the cartridge onto the pen until it fits snugly. Once the cartridge is attached, quickly press the button located on the side of the pen five times.
This action will activate the vape battery. To start using the pen, simply press and hold the button while inhaling through the mouthpiece.
Best Practices for Using Vape Pens with Cookies
Consider the following best practices to enhance your vaping experience and preserve the durability of your Cookies vape pen:
Selecting the Appropriate Cartridge
Cookies vape pens are made to work with particular cartridges. To ensure the best performance, only use the cartridges the manufacturer suggests.
Using the proper cartridge can help you prevent problems and enjoy consistent vapor production because different cartridges may have different compatibility and voltage requirements.
Appropriate Maintenance and Storage
Keep your Cookies vape pen out of direct sunlight in a cool, dry location while not in use. By doing so, the battery is shielded from harm and the device's overall quality is maintained.
Use a soft cloth or cotton swab to regularly clean the connections between the cartridge and the vape pen to get rid of any buildup or residue.
Recognizing Dosage and Results
It's critical to comprehend the dosage and effects when utilizing a Cookies vape pen with cannabis concentrates. Start with low doses and gradually raise them as needed to give your body time to get used to the cannabis' increased concentration.
To ensure safe and responsible usage, it is always advised to refer to the product packaging or ask a competent specialist for guidance.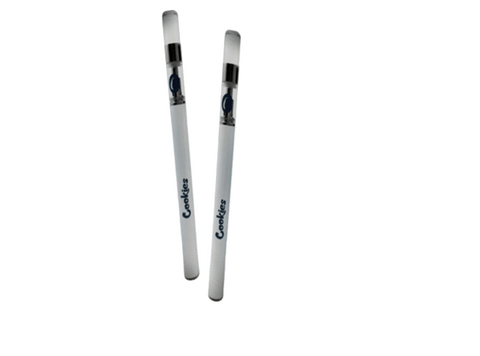 Troubleshooting Typical Problems
Although Cookies vape pens are made to work without a hitch, problems might still arise. The following list of common problems and potential solutions:
1) The Vape Pen Won't Turn On
To start with, make sure the battery is charged and check the battery level if your Cookies vape pen won't turn on. If the battery is fully charged but the gadget still won't turn on, try repeatedly pushing the power button quickly. For more help, if the issue continues, get in touch with Cookies customer service.
2) Poor Vapor Generation
Make sure the battery is completely charged and the cartridge is firmly in place if you see inconsistent vapor generation. Check the airflow settings as well, and make any required adjustments. Consider replacing the cartridge if necessary because poor-quality or depleted cartridges can also contribute to inadequate vapor output.
Burnt Flavor
When the heating element is overheated or the cartridge is getting close to empty, a burnt taste may develop. Avoid taking extremely lengthy or frequent draws to avoid this. Try replacing the cartridge if the taste still exists; it may have reached the end of its useful life.
4  Clogged Cartridge
The airflow might be hampered by cartridge blockages, which also prevent vaporization. If you come across a blocked cartridge, take it out of the vape pen and use a pin or a small needle to unclog the airflow channels. To remove any obstructions, carefully insert the needle into the airflow openings.
Take care not to harm the heating element or the cartridge. After cleaning, reattach the cartridge and take a few pulls to check the airflow. Think about replacing the cartridge if the problem continues.
Considerations for Safety
Safety should always come first when using any vape pen, even Cookies vape pens. To ensure a risk-free experience when vaping, adhere to the following rules:
Keep children and pets away from your vape pen.
Keep the vape pen away from high or low temperatures, as well as moisture.
Use only the power supply and charging cable that are advised.
Stop using vaping immediately and seek medical advice if you suffer any strange symptoms or discomfort.
Use your Cookies vape pen responsibly and with awareness to ensure your safety.
Conclusion
Cookies vape pens provide a convenient and pleasurable method to engage in vaping. By grasping the fundamentals, adhering to correct usage instructions, and employing recommended techniques, you can achieve a gratifying and effortless vaping session.
Regardless of whether you are new to vaping or have prior experience, the insights shared in this article will support you in optimizing the capabilities of your Cookies vape pen.
FAQs
What dimension does the Cookies Pen have?
The Cookies Pen has a width of.5 inches and measures just under 5 inches. The pen weighs only 7 grams, which is quite little.
How many cartridges are included with the Cookies Pen?
A clear cartridge and a black cartridge are included with the Cookies Pen. Each one can store 0.5mL of oil.
What kind of batteries are used in the Cookies Pen?
Batteries with 510-threaded connections are used in the Cookies Pen. These are easily accessible online or at your neighborhood electronics store.

Best Vape Wholesale Supplier-UPENDS
Experience the captivating world of Vape UPENDS, where innovation and style seamlessly combine to create a warm and inviting atmosphere. We sincerely invite you to join our community and embark on an unforgettable vaping adventure. Discover a wide range of exclusive offers that will elevate your vaping experience to pure delight.
At Vape UPENDS, we take immense pride in our cutting-edge advancements, elegant designs, and meticulous attention to detail. Our team of skilled artisans wholeheartedly devotes themselves to crafting flawless and awe-inspiring products that will engage your senses. Our goal is to tantalize your refined taste buds with every inhale and leave you in awe of the extraordinary moments we have in store for you.
Our ultimate mission is to provide you with an exceptional vaping journey, and we are thrilled to embark on this transformative venture together. Take a moment to relax and let us demonstrate why Vape UPENDS is the ultimate choice for discerning customers who expect nothing but excellence. Prepare to immerse yourself in a world where creativity, fashion, and pure marvel seamlessly blend, offering an enchanting experience that will leave you craving for more.