Today, we're putting the spotlight on the Uwell Caliburn and other amazing electronic cigarette products that are just as awesome. Get ready to dive into the realm of high-quality vaping devices that have totally revolutionized the industry and won over vapers worldwide.
From the sleek and sophisticated Uwell Caliburn to its equally impressive counterparts, we're taking a journey to discover the innovations, performance, and convenience that make these e-cigarettes top-tier. Whether you're a vaping pro or new to the scene, join us as we explore the realm of mind-blowing vaping experiences and find out the absolute best that this ever-evolving industry has to offer. So grab your vaporizer and let's get going!
In the realm of vape devices, Uwell has established a strong reputation for producing high-quality products that cater to different vaping preferences. Two notable offerings from Uwell are the Valyrian Uwell and Uwell Caliburn Koko.
While both devices excel in their own right, there are distinct differences that set them apart. In this analysis, we will delve into the features and capabilities of each device, providing a comprehensive comparison.
A Quick Review Of Valyrian Uwell and Uwell Caliburn Koko
Valyrian Uwell
Experience the Uwell Valyrian SE 25W Pod Kit, an innovative device that combines advanced features with a sleek design. Boasting a powerful integrated 1250mAh battery, this pod kit offers long-lasting vaping sessions. With options for either a 0.6ohm or 1.0ohm resistance coil, you can enjoy flavorful vapor whether you prefer regular eJuice or nicotine salts.
The durable aluminum alloy construction ensures durability while maintaining a lightweight profile, capable of withstanding minor accidents. Equipped with a 3mL pod capacity, the Valyrian SE Pod Kit allows you to enjoy extended vaping sessions. With an adjustable airflow control switch, you can customize the airflow to suit your preferences, ensuring a satisfying vaping experience every time.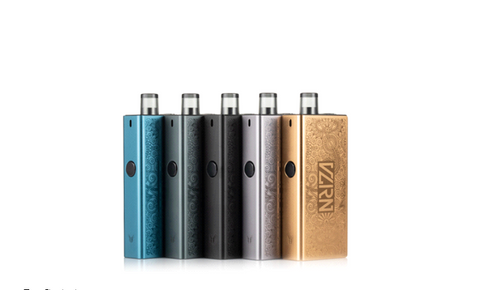 Box Contents
Uwell Valyrian Pod Device (1 unit)
Valyrian MTL Pod (1 unit)
0Ω Valyrian MTL Pod Coil (Installed)
Valyrian DTL Pod (1 unit)
6Ω Valyrian DTL Pod Coil
Micro USB Cable (1 unit)
User Manual (1 unit)
Features
1250mAh Battery
6ohm / 1.0ohm Coil Resistance
3mL E-liquid Capacity
Type-C MicroUSB Port
Adjustable Airflow Control Switch
Pros
Compact and tidy device
Versatile 0.6Ω coil suitable for both MTL (mouth-to-lung) and restricted DL (direct lung) vaping styles
Cons
Micro USB charging port located at the base
Those seeking massive clouds may find it unsatisfying
Uwell Caliburn Koko
The Uwell Caliburn Koko Prime pod kit represents the newest version of the highly praised Caliburn series. It retains the compact size of its predecessor, the Caliburn Koko while boasting a 690mAh built-in battery with a maximum output of 15W. What sets it apart is the ability to customize the vaping experience by flipping the pod insertion direction and utilizing the removable coil system. The Caliburn G pods and coils make the Koko Prime compatible for vapers of all skill levels, especially those quitting smoking.
The Caliburn G pods have a 2ml capacity for e-liquid and can be easily refilled by removing the mouthpiece and accessing the silicone stopper top fill. The design of the pods allows for convenient plug-and-play coil replacement and installation. They are compatible with Caliburn G coils, which are available in two options: a 0.8 Ohm mesh coil and a 1.0 Ohm standard coil. For the best performance, we recommend using PG e-liquids with a concentration of 50% or higher when using the Caliburn Koko Prime.
Box Contents
Uwell Caliburn Koko Device (1 unit)
Caliburn Koko Pods 1.2ohm (2 units)
Micro USB Cable (1 unit)
User Manual (1 unit)
Chain Lanyard (1 unit)
Features
690mAh Battery Capacity
Integrated Battery Type
USB Type-C Charging
0ohm Coil Resistance
2ml Tank Capacity
15W Output
Lightweight Design and Compact
Draw Activated
Pros
Smooth throat hit
Easy, loose MTL (Mouth-to-Lung) draw
Incredibly lightweight
Warm and smooth vapor
Attractive and well-designed appearance
Cons
Moderate battery life
Difficulty in removing the fill cap
Valyrian Uwell Vs Uwell Caliburn Koko
The Caliburn and Koko models share many similarities in terms of features, such as the use of 2ml refillable pods and a comparable vaping experience. The main noticeable difference between the two lies in how the vaping process is initiated. The original Caliburn offers the convenience of both an auto-draw sensor and a button trigger, catering to different user preferences
While this may not be a significant factor for some, those transitioning from older devices may miss the button trigger functionality. However, it is important to acknowledge that the Koko model shines in terms of its auto-sensor performance, which proved to be more responsive and consistent during testing compared to the original Caliburn.
The Koko's auto-sensor functionality eliminates the occasional misfires or interruptions experienced with the Caliburn during long draws. It is evident why Uwell made the decision to forgo the button trigger in the Koko model, as the auto-sensor provides a superior vaping experience.
| | | |
| --- | --- | --- |
|   | Valyrian Uwell | Uwell Caliburn Koko |
| Battery Capacity | 1250mAh | 690mAh |
| Coil Resistance | 0.6ohm / 1.0ohm | 1.0ohm |
| Tank Capacity | 3mL | 2mL |
| Charging Type | Type-C MicroUSB | USB Type-C |
| Adjustable Airflow | Yes | No |
| Customizable Vaping | No | Flip pod insertion direction, removable coils |
| Recommended E-liquids | Regular eJuice or nicotine salts | PG e-liquids of 50% or higher concentration |
| User Experience | Advanced features, flavorful vapor, adjustable airflow | The compact, lightweight, customizable vaping experience |
| Color Options | 6 | 4 |
Why Choose Valyrian Uwell And Uwell Caliburn Koko
When it comes to choosing the Valyrian Uwell and Uwell Caliburn Koko, there are several compelling reasons why they stand out from the competition.
Exceptional Performance: Both the Valyrian Uwell and Uwell Caliburn Koko deliver outstanding performance in terms of vapor production, flavor intensity, and overall user experience. These devices are designed to provide satisfying and consistent hits, making every vape session a delight.
Cutting-Edge Technology: Uwell is renowned for incorporating cutting-edge technology into their devices. The Valyrian Uwell and Uwell Caliburn Koko feature advanced features like adjustable airflow, temperature control, and intelligent coil recognition, allowing vapers to customize their experience according to their preferences.
Reliability and Durability: Uwell is synonymous with durability and reliability. The Valyrian Uwell and Uwell Caliburn Koko are built with high-quality materials and undergo rigorous testing to ensure they can withstand daily use and last for an extended period. These devices are designed to be your long-term vaping companions.
Sleek and User-Friendly Design: Both the Valyrian Uwell and Uwell Caliburn Koko boast sleek and ergonomic designs that not only look great but also fit comfortably in your hand. Additionally, they feature intuitive interfaces and simple operation, making them user-friendly, especially for beginners.
Wide Range of Coil Options: Uwell offers a wide range of coil options for the Valyrian Uwell and Uwell Caliburn Koko, allowing vapers to fine-tune their vaping experience. Whether you prefer sub-ohm vaping or a more restricted draw, Uwell has you covered with their versatile coil selection.
Long Battery Life: Battery life is a crucial factor in vaping devices, and Uwell understands this. The Valyrian Uwell and Uwell Caliburn Koko are equipped with long-lasting batteries that ensure you can enjoy extended vaping sessions without constantly worrying about recharging.
Excellent Customer Support: Uwell is known for its commitment to customer satisfaction. In case of any issues or questions, their responsive customer support team is always ready to assist you, ensuring a hassle-free vaping experience.
FAQs
What pods work with the Uwell Koko?
These pods work with the Uwell Caliburn Pod Kit as well as the Uwell Caliburn Koko Pod Kit. The pods include top-fill systems that make it simple to reload your e-liquid and come in coil resistances of 1.2ohm (Koko Pods) and 1.4ohm (Caliburn Pods).
What coils will work with the Caliburn Koko?
The new Uwell Caliburn KOKO Prime Replacement Coils have a press fit installation and a 1.0 ohm 10-15W mesh coil.
Best Vape Wholesale Supplier-UPENDS
Enjoy the magical world of Vape UPENDS, where innovation and style meld in perfect harmony and invite you to set out on a life-changing vaping journey. We cordially invite you to become a member of our community, where a host of special deals are ready to make vaping even more delightful.
At Vape UPENDS, we're immensely proud of our cutting-edge innovations, sophisticated aesthetics, and painstaking attention to detail. The perfect and breathtaking items that our group of talented artisans creates will captivate your senses are the result of their unwavering dedication. Every inhale should excite your sophisticated palette while simultaneously inspiring wonder at the extraordinary moments we have planned for you.
We are pleased to embark on this transformational journey with you in order to fulfill our ultimate goal of providing you with an outstanding vaping experience. Please relax for a bit as we explain why Vape UPENDS is the best option for discriminating clients who expect nothing less than the best. Prepare to immerse yourself in a universe where originality, style, and pure wonder converge to create an experience that will enchant you and leave you wanting more.