Rebuildable tank atomizers (RTAs) offer a convenient vaping experience as they automatically fill the coil with e-juice until the tank is empty.
There are two main types of RTAs: MTL (Mouth-to-Lung) and DTL (Direct-to-Lung). MTL RTAs utilize higher ohm coils to simulate the sensation of smoking a cigarette. They are often paired with strong e-liquids and high-capacity tanks, delivering a unique vaping experience with exceptional flavor.
While MTL RTAs were once rare, they are now produced and sold by both local and international brands. With a wide array of options available in the market, it can be challenging to select the best MTL RTA that is reliable and cost-effective.
To ease your selection process, we have compiled a list of the top ten MTL RTAs that are widely acclaimed and used by users. This list will assist you in finding the MTL RTA that best suits your preferences.
Top 5 MTL RTA Tank
Innokin Ares 2
The Innokin Ares 2 is the latest addition to Innokin's MTL RTA line, featuring a bell-shaped outer body design that is both ergonomic and simple. The device is designed with efficiency in mind, ensuring smooth airflow through an adjustable mechanism controlled by a button. The entire body of the Innokin Ares 2 is constructed from durable stainless steel. To refill the device with e-liquid, simply remove the top cap for easy top-fill access. With its 22 mm diameter, the Ares 2 is portable and easy to carry around.
It comes with various tools and spare parts, like any top-notch product. Notably, the top cap is tightly sealed to prevent any air or liquid leakage. The Ares 2.0 MTL RTA strikes a near-perfect balance between its design, user-friendliness, and flavor production, making it an outstanding choice for mouth-to-lung atomizers. It could easily become your new favorite device.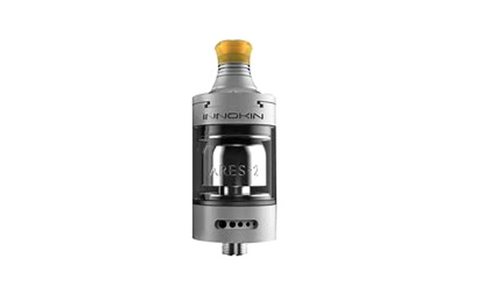 Pros
Enhanced manufacturing techniques contribute to the creation of a long-lasting device
The drip tip is conveniently located within the top cap
Promotes excellent flavor development
The build deck is easily accessible for convenient coil installation
Steam Crave Glaz Mini
Crafted from a high tensile zinc alloy, the Glaz Mini RTA by Steam Crave stands out as a formidable mouth-to-lung atomizer. Its impressive features make it a deserving contender among the best MTL RTAs available.
With a diameter of 23 mm, the Glaz Mini RTA showcases exceptional build quality thanks to its stainless steel construction. Notable attributes include a Pyrex glass tank, a threaded top fill system, and a 510 connector that seamlessly connects with a wide range of mods.
The MTL RTA incorporates a 2 ml juice tank, but it can easily be swapped out for larger tanks, such as a 5 ml capacity option. To enhance flavor production, the RTA offers an adjustable airflow control ring that directs airflow inward.
One potential drawback is that the build deck of the RTA only supports single-coil configurations, which may disappoint those seeking multi-coil compatibility.
Nevertheless, for users in search of an immersive experience and exceptional flavor, the Glaz RTA comes close to perfection. It combines superior design, an attractive outer shell, and affordability into a truly enticing package.
Pros
The attractive exterior design of this MTL RTA appeals to potential buyers.
The well-designed airflow system, equipped with a control ring, enhances flavor production.
This MTL RTA stands out as the top choice for excellent flavor output.
Cons
A reduced diameter would have improved the maneuverability of this MTL RTA, making it more user-friendly.
Vapefly Galaxies
The visually appealing Vapefly Galaxies MTL RTA is available in a transparent design, adding to its aesthetic appeal. Built with precision, it promises to deliver the perfect vaping experience.
The top-fill feature of the RTA allows for convenient and hassle-free refilling of e-liquid. The build deck is designed to support single coil builds, while the sub-ohm coil ensures rapid heating of the juice.
With a 22mm diameter, this MTL RTA is compact and easy to carry, making it ideal for individuals on the move.
The innovative internal structure of this RTA promotes uninterrupted airflow, leading to the development of consistent and long-lasting flavor. With a 3ml tank capacity, frequent refills are not necessary with this rebuildable tank atomizer.
The drip tip is integrated into the top cap, and the unique gearwheel design provides seamless control over the airflow.
As a single coil RTA, the Vapefly Galaxies is a reliable product that caters to experienced users who approach vaping as more than just a recreational activity.
Pros
The RTA's effective airflow control allows users to achieve their desired cloud density.
It incorporates multiple features that enhance the overall vaping experience, including improved vape quality and flavor production.
The transparent body of the RTA makes it easy to build and provides an instant draw, ensuring a seamless vaping experience.
Cons
The RTA's deck does not accommodate dual coil configurations.
Siren 2 by Digiflavor
The Siren 2 MTL RTA, manufactured by the renowned atomizer brand Digiflavor, is a sleek and stylish option for users seeking both aesthetics and functionality in their daily vaping experience.
Constructed from stainless steel, the RTA boasts superior build quality, with the manufacturer's logo prominently displayed on the build deck, enhancing its visual appeal. With a diameter of 22mm, the Siren 2 RTA is compact and can easily fit into various setups.
One notable feature of this MTL RTA is its five adjustable air holes, allowing for customizable airflow and contributing to the development of rich flavors. By adjusting the air holes, users can transition from a tight mouth-to-lung draw to a more open, looser draw. However, it should be noted that bottom airflow is not included.
With a generous tank capacity of 4.5ml, this MTL RTA offers both affordability and efficiency, making it an ideal choice for users who enjoy extended vaping sessions. If you're looking for a reliable MTL RTA to accompany you during long sessions, the Siren 2 is an excellent option to consider.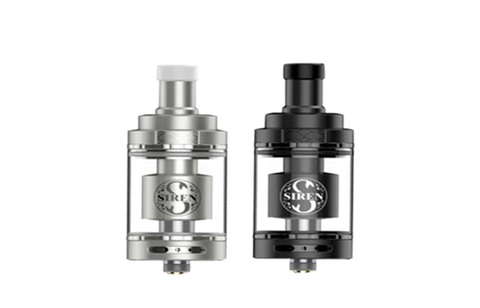 Pros
The RTA features five airflow vents that contribute to the development of exceptional flavor.
It allows for an easy transition from a tight mouth-to-lung draw to a looser draw.
The MTL RTA showcases outstanding build quality, ensuring durability and resistance to breakage.
The utilization of low ohm coils provides a vaping experience reminiscent of smoking a traditional cigarette.
Cons
The device does not have a built-in bottom airflow feature.
Svoe Mesto Kayfun Lite
The mouth-to-lung RTA by the renowned German brand Svoe Mesto is a visually pleasing and user-friendly option that has gained significant popularity among users from various backgrounds.
The Kayfun Lite MTL RTA stands out with its well-crafted design, making it a top contender in the best MTL RTA category. Notably, it features a single air hole integrated into the bottom airflow design within the 510 connectors. Additionally, it comes with a 2ml e-liquid tank, which can be easily swapped out for a larger 4ml capacity tank.
The RTA's dual post single terminal build deck accommodates a single coil, resulting in optimal vapor production. This makes it an excellent choice for users who value the gradual development of flavor with each puff.
For those entering the realm of rebuildable tank atomizers, this MTL RTA by Svoe Mesto is a perfect option, as it combines visual appeal with impressive performance.
While some may find the retail price of the RTA relatively high, the exceptional performance of this device leaves a lasting impression. Overall, the Kayfun Lite is a worthy addition to the list of the best MTL RTAs.
Pros
Building the RTA is made easier with the included instructions in the package.
The RTA's airflow design allows for magnificent vape cloud production.
It delivers impressive flavor development.
The ergonomic top cap design provides an easy mouth-to-lung draw experience.
Cons
The RTA does not have the capability to support dual coil configurations.
Best Vape Wholesale Supplier-UPENDS
Explore the fascinating world of Vape UPENDS, where design and creativity meld to create a warm environment that invites you to start an extraordinary vaping trip. We cordially encourage you to become a part of our community, where a wealth of exclusive offers are waiting to take your vaping experience to the next level.
We at Vape UPENDS take great pride in our cutting-edge innovations, sophisticated designs, and painstaking attention to detail. Our group of talented artisans puts their all into making perfect, stunning products that will enthrall your senses. Every time you breathe in, we work to arouse your sophisticated taste senses while mesmerizing you with exceptional experiences that will astound you.
We're excited to start this innovative journey with you in pursuit of our ultimate objective of giving you an outstanding vaping experience Allow us to show you why Vape UPENDS is the finest choice for discerning customers who want nothing less than the best. Sit back, relax, and let us do the talking. Prepare to immerse yourself in a universe where innovation, style, and pure wonder converge to create an experience that will enthrall you and leave you craving more.