A calming vape pen is a vape pen that is designed for use mostly by people who struggle with anxiety. Most of these pens are sold in CBD oil variations. CBD is also known as cannabinoids which are a component found in cannabis. One reason why cannabinoids are used is because they have a relaxing effect that can make people fall asleep easily. 
When vape brands realised the effectiveness in handling anxiety, they had to come up with a way to make a product that would favour vape users. They therefore created pen like devices that are aimed at calming people who have anxiety attacks.
The pens have been filled with quality CBD that has been approved by FDA and they are very ready for consumption. The good thing about such devices is that they come in various designs and packaging and you get the freedom to choose something that works for you perfectly. The pen is available in Disposable and reusable/refillable pods.
There is so much categories that you need to go through when dealing with CBD pens and below is an overview of the best calming pens that can be used for people with anxiety.
Types of Calming Vape Pens
Kandypens Rubi
Kandypens Rubi is a pod system that closely competes with the Juul. The only difference between the two pens is that Rubi pods can be refilled. The pen comes in six different colour variations which range from rose gold, black, red and navy blue. The pen has its own USB charging ports and can be used for multiple sessions.
The refillable cartridges can be filled with CBD oils and used by people who suffer anxiety and want to feel calm. The coils fitted on this pen are made from ceramic hardware and the wicks are made from high quality organic Japanese cotton. 
The fill port of the Rubi pod is located on the sides. This port is covered by a rubber grommet that is not fully attached to the pod but it comes off completely. The fill port itself is not big so you will need a needle nose dropper or syringe to fill the cartridge. When you place back your pods they fit perfectly into position.
The CBD oils used for this pen have relaxing components and you can refill the unit with your preferred oils. The oils can heal headaches and can give you a perfect goodnight sleep.
Avida pen
The Avida disposable pens are very similar to the common nicotine vapes. The only thing setting them apart from the nicotine vape pen is that they do not have nicotine. The pens come packed with 100mg of CBD and are available in 1ml pods.
The pens come in six different colours that you can choose from, depending on your preference. Each of these pens can deliver close to 300 puffs which translates to about 0.33mg for every puff. Such figures are good because they mean you are getting a good dose of CBD though the day by just taking a few puffs. 
For people who like CBD content without any flavourings, the flavourless option is ready to fulfil their needs. The pens are a haven for flavour lovers because they get a variety of profiles to choose from.
Avida CBD oils are available in three different strengths and there are two main types of oil tinctures. One attractive thing about Avida is that they have made their third party test results public so anyone can check the credibility of their products. 
Tribe Tokes vape pen
Tribe Tokes disposable CBD vape pens are available in twelve distinct strains which have unique flavour profiles. The variations come along from the varying amounts of terpenes in each of the strains. The CBD variations of this pen are very essential when you need to sleep peacefully.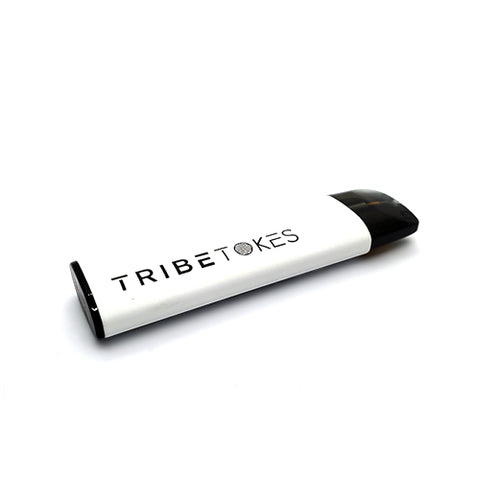 Each of the tribe Tokes disposable vape pens are prefilled with 0.5 ng of full spectrum CBD distillate and other plant based terpenes. Each of these vape pens can hold up to 75% of cannabinoids, 10% terpenes and 15% other oils extracted from a hemp plant. 
These CBD pens are small and can easily be concealed and carried around in a pocket or bag. They have an excellent build quality and when you hold them you will feel that they are solid and well built. The coating on these pens is a soft touch and it complements the sturdy feel greatly. 
The tribe Tokes logo on the pen is also great considering it is well placed at the sides of the pen. When you look at the bottom of the pen, you will see the strain of the pen you are using and this is effective. Whenever you take a draw from the pen, there is a LED light that lights up.
The mouthpiece holds the coil and this is where the CBD goes in. The dark tint on the mouthpiece sometimes makes it hard to see what is inside but you cannot miss to see it when you hold it up in the light. One gram of this CBD oil is enough to get you going and ease your nerves.
The fact that you can carry this pen around means that you can get calming effects anytime you are on the go. The pen is draw activated so you only need to inhale and get the vapor coming your way.
Foria flow vape pen
If you want to get ab immediate ease and a feeling of well being, you need to treat yourself to some delicious flow from Foria. Getting a few refreshing puffs from this pen will deliver a full profile of hemp extracts and botanicals which will give you the much desired feeling of calm and clarity. This gives you the option to enjoy a very inspiring session whether you are at work, playing or even at home.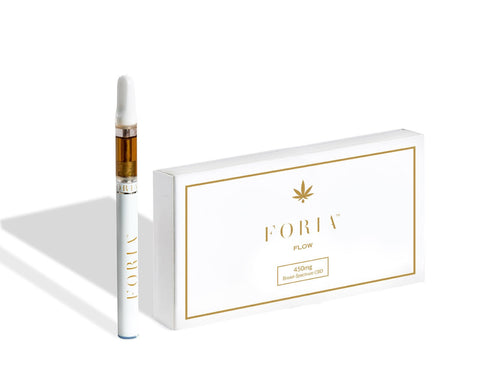 Every puff you take from this pen gives you luscious profiles of peppermint, vanilla and cacao. The botanical blends filled in these pens are very effective in delivering soothing and enlivening effects of CBD. 
The cannabis plant that is used for extraction is grown on a lab verified for purity. You get a wide spectrum of extracts which is enhanced with plenty of natural and organic terpenes. The good this about these pens is that they do not have any synthetic additives or any carriers. An advanced ceramic and glass heating unit delivers the most pristine flavour that is free from burnt flavours and toxins that you can find in many vape pens Available 
Bloom farms vape pen
The bloom farms CBD vape pens are simplistic and straightforward. All you need to do to use this pen is to take a draw from the mouthpiece and the pen starts to function. This pen is very strong and can hold you for up to 300 puffs before you need to recharge it. 
When vaping casually, this pen can last you for up to a week. The cartridges on this pen do not use any MCT oils, VG or PG to give it good viscosity. The pens are filled with 100% broad spectrum cannabinoids that give the most natural flavours. This means that you get the original flavours from the plant that do not need any addition of some artificial flavours like other carts do.
The full spectrum tinctures used on this pen are medical grade which means that they are very efficient for medicinal purposes. Such profiles are good for dealing with anxiety, depression and sleeping disorders. 
The vapor quality of such oils give the best hit when you do it slowly. You need to take a puff or two then let them sit in your mouth to feel every bit of the flavour.
Conclusion 
You can now see that there is a wide variety to choose from when seeking to purchase a CBD vape pen. These pens are well known to contain the best quality oils which will give you the best results in calming you.
It is therefore important that you try and find the oils with the best profiles that work best for you. Do not overwhelm yourself with stress and anxiety. Get yourself one of these pens and feel the relaxing difference.