Welcome to the world of Cali Box Vape, where vaping innovation meets outstanding flavor and exceptional features. The Cali Bars Disposable Vapes are renowned for their mouthwatering flavors, but that's not all they have to offer. These devices are carefully crafted to be compact yet powerful, providing you with a satisfying and enjoyable vaping experience.
Now, allow us to introduce the dynamic duo of vaping innovation within the Cali Bars collection: the Cali Plus Disposable Vape and the Cali Boxx Disposable Vape. Each device brings its own unique qualities, ensuring that there is something for every user's preferences and needs.
Discover the intricate details of these remarkable devices as they join the impressive Cali Bars lineup. Get ready to immerse yourself in a world of flavor, performance, and vaping excellence. Let's dive in and explore the exciting world of Cali Boxx Vape.
What Cali Boxx Vape
Cali Boxx Vape is an innovative vaping device designed to provide an exceptional puffing experience. With its impressive capacity of over 4000 puffs, this device ensures long-lasting enjoyment. It incorporates a mesh coil, known for its ability to deliver smooth and flavorful vapor. The Cali Boxx also features a 5% Salt Nicotine concentration, providing a satisfying nicotine hit.
This device is equipped with a spacious 10mL tank, allowing for extended vaping sessions without the need for frequent refills. The e-juice inside the Cali Boxx is carefully crafted to deliver powerful and delicious flavors. As part of the Cali Pods family, a reputable brand in the vaping industry, the Cali Boxx is backed by a legacy of excellence and quality.
Whether you're seeking intense puffs, rich flavors, or a reliable vaping experience, the Cali Boxx Vape is designed to meet your expectations and deliver vaping excellence.
Why Choose Cali Boxx Vape
Cali Pods has embraced the evolving trend of larger puff-boxed vape devices and has risen to the challenge of perfecting the boxed chassis. The Cali Boxx Vape showcases a sleek design crafted from high-quality plastic and rubber, ensuring a comfortable grip while vaping. Its curved box shape fits seamlessly in your hand, providing a secure hold without the risk of slipping out.
Moreover, the Cali Boxx Vape introduces a newly improved funneled mouthpiece that enhances your vaping experience, allowing for a smoother and more enjoyable rhythm. The flavors available are carefully selected to keep you in perfect harmony as you indulge in your favorite vaping sessions.
With its attention to detail and focus on user satisfaction, the Cali Boxx Vape offers a refined and enjoyable vaping experience while maintaining its sleek and ergonomic design.
Features
5% nicotine
1 Device per package
10mL of e-liquid
4000 puffs
20MG - 50MG Nic salt
Cali Boxx Vape Flavors Review
Blue Raspberry Kiwi Lemonade
Indulge in a delightfully intricate fusion of flavors with this exceptional blend. It combines the tangy essence of blue raspberries, the refreshing sweetness of kiwis, and the zesty kick of lemonade for an incredibly satisfying taste.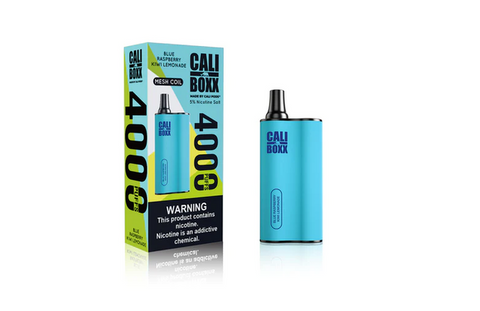 Blue Raspberry Lemonade
Experience the timeless combination of flavors that never fails to please. This vape juice combines the vibrant notes of blue raspberries with the invigorating tang of lemonade, resulting in a truly harmonious flavor.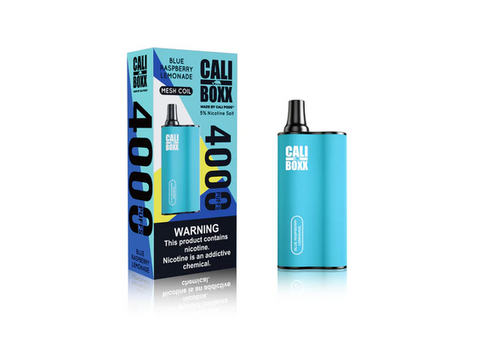 Frozen Banana
Treat your taste buds to an explosion of flavor with this refreshing vape. Ripe bananas take center stage, complemented by a cool menthol twist, delivering the sensation of indulging in a frozen banana treat.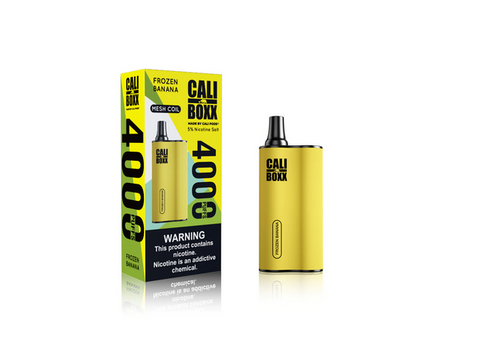 Frozen Blueberry
Immerse yourself in a sensational blend that captures the essence of tart blueberries combined with a chilling menthol infuse frozen banana
ion. Each puff provides a perfect balance between the fruity sweetness and the icy coolness.
Frozen Blackberry
Savor the delectable taste of blackberries with an unexpected twist. This flavor profile focuses on the lusciousness of blackberries, heightened by a frigid menthol breeze that leaves a refreshing shiver on your palate.
Frozen Kiwi Lemonade
Immerse your senses in a burst of delightful flavors with this captivating blend. Kiwis and lemonade intertwine harmoniously, while a bone-chilling menthol sensation adds an extra layer of invigoration.
Frozen Lush
Delight in the timeless allure of watermelon with a cooling menthol touch. This irresistible flavor blend seamlessly combines mouthwatering watermelon with a refreshing blast of menthol, delivering a truly satisfying vape.
Frozen Mixed Berries
Immerse yourself in a symphony of mixed berries that captivates your taste buds with every puff. The medley of berries is elevated by a cool menthol twist, creating an exhilarating vaping experience.
Frozen Peach
Indulge in the soothing embrace of juicy peaches complemented by a frozen menthol sensation. This blend offers a relaxing and refreshing combination of flavors that will leave you thoroughly satisfied.
Frozen Strawberry Cream
Elevate your day with the indulgent blend of juicy strawberries, velvety cream, and a cool menthol undertone. This satisfying flavor combination creates a vape that you'll want to savor repeatedly.
Frozen Strawberry Kiwi
Immerse yourself in a captivating fusion of flavors that combines succulent red strawberries, tangy kiwis, and a menthol twist. Each puff delivers a refreshing and revitalizing burst of taste.
Frozen Watermelon Raspberry
Surrender to the overwhelming flavor profile of watermelons and raspberries, harmoniously balanced with a frosty menthol touch. This mouthwatering combination is sure to leave a lasting impression.
Mighty Mint
Brace yourself for an exhilarating minty blast with this remarkable vape juice blend. Immerse your senses in the refreshing taste of mint, offering a sweet, cool, and invigorating experience loved by all.
Strawberry Banana
Embark on a flavor journey with the timeless combination of juicy red strawberries and perfectly ripe bananas. Each puff brings together the classic pairing of flavors for an enjoyable vaping experience.
Strawberry Watermelon
Enjoy a flavor blend that keeps you satisfied time and time again. This combination of strawberries and watermelons offers a refreshing and fruity vaping experience that's perfect for all-day enjoyment.
Other Cali Products
CALI PLUS
The Cali Plus Disposable Vape is an exceptional addition to the Cali Bars collection. This device showcases an attractive design, with body colors that correspond to the delightful flavors it holds. Despite its compact size, it offers an impressive 5mL vape juice capacity, enriched with 30mg of salt nicotine.
With each device, you can indulge in upwards of 1500 puffs, providing long-lasting enjoyment. Plus, you'll have the pleasure of selecting from a delectable range of flavors to suit your taste preferences.
Features
5% nicotine
1 Device per package
10mL of e-liquid
4000 puffs
20MG - 50MG Nic salt
Flavors
Fuji Apple Grape
Prepare to be captivated by an irresistible combination of flavors that will keep you coming back for more. This remarkable blend pairs the crispness of Fuji apples with the sweetness of grapes, creating a vaping experience that is truly delightful.
Mighty Mint
Indulge in a minty sensation that is refreshingly sweet, cool, and invigorating. This exhilarating flavor provides a burst of freshness, making it a perfect choice for mint enthusiasts seeking a thrilling vaping experience.
Strawberry
Elevate your vaping session with the tantalizing taste of perfectly concocted strawberry flavor. Each puff delivers a mouthwatering experience, immersing you in the delectable essence of juicy strawberries.
Tobacco
Take a trip down memory lane with this meticulously crafted tobacco blend, now available in the form of a vape. Experience the authentic and full-bodied flavor of classic tobacco, providing a nostalgic taste that is perfect for those seeking to revisit the flavors of the past.
FAQs about Cali Boxx Vape
Is Cali Boxx Vape easy to use?
Yes, Cali Boxx Vape is designed for convenience and ease of use. Simply inhale to activate the device and enjoy your vaping session. No sophisticated settings or buttons are required.
How does Cali Boxx Vape differ from other vape devices?
Cali Boxx Vape stands out due to its high puff capacity, durable construction, and use of mesh coils. It provides a satisfying vaping experience with its powerful flavors and smooth vapor production.
Best Vape Wholesale Supplier-UPENDS
Discover the exciting world of Vape UPENDS, where design and creativity converge to lure you into a memorable vaping adventure. Join our warm community and find a variety of exclusive offerings waiting for you if you want to take your vaping pleasure to new heights.
With its cutting-edge inventions, elegant designs, and rigorous attention to detail, Vape UPENDS takes great pride in its products. Our group of talented artisans devotes their entire efforts to creating perfect, breathtaking products that will captivate your senses. With the unique experiences we have in store, we hope to wow you and titillate your sophisticated taste with each breath.
Join us as we set out on a transforming quest to give you the best possible vaping experience. You can be sure that Vape UPENDS is the greatest option available for anyone looking for the best. Take time to relax and lose yourself in a world where innovation, style, and pure wonder coexist peacefully to produce a magical experience that will leave you wanting more.