When discussing the realm of vaping, the most valuable and esteemed component is undoubtedly the nic salt flavor. The e-juice serves as the essential energy source for your vaping device, and it must excel in performance to deliver a truly satisfying vaping experience.
Nic salt e-juices outshine other types of e-juices, such as Freebase flavors, due to their superior efficiency. They have an edge because only a select few devices are compatible with nic salts, as these devices are purposefully designed to maximize performance, enhance flavor, and improve texture.
These nicotine salts are renowned for their excellent taste and high level of satisfaction. To gain a comprehensive understanding of nicotine salt e-liquid, read the complete guide below.
What Exactly Is Nicotine Salt Vape Juice Made Of?
With nicotine salt vape juice, the harshness of the nicotine is lessened, allowing users to comfortably inhale less vapor while consuming more nicotine. Salt nicotine, salt nic, salts, and nicotine salts are all synonyms for the same substance. It is important to note that nicotine salt is not table salt (sodium chloride), so it does not make the e-liquid taste salty nor increase your sodium intake. In the realm of chemistry, salt is a neutral ionic compound formed by combining an acid and a base.
In the case of nicotine salts, a chemical compound, typically benzoic acid, neutralizes the nicotine molecules (base), resulting in a more stable compound that delivers smoother nicotine consumption. JUUL Labs, the pioneer in commercializing nicotine salt products, claims that their formulation closely resembles the nicotine found in tobacco leaves prior to the extraction process.
Top 5 Salt Nic Vapes
1. OXVA Oxbar Bipod Pod Kit
The Oxva Oxbar Bipod Pod Kit offers a slender and robust exterior, housing a durable 650mAh integrated battery that can be recharged and lasts for up to 24 hours of vaping. It has a built-in 0.8ohm coil and a 2ml refillable pod that is disposable, making it a low-maintenance device.
Experience unrestricted vaping with the innovative Oxva Oxbar Bipod kit. Its buttonless design ensures a discreet operation and enables an auto-draw function that delivers gentle vapor clouds, perfect for a satisfying mouth-to-lung (MTL) vaping experience.
Enjoy hassle-free usage with the Oxva Oxbar Bipod kit, as it eliminates the need for cleaning, coil replacements, or any form of maintenance. To experience the pleasant flavor supplied by the coil, simply remove the 2ml refillable pod from the device using its magnetic connection, properly discard it, and insert a new 0.8ohm pod.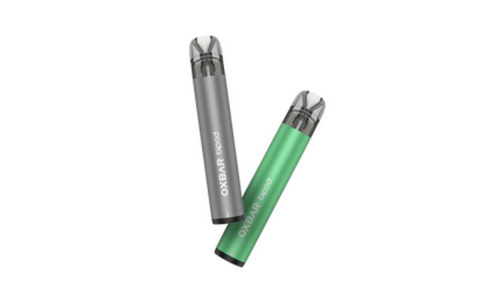 Features
650mAh integrated battery for long-lasting vaping
USB-C type charging cable for convenient recharging
Compatibility with Oxva Bipod range and inclusion of a 0.8ohm refillable meshed pod
Low maintenance with disposable pods
LED Indicator Light
Designed for a mouth-to-lung (MTL) style of vaping
Auto-draw function for effortless operation
Available in seven discreet color options for personalization.
2. Uwell Caliburn A2
The Caliburn A2 Pod Vape Kit is a highly popular product from the renowned Uwell brand and has received a warm reception in the vaping community. It comes with notable features including a built-in 520mAh battery, a 2ml e-liquid capacity, and a transparent window to monitor the e-liquid level. The package also includes two replacement pods, each equipped with a 0.9ohm mesh coil.
For a satisfying experience with throat hits, it is recommended to use nicotine salt juice with nicotine strengths ranging from 5-20mg. The Caliburn A2 is well-suited to be paired with Nicotine Salt E-liquids, making it a reliable choice for vapers seeking an enjoyable vaping session.
Features
Rechargeable Battery with a capacity of 520mAh
Maximum Output Wattage: 15W
Constructed with Aluminum-Alloy Chassis for durability
Intuitive Firing Button with options for Draw or Button Activation
LED Indicator Light displaying Battery Life
Pod Capacity of 2mL
Top Fill System for convenient refilling
Equipped with 0.9ohm UN2 Meshed Coil Pod for enhanced performance
Utilizes Pro-FOCS Technology for improved flavor delivery
E-Liquid Viewing Window for easy monitoring of e-liquid level
Magnetic Pod Connection ensures a secure fit
USB Type-C port for speedy and effective charging.
3. Upends UpBar GT
Inspired by the sleek aesthetics of luxury sports cars, the UpBar GT is a vaping device that exudes sophistication and elegance. Its slender and polished body features captivating lines and intricate details, creating a visually stunning appearance.
The UpBar GT pods have a capacity of 2ml, allowing for a generous amount of e-liquid. These pods come pre-filled with 20mg of nicotine, providing users with a satisfying vaping experience. With the inclusion of a mesh coil, the pods ensure optimal flavor delivery and produce impressive vapor clouds. Users can enjoy approximately 600 puffs before needing to replace the pod.
One of the standout features of the UpBar GT is its wide selection of flavors. With a diverse range of options available, users can choose from various enticing flavors, catering to their preferences and offering a delightful vaping experience.
Features
2ml capacity for e-liquid formulated with nicotine salts
Powered by a 400mAh battery
Approximately 600 puffs per charge
E-liquid ratio of 50PG/50VG for a balanced vaping experience
Features a 1.4ohm mesh coil for enhanced flavor and vapor production.
4. GeekVape Sonder U Pod Kit
GeekVape has not excelled in the realm of pod systems, but the Sonder U pod kit changes the game. This affordable vape device offers a price point comparable to disposables. The kit includes only the device with a pre-installed pod, excluding any extra pods or a Type-C USB cable. The 2ml e-liquid capacity pod features a side slot for easy filling and is securely held by magnets.
Despite its compact size, the Sonder U is remarkably lightweight and boasts a 1000mAh battery, which is quite impressive. The Sonder logo on the front may attract fingerprints, but it adds a touch of charm to the device.
The standout feature of the GeekVape Sonder U is its remarkable flavor production, which is impressive for a small pod system. It can rival other pod systems and even compete with some of the best ones we have reviewed.
While the low price is a significant advantage, it's worth noting that you'll need to have your own Type-C cable for charging the device.
Features
Large integrated and rechargeable battery with a capacity of 1000mAh.
The maximum power output of 20W can accommodate a 0.7ohm coil resistance.
They are specifically designed for mouth-to-lung (MTL) vaping style.
Compatibility with Geekvape Sonder U cartridges.
Lightweight, compact, and durable construction for easy portability.
Auto-draw function for convenient operation.
Available in eight appealing colors to suit personal preferences.
Type-C Charging Port
LED Indicator Light
5. Voopoo Vinci Pod
With meticulous craftsmanship and intelligent performance enhancements, the VINCI 2 has been fully optimized to cater to a diverse range of vaping preferences, delivering the ultimate vaping experience. It combines the user-friendly features of a Pod system with the cloud production and adjustable power characteristic of traditional MODs, all in a compact and easy-to-operate design that prioritizes safety.
The device is shaped like a rectangular cuboid with rounded edges, providing optimal ergonomics, and boasts a sleek zinc alloy surface coating, offering a modern and stylish appearance from every angle.
Equipped with a built-in 1500mAh battery, the VINCI 2 ensures long-lasting vaping sessions, reducing the need for frequent charging. It can be conveniently and quickly charged through its Type-C charging port. The device offers both button-activated and draw-activated modes, allowing users to choose between manual control or automatic activation.
Features
Built-in 1500mAh Battery
Brand-new Gene.AI 2.0 Chip
50W Max Output Power
Excellent sensitive draw-activated modes
Fast-fire button-activated modes
unlimited airflow that may be adjusted to precisely fit your demands
5ml Visible Pod
Compatible with the PnP platform
New Upgraded Coil
08" TFT Color Screen
FAQs
What is the ideal wattage for nic salts?
Typically, nicotine salts work best at power levels between 15 and 40 watts. Lower than that range will result in unsatisfactory amounts of nicotine and feeble hits. Going beyond that limit will likely result in coil burnout and harsh-tasting e-liquid.
Best Vape Wholesale Supplier-UPENDS
We wholeheartedly welcome you to join our community and embark on an unforgettable vaping adventure. Discover a wide range of exclusive offers that will enhance your vaping experience and bring you pure delight.
At Vape UPENDS, we take immense pleasure in our cutting-edge advancements, elegant designs, and meticulous attention to detail. Our group of talented artisans is committed to producing faultless, breathtaking products that will captivate your senses. With each inhale, we aim to tantalize your refined taste buds and evoke a sense of wonder, offering you extraordinary moments that will leave you astonished.
Our ultimate mission is to provide you with an extraordinary vaping journey, and we are excited to embark on this transformative venture together. Take a moment to relax and allow us to demonstrate why Vape UPENDS is the ultimate choice for discerning customers who demand nothing but excellence.