CBD Vape pens have been the most common, especially to unwell people. Therapeutic reasons make most people fall in love with their use. Most impressive is how the extraction gets done from the hemp plant then presented in a form that you will comfortably use.
Vapors can come in a refillable form to refill some cartridges. Getting a pen is lovely as it comes in a small design with a battery and is already filled. You will find the pens in refillable form or disposable form.
 A refillable or reusable one is either cartridge-based or one that has a battery. A disposable one gets disposed of after use. Today we look at the details of the best CBD Vape Pens of 2021 to deliver the best outcomes.
Best CBD Vape Pens
MIG Vapor Bug RX
Things that are simple to use have a lot of meaning. This model is one that you will conveniently use without having to hassle. You will appreciate the use of this model because it has a sleek design. Using it for thick oils is something you will always have enjoyable moments with.
Using a single button, you will have an opportunity to set it up. All essential oils will find this model to be the most ideal for use. It has a battery of 1100mAh and has 510 threadings. Regulating temperatures is a straightforward task and has an output of 22 watts.
A 1.2ml oil tank makes the model have an outstanding performance. You will have a chance to use the power firing device to do most of your stuff. Once the power lowers, you will make use of the USB charger to keep it in use.
When turning it on, an LED ring design makes its performance more reliable. Both steel and black colors contribute to the performance of the model. You will find it more comfortable to use because of the rubber exterior.
Pros
It has an updated and stylish design
Simple to use
It has a durable design
Excellent compatibility with pre-filled tanks.
Cons
Ideal for vape oils only
Produces limited vapor
Kandypens Rubi
These vape pens are excellently designed and have a lovely color combination. Coming in various colors makes them the most attractive and simple to use. Within some four seconds, you will have it already heated up.
The average time for charging is limited, and the battery life is long. The edges have a rounded design hence making it a simple model to use. You will also love carrying it from one point to another as it has a portable and reliable design.
Maintenance of the vape quality is something you will have fun moments with. It features wicked Japanese cotton makes it one of the loveliest models to use. You will not have it leaking or because it leaks proof design that makes it outstanding.
A 280 mAh battery ensures that the model has adequate power to use. An output of 8 watts makes its performance more outstanding and reliable. Charging the battery takes around an hour and a half.
Pros
It has a better taste and quality
Delivers an outstanding performance
Lovely design
Serves for the longest time
Cons
Small capacity
The battery isn't entirely reliable
Canna blast oil vape pen
The portability and lightweight design of this model make it among the best to use. It is reliable and delivers the most outstanding performance. Its effectiveness compared to the rest is recommendable and dependable.
Using it is a lovely thing as it ensures that you have a powerful vaping session. One thing you will be quite sure about is the quality of vaping. A battery will help it to remain powered for the most extended period. Its capacity is 380 mAh.
Using a single button, you will be able to adjust and reset the settings. An output of 4.2 Volt makes your vaping sessions robust and reliable. It also features a ceramic mouthpiece that makes its quality more outstanding.
Compatibility with other units makes the model stand out among the best performing. Something unique is how you can use the 15-20 refills to have your vape ready. USB charging will keep you powered and updated.
Pros
Lightweight and portable design
It has a durable design
Simple to set and manage
Charges quickly
Cons
It has a low power
The battery doesn't serve for long
Morpheus CBD Vape Pen
In terms of power saving, this model makes one of the best. You can therefore use it for the longest time possible. Interestingly, you will have a chance to serve even the heaviest vapors, and it will maintain the most outstanding performance.
The model features a 3ml tank that is very powerful and can use between 2 and 4 sub ohms. To maintain a controllable airflow, the model has a steel mouthpiece that makes it quite simple to maintain.
Moreover, the model features a fiber body that makes it lightweight. It is, therefore, simple to carry along from one place to another and also to handle. Maintaining it is also a straightforward task as it manages all kinds of vapor.
Moreover, it also features a 3000mAh battery that maintains the longest time. You can therefore be quite sure that the performance will be more enhanced. Within 2.5 hours, you will have the battery fully recharged and delivering excellence.
Pros
It lasts for the longest time
Comfortable to use
Reliable performance
Portable and very powerful
Cons
Limited access in colors
If faulty may not serve you best
Trap RX Oil Pod Kit
Working with this model is lovely because it has a lightweight and portable design. You will enjoy its use because it has a discreet design that makes it extra powerful. Using it for a get-together is a lovely thing as it delivers an outstanding performance.
Moreover, it features two refillable pods that make your management task more reliable. You can therefore be quite sure that you will enjoy the most outstanding performance. When using juices, it makes a good and quite reliable model as it is compatible.
More thing to enjoy is the long-lasting battery that is 510 threaded. Its cells get quickly recharged when you use the USB ports. The charging process is quick and quite reliable as it delivers the most remarkable outcomes.
Within 3 minutes, you will have the vape pen lit and functioning. After a full charge, you will enjoy using the pen for around 6 hours. It is therefore reliable for people who are traveling.
Pros
Reliable as it has a powerful battery
It takes a short time to charge
Lightweight design
It is user friendly
Cons
The battery may not last
It has low power
Foria Flow CBD Vape Pen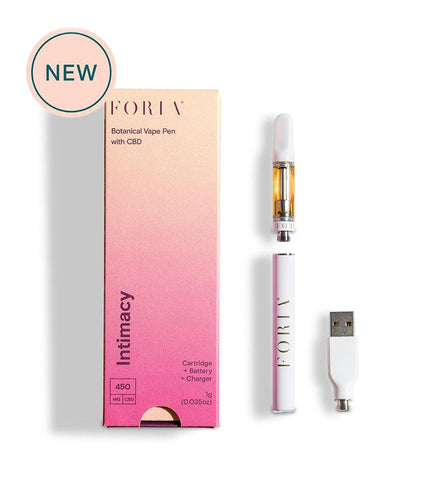 The sleek design of this pen will leave you amazed. It has an outstanding design that makes its performance reliable. Refilling and managing it is an effortless task that makes its performance reliable distinctive.
It gets packed with a healthy dose that contains 450 mg per ml in the cartridge. You will therefore be quite sure that the model will deliver the best vape. Making various blends on it is possible, and the outcomes are remarkable.
As you vape, you will love using this model because it maintains quality vaping. Having a compact design also makes it simple to handle. Carrying it along while doing your stuff is also something you will have enjoyable moments with.
Blending with the various oils makes the model an outstanding choice. You will find it quite simple to use and make your preparations. In terms of taste, it is among the best tasting models. Your vaping sessions will be remarkable.
Pros
Has an outstanding design
Provides a reliable performance
Delivers a high quality
It has a sleek design
Cons
May not deliver a reliable performance because it is not very reliable
You may experience challenges when handling it
White fire OG vape pen
The design of this model is one of the best and most outstanding. You are, therefore, quite sure that the model will deliver reliable and exceptional performance. It comes with a friendly design that will make it easy to handle and use. You will also enjoy the nature of the model because it is reliable for long-term use. Vaping moments will therefore be quite remarkable and relaxing.
This model is lovable because it has an outstanding and reliable outcome. Assurance for a long-term service gets guaranteed because it is rechargeable. You will therefore conveniently travel along with it because it has a compact size. Something quite remarkable is that you will enjoy the best quality in your strain as it gets maintained.
You will productive as it allows you to use it at any point.
Pros
Has a reliable and outstanding performance
The rechargeable battery allows you to do most of your functions
Has a reliable performance
Simple to manage and maintain all through
Cons
It poses some complexity making use of slightly challenging
Quality not guaranteed as it gets exposed to damage
Final verdict
Also, consider purchasing CBD vape pens from UPENDS. They are tested and verified to be the best for users. Vaping is a charming activity when you have a proper CBD Vape pen. One thing you will have precious moments with is the maintenance of quality. You are therefore quite sure that you will enjoy it.