Best 15 Vape Starter Kit 2021 (Reddit Top Rated) in Wholesale Price
Vaping serves as a saviour for people struggling to quit smoking. And the starter contains everything a person would need to stop smoking. The starter kit is like a bundle or a box that usually contains vape pen, vape mod, atomizer, vape tank and battery. It may also contain pod, clearomizer, cartomizer and RDA depending upon the kit.
.So, finding that perfect kit for yourself is not less than a victory. Therefore we bring to you a detailed comprehensive guide to help you choose your new kit. Furthermore, we have also listed the 15 best starter kits that are worthy of your consideration. So, let's get into the detail!
1.
 

Vape Starter Kits: A Brief Guide: how to choose?

Choosing a starter kit can be perplexing as the market is saturated with the variety claiming to be the best. We recommend you to first narrow down your requirements first. Always look for the kit that contains all the basic equipment's along with the battery and atomizer.

Depending if you are a beginner or an old nicotine lover, you can purchase either a kit with pod or with ohm tank. Sub ohm tank has improved performance as compared to pod. It offers more intense vaping experience. But regardless of the type of kit always make sure that the kit has significant number of But regardless of the type of kit always make sure that the kit has significant number of pods.

One pod can last you one weeks or two weeks after which it needs to be replaced. So, these pods will give you are idea of whether you are enjoying the kit or not. If yes, then  you can purchase more pods for the kit. If you are choosing pod based kit then it should have atleast four to five pods. Additionally, you will also find some kits that include e-juice as well.

Most kits have vape pen or mod that are powered by built in batteries. The bring convenience to the users and are affordable as well. In case of any issue you can easily get them replaced. So, there are a lot of aspect to consider while choosing the starter kit. But if you have your requirements at hand, then it's a piece of cake.
2.
 

Types of Beginner Vape Kits

Along with the other information you should know about the type of starter kits as well.  Let's explore the types of starter kit that you can get your hands on.
2.1 Pod systems
Pod system resemble to the traditional smoking and consist of basically a pod that are powered by batteries. Many pod systems come pre-filled but you can always replace it with your desired e-juice and dispose the emptied cartridge. Moreover, they are convenient, budget friendly and portable.
2.2 Pen-Style Kits
Pen style kits have the classic pen style and are more powerful than pod systems. They are ideal for direct to lug vaping. Like the pods they also have the tank to carry your favourite e-juice. They have coil as well, both tank and coil are replaceable. Pen-style kits allow the adjustment of air flow as well to suit your desired hits.
2.3 Box mod kits
Box mod kits lie fairly on the high end of the vaping being the most expensive starter kits. They are well suited for courageous and enthusiastic vapers wanting to get intense smoke clouds in lungs. Like pen style kits they also have refillable, replaceable tank and coils situated on mod box. The mod box usually houses the battery.
3.
Best Vape Starter Kits
Here are 14 best Vape Starter Kits that are worthy of your investment.
3.1
Smok Nord Vape Pod Starter Kit
Available in 38 different colors, Smok Nord Kit is the most stylish yet most efficient kit you can get your hands on. The Nord device is equipped with button triggers system and 1100 mAh battery. You will receive two coils as well designated for MLT Vaping and sub ohm vaping. In addition to that kit also comes with user manual and type-C cable.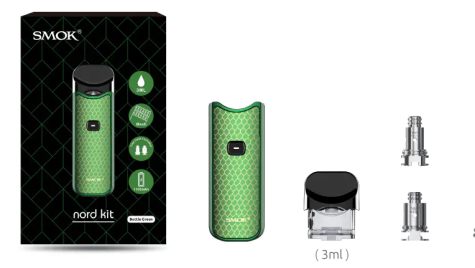 Geek Vape Aegis x 200w Starter Kit
With a dual high amp 18650 battery layout, Geek Vape Aegis x 200w is one powerful starter kit. IP67 international protection marking and AS 2.0 chipset impart resistance to dust, water, and minor falls making it a sturdy device. In the kit you will  receive one mod, one tank, one coil, one glass tube, one microUSB cable , one polybag and user manual.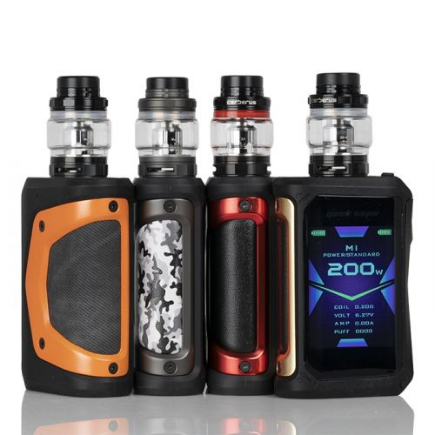 Vandy Vape Pulse x bf 90w Starter Kit
The prime features of the Pulse x bf are top squonk feed and bottom juice return for consistent supply of juice. Furthermore, the integrated Vandy chip efficiently controls the output of the device. The kit comes with the pod, 8ml squonk model, USB cable, 18650 battery adapter, airflow cap, bag and a user manual.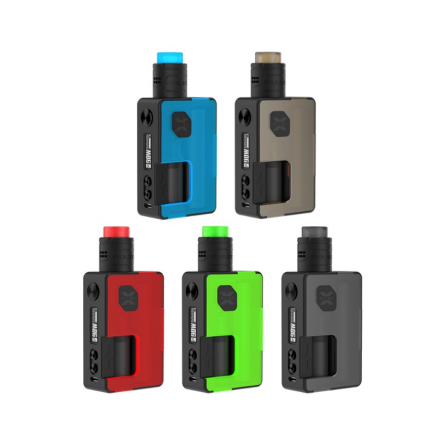 3.4
Innokin Endura T20s Vape Starter Kit
Being the best starter kit, Endure T20s six amazing colors to suit your style. It has a stainless steel finish giving it a hefty construction. The 1,500mAh internal battery makes it an ultimate power out by enhancing the output. It also integrates the technology to protect battery from over charging. Another highlight of the kit is Prism T20-S Tank equipped with advanced coil sytem to give you purest MLT vaping. Along with the tank and pod you will get spare prism coil, spare drip tip, user manual and cable in the kit.
3.5
Kanger Subox mini-c Vape Starter Kit
With 50W of output, Kanger Subox stands amongst moderately powerful pods. The intuitive LED mounts the design of the kit. Furthermore it is equipped with protection against short circuit, overheating, low voltage and discharge making it leak free and rugged. You can adjust the juice flow and air flow as per your requirements.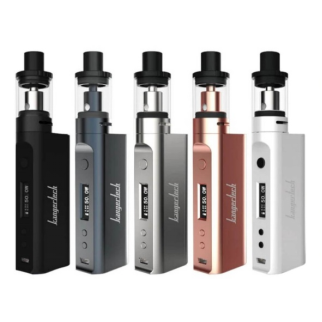 3.6
Smok Procolor 225w TC Vape Starter Kit
With maximum output of 225W, Smok Procolor gives the pleasure of enjoying Temp Mode for consistent puffs and Watt Mode for clouds chasing. The LED displays all the like puff time, power and much more. Furthermore, in the kit you will receive mod, tank, two coils, replacement glass tube, USB cable and user manual.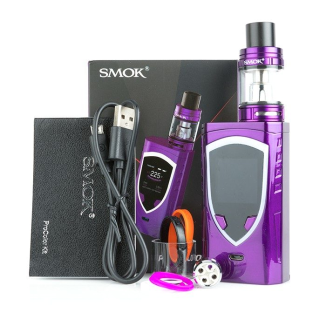 3.7
Smok Priv V8 60w TC Vape Starter Kit
Coming with a mod and tank, Priv V8 is the latest sensation with its two coloured themes. You will find activation button and the fire button on the body. Furthermore, the device is powered by 18650 battery. The tank comes with 3 ml  e-liquid capacity to last you for days. The kit comes with 2 coils, tank, replacement glass tube, manual and cable.
Njoy Vape Pen Starter Kit
With the sturdy body to sustain the daily use, Njoy is the choice of many vapers. The 650 mAh of battery is sufficient enough to last you half of the day. Furthermore, the use is pretty basic with simple operation. In the kit you will find a rechargeable battery, cartridge, type-C cable, and a user guide.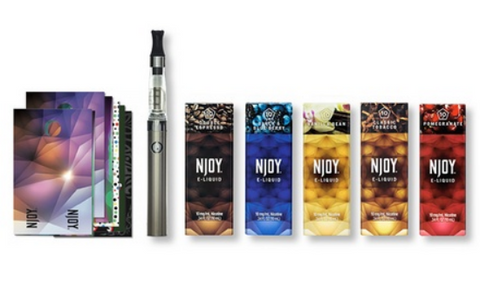 Joyetech eGO AIO d22 xl Vape Starter Kit
Being an all in one kit, eGo AIO will have everything you will need for perfect vaping experience. For replacing the coil and battery, you just have to remove the top. The mod also has the atomizer contained inside which efficiently prevents leaking. Furthermore, you can rotate located below the mouth piece to adjust the air flow. The kit also contains the charger and user manual.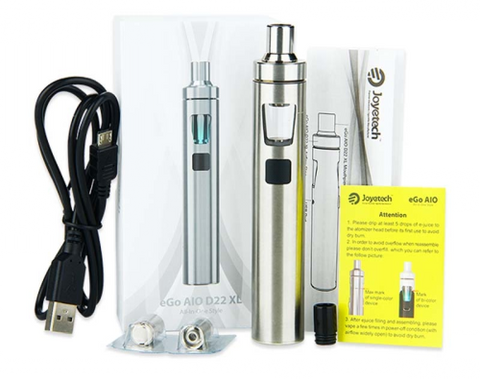 3.10
eGo Vape Starter Kit
Another industry leading kit to make it to our list is eGo Vape starter kit. It contains an innovative tank filling system that efficiently prevents leaking and spilling. The 650 mAh of battery is equipped with high safety and capacity to last for six hours. In the kit you will find two manual batteries, two atomizers, wall adapter, charger, five cartridge's, manual and a pouch.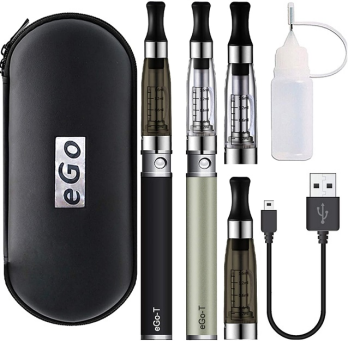 3.11
Smok G-Priv 2 Luxe Edition 230w Vape Starter Kit
The G-Priv 2 is a luxurious starter kit with striking appeal.  The 2″ OLED Colorful Touch Screen further enhances its looks. The provides SMOK TFV12 Prince Tank has a generous capacity of 8 mm. Furthermore, it is also equipped with TFV12 Prince Coil System and simple air flow adjustment for efficient performance. You will also be provided with two coils, manual and charger in the kit.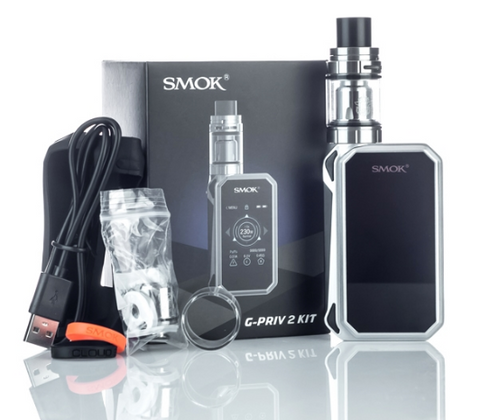 3.12
Kanger Togo Mini Vape Starter Kit
With the intuitive symmetrical air flow design and 5 LED battery indicator, Kanger Togo is making new waves in the vaping industry. The tank has the capacity of 3.8 ml for long use. Furthermore, CLOCC coil and 1600 mAh of battery also mounts its performance. Lastly, you will also get Pyrex glass, manual and cable in the kit.
3.13
Evod Vape Pen Starter Kit
Another starter kit which is popular amongst vape lovers is Evod Vape Pen. It comes with an MT3 atomizer tank, replaceable coils and a power battery of 1100 mAh. The atomizer tank has the sufficient capacity of 2.4ml. Along with that, the charging is also available in the kit.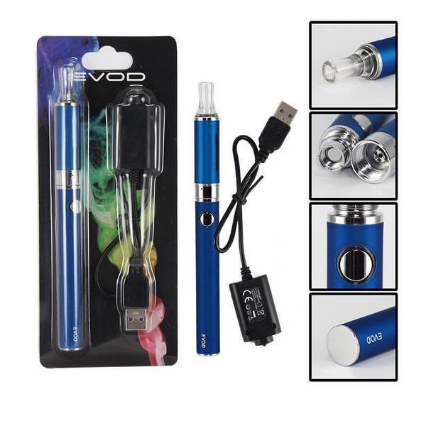 3.14
Avenger Baby 108W TC Starter Kit
Another starter kit that has received significant praises is Avenger baby starter kit. It is a mix of performance, ease of use and pocket friendliness. Its compact size makes it extremely easy to carry around. Furthermore, the 2 ml capacity of tank is enough to meet your needs. Other prominent features of the kit are two DMB-DM Coils, 108 W output, and adjustable bottom air flow.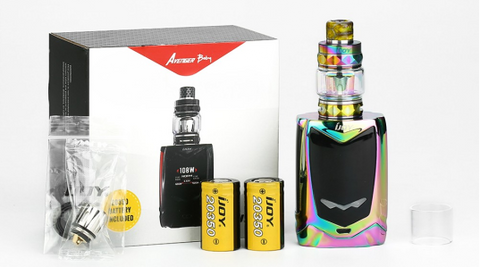 3.15
SMOK SCAR-18 230W Starter Kit
In this renowned started kit you will find TFV9 Sub Ohm Tank with a capacity of 6.5 ml, a mod and a charger. Two  18650 powerful batteries drive the vape. Furthermore, the design is completed by TFT display screen which brings further convenience.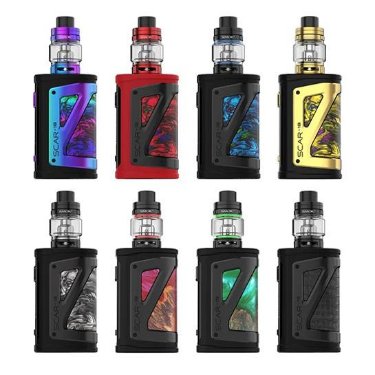 4.
UPENDS
Another vaping brand with user friendly products slowly rising in the market is UPENDS. It truly brings convenience to the users with the products that are user friendly, with elegant design and light on the pocket. Let's have a look at their leading pods. With these vape pens, you won't even need a starter kit to get started!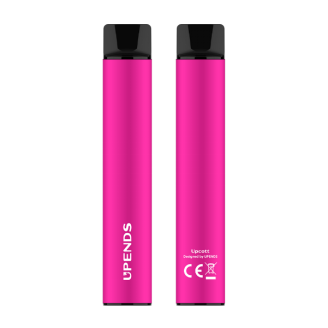 4.1
Upcott
Upcott features a sophisticated design and impressive performance at a cheap price. UPENDS has omitted the fancy additions to the pen while retaining the high output successfully reducing the overall cost. The pod is equipped with cotton filling and filer to prevent the risk of any leaking, spilling, popping and condensate. The tank has the capacity of 4ml and you can easy replace it with a new one when emptied.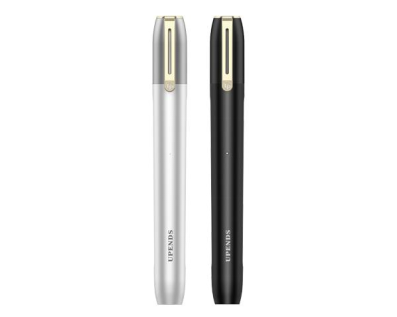 4.2
Uppen
Uppen is a masterpiece with the addition of technology like Etchip™ coil which contributes in giving flavour full first draw and retaining the flow of e-juice. Furthermore, the Uppen cap protects the liquid from air penetration and also keeps the mouthpiece safe from bacteria's.
Concluding the article, the market might be saturated with plenty of kits but we have filtered the best ones for you. These kits will surely update your vaping game to a new level. Furthermore, the UPENDS pods also surpass their competitors with classy design and remarkable output. So what are you waiting for? Try them now and let us know about your feedback.