The SMOK MORPH 2 230W Starter Kit, which includes the IQ-S Chipset and an extensive temperature control suite, is combined with the TFV18 Tank. Crafted from robust zinc-alloy, the SMOK MORPH 2 Starter Kit offers a rugged chassis to safeguard the dual high-amp 18650 battery (batteries sold separately).
Powered by the IQ-S Chipset, the SMOK MORPH 2 Kit grants access to a comprehensive temperature control suite, ensuring compatibility with nickel, titanium, and stainless steel heating elements. Loaded with an array of safety features to protect against device malfunctions, the MORPH 2 Kit partners with the TFV18 Tank to deliver rich flavor.
With a generous 7.5mL eLiquid capacity, the TFV18 Tank employs either a 0.33ohm Meshed Coil or a 0.15ohm Dual Meshed Coil, producing massive clouds of vapor, finely tuned using dual slotted bottom airflow inlets.
Why Choose
Design and Construction Quality
The use of zinc alloy in the body of the mod helps maintain its lightweight feel, but this changes once you insert two 18650 batteries, making it more substantial to hold. The leather-like covering offers a slight cushioning effect, and the side-firing button ensures convenient access to the display. On one side, you'll find the Smok logo along with a mention of the NEX chip being inside, although this has caused some confusion as some sources, including Smok themselves, state that the IQ-S chip (which is also found in the Morph 219) is the core of the device.
Screen Display and Operation
Regarding the menu buttons, Smok refers to them as "up" and "down," but to avoid any confusion, we'll describe them based on their actual placement – left and right, positioned just beneath the screen.
The user interface is well-structured, with information neatly organized in distinct sections. Notably, the power output is prominently displayed, which is always a welcome feature. Although the font may appear somewhat reminiscent of the old-school Spectrum 48k style, it effectively serves its purpose.
Let's explore how to access these functions and additional features:
To turn the device on/off, simply press the fire button five times.
For vaping, hold down the fire button (please note that the device will stop firing after 8 seconds).
Adjust the color scheme by holding the fire button and the right menu button simultaneously.
To reset the puff counter, press the fire button and the left menu button together.
Lock or unlock the device by simultaneously pressing the left and right buttons.
Enter the menu setting interface by pressing the fire button three times.
Features
Powered by the IQ-S Chipset
Dimensions: 88mm x 47.5mm x 31.7mm
Requires two High-Amp 18650 Batteries (batteries not included)
Adjustable Wattage Range: 1-230W
Variable Voltage Range: 1.2-8.2V
Resistance Range in VW Mode: 0.1-2.5ohm
Resistance Range in TC Mode: 0.05-2.0ohm
Temperature Control Range: 200°F-600°F / 100°C-315°C
Compatible with Nickel, Titanium, and Stainless Steel Wires
Extremely Fast Firing Speed: 0.001s
Constructed with a Zinc-Alloy Chassis
Features an Intuitive Firing Button
Equipped with a 0.96" OLED Display Screen
Includes Two Adjustment Buttons
Safety Features: 8s Cut-Off Protection, Over-Heating Protection, Over-Discharge Protection, Short Circuit Protection, Low Battery Warning, Atomizer Detection, Reverse Polarity,
Convenient Type-C Port for Charging and Updates
Available in Multiple Colors: Blue, Black, Red, Brown, White Blue, White Red, Prism Rainbow, Black Carbon Fiber
What's in the box:
1 x Smok Morph 2 Mod
1 x Smok TFV-Mini V2 Tank
1 x Mini V2 S1 0.15 ohm single-meshed coil
1 x Mini V2 A2 0.2ohm Dual Coil
1 Replacement Bulb Glass Tube
1 x Type-C Cable
User Manual
Specifications
E-Liquid Capacity: 7.5mL (Also available with 6.5mL capacity)
Tank Build Material: Pyrex Glass
Tank Body Constructed from High-Quality 304 Stainless Steel
Easy Top-Filling Mechanism with a Press and Slide Design
Uses the TFV18 Mesh Coil Series
Coil Options: 0.33ohm TFV18 Meshed Coils, 0.15ohm TFV18 Dual Meshed Coils
Convenient Press-Fit Coil Installation
Adjustable Dual Slotted Bottom Airflow Control Ring
Equipped with a Threaded 510 Connection
Available in Various Finishes: Stainless Steel, Matte Black Plating, Gold, Blue, Red, and 7-Color
Pros
Utilizes two rechargeable 18650 batteries (batteries must be purchased separately)
Offers a powerful 230W output for rapid firing capabilities
Features a robust build and innovative design for added durability
Includes an adaptive power function to enhance overall performance
Supports variable wattage mode for a personalized vaping experience
Suitable for use with high VG e-liquids
Cons
Incompatibility with an RDA (dependent on the specific device used)
Battery A exhibiting a 5% overcompensation (varies based on the batteries employed)
Significant increase in weight when combined with the TFV18 sub-ohm tank
Vape product suggestions:
Upbar-nano
The UpBAR Nano represents a portable vaping solution tailored for travel, prioritizing ease of use. It incorporates FRESOR technology to maximize e-liquid utilization. The combination of the Next-Gen Mesh Coil and a distinctive flat stacking design collaborates to progressively enhance the puff count and energy efficiency, layer by layer.
Thanks to the cutting-edge FRESOR technology, the Nano is entirely self-regulating, ensuring consistent performance. Consequently, vaping with this device delivers a rich, faithful flavor reproduction, abundant vapor production, and safeguards against leakage concerns.
Features
0 E-liquid capacity
410 mAh battery capacity
20 mg/ml nicotine salt
0 Ω Resistance
UPENDS Mirror
The Upends Mirror vape pen constantly provides a top-notch vaping experience and has a stylish, carry-anywhere design. Its sleek exterior and streamlined design both contribute to the polished appearance of the object.
This device raises the standard for producing vapor by promising a consistently appealing flavor profile. It maintains its chic appearance as well. A cutting-edge mesh coil is incorporated, which enables this. The performance of The Mirror demonstrates its skill at catering to a wide range of tastes.
You may enjoy uninterrupted vaping sessions whenever the mood strikes thanks to the powerful 500mAh battery, ample 10mL e-liquid capacity, and simplicity of Type-C charging. Questions about e-liquid levels or battery life are no longer relevant.
Features
10mL E-liquid Capacity
0Ω Resistance
500mAh Battery Capacity
Type-C Charging Port
Upends UpBar GT
A stylish vaping device that radiates elegance and borrows design influences from pricey sports cars is the UpBar GT. It features a slim, sleek body with sensual lines and subtle accents that give it a distinctive appearance.
20 mg of nicotine is already included in the 2 ml UpBar GT pods. These pods have a mesh coil and offer a satisfying vaping experience. On average, they need to be changed after 600 puffs. To satisfy various palates and give customers a variety of alternatives, the UPENDS UpBar GT is offered in a wide range of tastes.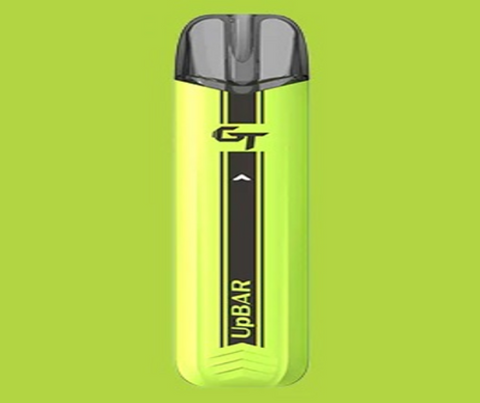 Features
2% Nic Salt
2 ml e-liquid
400mAh battery
600 puffs
E-liquid ratio: 50PG/ 50VG
Coil: 1.4ohm mesh
FAQs
What is the wattage range of the Smok Morph 2 Kit?
The Smok Morph 2 Kit has a wattage output range of 1-230W, allowing you to customize your vaping experience to your preferences.
Can I use temperature control mode with the Smok Morph 2 Kit?
Yes, the Smok Morph 2 Kit supports temperature control mode and is compatible with nickel, titanium, and stainless steel heating elements.
How do I change the color scheme or settings on the Smok Morph 2 Kit?
You can access the menu setting interface by pressing the fire button three times. From there, you can navigate and adjust various settings, including the color scheme.
What type of coils are compatible with the TFV18 Sub-Ohm Tank included in the kit?
The TFV18 Sub-Ohm Tank is compatible with the TFV18 Mesh Coil series, including options like 0.33ohm TFV18 Meshed Coils and 0.15ohm TFV18 Dual Meshed Coils.
Best Vape Wholesale Supplier-UPENDS
Enter the enchanting universe of Vape-UPENDS, where the blending of innovation and elegance harmoniously delights the senses. We extend a warm invitation to embark on an extraordinary vaping journey, one filled with unforgettable moments. Become a part of our vibrant community and unlock access to an array of exclusive offerings meticulously designed to enhance your vaping pleasure.
At Vape UPENDS, our unwavering commitment to cutting-edge innovation, graceful aesthetics, and meticulous craftsmanship defines our ethos. Our dedicated team of artisans pours their passion and expertise into creating flawless and refined works of art that are sure to captivate your senses. With each inhale, our aim is to awaken your discerning palate and ignite a captivating experience crafted with care for your enjoyment.
Our ultimate goal is to provide an unmatched vaping adventure, and we are thrilled to embark on this transformative journey alongside you. Allow us to elucidate why Vape UPENDS proudly stands as the preferred choice for those who demand nothing less than perfection when seeking moments of relaxation.
Prepare to immerse yourself in a world where creativity, sophistication, and pure wonder intersect to craft an experience that sparks your imagination and leaves you longing for more.