The Uwell Caliburn AK3 Pod Kit represents the third generation of the Caliburn Koko Series, offering users an ultra-portable pod system. With its compact design and added lanyard, it ensures easy transportation and wearability.
Experience the convenience of 15-minute fast charging and simple top filling. The AK3 Kit also features an interactive logo-shaped light animation that indicates battery life. Additionally, the large e-liquid check window allows for effortless monitoring of the e-liquid volume, reducing the risk of running out unnoticed.
The Uwell Caliburn AK3 uses draw-activated fire technology and a built-in 520mAh battery to deliver up to 13W of pleasant warmth. Its lightweight yet durable aluminum alloy construction, combined with the practical top-filling design and 1.8mL pod capacity, makes it an excellent choice for enjoying delicious and smooth vapor from your favorite e-juices or nicotine salts.
What Is Uwell Caliburn AK2 Pod Kit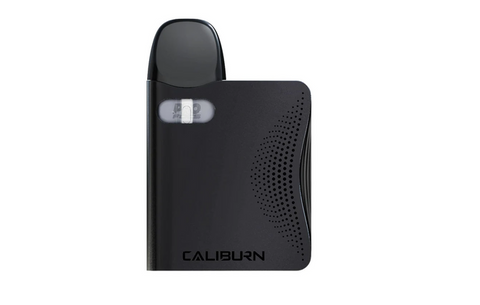 The Uwell Caliburn AK2 Pod Kit is a small and comfortable vaping device designed for convenience. It incorporates a 520mAh battery and can reach a maximum output of 15W. With a 2mL capacity for E-Liquid, an adjustable airflow system, and the innovative 0.9Ω Meshed Coil Technology, it ensures a satisfying vaping experience. Constructed from lightweight aluminum alloy, the Caliburn AK2 has a sleek and stylish appearance. It is equipped with a Type-C cable for swift and effortless charging, maximizing convenience for users.
Getting started
The AK2 (KOKO) is quite simple to use, just like the majority of devices with built-in pods—and the absence of a firing button makes it even simpler. Simply push the mouthpiece out of the way on the flat side to empty the pod (it's simpler to accomplish with the pod inside the device). Then squeeze your juice bottle to fill the pod by pressing the tip against the hole in the red side of the pod. Reinstall the mouthpiece, wait five minutes for the coil to saturate, then inhale through the mouthpiece to vape. Just like that! Let's check its performance now.
 Features
Pro-FOCS Flavor Technology
Battery Life Indicator
Lanyard Attachment Point
E-Liquid Viewing Window
Short-Circuit Protection
Low-Voltage Protection
Overtime Protection
Open-Circuit Protection
 Specifications
Dimensions: 67 x 44 x 12mm
Maximum 13W Wattage Output
Voltage-Based Output System
520mAh Battery Capacity:
Chassis Construction: Aluminum Alloy
Type-C Charging Port
8 mL Pod Capacity
Top Fill Filling System
0ohm Coil Resistance
Pod Material: PCTG
Box Content:
1 Uwell Caliburn AK3 Device
2 Uwell Caliburn A3 1.0ohm Replacement Pods
1 User Manual
1 Silicone Lanyard
Pros
Excellent construction quality
Updated and improved design
Sleek metallic finish
Practical and ergonomic shape
Highly compact and lightweight
Convenient top-fill system (ensure slow filling to prevent spills)
Long-lasting coils with a lifespan of approximately 20 mL
Completely leak-free
Impressive flavor production
Perfect mouth-to-lung (MTL) draw
Reliable auto-draw sensor
Fast charging capability with Type-C port (45 minutes)
Includes a silicone lanyard for added convenience
Cons
The juice window is visible from one side only
Limited pod options available
Type-C charge cord not provided
Battery life could be improved (2.5 mL capacity)
Design & Build Quality
The Caliburn AK2, being Uwell's third device in the "Koko" series, takes inspiration from the original Caliburn Koko design rather than the Koko Prime. The AK2 is a rectangular device with rounded edges and a flat front and back. One corner of the device is cut at a slant and includes an anchor spot for attaching the provided silicone lanyard.
Available in eight different colors, I have used the Turquoise Blue variant for this review. The paint finish has held up well and has not faded during my usage. However, it is worth noting that the device has sustained some damage to the edges when dropped on the pavement, revealing the bare silver metal. It is advisable to handle the device with care as it tends to show wear easily.
Battery Life
The Caliburn AK2 features a 520mAh battery, which is the same capacity as the Caliburn A2, and both devices operate at a firing power of 15W. Consequently, the battery life of these devices is nearly identical. On a full charge, you can expect to vape approximately one and a half pods of e-juice before needing to recharge.
The AK2 incorporates a Type-C charging port located on the bottom of the device. Despite the battery providing around one and a half pod's worth of usage, the AK2 compensates with its fast charging capability. Just 45 minutes are needed to complete the recharge. This ensures that you won't have to wait for an extended period without your device.
The AK2 includes an LED indicator on the side that lights up when you draw, indicating the battery level. A green light signifies a charge level above 60%, blue represents a level between 30% and 60%, and red indicates a level below 30%. When the battery is completely drained, the red light will flash 10 times consecutively, and the device will refuse to fire.
Performance
Offering a slightly more constrained vaping experience compared to previous Koko devices, the AK2 pod kit is perfect for individuals who prefer a moderately tight mouth-to-lung (MTL) draw without feeling overly restrictive.
Despite the maximum output being set at 15W, there's no need to worry—the AK2 still generates satisfying vapor production, complemented by a robust and flavorful experience. With the versatility of Caliburn pods, you have the freedom to pair the AK2 with a variety of e-liquids, including 50/50 blends, high PG options, and nicotine salts, ensuring you can achieve that essential nicotine satisfaction.
Draw-activated functionality
15W output wattage
Designed for mouth-to-lung (MTL) vaping
Particularly suitable for former smokers transitioning to vaping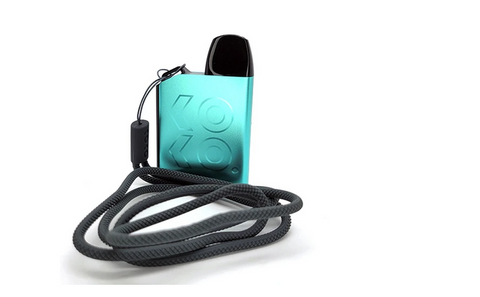 How To Use Caliburn AK2
Designed as part of Uwell's "A" series devices, the AK2 prioritizes simplicity and user-friendliness. Uwell has categorized its Caliburn devices into two series: A and G. The A series employs pods with integrated coils, while the G series utilizes replaceable coils. As a result, the A series devices are particularly well-suited for beginner vapers or those seeking a hassle-free vaping experience.
The AK2 does not require any adjustments or settings. Simply remove the top cap, fill the pod, and you're ready to vape. There are no buttons on the device, and it remains in an "On" state at all times. To vape, simply draw on the mouthpiece, and the AK2 will automatically activate and produce vapor.
Other product suggestion
UPENDS Diamond
When you partake in vaping, the device's diamond-textured exterior creates a captivating and otherworldly atmosphere as it reflects light from its base. This distinctive design element enhances the device's visual appeal, making it visually enchanting. Moreover, the device enhances your vaping experience by delivering a more pronounced taste and improved replication of flavors.
Additionally, it boasts enhanced energy efficiency, allowing you to enjoy more puffs before needing to recharge. By using the bottom button, you can conveniently adjust the airflow inlet, granting you the flexibility to engage in either Direct-to-Lung (DTL) or Mouth-to-Lung (MTL) vaping styles according to your personal preference.
With an impressive e-liquid capacity of 13mL and a rechargeable battery of 600mAh, you have the freedom to indulge in your vaping sessions without worrying about depleting your e-liquid or running out of battery power.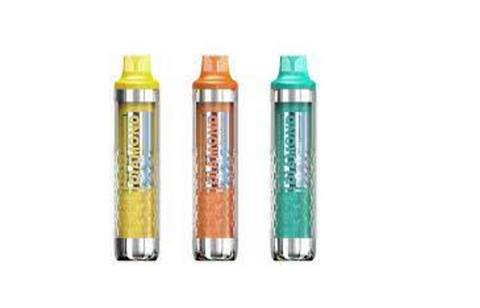 Features
Battery 600mah

13ml Capacity E-liquid

Size 119.8mm x 27.5mm

Type C USB charging port

0ohm Resistance
FAQs
Caliburn AK2 vs. Koko A2: Which is superior?
The Uwell Caliburn AK2 delivers impressive flavor and offers satisfactory airflow, although its battery performance falls short. While it shares similarities with the Caliburn A2, it does have one significant advantage: its compact size and shape. Although it may not be the most ergonomically comfortable to hold, its small form factor takes up minimal pocket space, making it highly portable.
Best Vape Wholesale Supplier-UPENDS
Come into the mesmerizing world of Vape UPENDS, where innovation and style perfectly blend, luring you to go on a memorable vaping adventure. If you want to take your vaping experience to new levels of happiness, join our friendly community and explore the wealth of exclusive offerings we have to offer.
Vape UPENDS is extremely proud of its cutting-edge innovations, sophisticated designs, and rigorous attention to detail. To create faultless, breathtaking products that will enchant your senses, our team of talented artisans fully commits itself. We want to leave you stunned by the incredible experiences we have in store while also titillating your discriminating taste with every breath.
We are excited to start this transformational journey together with the ultimate goal of giving you an extraordinary vaping experience. Allow us to demonstrate why Vape UPENDS is the best option for people who just want the best for themselves while you take a minute to relax. Get ready to immerse yourself in a universe where creativity, fashion, and sheer marvel perfectly coexist to create an experience that will enchant you and leave you wanting more.