Indulge in the perfect vaping experience with the Aloha Sun Disposable Vape, where an enticing blend of flavors awaits. Introducing the Aloha Sun TFN Disposable Vape, a true game-changer that is revolutionizing the market. This extraordinary device combines the allure of Hawaiian-inspired flavors with the infusion of tobacco-free nicotine (TFN).
If you're on the lookout for a fresh and unforgettable vaping journey, accompanied by a disposable vape that will become your ultimate go-to, your search ends here with the Aloha Sun Disposable Vape.
Prepare yourself for an unrivaled adventure as you delve into the world of the Aloha Sun TFN Disposable Vape. Immerse your senses in an exceptional experience, as this remarkable device boasts abundant vape juice and battery capacity. With an impressive 50% (50mg) tobacco-free nicotine content, it provides a satisfying hit like no other.
Plus, with a staggering number of puffs ranging from 3000 to 7000, you can relish in your favorite flavors for an extended period. Get ready to savor every moment and transport yourself to a world brimming with tantalizing flavors that will leave you wanting more. The Aloha Sun Disposable Vape is your gateway to vaping bliss.
What Are Aloha Sun Disposables?
Aloha Sun TFN Disposables are premium disposable vaping devices that offer unparalleled convenience and portability. These high-end devices have been recently introduced to the market, providing users with an exceptional vaping experience. With the Aloha Sun TFN Disposable Vape, you can indulge in a wide range of flavors inspired by the stunning landscapes of Hawaii.
Each puff takes you on a sensory journey, tantalizing your taste buds with a selection of mouthwatering and irresistible concoctions. The Aloha Sun TFN Disposable Vape is designed to satisfy your cravings for flavor while delivering the utmost convenience, making it the ideal choice for users on the go.
Pros
The design is pleasing and not overly busy.
Excellent construction
Comfortable dimensions and form
Nice mouthpiece for vaping
The majority of the flavors are delicious.
Cons
You can only handle 1-2 comfortably at a time because of their medium-large size.
People hoping for a draw that resembles a cigarette might not be satisfied by a loose MTL draw.
Aloha Sun Disposable Vape Options
Aloha Sun TFN 7000 Puffs
The Aloha Sun 7000 Puffs Disposable is equipped with a rechargeable 650mAh battery and a generous 15mL pre-filled e-liquid capacity, providing users with the luxury of enjoying up to 7000 puffs. With a 5% nicotine content, vapers can relish a satisfying experience.
Additionally, this remarkable device offers the flexibility to adjust the airflow to suit individual preferences, ensuring a personalized and enjoyable vaping journey.
Features
7000 Puffs
15mL Pre-Filled E-Liquid Capacity
650mAh Rechargeable Battery
USB Type-C
5% Nicotine
Adjustable Air Flow
Aloha Sun 7000 Disposable Vape Flavors Review
Strawberry Guava
Strawberry Guava is a delightful fusion of two tropical fruits, combining the sweet and tangy flavor of ripe strawberries with the unique tropical essence of guava. The taste of this flavor is often described as a harmonious balance between the refreshing sweetness of strawberries and the exotic, slightly tart notes of guava. The vibrant red hue of strawberries perfectly complements the soft green shades of guava, making it visually appealing as well.
White Peach Ice
White Peach Ice is a cool and refreshing flavor that combines the juicy sweetness of white peaches with a hint of icy menthol. White peaches are known for their delicate and aromatic flavor, which is less acidic compared to yellow peaches. The addition of ice or menthol provides a soothing and chilling sensation, enhancing the overall taste experience
Kiberry Ice
Kiberry Ice is a unique blend of flavors that combines the sweetness of ripe strawberries with the subtle tartness of a kiwi, enhanced by a refreshing icy finish. The juicy and succulent taste of strawberries pairs harmoniously with the tangy and slightly tropical flavor of kiwi, creating a delicious contrast.
The addition of ice or menthol adds a cool and invigorating element, making Kiberry Ice a popular choice for frozen desserts, smoothies, and vaping enthusiasts seeking a refreshing and fruity experience.
Blue Dream
Blue Dream is a flavor inspired by the famous cannabis strain of the same name, known for its uplifting and euphoric effects. In this context, Blue Dream flavor refers to a non-psychoactive interpretation that captures the essence of the strain's distinct taste profile. It typically offers a fruity and herbal blend, combining notes of sweet blueberries with earthy undertones.
American Tobacco
American Tobacco flavor aims to replicate the distinctive taste of traditional American tobacco cigarettes. It often features a robust and rich flavor profile, reminiscent of the classic tobacco notes found in popular cigarette brands. While the specific taste can vary between brands and products, American Tobacco flavor typically offers a smoky, slightly sweet, and mildly bitter experience.
Aloha Sun TFN 3000 Puffs
Prepare to embark on a refreshing vaping experience with the Aloha Sun TFN 3000 puffs Disposable Vape. This exceptional device combines a delightful blend of Hawaiian-inspired flavors with the infusion of tobacco-free nicotine, delivering a truly invigorating vapor sensation. 
Features
3000 Puffs
8ml E-liquid capacity
50mg Nicotine Strength
Tobacco-Free Nicotine
Aloha Sun TFN 3000 Flavors Review
GUAVA NECTAR
Embark on a tantalizing journey as you indulge in the unique flavor of guava nectar. This captivating taste will envelop your senses, leaving you feeling refreshed and craving for more. With just a single puff, it will quickly become one of your all-time favorites.
LILIKOI PASSION
Prepare to be blown away by the masterfully crafted vape experience of Lilikoi Passion. This delightful blend offers the exquisite taste of tropical passion fruit, uninterrupted by any other flavors. It's an all-day vape that will rapidly become the only flavor you desire.
LUAU PUNCH
Immerse yourself in the perfect mood with the complexity of Luau Punch. This Hawaiian-inspired beverage vape showcases a harmonious fusion of pineapples, oranges, passion fruit, and guava. With this remarkable range of flavors, each inhale guarantees a perfectly balanced and satisfying taste sensation.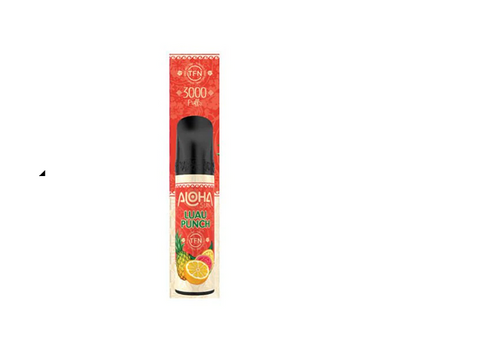 PINEAPPLE ORANGE
Indulge in an explosion of unbelievable flavors with Pineapple Orange. This combination of luscious pineapples and juicy oranges will captivate your taste buds from the first inhale to the last. Experience the incredible and relaxing taste that this blend has to offer.
FAQs About Aloha Sun Disposable Vape
How Does The Aloha Sun Disposable Vape Work?
The Aloha Sun Disposable Vape is a draw-activated device, meaning there are no buttons or settings to adjust. When you inhale on the mouthpiece, the device automatically activates and vaporizes the e-liquid, delivering a flavorful and satisfying vaping experience.
What Flavors Are Available In The Aloha Sun Disposable Vape?
The specific flavor options in the Aloha Sun Disposable Vape can vary, but common flavors include tropical fruit blends, menthol, tobacco, and dessert flavors. It's best to check with the manufacturer or retailer for the current flavor selection.
Is The Aloha Sun Vape Suitable For Quitting Smoking?
While the Aloha Sun Disposable Vape can be used as an alternative to smoking, it is important to note that vaping products are not approved smoking cessation tools. If you are looking to quit smoking, it is recommended to seek guidance from healthcare professionals or explore approved smoking cessation methods.
Is The Aloha Sun Disposable Vape Suitable For Beginners?
Yes, the Aloha Sun Disposable Vape is a popular choice for beginners due to its simplicity and ease of use. It requires no prior knowledge or experience with vaping devices, making it a convenient option for those new to vaping.
Is The Aloha Sun Disposable Vape Safe?
The safety of the Aloha Sun Disposable Vape depends on the quality and reputation of the brand. It is important to purchase from reputable manufacturers and ensure that the product meets industry standards and regulations.
Best Vape Wholesale Supplier-UPENDS
Explore the captivating world of Vape UPENDS, where innovation and style combine to offer an extraordinary vaping journey. Prepare to be fascinated by our advanced technologies, sleek designs, and meticulous attention to detail.
As a valued member of our community, you'll enjoy exclusive benefits that enhance your vaping experience. Our team of skilled artisans is dedicated to creating flawless and exquisite equipment. With every inhale, we aim to awaken your sophistication and enchantment, leaving you in awe of the wonders we have in store.
Our ultimate aim is to provide you with an exceptional vaping experience, and we're thrilled to join you on this unforgettable adventure. So, sit back, relax, and let us demonstrate why Vape UPENDS is the top choice for discerning users who demand nothing but the best.