Aegis Nano is an exceptional addition to the Geekvape Aegis line of vaping. This device not only has a strong build but is also stylish. Did we forget to add that this vaping device is waterproof? You are sure to enjoy every bit of the penny spent on this device.  In this review, we will delve into the features, performance, design, and overall user experience of the Aegis Nano. Join us as we explore the strengths and potential considerations of this versatile and durable vape.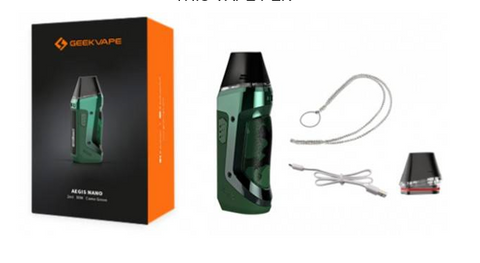 What is Aegis Nano Vape?
The Aegis Nano is a compact and portable vaping device that packs a punch with its advanced technology and rugged construction. It was manufactured by the reputable GeekVape company. When it comes to vaping, this company sure know their onions. Aegis Nano was built with durability in mind. This device boasts shockproof, dustproof, and waterproof capabilities, making it an ideal choice for those who lead an active lifestyle or work in challenging environments.
Aegis Nano isn't just about toughness, it also offers a range of features designed to enhance your vaping experience. From the moment you hold the Aegis Nano in your hand, you'll notice its sleek and ergonomic design. With its portable size, it easily slips into your pocket or bag, making it convenient to carry wherever you go. An outstanding feature of the Aegis Nano is its impressive performance. Equipped with a powerful battery and adjustable wattage settings, this device delivers consistent vapor production and flavor, allowing you to customize your vaping experience to suit your preferences.
Safety is a top priority for the Aegis Nano, and it comes with multiple built-in protections to ensure your vaping experience is seamless. From short-circuit protection to overheat protection, this device offers peace of mind and reliability. In addition, the easy-to-read display keeps you informed about battery life, wattage settings, and other essential information, further enhancing the user experience.
General Features
Rugged and Portable Design
The Aegis Nano is designed to be small and lightweight, making it highly portable and convenient for on-the-go vaping. Its compact size allows it to easily fit in your pocket or bag. Built with durability in mind, the Aegis Nano is shockproof, dustproof, and waterproof. It can withstand accidental drops, exposure to dust particles, and even immersion in water, making it ideal for outdoor activities or harsh environments. Hence, you need not to worry about your Vape device getting spoilt due to harsh weather conditions
Compatible with other E-liquids
The Aegis Nano is compatible with both nicotine and CBD e-liquids, providing flexibility in your vaping options. You can enjoy different flavors and effects by simply switching between the two types of e-liquids. The device also allows for coil replacement, ensuring optimal performance and flavor over time. Coils can wear out or become clogged, affecting the quality of vapor production. Being able to replace the coil extends the lifespan of the device and provides a cost-effective solution.
Battery
The Aegis Nano battery has a built-in rechargeable long lasting which eliminating the need for frequent battery replacements. The battery capacity varies depending on the model, but it lasts several hours to a full day of vaping before requiring a recharge. Charging the Aegis Nano is convenient, as it usually comes with a USB charging cable. An amazing fact is that you can connect the device to a USB power source (a computer or wall adapter) for seamless recharging.
User-Friendly Interface
The Aegis Nano features an intuitive and user-friendly interface, often equipped with a clear display screen. The interface allows you to easily adjust settings, monitor battery life, wattage levels, and other vital information, enhancing the overall user experience.
Aegis Nano also offers adjustable wattage settings, allowing you to customize the power output according to your preferences. This feature enables you to fine-tune your vaping experience, whether you prefer smooth and flavorful vapor or larger clouds.
Relevant Youtube Videos on Aegis Nano Vapes
Reviews: Are Aegis Nano Vapes Good?
Geekvape Aegis Nano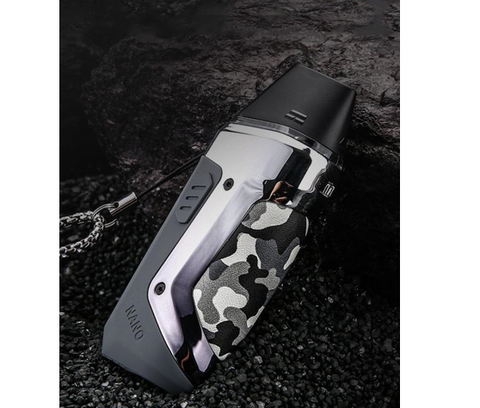 The Geekvape Aegis Nano is a 30W Starter Kit designed for those who prioritize portability and convenience. It features an adjustable airflow system that allows you to customize your vaping experience by fine-tuning the airflow to your preference. Whether you enjoy tight, restricted draws or airy clouds, this device has you covered. Equipped with an 800mAh battery, the Aegis Nano ensures all-day use without the need for frequent recharging.
Convenience is at the forefront of the Aegis Nano's design, thanks to its top filling port. Filling up your tank has never been easier. Simply remove the top cap, fill it up with your favorite e-liquid, and you're good to go. For those looking to add a touch of style, the Aegis Nano offers the option to hang it around your neck using stylish chains.
Features
Battery: built-in 800mAh
Resistance: 0.6Ω (Pre-installed, 20-25W) and 1.2Ω (11-14W)
Output: 5-30W
Input Voltage: 4.5-5.5V
Screen: 0.69 inch Display(OLED black and white screen)
Minimum Voltage: 3.2V土1V
Resistance Range: 0.20-3.0Ω
Output Voltage: 0.1-6.0V
Charging Port: Type-C
Input Current: 1A (max)
Pros
Solid and durable
Rechargeable
Incredible flavor
Comes with a stylish Neck Chain
Has an auto output adjustment for refillable pod with magnetic click connection
Has an adjustable airflow
Cons
The top cap can be difficult to remove for filling.
Geekvape Aegis Hero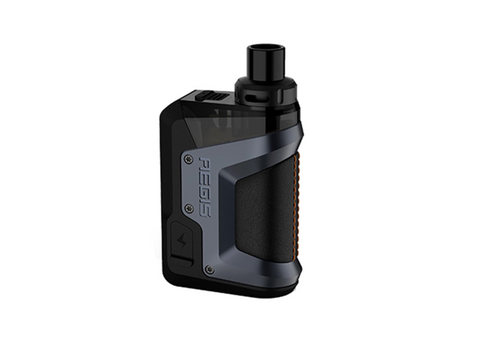 The Aegis Hero features a built-in 1200mAh battery, providing ample power for extended vaping sessions. It offers a maximum output of 45W, allowing for strong vapor production and flavor. The device utilizes replaceable G Coil Boost Formula coils, available in various resistances, catering to both mouth-to-lung (MTL) and direct-lung (DL) vaping preferences.
The Aegis Hero is just as durable as the Aegis Nano vape. It is shockproof, dustproof, and IP67 waterproof, making it resistant to accidental drops, exposure to dust, and immersion in water up to a certain depth.
The Aegis Hero utilizes a refillable 4ml pod with a top-fill design, making it easy to fill with your preferred e-liquid. The device incorporates a clear and user-friendly 0.42-inch OLED screen, providing essential vaping information at a glance.
Features
Dimensions: 48.15* 25.4* 82.9mm
Weight: 88g
42 Inch OLED Display Screen
Battery Capacity: 1200mAh
Puff Counter
Tank Capacity: 4ml (2ml TPD)
1200mAh battery with 45W Max Output
Coil Resistance: 0.4ohm, 0.6ohm
Pros
Excellent styling and hand feel
Adjustable airflow system
Magnetic PODs
Great flavor
IP67 Waterproof & Shockproof features
You can vape while charging
Cons
The display is hard to see
Battery doesn't last long enough for the wattage
Frequently Asked Questions (FAQs)
What sets Aegis Nano Vapes apart from other vaping devices?
Aegis Nano Vapes are known for their ruggedness and durability. They are often designed to be shockproof, dustproof, and waterproof, making them suitable for outdoor activities and harsh environments. Additionally, they offer a range of user-friendly features, such as adjustable wattage, multiple safety protections, and compact size.
Are Aegis Nano Vapes safe to use?
Aegis Nano Vapes, like any vaping device, should be used responsibly. Ensure you follow the manufacturer's instructions, including proper battery handling and maintenance. It's also essential to use high-quality e-liquids from reputable sources and to ensure the device is in good condition to minimize any potential risks. The Aegis Nano supports the use of both nicotine and CBD e-liquids.
How long does the battery last on an Aegis Nano Vape?
The battery life of an Aegis Nano Vape can vary depending on factors such as usage frequency, wattage settings, and battery capacity. Generally, these devices have built-in rechargeable batteries with capacities ranging from 800mAh to 1200mAh, which can last several hours to a full day of vaping before requiring a recharge.
Can I replace the coil in an Aegis Nano Vape?
Yes, Aegis Nano Vapes allow coil replacement. Coils can wear out over time or become clogged, affecting the flavor and vapor production. Refer to the device's user manual or manufacturer's instructions for guidance on how to replace the coil.
Are Aegis Nano Vapes suitable for beginners?
Yes, Aegis Nano Vapes can be suitable for beginners, as they often feature a simple operation and user-friendly design. However, it's still important for beginners to familiarize themselves with basic vaping safety guidelines and to understand how to properly use and maintain the device.
Best vape wholesale supplier-UPENDS
Indulge in an unparalleled vaping journey with UPENDS—a remarkable retailer specializing in high-quality vaping products at affordable prices. Positioned as a leading retailer in China, we take immense pride in selectively sourcing our products solely from reputable factories within the country. To guarantee a curated catalog that surpasses the highest standards of excellence, our team of experts in research and development meticulously vets each product.
At UPENDS, you can enjoy an impressively diverse collection of disposable vapes with some of the best design, taste and quality you will ever find. Immerse yourself in an extraordinary shopping experience by opting for UPENDS. Choose us, and we promise to deliver e-vape products that will provide you with unparalleled satisfaction.
UPENDS is looking for authorized disposable e-cigarette agents, wholesalers and distributors around the world. If you are interested, please contact us now!