Welcome to the world of Lava Vape Pen, where an unforgettable vaping experience awaits. Designed with innovation and quality in mind, the Lava Vape Pen offers a journey into a realm of flavor, convenience, and satisfaction. Whether you're a seasoned vaper or new to the vaping scene, this exceptional device is sure to captivate your senses and leave a lasting impression.
Lava2 Nic Salt Pod
Lava2 Nic Salt Pods are the perfect choice when you desire a uniquely refreshing nicotine experience, combining the invigorating flavors of mint and apple for a truly exceptional sensation.
A 5% (50mg) nicotine concentration by weight is equivalent to the nicotine content found in 1 pack of cigarettes or approximately 200 puffs. Lava2 vape pods are disposable and do not require refilling.
For individuals interested in transitioning from regular cigarettes, it would be beneficial to continue reading below to gain insight into the Mouth-to-lung (MTL) and Direct-to-lung (DTL) vaping styles, which can assist in finding a preferred vaping technique.
The MTL vaping style, similar to smoking cigarettes, involves holding the vapor in your mouth before inhaling. This method provides a higher level of flavor and a smoother sensation in the throat compared to the DTL approach. It is recommended to use a low wattage vape mod, such as the Lava2 pod device, for the MTL style.
On the other hand, the DTL vaping style involves directly inhaling the vapor into the lungs, resulting in a stronger nicotine hit on the throat and a harsher sensation. This style is more suitable for experienced vapers and may not be the ideal choice for beginners who are new to vaping.
Features
1 ml of e-juice
5% (50mg) nicotine by weight
Salt-based nicotine
Lava2 Nic Salt Pod Flavors Review
Mango Pods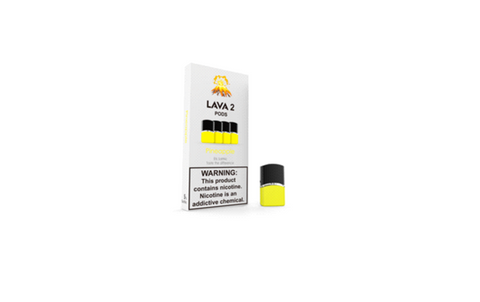 These pods capture the essence of ripe, juicy mangoes. With each inhale, you'll experience the luscious sweetness and tropical aroma that mango lovers adore. It's like taking a bite into a perfectly ripened mango, creating a mouthwatering and satisfying vaping experience.
Blueberry Pods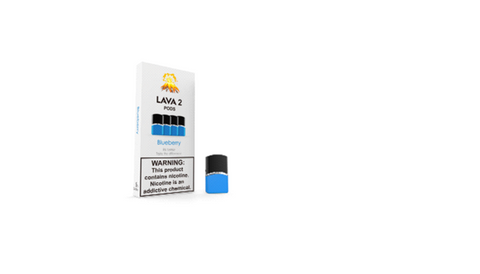 Bursting with the flavor of plump and juicy blueberries, these pods offer a delightful blend of tanginess and sweetness. The authentic blueberry taste provides a refreshing and fruity vaping sensation, making it an excellent choice for blueberry enthusiasts.
Apple with Mint Pods
This unique combination combines the crispness of fresh apples with the invigorating coolness of mint. The apple flavor provides a natural sweetness, while the hint of mint adds a refreshing and soothing element to each inhale. It's a harmonious blend that leaves a refreshing aftertaste.
Tobacco Pods
For those seeking a familiar and satisfying experience, the tobacco pods deliver a smooth and robust tobacco flavor. The rich notes of tobacco create a sense of familiarity, making it an ideal choice for those transitioning from traditional cigarettes to vaping.
Pineapple Pods
Transport yourself to a tropical paradise with these pineapple-flavored pods. The taste of sweet and tangy pineapple invigorates your senses, offering a tropical escape with every puff. It's like indulging in the refreshing taste of freshly sliced pineapple, bringing a touch of exoticness to your vaping experience.
LAVA MAX
The Lava Max Disposable Salt Nic Vape Pen offers a precisely crafted combination of nicotine salts. Created by the expert team at Lava2, this vape pen delivers the ideal formulation of vape juice in a convenient disposable e-cig stick format. It is particularly popular among beginners in the vaping community who are looking for a hassle-free and user-friendly vaping experience.
Lava Max Nic Salt Pod Flavors Review
Peach
The Peach flavor of Lava Max brings you the irresistible taste of juicy and sweet peaches. With each puff, you'll experience the succulent and refreshing essence of this beloved fruit, creating a delightful vaping sensation that captures the essence of summer.
Splash Ice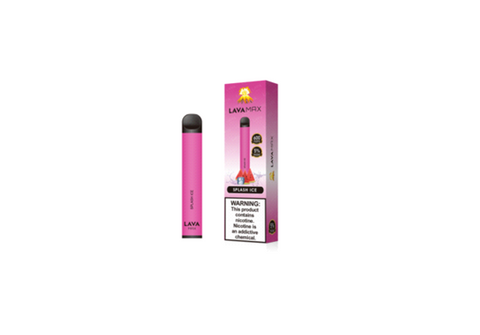 Dive into a refreshing blend with the Splash Ice flavor. This invigorating combination delivers a fusion of juicy fruits, such as watermelon, strawberry, and tropical undertones, enhanced by a cool menthol twist. The result is a revitalizing and frosty vaping experience that leaves a pleasant tingling sensation.
Clear
The Clear flavor offers a clean and pure vaping experience. This option is free from additional flavorings and additives, providing a straightforward and unadulterated taste. It's the perfect choice for vapers who prefer a simple and uncomplicated vaping session, allowing them to focus solely on the smoothness of the nicotine salts.
LAVA PLUS
The Lava Plus Disposable Vape is an excellent choice for individuals who are new to vaping or prefer the convenience of a disposable option. It incorporates the same high-quality nicotine salts found in the popular Lava Pods but in a convenient disposable format.
Using this vape pen is a breeze, offering a user-friendly experience. Simply inhale from the mouthpiece, and you'll be able to indulge in over 2600 puffs of your preferred salt-nic e-juice flavor. With a nicotine concentration of 5% (50mg) by weight, you can enjoy the satisfaction of your nicotine fix without experiencing any harsh throat hit or unpleasant chemical taste.
Features
2600 puffs
3% or 5% SaltNic
Salt-based nicotine
Lava Plus Flavors Review
Cool Mint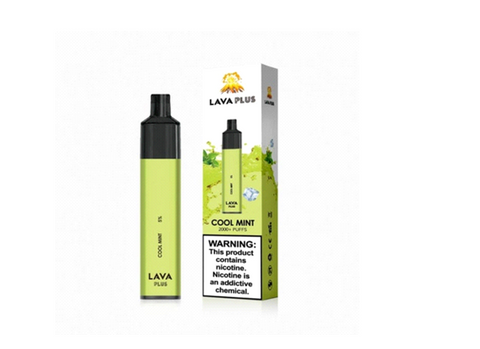 Enjoy the revitalizing and energizing flavor of Cool Mint. This flavor offers a burst of icy freshness that leaves a cool sensation on your palate. Each inhales delivers a crisp and minty flavor, providing a revitalizing and soothing vaping experience.
Watermelon with Mint
Immerse yourself in the juicy and succulent combination of Watermelon with Mint. The sweet and refreshing notes of watermelon blend harmoniously with the cooling hint of mint, creating a delightful and invigorating flavor profile. It's a perfect choice for those seeking a fruity and minty fusion.
Strawberry Banana
Experience the delightful marriage of two beloved fruits with the Strawberry Banana flavor. A smooth and delicious vaping experience is provided by the combination of the creamy richness of bananas and the sweetness of ripe strawberries. Each puff encapsulates the natural sweetness and lusciousness of these fruits.
LAVA BIG BOY - 7000 PUFFS
The Lava Big Boy Disposable Device is a compact and portable vape device that comes pre-filled with 0% nicotine content. Designed to have a discreet profile that easily fits in the palm of your hand, it is an ideal choice for individuals who lead busy and active lifestyles. It provides convenience for those who are constantly on the go and prefer a hassle-free vaping experience.
It's important to note that this disposable device does not feature a USB-C charging port, meaning it is not rechargeable. However, the Lava Big Boy Disposable Device compensates for this by offering an impressive number of puffs. With each device, you can enjoy double the puffs, exceeding 7000 puffs, ensuring an extended period of vaping satisfaction.
The Lava Big Boy Disposable Device is known for its high-quality e-liquid, providing a satisfying and flavorful vaping experience. While it does not contain nicotine, it still delivers great taste and vapor production, making it a suitable choice for those who enjoy the sensory aspects of vaping without the nicotine content.
Features
7000 Puffs
5% Nicotine
12ml
2Mesh coil
600mAh
Lava Big Boy Flavors Review
Ice Grape
Prepare to be refreshed by the cool and invigorating Ice Grape flavor. Combining the natural sweetness of ripe grapes with a chilly menthol twist, this flavor delivers a dynamic blend of fruity goodness and a refreshing icy sensation. For those seeking a vivid and cooling vaping experience, it is the ideal option.
Passion Fruit Melon
Embark on a tropical journey with the delightful combination of Passion Fruit Melon. This flavor harmoniously blends the tangy and exotic notes of passion fruit with the juicy and succulent taste of ripe melons. Each puff unveils a burst of fruity goodness, transporting you to a paradise of tropical flavors.
FAQs
How long does a Lava Vape Pen battery last?
The battery life of a Lava Vape Pen can vary depending on the device's capacity, usage patterns, and settings. Typically, a fully charged battery can last for several hours of continuous vaping. It's recommended to recharge the battery when it's low to ensure uninterrupted usage.
Best Vape Wholesale Supplier-UPENDS
Experience the enchanting realm of Vape UPENDS, where innovation and style seamlessly intertwine, extending a warm and welcoming invitation to embark on an unforgettable vaping adventure. Join our community and discover an array of exclusive offers that will elevate your vaping experience to sheer delight.
At Vape UPENDS, we take immense pride in our cutting-edge advancements, exquisite designs, and meticulous attention to detail. Our group of talented artisans is committed to making things that are faultless, amazing, and will captivate your senses. Each inhale is crafted to tantalize your refined taste buds, while invoking a sense of wonder with the extraordinary moments we've prepared for you.
Our ultimate mission is to provide you with an extraordinary vaping journey, and we are excited to venture on this transformative path together. Take a moment to unwind and allow us to showcase why Vape UPENDS is the ultimate choice for discerning customers who demand nothing less than excellence. Immerse yourself in a world where creativity, fashion, and pure marvel blend harmoniously, leaving you enchanted and yearning for more.