The Geekvape Sonder U pod kit is meticulously designed for user-friendliness, making it a perfect choice for vapers of all skill levels. Despite its small size, it is equipped with a powerful 1000mAh battery, allowing for extended vaping sessions before needing a recharge. The Sonder U can deliver up to 20W of power, catering ideally to Mouth To Lung (MTL) inhales. Additionally, it features a refillable pod with a built-in 0.7 Ohm coil, eliminating the need for intricate coil replacements.
The Sonder U boasts a buttonless design, employing inhale activation technology. Simply inhale from the mouthpiece to vape, eliminating the need for complicated menus or settings. The MTL style inhale provides a discreet vapor production that authentically replicates the sensation of smoking a cigarette. Additionally, the USB-C charging port ensures quick and efficient recharging.
Refilling the Geekvape U pods is a breeze. Just remove the rubber stopper on the side to access the e-liquid inlet, allowing you to effortlessly top up with your preferred e-liquid. For optimal performance, we recommend using e-liquids blended to a 50% PG concentration or higher, ensuring you get the best experience from your kit.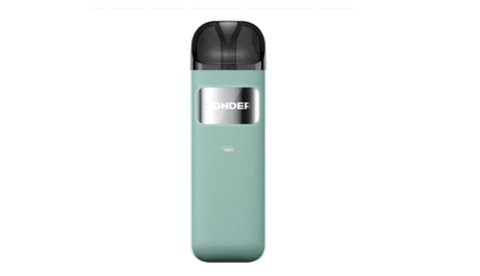 Why Choose Geekvape Sonder U vape
Extended Vaping Sessions: The Geekvape Sonder U vape kit is engineered to provide extended vaping sessions, thanks to its impressive 20W output, high capacity 1000mAh battery, and efficient USB-C charging. The combination of these features ensures that you can enjoy your favorite flavors for longer periods between charges, making it an excellent choice for those who enjoy extended vaping sessions without frequent interruptions.
Hassle-Free MTL and RDTL Vaping: The Geekvape Sonder U kit is designed to cater to both Mouth To Lung (MTL) and Restricted Direct To Lung (RDTL) vaping styles, all without the need for pressing a button. The kit's inhale activation technology allows for a seamless vaping experience - simply inhale from the mouthpiece to activate the device and start vaping. This convenient feature ensures a smooth transition between different vaping styles, making the Sonder U kit versatile and user-friendly.
User-Friendly and Ideal for Beginners: The Geekvape Sonder U vape kit is crafted with user-friendliness in mind, making it a perfect choice for beginners in the vaping world. The inhale activation feature eliminates the need for any complicated settings or button presses, simplifying the vaping experience. Additionally, the slimline design enhances its ease of use, allowing for a comfortable grip and easy handling.
Battery life: If you seek a vaping device for prolonged usage, the Sonder U might not be the ideal choice due to its 100mAh battery capacity, necessitating frequent recharging. Nonetheless, compared to Geekvape's earlier pods, this battery is relatively stronger. As a 20W device, the Sonder U performs exceptionally well, providing sufficient power for consecutive mouthful drags over extended periods. Users have the convenience of recharging the device using a Type-C charger.
LED Lights: The Sonder U features a compact and chic design, complemented by built-in LED lights within its body. These LED lights serve the purpose of indicating the device's charge status, showing when it's fully charged or running low. The battery life will naturally vary depending on your vaping frequency. If you're conservative with your usage, it can potentially last a few days. Additionally, the LED light will also alert you when your pod needs replacement or has been dislodged.
Which Kind Of Juice Does The Geekvape Sonder U Require?
To optimize your vaping experience with the Sonder U, it's crucial to find the most suitable juice for it. Once you've identified the right one, you can then select your preferred e-juice flavor.
The Sonder U is specifically designed to deliver the best results with nicotine salts. Using this type of vape juice allows you to fully enjoy the flavor of the vapor while also experiencing a moderate amount of cloud production.
How to use Geekvape Sonder U
To properly utilize the Geekvape Sonder U and prolong its lifespan, it's essential to follow a few steps. Keep in mind that there's no universal approach for using this device.
Upon receiving the package, the first step is to charge the device. Once charged, fill it with your preferred e-liquid, and you're ready to start vaping.
To begin vaping, simply draw from the mouthpiece. Thanks to the device's auto-draw feature, you won't need to press any buttons, and the vapor will be almost instantaneous.
To maintain your device's battery health, it's crucial to charge it regularly. Frequent charging prevents constant battery depletion, which can weaken the battery's capacity over time.
Regularly replace the coils and clean the heating chamber to eliminate any residue. If you notice a decrease in vapor production even with a full e-liquid bottle, the coils might be the issue.
Replacing cartridges on the Geekvape Sonder U is a straightforward process. Detach the old cartridge and insert the new one, which will be securely held in place by strong magnets.
Transparent Geekvape U Pod: The kit includes a Geekvape U pod that comes with a transparent design. This feature allows vapers to monitor the e-liquid level easily, giving them a clear view of how much e-liquid remains in the pod. This transparency helps vapers plan ahead for their next refill, ensuring they never run out of e-liquid unexpectedly. It adds a practical touch to the overall vaping experience, offering convenience and peace of mind.
 Features
1000mAh Built-In Battery
Delivers Up To 20W
Draw Activated
Designed For MTL Vaping
7ohm Coil Resistance
LED Light Indicator
Type-C USB Port
The package consists of:
1 x Geek Vape Sonder Kit
1 x Sonder U Cartridge with a 0.7ohm coil
1 x User Manual
Pros
Sleek and appealing design
The effortless, automatic vaping experience
Beginner-friendly and straightforward to use
Cons
Airflow is non-adjustable.
Other product suggestions:
UPENDS MIRROR
The Upends Mirror stands out as a compact and sophisticated vape pen that radiates elegance with its lightweight and sleek design, providing a luxurious vaping experience every time. This gadget is powered by a cutting-edge mesh coil, raises the bar for vapor output while maintaining a sleek appearance. The result is a smoother, more consistent flavor. As a taste powerhouse, The Mirror stands up to its reputation.
With its high-quality 500mAh battery, generous 10mL e-liquid capacity, and convenient Type-C charging, you can enjoy uninterrupted vaping sessions. These features grant you the freedom to indulge in vaping whenever you desire, without any worries about battery life or e-liquid levels. Get ready to enhance your vaping journey with the Upends Mirror.
Features
10mL E-liquid Capacity
0Ω Resistance
500mAh Battery Capacity
Type-C Charging Port
Vaporesso Osmall 2 vape kit
The OSMALL 2 represents an MTL pod system designed for user-friendly operation, catering to a wide audience. It boasts a new 1.2Ω coil that delivers heightened nicotine satisfaction and enhances overall usage longevity. Additionally, it seamlessly works with the original OSMALL pod.
The inclusion of SSS Leak-Resistant Technology and a 29% larger battery capacity ensures a clean and extended vaping experience.The sleek metallic painted cover showcases a water ripple design, adding an elegant and playful touch to this compact device that easily fits in the palm of your hand.
Features
11W Output
450mAh Battery
Inhale Activated
2ml e-liquid
MTL Vaping
2ohm Coil Resistance
package contains:
Vaporesso Osmall 2 Device
2 Ohm Vaporesso Osmall 2 Pod
USB-C Charging Cable
User Manual
1 x Warranty card
FAQs About Sonder U
How long does the battery last on the Sonder U?
The battery life will depend on individual vaping habits. Conservative usage may last a few days.
How do I replace the coils and clean the heating chamber?
To maintain optimal performance, regularly change the coils and clean the heating chamber to remove any residue.
Is replacing cartridges on the Sonder U easy?
Yes, replacing cartridges is straightforward. Simply detach the old cartridge and pop in a new one, which is held in place by strong magnets.
How do I start vaping with the Sonder U?
To begin vaping, simply draw from the mouthpiece, and the device's auto-draw feature will activate the vapor production.
Best Vape Wholesale Supplier-UPENDS
Step into the captivating realm of Vape UPENDS, where creativity and style come together to embark on an extraordinary vaping adventure. We warmly invite you to join our community, where exclusive offers await to enhance your vaping experience.
At Vape UPENDS, we take immense pride in our cutting-edge designs, refined aesthetics, and meticulous attention to detail. Each inhale is meant to ignite your senses with the flawless and exquisite products crafted by our talented artisans.
Our mission is to delight your taste buds and provide a truly remarkable experience that will leave you in awe of the incredible journeys we have prepared for you.
Let's dive right in and explore the fascinating world of Vape UPENDS! Get ready to be amazed by our innovative products and join our family on this exhilarating journey. Welcome aboard!