Every now and then, numerous latest products are introduced brining comfort and ease to consumers in various aspects of life. Similarly, vaping industry has also been influenced. Up to date vaping gadgets, gears, accessories and devices are brought forward every day to bring vape lover an exciting daily vaping. Furthermore, these gadgets also tick the boxes of affordability, ease of use and portability.
One such intuitive addition is AIO (All-in-One) vape device which is gradually replaced the tradition pod mods and starter kits. It has collected praises of beginner as well as veteran vapers. If you want to start trouble free vaping days, continue reading to enlighten yourself with detailed information and the best AIO vapes you can get your hands on!
1.
What is an AIO?
AIO truly accords with what it says! It is a small compact device with everything you will need to enjoy your pleasure full vaping moments. AIO relieves you from the struggle of replacing coils and using your desired e-juice instead of relying on pre-filled cartridge's. You just need to fill it with your favourite e-juice and you are ready to smoke the flavourful puffs!
The design is mostly influenced by the vape pens and pod systems, but you can find in variety of other designs as well. Unlike vape pen, you can't detach atomizer from the battery in AIO. It features a one or two-piece design with bottom piece housing the battery and the top piece incorporating the tank section.
AIO has kept the comfort of nicotine lovers in mind as well with its simple operation. For using the AIO, first wet the coil with few drops of e-liquid and insert it in the tank. Fill the tank with your desired e-liquid and let the coil saturate. If you have the option of regulating the airflow, adjust it and press the button to start vaping.
2.
6 Best AIO (All-in-One) Vapes 2021
Here are the six best AIO devices that you can consider for your next purchase.
2.1
Voopo Drag X
Voopo Drag X contains the X factor that you will need. It has received the highest rating proving the trust of the users. With an impressive drag style design, it has pocket friendly structure. The output power of Voopo Drag X is 5-80 Watts accompanied by output voltage of 3.2 to 4.2 V. Furthermore, the built material of the pod is alloy and leather that ensures durability and longevity.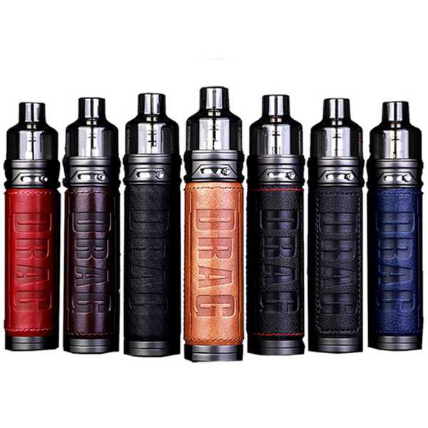 Along with that, it is driven by the GENE which truly makes it the power house. Furthermore, Voopo Drag X is compatible with the variety of the coils making it worthy of your next purchase. If that doesn't convince you, accessories like type C charging cable, warranty card, and chip card will surely will.
It comes in seven colors, each with dashing leather designs. So, you can simply choose the design that fits your style. Moreover, ordering Voopo Drag X is also very easy.  So, head over to the website, add to your cart now and make it your next pod!
2.2
Smok Nord 4 Vape Pod Starter Kit
To give your vaping a new lift and hype, Smok Nord starter kit can be your ultimate weapon! It encompasses everything you will need and is available in variety of style and colors. It comes with a pocket friendly design that makes it extremely durable. Furthermore, the built in 2000 mAh battery will surely last you the entire day giving you interrupted vaping experience.
The zinc alloy chasses construction makes it a rugged pod started kit with durable built. The 80 watts of output makes it a powerful pod. The worth of Smok Nord pod is further mounted by its compatibility with Smok's RPM Replacement Coil line and 4.5 ml of generous e-juice capacity.
The design integrates firing button, OLED display, two adjustment buttons and dual dials for air flow adjustment. Depending upon your craving, you can employ RPM 2 mesh coil for direct lung sessions with thick vapours and intense flavours. Furthermore, the original mesh coil can be used to attain flavourful throat hits. Thus, experience vaping in a new way with Smok Nord starter kit.
2.3
Vaporesso LUXE PM40 Starter Kit
To enjoy the luxurious vaping experience, Vaporesso Luxe starter kit can be your best shot! It takes you into the vaping heaven with its intense hits, fancy looks and simple operating modes. This undoubtedly, it's a premium starter kit for vapers looking to buy a luxury. The rechargeable battery of 1800 mAh gives you long vaping sessions and the output power of 40 Watts make them flavourful.
The pod is compatible with Vaporesso GTX Replacement Coil series making it an ultimate premium package. Furthermore, the tank shows the e-liquid level. So, instead of having dry puffs you will know when the tank is about to be empty. The integrated Vaporesso Luxe PM40 boasts Turbo Boosting Tech makes sure to provide you with consistent intense puffing.
The crawler-tread transmission system enables you to tailor the air flow for mouth to lung or direct vaping. Furthermore, Holographic IML Panel located as well that displays your vaping statistics. So, Vaporesso Luxe starter kit can your next new best friend!
2.4
Geekvape Aegis Boost Pro Pod Mod Starter Kit
In the highly competitive vaping industry with thousands of kits and pods, Geekvape Aegis Boost Pro has still managed to make its name. It is a premium yet budget friendly vape that will flawlessly fit your needs. Furthermore, the compact design contributes in making it portable as well. Some of its notable features are water resistance, shock resistance, dust resistance and intense power.
Along with that, Geekvape Aegis Boost Pro also integrates over time protection, temperature protection, anti-reverse battery protection, short circuit protection, and low resistance protection. Thus, it is safe from all the common issues that may halt the performance of the pod.
Furthermore, Zinc-Alloy & Leather Chassis Construction gives it a sturdy built. The body of the pod has various buttons that are dedicated towards performing specific functions. Thus, Geekvape Aegis Boost Pro is perfect in every way!
2.5
VooPoo Argus GT 160W Starter Kit
Being the industry titan, VooPoo Argus is continuing to win the hearts of vape lovers. It is significantly high priced when compared to the rest of the pods but it features make it worthy of the price. The output of the vape is highly impressive powered by the smart GENE, TT chipset, 160-watt output and versatile dual 18650 battery.
Furthermore, Nickel, Titanium, and Stainless Steel Chassis Construction make it extremely sturdy and highly durable. Thus, it will sustain the minor falls and jerks. Additionally, the body has various buttons to adjust the operation of the mod. Along with that, VooPoo Argus also has OLED screen that displays your vaping data. We consider VooPoo Argus best for beginners and veteran vapers!
2.6
Aspire Nautilus Prime
This vape will open the doors to the new vaping world for you! It is undoubtedly the best vape to get your hands on immediately. The built in 2000mAh Rechargeable Battery is complemented by 40 watts of power giving you dense and pleasureful puffs. The tank has the capacity of 3.4 ml for e-liquid, thus it will last an entire day without any struggle of refilling.
It is highly compatible with Aspire's Nautilus Replacement Coils that further mounts its performance. The body is beautifully crafted from zinc-aluminium alloy that makes it extremely sturdy. So, whatever you ask, Aspire Nautilus Prime has it! You can charge it anytime with the provided C-type cable. Furthermore, it also has 0.69" OLED Screen that contributes in keeping track of vaping and also accentuates the design.
3.
AIOs vs pods: which is better for you?
We must say that it's a tough call between AIOs and Pods but AIOs wins with all the hassle free functioning and simple operation. While the pods come with the cartridge's, AIOs have replaceable coils that save you from the mess of spilling. This also saves you from buying a whole new pod and spending the buck as you replace the emptied coil with new coil.
Thus, AIOs are easy on the pocket and cost effective. In terms of performance, AIOs leads over pods. The cartridges have several tiny coils that halts the performance. While on the other hand, standalone coil for AIOs performs extremely better. So, that's why AIOs are also suitable for e-liquids with low nicotine concentration.
AIOs are also preferred for their ease of use when compared with the pods. However, pods are applauded for the convenience as it saves you from the mess of replacing coils. So putting in it in few lines, if you want user friendly vaping pods are the best but if you are on the budget AIOs are best!
4.
What are the Benefits of All-in-One Vape Devices?
AIOs have become popular amongst the vapers because of the benefits they offer. The prime reasons are the trouble free vaping experience they provide, attractive designs, and much more. Let's have a detailed look.
The build in closed system comes with the perk of built in atomizer and battery. Thus, this saves you from the struggle of matching different things. The closed system also makes it extremely simple and easy to use.
There isn't much customization and settings to operate the AIOs vape devices. Thus you can always be on the go for vaping.
When operated carefully, it will never leak.
Unlike pods, it is budget and pocket friendly.
There are plenty of range, sizes and shapes available for you to choose.
5. UPENDS: Future of Vaping
UPENDS is slowly emerging as the rising vaping brand with its series of impressive vape pens. It has become the biggest retailer of vape pens and vaping devices. There products out perform in terms of design, style, portability, and ease of use. Some of their noteworthy products are:
5.1
Upcott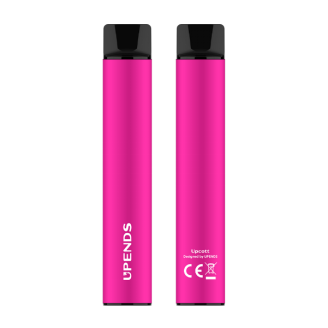 Upcott takes the lead with its cheap price and utmost performance. It is filled with organic cotton and cotton filter inside the mouth piece that prevents any spilling, popping and condensate. You can replace the pod any time when it runs out. Furthermore, its 4 ml capacity makes it worthy of investment.
5.2
Uppen
Uppen integrates Etchip™ coil coupled with large heating area and improved heat efficieny to give you dense and flavourful first draw. Furthermore, Etchip™ coil has integrated flax base that make sure to keep the consistent flow of liquid. The coil of uppen is compatible with variety of e-liquid and the uppen cap protects the liquid from any airborne impurities.
Concluding the article, the AIOs vape devices and pods are best in their own way. AIOs is mainly adored for user friendliness while pens are applauded for its convenience. We have listed the best for you! These six AIOs devices have collected praises across the globe whereas UPENDs is loved for its striking vape pens! So, happy vaping!