Innokin has been a big name in the vaping industry since the release of the first iTast MVP, and they have continued to produce the best devices, including the Mouth Lung Endora series and updates and improved MVP4. But they continue to make great devices, and the Big Box Atlas is one of their best offerings ever. It has a dual 18650 mod, puts up to 200W, and offers TC vaping with all commonly used materials, so it seems like a solid tool for anyone looking for a full-time vaping partner.
Big Box Atlas has an excellent dual battery mode. The design is the biggest selling point, as it looks incredibly cool, but it also does a lot in terms of functionality, performing well in both VW and TC modes. The device doesn't have as many extra features as some devices, but it does offer everything you need, provided that something like an adjusted TCR isn't really important to you.
Specs & Features:
Full resin body with unique honeycomb design
Ultra-compact size
Max 200W output
Full temperature control function
Replaceable dual 18650 batteries
High-quality, light-weight resin material
Ultra-compact size
Three clicks ON/OFF function
Large OLED screen
Working modes: TC/VW
Battery life indicator
Color: Red/Purple/Green
Package Includes:
1 x BigBox Atlas Mod
1 x Resin 810 Drip Tip
1 x Micro USB Charging Cable
1 x Quick Start Guide
Design:
The Big Box Atlas looks great. Mod's shape can be quite basic and blocky, but the design is hard to fault from a visual point of view. The whole body of the mod has a honeycomb design, but with irregularities in it, it gives a wavy, unique appearance. It comes in some color options - green, red, and purple - and each has a touch of another color. My purple version has yellow spots, almost a marble effect, which adds to the overall look of the tool. The Silver Fire Button also has a cool design, like a sphere made up of tessellated triangles, the same basic design on the circular section around the 510 connection.
Display Screen:
The display screen on the Big Box Atlas is quite small, but Innokin has managed to make it work well, and you can easily see all the important information you need. Your main configuration appears in the middle of the screen, with two battery indicators - one for each cell - on the right, and the resistance of your coil, and the other piece of information on the left.
In wattage mode, you can either take the voltage at which your device is running, or you are in standard mode or power boost mode, and temperature control mode, it also shows your ramp-up wattage.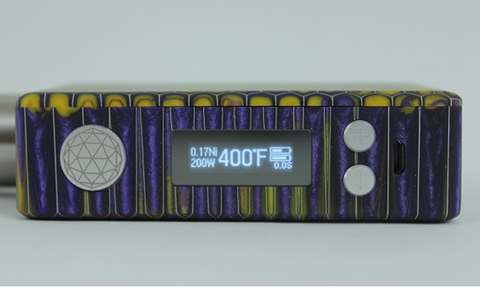 Build Quality:
The Big Box Atlas is well put together overall. The device is robust without being too heavy, the threading fits snugly into your tanks, and all the buttons you click are just as satisfying to press. The only complaint is the magnet on the battery panel, both of which loosened through my test. The battery panels are still in place, but you have to put them back in place, and that's not ideal. Also, though, there is nothing to complain about.
Battery Compartment:
The battery compartment on the Big Box Atlas is accessed through one of the Mod's big faces, held in place with a couple of magnets. It's really easy to open thanks to a small catch at the bottom of the panel, which is easy to take and open with fingernails. He also paid some attention to the interior design, with a small plaque inside the panel signed by Sebastian Wang-mod designers and maximum power, the "flag series" around the California flag, and battery slots. The slots have gold contact points and are clearly labeled to know the correct orientation for inserting batteries. There is also a small ribbon in the basket so you can easily pull out the batteries. You can't ask for more here; it does everything it needs to do.
Performance:
Big Box Atlas performs best in VW mode. Choosing your setting is easy, and the device is responsive and hard-hitting. It works well in the entire wattage range, although I rarely exceed 60 W in daily use. The Power Boost function also works great - it gives you a little extra punch at the start of your draw without making the mod more powerful. There's nothing to complain about, and it works just the way you want it to.
Big Box Atlas also works well in TC mode. Adjustable ramp-up wattage means it moves as fast as you want, and the output is constant during your draw. You notice a slight decrease in output as it heats up to maintain your set temperature, but the vapor production is constant at all times.
Changing Modes and Settings:
The navigation system on the Big Box Atlas is well designed. There's no complicated menu or irritating thing to deal with, and you'll be at home once you've learned the basics. You change modes by holding the Fire and plus buttons together and holding them down to continue scrolling. You should see at the top left of the display screen what specific TC mode you are in, but when you add a new coil, it prompts you to choose the mode anyway.
Comfort:
The mod may sound cool, but it's very blockchain. This means that there are more comfortable devices - anything with a curved shape or ergonomic design - but you'll get used to it very soon. Your thumb comes naturally to the fire button, and it's really easy to press down, so it's as comfortable as possible for a blocky device when you're vaping.
Portability is also less than ideal, but this is what you would expect from dual battery mode: you get either a portable device or extraordinary battery life, not both. The biggest advantage of the Big Box Atlas when it comes to portability is how light it is.
It is made of resin and is much lighter than most dual battery box mods on the market. As I write this review, I have the Big Box Atlas, and the Fuchai 213 Plus from Sigelei sat next to me, and the battered Big Box Atlas weighs almost as much as the Fuchai without batteries. Of course, it's bigger than the single battery mode, but overall it's not bad for dual battery mode.
Pros:
Excellent design
Up to 200 W of power
Great performance in both modes
Easy to use
good battery door
color options (3)
full resin body, not just a panel
Power mode performance
Accurately rated for watts (196)
good amp limit (38)
great volt limit
boost circuit
Cons:
no real menu system
magnet came off my battery door
Blocky shape
No adjustable TCR for TC mode
FAQ:
Why is my vape pen not working?
If the pen is not working, in most cases, it is the user's fault. This will help if you follow the user guide attached to the package to avoid mistakes. However, if the device fails to work even after following the correct procedure, you should contact the office for help or replacement in case of a faulty device.
How do you charge an Innokin Bigbox vape?
To charge the Innokin Bigbox, first, you need to install the batteries in it. Then connect the cable to the vapor USB port, and then you see the charging indicator on the screen.
Another company which is taking the vaping game higher is Upends. Their range of vape pens is extremely affordable and they offer top quality products along with amazing vaping experience.
UPENDS:
                                   

As a vapor, you need a source to count on to provide you with the best vaping equipment. UPENDS.com promises you the best vaping equipment that combines quality and technology to ensure you enjoy the best vaping ​experience.
UPENDS.com lets you enjoy the best vaping experience within your budget. All of their vaping equipment comes at a wholesale price which saves you from rising prices.
To make sure they serve you better, UPENDS.com has hired agents to distribute the vaping material. That's a way; you will receive their services at your doorstep.
Conclusion
The Big Box Atlas looks great. It comes in a range of color options - green, red and purple - and each has a touch of another color. You can easily operate the mod. The Big Box Atlas is available in the market with some powerful modes, providing up to 200 W of power.
The Big Box Atlas is a powerful, easy-to-use, cool design. It's a little more expensive than some of the devices on the market, and it doesn't fill itself with almost-useless features, but it does suit your needs and performs like a champion. The best thing of this mod is it comes with dual battery mode.