There are various vape pod systems that you can purchase. But which is the best? After thorough research, we decided that the zero vape pen is the best pod system. Why is it the best vape pod?
We discovered that it has an elegant design, portable, user-friendly, and affordable. Also, you can find it in different colors. This pod system has three power modes and charges quickly.
No matter your vaping experience, beginner or expert, you can comfortably use this vape pen without any issues. So, today, we are going to review the zero vape pod.
Continue reading to learn more.
What is a Vape Pod System?
Suppose you are new to vaping; you might be asking yourself what a vape pod system is.
This is a vaping device that consists of two sections the pod and the battery. Most pods have a capacity of 2 milliliters. For example, the zero vape pod has a capacity of 2mL.
But some vape pods have a capacity of 3 milliliters. An excellent example of such a vape pod is the SMOK Nord vape pod starter kit.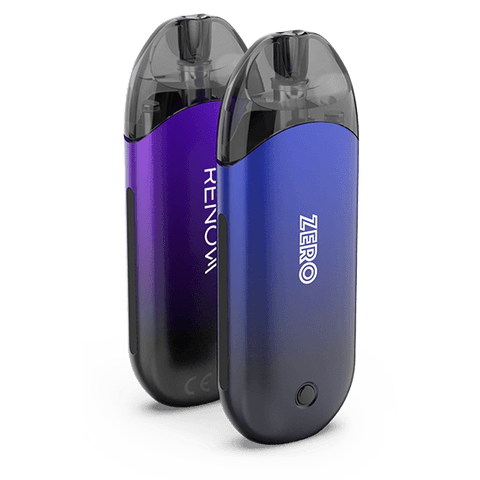 When it comes to battery capacity, it is the one that determines how long the pod will last. According to our study, this pod has a battery capacity of 650mAh, which is low. Some of the long-lasting pods in the market include the Eleaf iJust 2 with 2600mAh and Joyetech eGo One with 2200mAh.
There are many others with a battery capacity of more than 1500mAh.
Apart from the battery and pod, there are two types of vape pods pre-filled and refillable. Today's vape pod (Vaporesso Renova zero) is refillable.
This is advantageous as you need to purchase the e-juice and refill the pod, unlike pre-filled. Once the e-juice is over in a pre-filled vape pod, you dispose of it.
Features of Vaporesso Renova Zero Vape Pod System
Various aspects determine the quality of a vape pod system. So, the following are the features of the zero vape pen.
Refillable
It will cost you about $29.90 to buy the Vaporesso Renova zero vape pod. After that, you need to purchase your e-juice flavor of choice and add it when the pod is empty.
This reduces the cost of buying a new vape pod after vaping the pre-filled e-liquid. To refill the e-juice on the pod, you need to know how to add it.
Note: Suppose you don't know how to refill the zero vape pod I will show you in this review.
Build Quality and Design
This vape pod has an oval shape whose measurement is 31mm by 13.5mm by 80.2mm. The material used to make this vape pod is zinc alloy.
This zinc alloy is resistant to corrosion and heavy, thus making this vape pod durable. Also, don't worry about the color of the pod system. Please choose the color you like as it comes in more than ten colors.
OMNI Board Mini
Safe vaping is the concern of Vaporesso. That's why this vape pod system is fitted with the OMNI chipset. This chipset is commonly in advanced vape pods.
But this Renova zero vape pen has it though it is a beginner vape device. This makes it easy for new vapers as the technology simplifies vaping.
The OMNI Board mini regulates temperature and prevents burnt hits. This increases the lifetime of the device.
Temperature control is not automatic. You can switch it off and manually select your ideal power setting.
3 Power Modes
You may want to select the right battery power at different times. The 3-power mode feature enables this. The highest power mode is 13W, while the lowest is 9W.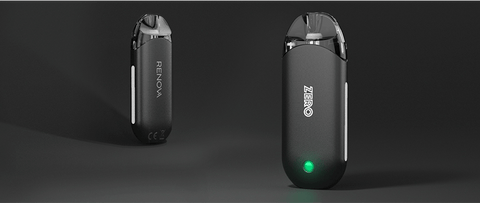 When you want to adjust the power, mode press the power button three times.
See the power mode you are using by viewing the LED light at the bottom part of the pod system.
PCTG CCELL Pod
You aim to purchase a pod system that lasts for a long and has consistent vapor production. The Renova zero has the PCTG CCELL pod, which ensures you get these two aspects.
This pod uses ceramic heating elements that make every puff with the same flavor for a long time. So, this is good for you who want a high nicotine vape system.
NB: This pod has a power range of 9/10.5/12.5W.
PCTG Mesh Pod
This mesh pod ensures that you vape an authentic e-juice flavor, as the pod has a five times larger heating area. Thus, it provides uniform heating of the e-liquid. So, you won't feel any difference between your first and last puff.
NB: This pod has a power range of 9/11/13W.
Fast Charging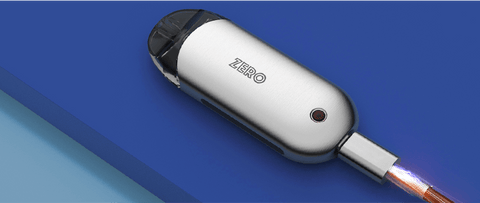 The Vaporesso Renova zero vape pod system has a 650mAh battery capacity. This is relatively low comparing it to other vape pod brands. To cover that, it has a fast-charging feature. It takes forty-five minutes to charge fully. This is low. However, the vape device won't last long as you may wish.
Press-to-Fill System (PTF)
Want we guarantee you is that refilling the pod is easy. This is because you don't have to dismantle the pod system to fill the pod. According to the pod refilling system, PTF is safe and accessible for all vapers. It doesn't require you to become an expert.
What makes it the best is it has a spring that tightly closes the refilling opening. This ensures there is no e-juice spillage when you are done refilling. It auto-locks and is childproof.
Specifications of Vaporesso Renova Zero Vape Pod System
The following are the specifications of the zero vape pen.
Pod capacity – 2mL
Battery capacity – 650mAh
Charging type – Micro-USB
Mesh Power Range – 9/11/13W
CCELL Power Range – 9/10.5/12.5W
Resistance – 1.3Ω (CCELL) and 1.0Ω(Mesh)
Dimensions
Pros and Cons of Zero Vape Pod
Pros
Lightweight and portable
Easy to use
Three power modes
Affordable
A simple refillable pod system
Cons
Alternative Vape Pod System: UPENDS
Chances are, you want an alternative vape pod system. So, which is the best? UPENDS is a vape device manufacturer that makes the best pod systems. You can purchase four UPENDS pod system that includes;
UpOX
Uppen Plus
Upcott
Uppen
UpOX pod is a pod system that has a high performance, easy to use, and durable. Filling the tank is effortless. Like the zero vape pen, you don't have to dismantle the system as it has a side-filling system.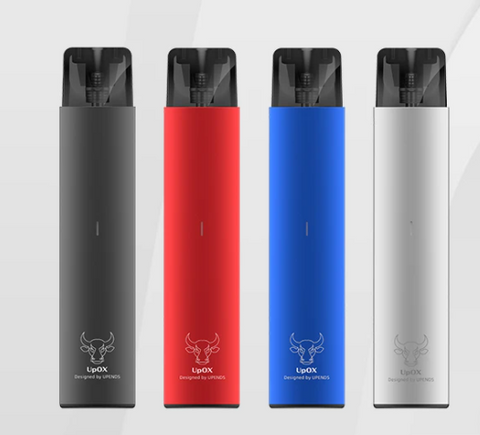 The Uppen Plus is another pod system you can buy from UPENDS. It has fast charging of 30 minutes which is fifteen minutes less than that of the zero vapes. To protect the e-juice from air exposure, it has a metal cap that closes the upper section when you are not vaping.
When you start vaping, remove the metal cap and fit it on the lower part as it fits. This prevents you from losing the cap.
The Upcott has a large tank capacity of 4mL than the zero vape pod. It has a 9.5W power rating, and its battery capacity is 400mAh which is lower than those of the Renova.
Visit UPENDS to get to discover more about UPENDS pod systems.
Frequently Asked Questions About Vaporesso Renova Zero Vape Pod
How much is a zero vape?
On the official Vaporesso website, you can buy the Renova zero vape at $29.90. Some online retailers sell this vape pod system for $24.95.
So, the price varies as different retailers sell this product.
How does the zero vape work?
To power on zero, you need to press the power button five times. Also, use this concept to switch off the vape pod. When the LED light on the power button is red, the device is on.
Press the power button three times to change the power mode. Red is a low-power mode. Blue is a medium power mode.
At the same time, green is a high-power mode.
The parts of this pod system are joined magnetically. So, to fill the tank, detach the top and bottom parts—hold the upper part upside down, and on the plunger, press your e-juice bottle to refill.
Wait for at least fifteen minutes to start vaping. This is because this pod uses a ceramic coil that is in a vertical position.  So, the ceramic wick will take a long time to taper. The benefit of the ceramic wick is it lasts longer than a cotton wick.
It is best to start a low-power mode and increase the power gradually as you vape. We recommend that you choose a suitable power mode and use it consistently.
This enables you to have a better vaping experience.
How long does the Vaporesso Renova zero vape take to charge?
Forty-five minutes is the maximum time the zero vape takes to charge fully. When the battery power is low, connect your micro-USB to the charging port and let your vape pen charge for three-quarters of an hour.
Why does my zero vape pod hits taste burn?
Suppose you are using a high-power mode it might be the cause of that. When you start vaping, it is ideal to start with a low-power mode as you increase as hours go by. The second reason for the burnt hits is because you didn't leave the ceramic wick to absorb the e-juice before vaping.