What Is Twist Vape Juice (twisteliquids.com)?   
Twist Vape juice is a vape oil supplier brand, subordinate to Fumizer LLC Company. Twist E-Liquid was first introduced to the market in 2016. It is now well-known for its exceptional capacity to manufacture high-quality vape liquids in the unique dual 60ml package. Twist E-Liquid is dedicated to giving your vaping moments an interesting twist, whether you're a novice or an experienced vaper.
Twist E-Cig Liquid is a top-tier, award-winning vape juice that blends and twists classic flavor profiles, including beverages, fruit, and desserts, to create new, delightful classics you'll enjoy vaping.
Who Makes Twist Vape Juice?
Fumizer LLC manufactures twist e-liquids and vapor products. With over 100 vape flavors to choose from, you're likely to find one that meets your preferences. The manufacturers of these premium vape e- juices have designed the flavors of these vape e-liquids with great passion and aim to deliver perfection. The vape users' interests are kept in mind as the vape juice is being produced.
What Does Twist Vape Juice Taste Like?
Pink Punch Lemonade was Twist E-Liquids' debut flavor, and it rapidly became a favorite because of its unique flavor blend, which flawlessly balances hints of sweetness and sour to offer you a vape sensation like no other. Lemon Twist's Iced Pink Punch vape flavor is incredible.
This delightful fruity yet chilly flavor builds on the flavor profile of the award-winning Pink Punch Lemonade, adding an icy edge that offers a pleasant breeze on every inhale. Engage in their custom vape flavor blend, which includes worldwide acclaimed favorites like Pink Punch Lemonade and Honeydew Melon Chew, and tastes that are sure to break the pattern and shake up your life in a memorable way.
List of Twist Vape Juice/ E-liquid
Honeydew Melon Chew Vape Juice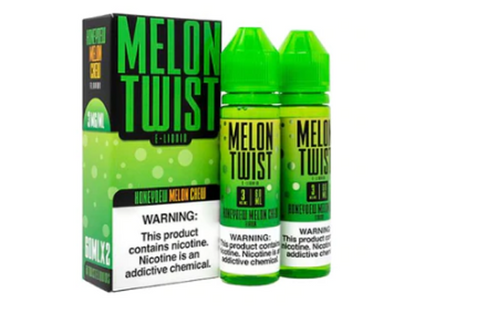 From the Melon Twist E-liquid range, Honeydew Melon Chew uses luscious and sweet honeydew melons to create an e-liquid that will delight your taste buds. Even if you're dehydrated, the delicious pieces of melon will revitalize you. You will be impressed by the intense honeydew melon flavor that delivers a radiant day as it showers you with mouthwatering flavors.
The chunks of fresh melon are marinated in freshly squeezed lemonade, bringing the perfect sourness to the sweet flavor. The treats will send your taste buds into a frenzy. You will feel revitalized after using this blend. This vape juice you can never replace with any other since it gives you the flavors that will make you keep coming back for more.
This vape juice comes in two 60ml unicorn bottles that deliver you the most refreshing and delicious vape juice. This vape juice features 0, 3, and 6mg nicotine strengths that ensure its user enjoys smoother throat hits all day long. The vape juice contains 70VG/30PG concentration that is designed to offer you more delicious and heavier clouds that will take your vaping experience to the next level. 
Tropical Pucker Punch is a delicious follow-up to Lemon Twist. This mix provides the ideal tropical sensation by combining a variety of exotic fruits. This vape juice features a variety of flavors. The major flavors in this delicious blend are strawberry, pineapple, and blueberries, which are enhanced by a variety of citrus fruits that give it a sour, tangy flavor. The flavors are apparent throughout for a layered, yet over-sweet vaping is delivered.
The exquisite flavor of summer fruits mixed with the zing of citrus creates an experience that you will look forward to all day. It comes in two bottles, each with a 60ml volume. As a result, sharing the flavor with a friend will be a breeze. This vape juice is available in 10ml bottles that bring you nicotine strengths that come in 11mg and 16mg. Nicotine in your vape juice plays a major role in ensuring that you experience smoother throat hits for all-day vaping.
Thanks to the 30% VG / 70% PG concentration that is designed by the manufacturer for the vape juice to be compatible with sub-ohm tank kits, pod kits, and starters. Once you are involved in the mentioned vape devices, you will achieve more flavorful and denser vape clouds for your absolute happiness. The vape juice bottle is made of a recyclable material that makes the production of more bottles much more economical. Additionally, there is a childproof cap that bars children from accessing the vape juice content.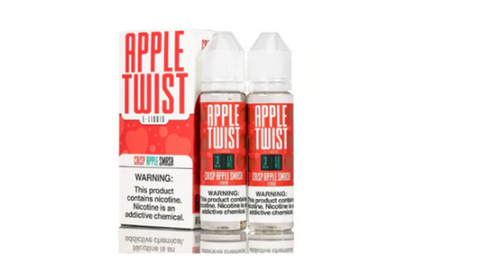 Twist E-liquid has created another outstanding and delectable combination that is both refreshing and delightful. The crisp flavor of the apple is ideal for combating summer heat. The manufacturer of this wonderful vape juice has smashed together the delicious tastes of crisp red apples to deliver you the mouthwatering taste you deserve. This vape juice makes you feel like you have just taken a bite of a freshly harvested apple.
This combination combines the delightful flavors of red apples to offer your mouth a surprise. This vape juice will give you a flavor explosion. It would appear as if you had just taken a mouthful of the fruit if you inhaled it. The refreshing apple taste of apples brings the authentic flavor that will keep you coming for more. As you exhale, you will be impressed by the juiciness of the apples that come along with subtle.
Your taste receptors will be in a tizzy after the first puff. The genuineness of the favors will amaze you. Twist E-liquids are known for surprising customers with their blends, and this one is no exception. As the apple's delicious flavor fades as you exhale, you'll find yourself needing more of it.
This new salt nicotine line is perfect for anyone who enjoys fruity flavors. Salt nicotine users may now enjoy some of their favorite flavors in a high nicotine e-juice combination. These salt nicotine vape juices are perfect for those who use pod systems because they will meet all of your needs. These delectable flavors will undoubtedly gain your favor. This vape juice is made of top-notch ingredients that make it achieve a high-quality nature.
This vape juice welcomes you to the watermelon flavors that are perfectly blended as the watermelon is engineered in a way it does not overshadow the lemonade flavor. The vape juice presents a tropical vibe that makes it ideal for you to have a delightful summer. This is the best vape juice to look for as it comes with nicotine salt that offers you a nicotine kick and smoother throat hits. The nicotine content has varying strengths since you can use the vape juice in 35mg or 50mg.
The vape e-liquid is available in two 30ml bottles that feature a 70% VG / 30% PG content ratio that allows you to initiate mouth-to-lung vaping using high-wattage vape devices. With this vape juice, you will crave more of the sweetness of the lemonade flavor along with the greatness of the watermelon, as you will wish for more and more all day long.
| | | | | | | |
| --- | --- | --- | --- | --- | --- | --- |
| Name | Type | Price | Flavor | Nicotine Strength (mg) | Capacity (ml) | Click to buy |
| Honeydew Melon Chew Vape Juice | Vape e-juice | $19.95 | Watermelon, Honey | 0, 3, 6 | 120 | |
| Fruit Twist E-Liquid | Vape e-juice | $1.16 | Strawberry, menthol, tobacco, soda, candy | 11, 16 | 60 | |
| Apple Twist E-Liquid | Vape e-juice | $12.99 | Red crisp apples | 0, 3, 6 | 120 | |
| Twist Salts E-juice | Vape e-juice | $20.99 | Fruit, Menthol | 35, 50 | 60 | |
Frequently Asked Frequently
Is Twist Juice good?
Generally, all the e-juices produced by the twist brand are delicious and they offer the users a unique spin onto the arguably over-stuffed fruity e-juices in the market.