In search of a trustable online vape store to receive your vape supplies at door step? In present day hustle and bustle, no one wants to step out and search the local market tirelessly for entire day to find perfect vape gears. To relieve you from this struggle, we bring to you a promising one stop online shop with everything you will need.
Rock Bottom Vapes is a favourable online retailer with a wide range of vape products. It is successfully serving thousands of customers with a five employees team. From just being a start-up in 2012, Rock Bottom Vape has come a long way to becoming a trustable choice of vape enthusiast. With its easy interface and simple to use website, you won't have any trouble in getting your desired product at your door step. Let's explore what Rock Bottom Vapes has to offer:
1.1 Pod Systems
You can find following popular pod systems on Rock Bottom Vapes:
1.1.1       Smok Novo Pod System
Being the latest product from SMOK, this Novo Pod System is equipped with latest features as well. It is suitable for all type of vapers whether beginner of veteran vapers. It has built in battery of 450 mAh and refillable cartridge with capacity of 2ml. Novo Pod System aims to simplify vaping for everyone!
1.1.2       Smok Nord 2 Starter Kit
You can choose Smok Nord 2 freely depending upon your taste as it is available in variety of colours. The primary features of the kit are 1500 mAh, 4.5 ml cartridge, OLED screen for vape monitoring, and adjustable wattage. Furthermore, it is also compatible with variety of coils.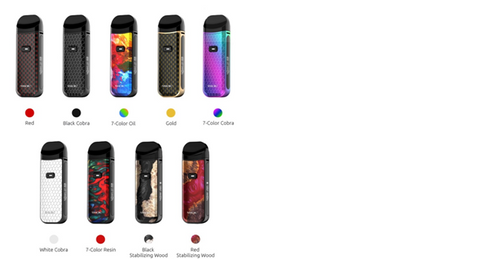 1.1.3       EleafiWu
EleafiWu is the latest nicotine salt based pod system that is being highly adored by vapers. It is a refillable pod system that relieves you from buying pods again and again saving you some extra bucks. The cartridge of Eleaf is leakage free and can hold up to 2ml of e-liquid. It is especially dedicated to nicotine salt with integrated 1.3 ohm coil. Thus, EleafiWu is a bang for the buck!
1.2 Accessories
The accessories section is further categorized into sections that are adaptors/beauty rings, batteries/chargers, RDA/RTA, and replacement coils. The batteries/charger section is mainly dominated by some reliable options from Efest with positive reviews. Along with that you will find replacement coils from well-known brands like Aspire, Eleaf, SmokTech, and Kangertech. Similarly, you will find some promising choices in other sections as well.
1.3 E-Liquid
Rock Bottom Vapes is a heaven for flavourful e-liquids and vape juices:
1.3.1 Bam's Birthday Cannoli
This vanilla flavoured e-juice will leave your taste buds delighted with whipped cream heaven. You can choose it in concentration of 0 mg, 3 mg and 5 mg. Moreover, it is highly rated by customers and 80% of the users are satisfied with the purchase.
1.3.2 Blue SlushieKeep it Up 100
This e-juice is a mystical heaven of sweet strawberries and savoury blue raspberries. You can purchase it in different nicotine concentration depending upon your needs. Blue slushie has become favourite of many vape lovers and has received amazing reviews.
1.3.3 Juice Head Blueberry Lemon
This e-juice is the ultimate divine with refreshing taste leaving pleasant sensation. It has been extracted from fresh blueberries and later fused with ripe lemons to give the perfect savoury touch. It is also available in different nicotine concentrations of 0mg, 3mg and 5mg.
1.4 Mods
Rock Bottom Vape is a home to numerous popular mods that are favourites of many.
1.4.1 Eleaf iStick MELO 60W Mod
This Melo Mod surpasses others all other mods gathering the highest number of reviews. The output wattage of the mod is 60W giving intense puffs. Furthermore, the 4400 mAh of built in battery makes Melo Mod an extreme powerhouse. It also features a small display with which you can monitor your puffing.
1.4.2 VooPoo Drag 2 177W Box Mod
With sleek and eye-catching design, Voopoo employees resin manufacturing process to impart the mods with unique design. It features a GENE Fit Chip that makes it more efficient. The tungsten alloy construction imparts properties like fade and scratch resistance to it. The kit includes a mod, charging cable, instruction manual and one year warranty card.
1.4.3 Aegis Legend Mod
Aegis Legend is another dashing looking yet durable mod that you can get your hands on. Apart from being visually appealing, the design is also dust proof, water resistant and shock resistant. With dual 18650 batteries and AS Chipset it is capable of giving 200 output and supporting display screen as well.
1.5 Starter Kits
Some of the noteworthy starter kits available on the Rock Bottom Vape are following:
1.5.1 iStick MELO Starter Kit - by Eleaf
Coming in variety of colors, Melo starter kit features phenomenal output of 60W and latest MELO 4 tank. It has integrated 4400 mAh of battery that rapidly charges in few minutes. All thanks to 2 amp quick-charge system. There is also a small screen located on the top of the mod. Furthermore, the MELO 4 tank is accompanied by EC2 coils do give you extravagant puffs.
1.5.2 iJust 3 Starter Kit
If you are looking for a reasonably priced mod that also lasts you a sufficient time, then iJust Starter Kit is the best option. Coming in six different vibrant finishes, the kit also contains 3000 mAh of battery along with 80W of output wattage. The integrated  ElloDuro Tank has 6.5ml capacity and is equipped with latest coil system for more efficient heating of the wick.
1.5.3 Innokin Endura T20-S Starter Kit
Coming in six different finishes and various textures, T20-S kit is worth the try. The primary features of the kit are 1500 mAh battery with built in protection against overcharging, LED power indicator and Innokin Prism T20-S Tank for seamless Mouth to Lung smoking.
1.6 Replacement Coils
Some amazing replacement coils loved by customers on Rock Bottom Vape are following:
1.6.1 Aspire BVC Coils
It is the latest introduction from Aspire and has a bottom coil design with fantastic performance, longevity and flavour. It has a marvellous overall rating reflecting the trust of the customers. Furthermore, it comes in a pack of five.
1.6.2 Eleaf GS Air Replacement Coils
Rock Bottom Vape is one of the few websites where you will find original Eleaf replacement coils. There are five variants of atomizer head that give different output power. It is also a highly rated product winning trust of number of customer.
1.6.3 Freemax Twister / Fireluke Mesh 2 Coils
Specially designed for FreeMaxFireluke 2 Tank, it is also compatible with the original Freemax Tank. It has an interesting yet exquisite composition of tea fibre, cotton formula and natural tea tree essence. It also features diamond pattern coil which provides smoother flow of e-liquid.
1.7 Tanks& RDAS
Tanks are the integral part of vaping. Some of the reliable options you will find on Rock Bottom Vapes are mentioned below:
1.7.1 Kanger T3S 3ml Clearomizer
Kanger makes sure to make your vaping experience trouble free by bringing you clearomizer with leak free bottom coil design. The poly carbonated construction makes it sturdy. Furthermore, you can easily disassemble to coil for cleaning purpose.
1.7.2 Innokin Zlide MTL Tank
With the top fill design, this Zenith tank is an upgrade to its further with more simple operation and cheap price. There is also an indicator incorporated that alarms you timely regarding the refilling. Other primary features that we will like to appreciate is replaceable glass tube and efficient Z-coils.
1.7.3 Aspire K3 Tank
If you have been the fan of Aspire Nautilus tank but were bothered by its hefty size, then Aspire has solved the issue for you. Aspire K3 Tank utilizes the same Nautilus BVC coil technology to make it the best MTL tank. You will surely love its compact size and modern technology.
How long does it take to ship?
Rock Bottom Vape offers timely and fast shipping to its customers. No matter what is the size of your order, small or worth hundreds of dollars, it will be shipped on the same day of ordering from the warehouse. So, there is no long moments of waiting to receive that one notification of Your order has been shipped.
Rock Bottom Vape also offers its customers the direct pick up facility from the store if they are located in Longwood, Florida.
How can you get in contact?
Getting in contact with Rock Bottom Vape is actually trouble free. You can visit their store located in Longwood, Florida or you can give them a call at 407-459-7751 in case of any query.  You can also get in touch with them on provided links of Facebook and Twitter.
2. Reviews
Rock Bottom Vapes has earned positive reviews and trust of many vape veterans. With its friendly return policies and timely shipping, Rock Bottom Vapes surely puts customers on priority. Many vapers approve of the matchless quality of vapes, accessories and juices purchased from Rock Bottom Vapes. Moreover, you will find them at the lowest price as compared to other stores. You will find products from well-known brands like Aspire, Eleaf, Efest and Hroizon Tech and much more.
Opening the website, you can easily skim through the most popular products that have secured positive ratings, new arrivals and featured products.
3. Coupons
To avail the amazing discount, head over to the clearance section of Rock Bottom Vapes now. If you are on a budget vape lover, it doesn't mean you have to compromise on your clouds of smoke. On Rock Bottom Vapes you will find your favourite vape devices, starter kits and juices on lowest prices. So, head over to the website and save yourself some extra bucks!
4. UPENDS
As a new rising wholesale vape brand, UPENDS is slowly becoming favourite of many vape lover across the globe. With its modern yet highly efficient and functional products, UPENDS has giving a boost to the vaping industry. Furthermore, its vape devices are like no other with sleek design and marvellous performance. Some of their famous devices are mentioned below.
4.1 Upcott
Available in three different colors, Upcott features minimalist yet sleek design equipped with amazing performance. There is nothing useless you will find in the design like fancy packaging or LED display. So, Upcott is one budget friendly vape. The integrated cotton cotton filling and filter successfully prevent leaking, condensate, and popping. Furthermore, when emptied you can always fill it with a new pod.
4.2 Uppen
Uppen is a technologically advance vape pen with unique features like flavourful first draw and consistent flow of e-liquid. Thanks to the innovative Etchip™ coil that maintains the flow and gives the concentrated first draw. It also has integrated magnet that ensures that pod fits securely. Furthermore, the pen cover protects both the mouthpiece and liquid from any contamination.
Lastly, Rock Bottom Vape is one trustable website that you can always rely on for the purchase of authentic vape products. It makes sure you get the best and smoke the best! UPENDS is another trustworthy wholesale retailer of vape devices that blesses you with cheap yet long lasting vapes. You will surely be contended with your purchase from UPENDS.