Ever since the joys of vaping have been discovered, people have been in search of different type of vapes that are not only good in flavor but also provides your favorite flavors. We are trying our level best to give you the idea about vape juices with the best possible vaping experience, and Juicehead vape is one of those vape juices. 
What is Juicehead Vape?
Juicehead vape is one of those unforgettable vape juices which will give you an amazing vaping experience mixed with the taste of your favorite fruits. Indulge in the most delicious and mouthwatering experience of fruity flavors along with your vape. You will love the taste all day long with absolutely no regrets. 
Who owns Juicehead Vape juice?
Juicehead vape was first established in Orange County, this Garden Grove. This California-based brand has become one of the most known and reputable among the vaping community, and people love the way their product taste. It offers you a long list of flavors which we are going to look at next.  
What does Juicehead Vape juice taste like?
There is a vast variety of flavors offered by Juicehead vape, and some of them include Juicehead Classic, Juicehead FREEZE, Juicehead Salts and whatnot. Vaping industry, some of the best mixologists have brought these to you, so you can enjoy the best experience of vaping. Each one of these collections contains other flavors as well. 
List of Juicehead  Vape juice
Juicehead vape offers you a large number of flavors, and all are unique in taste. We know that these flavors are going to leave a lasting impression on your vaping experience.
Guava Peach 
If you are looking for a mix of guava and peach vaping experience, this one is definitely for you. 
Blueberry Lemon 
Combine the sweet taste of blueberries and the sour taste of lemon, and you will get this amazing vape juice. 
Watermelon Lime
People who love watermelon and lime will love this as well. 
Guava Peach Freeze
A twist of menthol will be added to this head-freezing guava peach freeze. 
Strawberry Kiwi 
Enjoy the unique blend of the yummy taste of strawberries with kiwis and the added goodness of menthol. 
Pineapple Grapefruit 
If you are looking for a vape juice that is equally tart and tangy as it is sweet, then this one is for you.
Peach Pear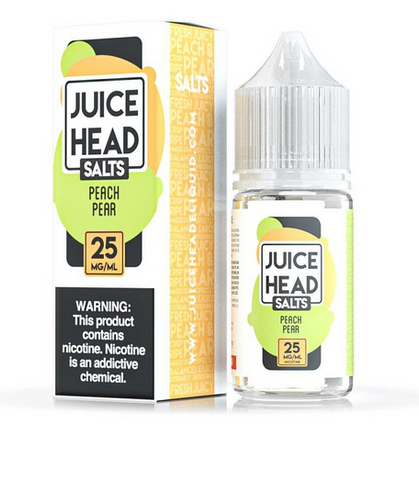 Peaches are one of the most popular fruits and combine it with the taste of pear, and you get this unique vape juice.
You can get all of the above-mentioned vape juices the same as they are mentioned and with the Freeze effect of menthol base. 
FAQ
Does Juicehead Vape have nicotine?
Yes, the Juicehead vape contains nicotine.
Where can I buy Juicehead Vape Juice?
You can buy Juicehead Vape juice and any other vape juice and vaping products for wholesale purposes now via UPENDS. UPENDS is the wholesale dealer for juicehead Vape juice and many other brands.