1. What is a Hi Drip vape juice?
Hi-Drip is a fantastic brand created by industry-leading innovators, with flavors ranging from Honeydew Strawberry to Blood Orange Pineapple and everything in between. There are several wonderful flavors in this lineup, all of them were made using a fruit combination. The flavors are expertly blended to provide a novel vaping experience while retaining quality and performance in every puff. 
Each Hi-Drip vape juice flavor comes in a 100mL bottle with a 70/30 VG/PG ratio and nicotine concentrations of 0mg, 3mg, and 6mg to meet any preference. 
It's fantastic vape company offers precisely created vape juice flavors that have become a hot topic among customers.
2. Who makes Hi Drip vape juice? (Who owns Hi vape e-juice?)
Hi Drip Vape juice is manufactured by Jack's juice factory, and it is also one of the industry's latest companies to hit the market.
3. What does Hi Drip vape juice taste like?
Depending on the flavor present, Hi Drip vape juice offers Guava, Sweet Nectarines, Citrus Candy, and Honeydew, which are just a few of the enticing ingredients found in their vape juices.
4. List of Hi Drip Vape Juice/ E-liquids
Hi-Drip E-Liquids' Honeydew Strawberry is a fantastic blend of two sweet, succulent vape juice flavors that join together to produce one interesting experience. It is made of honeydew flavor, strawberry flavor and candy flavor, to give it respective flavors. The e-juice will also sink your teeth into an irresistibly juicy candy chew.
Bursting with succulent honeydew flavor and rounded out by smooth notes of strawberry, this vape will send you over the edge. Your taste buds will be transported to another realm of savory pleasure with only one puff, and it will be a taste you will never forget. The idea is to combine delicious strawberries with juicy honeydew.
It is usually packed in small bottles of 100ml, with a nicotine level of 3mg. it has a VP ratio of 70%/30% VP. The e-juice is found in many vape stores and, or you can order it from an online vape shop. 
Hi-Drip E-Liquids' Mango Peach has all the fruity flavor and sweetness you could want in a vape. Your mouth will be watering with delight after only one puff. While this flavor combination may not appear to have the capacity to replace all of your current favorites, Mango and Peach should not be overlooked. You can taste the luscious mango that is pretty bright on the palate from the minute you take your first pull.
Mango peach e-juice comes with a tropical mix of ripe mango and fresh sour peach craziness with exhaling. With such a wickedly nectar of deliciousness and sugared fruit blend, no wonder this flavor is simply irresistible to all vapers! This comes by the fact that, once one gets his/ her first puff of this product, he/ she will long to come for another puff. Most people recommend this great product
The product is packed in a 100ml bottle, with a ratio of 70%/30% VG. It has a nicotine level of 3mg and assures you a vaping session that you will long to have daily.
Hi-Drip E-Liquids' Water Melons is a unique flavor that sounds like it took a long time to develop but tastes like it didn't. You will enjoy the delicious taste of watermelons from beginning to end. To put a spin on this unique blend, the single delectable flavor is paired with a taffy candy flavor. Water Melons should be your new go-to vape if you like watermelon flavor taffy sweets and don't mind a lot of smoke.
Watermelon juice also comes with different DIY flavor concentrate. This means that you can make your own flavor apart from the watermelon flavor. Therefore, it allows for a wide scope of flavors and thus being convenient to all vapers.
The product has got a ratio of 70/30% VG and is packed in a 15 ml bottle. It has a nicotine level of 3mg. it is easily accessed in online vaping shops where one can get them delivered after an order has been made. Also, you can access them from nearby vaping shops and stores. It's refreshing flavor will make you want it again and again.
Hi-Drip E-Liquids' Blood Orange Pineapple is a rich, consistent vape experience that we're confident you'll love. This flavor combines blood orange, pineapple, and just the proper amount of candy flavoring to make this a truly delicious mixture.
It also has a powerfully delicious blood orange and juicy pineapple flavors packed into one perfect candy chew. It has an addition of nicotine, which is very addictive. However, one will be sure of liking the brand from the very first puff, for it is refreshing to the user.
You'll be entangled in a jumble of flavor from start to finish, and we're willing to wager you won't have any complaints. Every puff is fascinating and engaging, and it will quickly become your new all-day vape.
Blood Orange Pineapple vape juice comes in a 100ml bottle, with a composition of 3mg nicotine level, 70%/30% VG and various primary flavors. These primary flavors include, menthol flavor, blood orange flavor, pineapple flavor and candy flavor.
It is found in nearby vaping shops and also you can make an online order to vaping shops, where you will get the e-juice delivered to you.
Get to enjoy the best melon blended watermelon e-juice by Hi Drip. The Iced melon patch is a high-quality vape juice that is made for all vapers. Additionally, it has 70% VG and 30% PG. Thus, it is suitable for sub-ohm tanks. Also, it produces high amounts of vapor and has smooth hits.
Furthermore, it has three nicotine levels 0 mg, 3 mg, and 6 mg. Iced melon patch is packed in a 100ml bottle and comes in a plastic dripper bottle for ease while refilling your vape device.
Lastly, it is made ready for vaping and you should store it in room temperature.
The mixture of passion fruit and lemon is perfect when it comes to the passion fruit lemonade by Hi Drip. This e-juice has three nicotine levles 0 mg, 3 mg, and 6 mg. Additionally, it has a base mix of 70% VG and 30% PG.
Furthermore, it has a sweet taste as it is made using the following ingredients propylene glycol, vegetable glycerin, natural & artificial flavors, and nicotine. Therefore, to make you vaping times count ensure you vape using passion fruit lemonade.
There are various nactarine lychee e-juices in the market. But none beats the Hi Drip nectarine lychee flavor. This e-liquid is made with precision to ensure that you enjoy every puff. Therefore, if you love the sweet taste of nectarine then you should try this e-juice flavor today.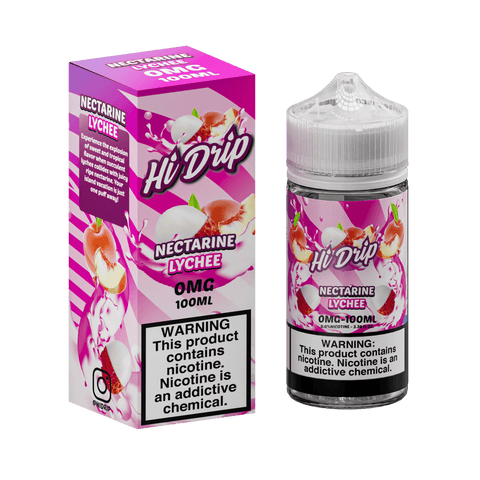 Nectarine lychee has a base mix of 70% VG and 30% PG which produces high amounts of vapor and has smooth hits. Additionally, it has three nicotine levles 0 mg, 3 mg, and 6 mg. So, get to buy this e-juice today to vape in an enjoyable manner.
5. Hi Drip Vape Juice/E-Liquid YouTube Video
6. Hi Drip Vape Juice/E-Liquid Main Product List
| | | | | | | |
| --- | --- | --- | --- | --- | --- | --- |
| Name | Type | Flavor | Capacity(ml) | Nicotine level(mg) | Price | Click to buy |
| Honey Dew Strawberry | Vape e-juice | Strawberry | 100 | 0,3,6 | $9.99 | |
| Mango Peach | Vape e-juice | Mango | 100 | 0,3,6 | $9.99 | |
| Watermelon | Vape e-juice | Watermelon | 100 | 0,3,6 | $14.99 | |
| Blood orange pineapple | Vape e-juice | Orange, pineapple | 100 | 0,3,6 | $9.95 | |
| Iced Melon Patch | Vape e-juice | Watermelon | 100 | 0,3,6 | $10.99 | |
| Passion fruit lemonade | Vape e-juice | Passion fruit and lemon | 100 | 0,3,6 | $12.99 | |
| Nectarine Lychee | Vape e-juice | Nectarine and Lychee | 100 | 0,3,6 | $10.99 | |