1. What is a Freeman vape juice?
Freeman Vape Juice is one of the newest e-liquid brands on the market, having been founded in 2017. They're dedicated to producing tasty, high-quality e-juice at an affordable price. The brand offers nine distinct tastes in regular 30ml and 120ml chubby gorilla bottles. 
The vape juice is made in state-of-the-art labs in the United States to strict, high standards. Everything you need to know about this juice comes from the flavors, the way it vapes, and the fact that it doesn't destroy your coils.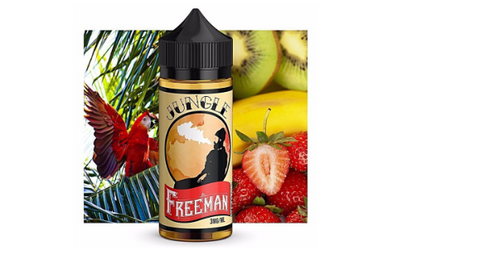 2. Who makes Freeman vape juice? (Who owns Freeman e-juice?)
Although Freeman Vape is a young company, it was founded by an industry veteran with years of experience creating high-quality, American-made e-liquid. Apollo E-Cigs, the founder's first company, is a well-known and well-established name in the vaping market, with e-liquid development dating back to 2013. 
3. What does Freeman vape juice taste like?
Depending on the particular flavors present. For instance, lemon tart flavor is a sweet, smooth, and tart lemon filling with a crunchy pastry crust. Just like your favorite bakery or coffee shop's lemon tarts. 
4. List of Freeman Vape Juice/ E-liquid
1885 (Vanilla milkshake)
Although we find vanilla flavors to be a touch dull, 1885 was well-executed, with a smooth, creamy backdrop that worked well with the vanilla milkshake profile. Although it had an artificial flavor, it seemed to have the perfect balance of sweetness and creaminess, with nearly no throat hit or harshness. There's a lot of vanilla flavoring, but it's not the real, spicy vanilla bean variety. 
Cococaine
Our first impression of Cococaine was incredibly pleasant after just a few puffs. It's like a coconut sugar cookie in terms of sweetness and flavor. This one wasn't very throaty or harsh, but after approximately 1-2ml, it became far too sweet for the majority of our crew. It could just be a question of taste, but we thought there was far too much sweetener in this one.
Fall Spirit
We didn't think it was the best caramel apple flavor we'd ever had, but it wasn't the worst either. With a fair hint of crisp apple flavoring and a smooth, caramel aftertaste, it leaned toward the sweeter side. There was a minor flaw in the apple, but nothing to be concerned about.
Icebound
Another flavor that is average to slightly above average. In the fruit department, we prefer our fruity menthol flavors to be stronger. Although there were berries in Icebound, the menthol overwhelmed most of the fruity taste. We didn't get a lot of strawberries, but we did get a lot of raspberries and blueberries. Icebound is a fantastic choice if you like menthol to fruit. 
Maximum Overdrive
This is our top pick because it is the classic summertime treat. Sweet watermelons and tart berries will set your taste buds on fire. I guarantee you won't find a better vaping experience anywhere else. It is available in a 100 ml bottle with nicotine strengths ranging from 0 to 3 mg.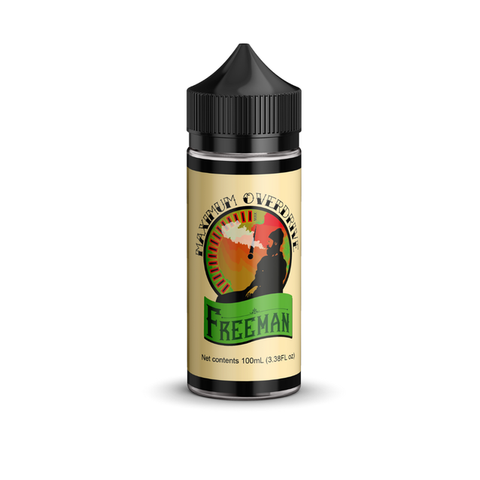 Buccaneer
You'll experience the vape of a lifetime with this 100ml e-liquid. A smoothie made with luscious strawberries and a mixture of pineapple and mangoes will take you on a brand-new experience. Its nicotine content ranges from 0 mg to 6 mg.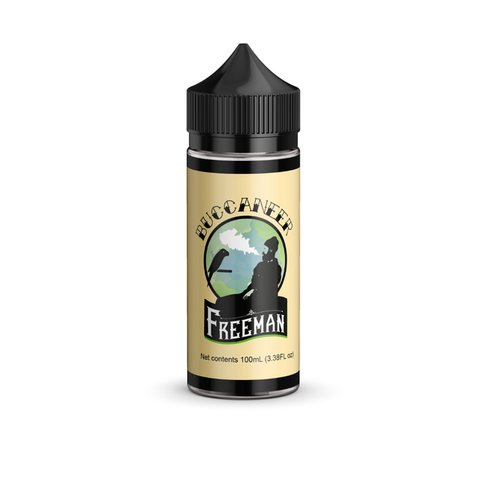 Minted
Test out Freeman Minted for a hip vaping experience. A cooling and creamy flavor mark it. This 100ml e-liquid will always satisfy your sweet spot with its mint chip milkshake taste. It offers an acceptable nicotine content that ranges from 0mg to 6mg.
Homecoming
The strawberry and rice pudding from Homecoming have swiftly gained popularity. The strawberry sweetness of Freeman Homecoming is mixed with the smooth, creamy richness of rice pudding. It has a rich flavor and just the right amount of sweetness and creaminess, though the strawberry tastes more like a sweeter jam than a fresh one.
Those with a high sugar craving will enjoy this because the overall result is a rich and almost delightful vape. This brand's 100ml contains a satisfying nicotine content of 0 to 6mg. I can assure you that if you choose to vape this brand, you won't be disappointed.
Imagine
Freeman Imagine is the clear choice for anybody seeking a robust dessert vape flavor. Lemon-tart vape juice flavor called Imagine. It is indeed like a lemon tart! A sweet, smooth, tangy lemon filling and a pastry with a crispy crust.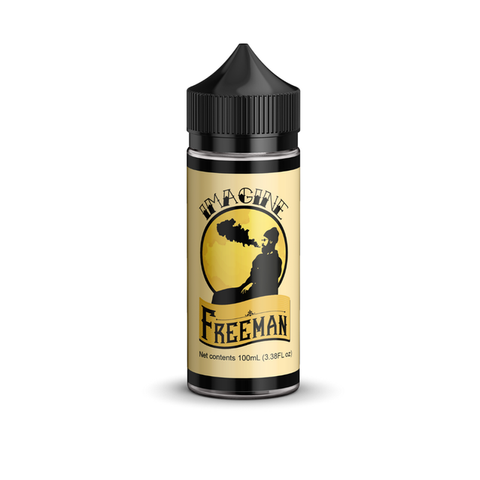 Just like the lemon tarts from your favorite bakery or coffee shop. A nicotine level of 0mg to 6mg is available in this 100ml e-liquid. The fast, terse lemon flavor is delightfully mellowed with the flaky, melt-in-your-mouth crust.
Sour diggers
You have all been anticipating a tart flavor, and here it is. This 100ml-size e-liquid is a crisp blend of red and green apples, giving it an intensely complex taste between sweet and sour, with just a touch of sourer to satisfy you as a vaper.
It will undoubtedly bring to mind your favorite sour foods; you can be sure of it. There are several indicators that this flavor will become popular. There are different nicotine strengths available, from 0 mg to 6 mg.
Trail Blazer
On either side of the Rockies, Freeman Trail Blazer is the top tobacco e-liquid flavor. Recently dried tobacco leaves influenced the taste of Freeman's tobacco. Nothing burned, just some pure, earthy tobacco. Some norms must be broken to create the ultimate flavor of tobacco vape juice.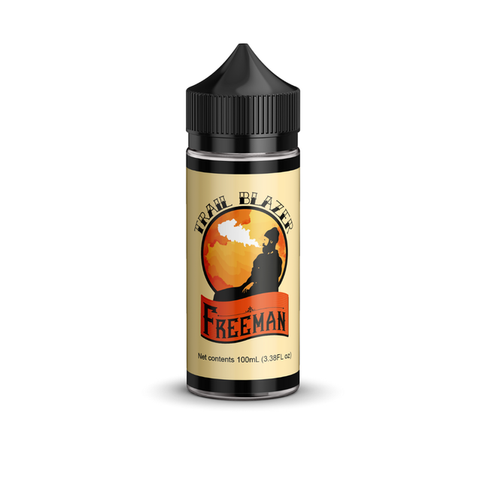 Butterscotch and peanut butter flavors are added to complement the earthy tobacco taste tones. For smokers seeking to blaze a different approach, there is Trailblazer. Incredibly genuine, earthy, nutty, butterscotch-flavored with the ideal amount of flavor. This 100ml brand has nicotine concentrations ranging from 0mg to 6mg.
Jungle
The favorites list of millions of vapers is topped by fruit taste e-juice. Millions of vapers rank Freeman Jungle vape juice at the top of their favorites list. It is a daring mash-up of three of the best fruit-flavored e-liquids on this or any other planet. As the name suggests, this e-liquid is flavored with tropical fruits, mainly kiwi, strawberry, and banana.
The abundance of life thriving in pristine jungles served as inspiration. Untouched by any law or structure made of concrete. The number one component that Freeman requires of every bottle that leaves our door is essential for having a fantastic fruit flavor vape juice.
Purple Hills
This distinctive e-liquid line provides fruity menthol flavors, including Smooth Banana, Tangy Blueberry, Sweet Apple, and Smooth Strawberry with a menthol kick. It is available in 100ml bottles with nicotine strengths ranging from 3 to 6mg.
Menthol Breakdown
You'll have a Menthol breakdown because it is so amazing. Mixed berries with a pleasant inhalation. Ideal as a daily vape or as the best base for creating custom flavor combinations. With nicotine concentrations ranging from 0 to 6mg, menthol breakdown is available in 100 ml and 120 ml bottles.
Top Brass
Are nic salts your favorite vape juice? Then freeman vape juice offers you the best nicotine salts on the market. One is top brass salt nic made of creamy and sweet peanut butter with tobacco.
Additionally, this salt nic has 35 mg of nicotine, and its base mix ratio is standard (50/50). Therefore, it is ideal for all types of vapers. Top brass by freeman is packed in a 30 ml bottle which is portable and makes vaping effortless.
Buena Vista
Another nic salt by freeman vape juice you should consider buying is the Buena Vista. This e-liquid has a nicotine strength of 35 mg and a VG/PG ratio of 50/50. Buena Vista is made using vanilla, caramel, and hints of classic tobacco. These constituents are thoroughly mixed to ensure they achieve a sweet and flavorful nic salt.
5. Freeman Vape Juice/E-Liquid YouTube Video
6. Freeman Vape Juice/E-Liquid Main Product List
| | | | | | |
| --- | --- | --- | --- | --- | --- |
| Name | Type | Price | Capacity | Flavor | Click to Buy |
| 1885 (Vanilla Milkshake) | Freebase | $19.95 | 100 ml | Vanilla and milkshake | |
| Cococaine | Freebase | $19.95 | 100 ml | Cookie and coconut | |
| Fall Spirit | Freebase | $19.95 | 100 ml | Apple and caramel | |
| Icebound | Freebase | $19.95 | 100 ml | Blueberries, strawberries, and raspberries | |
| Maximum Overdrive | Freebase | $19.95 | 100 ml | Watermelons, Tart berries | |
| Buccaneer | Freebase | $19.95 | 100 ml | Pineapple, mango, strawberry | |
| Minted | Freebase | $19.95 | 100 ml | Mint and milkshake | |
| Homecoming | Freebase | $19.95 | 100 ml | Strawberry, Rice Pudding | |
| Imagine | Freebase | $19.95 | 100 ml | Lemon | |
| Sour diggers | Freebase | $19.95 | 100 ml | Apple | |
| Trail Blazers | Freebase | $19.95 | 100 ml | Tobacco | |
| Jungle | Freebase | $19.95 | 100 ml | Kiwi, strawberry, and banana | |
| Purple Hills | Freebase | $19.95 | 100 ml | Blueberry, sweet apple, smooth strawberry, and menthol | |
| Menthol Breakdown | Freebase | $19.95 | 100 ml | Mixed berries and menthol | |
| Top Brass | Nic Salt | $19.95 | 30 ml | Peanut butter and tobacco | |
| Buena Vista | Nic Salt | $19.95 | 30 ml | Vanilla, caramel, and tobacco | |
7. FAQ
Freeman vape juice Reviews: Is Freeman vape good?
Overall, we think Freeman Vape Juice is well-made, with the majority of its taste descriptors being spot-on. We weren't blown away by every flavor in their lineup, but we weren't expecting to be yodeling from the mountain tops either, given the fair pricing point.