Vaping can become a mesmerizing experience when there is something more to create a transition of those fractions of time into memories that anyone wishes to escape into or go back to. 'We provide the best vape products' is not just a phrase, it's a promise that should be maintained to keep up the spirits and energy of those who are really in love with vaping. Wesley's vape shop provides just the perfect products that are never going to fail in amusing and satisfying our customers in enjoying their best times. They are one of the best vape shops in the USA selling quality vape products that mainly include vape juices, e-cigarettes, and vape pens. They have two outlets in northern Maryland and continues to build their reputation by adhering to the motto, which is to provide quality vape products at a reasonable price
Throughout this article, we will go through some of the unique features and specialties of the store that makes it unique from other shops in the USA.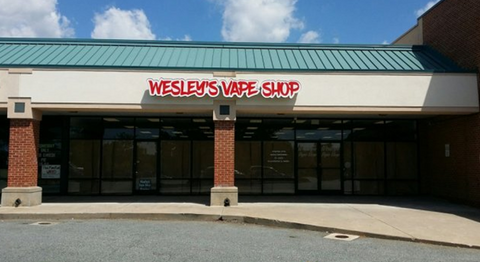 Wesley's vape shop: exterior view
Wesley's vape shop: an interior view
 Signature Products
These products contain nicotine, and nicotine is an addictive chemical! Yes, it is an addictive chemical but it's meant for those who are addicted to life and those who wish not spare moments of happiness and enthusiasm. The signature products at Wesley's vape shop are not just something selected based on the best-selling scale, it's something crafted with great care to gift their 'crazy customers' an illusion of everything that fits in according to their thoughts.
They have a range of unique and carefully crafted products which are technically checked and experimentally verified by professionals. All their products and flavors of their vape juices are hand-picked according to the requests and suggestions of their zestful customers. All the products are more than just something brought for money to serve as an aid to vape, it is something that can create the magic of good experience and best out of the good times of the day. Here are a few of the signature products that have created a huge fanbase for Wesley's vape shop and that which has remained as its backbone.
E-juices
Experiences become complete when they are shared. A vape product becomes complete when it is shared with the best vape juice. E-juices are simply a merge of uniqueness, not the uniqueness in flavors, but the selfhood of customers. It is the best combination of customized flavors that can really bring the best out of your vape times. E-juices contain many classic flavors meant for the energetic, introverted, eccentric, crazy, and also for the shy ones, which can change the flavors of smoke into your best memory, dream, hopes, or anything you wish to have. E-liquids also have customizing options available and can make their own e-juice flavors according to their best moods and interests. E-juices are the combination of delightful flavors and aesthetic colures that really tempts anyone to give a try.
E-juices are available with delightful and commingled flavors that include vanilla caramel, raspberry mocha, very berry, grand reserve, and more, all selected and blended with perfection to bring in the complete fusion of craziness and happiness coupled with energy!
Different flavors of e-juices at Wesley's vape shop
How to use E-juices?
Shake your favorite flavor of the e-juice bottle for a couple of seconds.
Open the cap of your e-juice bottle and add approximately 20 drops of the liquid into
the E-cig's tank.
Aim the bottle tip so that no liquid is getting into the center of the e-cig tank tube.
Allow the tip to set for 1-2 minutes and then start using
Pros and Cons of E-juices at the Wesley's Vape Shop
          PROS
Available in a variety of flavors with customizable options
Economical
Easy to use
         CONS
Some customers raised issues about the pore size of the bottle
A few demanded much more attractive packaging
Innokin Itaste MVP4
Innokin Itaste MvP4 is one of the premium products from Innokin and is desired by vapers across the globe. This spectacular device has all the features that make anyone fall in love with its features that include affordability, perfect design, and simplicity of usage. The Itaste MVP4 is fabricated with premium material that includes aluminum-zinc alloy to provide better durability, corrosion resistance, and resilience along with lightweight. One of the most unique features of the product is the wattage adjusting ability to range between 6W to 100W. The product is also equipped with temperature controlling and sensing functionality with the help of an atomizer that allows you to customize the temperature of the vapors produced while taking the hit. The product houses a 4500mAh internal battery and an OLED screen that shows the battery life, temperature setting, wattage setting, etc. It also employs a USB cable that allows you to connect the device to your system to avail the latest firmware directly from the manufacture's website. In addition to extremely unique design, fabulous appeal, powerful chip, and multiple features, this device also includes a number of safety features as well. The device features low-voltage protection, short-circuit protection, low resistance protection, low-battery warning, and On/off capability. It is one of the best options if you are looking for your first or latest MOD.
Features of Innokin Itaste MVP4
4500 mAh battery capacity
Low-voltage protection
OLED screen
Aethon microchip
Aluminum-zinc alloy construction
Power bank function
Pros and Cons of Innokin Itaste MVP4
Pros
Contains a number of safety measurements including low-voltage protection and short-circuit protection
Affordable
Lightweight
User-friendly
Temperature control and sensing features
Cons
Some customers raised issues about the technology
A few raised issues about the battery life and durability.
Nu-X CBD gummies
The cannabinoid is one of the most favorite products of a number of people and it's consumed in many different and exotic ways including CBD-infused bars, drinks, etc. The nu-X CBD gummies are nothing less than the most unique and fabulous way to consume CBD along with the mainstay snack of anyone, 'gummies'! Gummies are one of the most delicious ways to consume CBD and gift the most extravagant experience to those not interested to pull on a vape. Each nu-X CBD gummies pack contains 10 gummies infused with 15 milligrams of completely hemp-derived CBD. The nu-X gummies are completely free of gelatin and artificial colors, flavors, and sweeteners. The product includes 3 different flavored gummies including strawberry, grape and orange. The hemp used in nu-x CBD gummies is grown in the USA and undergoes a thorough system of checks and third-party testing. All the CBD products are manufactured through a super-cool ethanol extraction process to ensure the removal of plant matters and make sure that the only content in the extract is CBD. The nu-X CBD gummies are THC-free and hence give you a munchable treat without the risk of getting high.
Features of nu-X CBD gummies
Multi-flavored pack
15mg broad-spectrum CBD per gummy
Vegan
Gelatin-free
Free of artificial flavors and sweeteners
THC-free
Pros and Cons of nu-X CBD gummies
Pros
Available in a variety of flavors
Affordable
THC-free
           Cons
The product quantity is low
Some customers complained about the texture of the gummies
Upends: An emerging promise to vape lovers
          Upends is currently the new dimension for best quality vapes at affordable prices and valuable designs. Its goal is to sell simple and usable devices that anyone can use, whether a first-time vaper or a 'vape guru' Upends has the best pods for anyone who wishes to vape! Let us now have a look at some of their path-breaking designs that is really going to create a spot-on transformation in the vape market.
Uppen Plus
Uppen plus is a simple pod system and a unique version of Uppen's core products. It is a completely wonderful product designed just to provide you with the fresh, natural taste you desire. With a minimalist and elegant design, Uppen plus has the best features to satisfy you at each puff. The metal cap over the cap protects the E-juice from dirt and thus you can enjoy that same flavor even after several days of no vaping. The product is simple to use, affordable, and is made from aerospace-grade aluminum with a refined touch.
UpOX
Upox is a highly economic and quality mini-open pod system. With a minimalist design, simple usage, and spectacular features Upox is one of the alternatives to many other vapes that are just an aid to vape. Its coil is made of special cotton cultivated at the golden cultivation zone in the Tianshan mountains. Hence it has the perfect balance between fiber density and liquid absorption which will thus gift you with nothing else but the pure taste of your E-liquid. Upox features the Etchip 2.0 flavor master coil and has the optimum heat efficiency which will thus provide you with a mouthful of flavored vapes at each puff. It is portable, long-lasting, and has a dust-proof design.
Frequently Asked Questions
When was Wesley's vape shop started and how many outlets does it have?
Ans. Wesley's vape shop was the output of the idea of a 28-year old smoker who decided to provide the best quality vape products at the most reasonable price. The shop originally started in late 2013 with a few vape products that mainly included e-juices. As the business slowly began to rise and resulted in the exponential growth of profits and customers, we expanded our services into more locations in the USA. Currently, Wesley's vape shop has 2 outlets, one located at telegraph road in Elkton and the other at East Pulaski Hwy at Elkton.
Which are the best-selling flavors of e-juices at Wesley's vape shop?
Ans. We sell a variety of e-juices with customizable options as well. Each and every flavor at Wesley's vape shop is selected according to the requirements and suggestions of our most trusted customers. Some of the best-selling flavors at our shop that has remained stable in demand for a long time include vanilla caramel, frozen lime drop, melon soda, and very berry.
Customer Reviews
Very surprised and happy about Wesley's. I just moved up here and was still trying to find my "home shop". Have went around to a few shops in Delaware and they were too big, trying to cram sales down your throat. NOT HERE. They're very helpful and actually know what they're talking about. Laid back, comfortable atmosphere. Definitely coming back! They're also the only shop up here that got coolatta right which is awesome. Thank you!
                                                                                                                   -Ben. B Gordan
I actually drive down from the new castle to visit this store. They've definitely found the winning combo for a vape shop. Best prices hands down, great staff, great hours, great juices, great deals...I can keep going lol. I find everything I used to have to visit several shops for all in one place. Highly recommend this shop for newbs or advanced vapors. One of only two vape stores I'll even visit anymore.
                                                   -Bill Glass
You can't ask for a better company to deal with. You can't always please everyone, however, it appears that the employees and management of this company intend to do just that. I have never been so pleased with a company and business as this one. Thank you for your understanding and support. I encourage anyone needing Vape products to visit this business.
Conclusion
Hope this article was useful to give you a broad idea about the timely service and quality products at our Wesley's vape shops outlet. To know more about their new ventures and ideas please contact them to provide your valuable suggestions and review. Please log onto their Facebook and Instagram pages to know more about their unique commodities, upcoming events, future ideas, and innovations.