The Voopoo Rota is a new compact Pod System vaping device that has been highly accepted in the vape market. The Voopoo brand observes the product enter the market in an impressive way, with a unique feature, a fidget spinner design to create more than just a vape. In addition, it features an integrated 340mAh rechargeable battery with a 6-10W power output that is aimed squarely at the vaping community at large. 
The low-wattage Rota Pod System is fitted for nicotine salts and E-Juice. It has a tank capacity of 1.7 ml and a 1.5ohm coil. It's designed to give an impressive vaping experience for both beginners and experienced vapers.
Let's find out its features, specs, performance, and more to get a well-known out of the pod system. The Voopoo Rota pod system is crafted with a lightweight zinc alloy and plastic (PCTG) chassis construction.
Designed for intermediate and advanced users, the VOOPOO ROTA features a built-in rechargeable battery within its sleek chassis. With a wattage output range of 6W to 10W, this pod system can accommodate most refillable pod systems.
The system is activated by pressing the firing mechanism located at the bottom base of the ROTA and is paired with a draw-activated firing mechanism for maximum efficiency performance. 
This pod mod kit also utilizes a unique snap-in magnetic pod connection for a quick and secure fit between the internal battery and pods. The new Rotary Pod System makes a massive impact on the vaping community by bringing coils to bottom-fill tanks to a whole new level.
So whether you're hitting your vape for the first time or looking for something not quite like all the others, pick up the new VOOPOO Rota. It uses a snap-in pod system that makes replacing and switching out pods quick and easy.
Features and Specifications of Voopoo Rota
 Has a LED Indicator light; this shows the energy level when used or when on the charge to show the battery percentage. Has a battery-oriented micro USB port for charging and uploading a newly updated version. It utilizes a 1.5ohm coil to burn the fluid and produce vapor.
The Pod has a 1.5 ml leak-proof juice capacity tank which is refillable in which is tailored both nicotine salts and regular E-juice. The tank is made leakproof to prevent contamination.
The Pod is affixed with a Snap-In Magnetic Pod Connection. The Pod can easily be refilled by a silicone stoppered fill system located at the bottom of the device. Unlike any other, the mod is integrated with a Fidget spinner. This makes the device create more than just vape, making the experience feel like not only vaping but also fun.
Design and build of Voopoo Rota
Voopoo Rota operates in a magnificent way than any other device. The body is wholly built with Zinc Alloy, and the Pod is made of a PCTG plastic material. This gives it an impressive look and a good quality build. The ROTA is the next step in the evolution of Voopoo's lineups.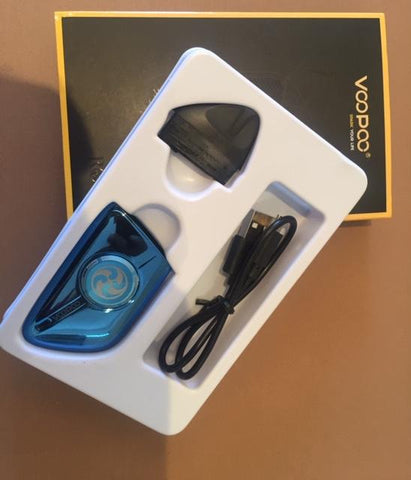 This compact and ultra-slim device utilizes a mesh structure in a silky matte finish that allows for a comfortable grip. It also offers high durability, aluminum contacts, a bottom-oriented micro USB port, a snap-in magnetic pod connection, and an easy-to-use draw-activated firing mechanism.
The device is moderately tiny in size, measuring 79mm by 37mm by 14mm. In addition to the size, the device is also tiny, weighing about 63 grams. This is very impressive since the device will be easily portable. The bottom-oriented Micro USB port is used to charge when the battery device is low and to upload any recent update on the firmware.
The Pod
The plastic-made Pod is tough and can have temperature quality, which is dark gray in color, but it's visible to show the E-juice level. The Voopoo Rota pod is an innovative and affordable pod for liquid nicotine consumption that enables mouth to lung vaping for both salt nicotine and standard nicotine e-liquid products. 
Unlike other pod systems on the market, the Voopoo Rota uses an integrated heating element which makes for a much more efficient and user-friendly vaping experience. Apart from that, the pod has a unique design that allows you to fill it with your favorite e-liquid. My view on the Pod is, it's of good quality and tough.
The Battery
Voopoo Rota device is integrated with a 340 mAh internal battery which is enclosed in by a battery door. At the bottom edge of the rota there is a micro USB charge point. Whenever the battery is low power, it will be indicated by the LED light indicator. The LED light will light blue when in use and green when charging.
Performance of Voopoo Rota 
The Rota is an MTL hit machine. At first, you think it's going to be just like the other Rota models, well there are some subtle differences but they ride the edge of what is possible with a throat hit device.
Vapor production is impressive and the clouds produced are thick and creamy with just the right amount of nicotine hit. This pod system is composed of one significant form that combines the most essential and useful features for Vapers. It utilizes glass-filled nylon and aluminum construction for a rugged, lightweight body.
The 1.5mL capacity is filled via pod juice filling and is easily accessed via quick-release design. This means when the pod needs a refill, you don't have to worry about spilling it pops right
The bottom-oriented MicroUSB port allows for convenient charging, while the central rotation point allows for easy removal of the built-in battery. The ROTA features a unique "Snap-In" magnetic pod connection system.
This convenient snapping-in design eliminates the need to use threading screws for installing atomizers. The system is fully magnetic, which means your pods and coils will snap into place with ease. 
Pros and cons of Voopoo Rota
Pros 
Has a good performance which is user-friendly.

Well built and of good quality.

Long-lasting battery.

Very good as an MTL device.

Has a draw that controls airflow.

It's leakproof

Have an excellent intense flavor

Fair vapor production
Cons
The fidget spinner design may not be friendly since it produces a rather niche design.

Has no safety markings on the device.

Tendency to form bubbles when refilling can take some empty capacity.

Lacks mesh coil.
FAQS of Voopoo Rota
Is Voopoo rota worth it?
Yes! Considering the features of the mod, the product is incredible, with good quality. Try it, and you will find it a unique device for your experience when vaping
What unique features come along with the device?
Gives you an additional advantage to combine two E-Juice at the same time. It also has a fidget spinner, making it create more than just a vapor.
UPENDS
Upone
Upone is an all-in-one starter kit that comes with a simple vaping experience yet long-lasting enjoyment. Uppone is powered by a built-in 850mAh battery and 4.5ml capacity to meet your requirements of daily vaping. Not only can you enjoy great tastes, but also costs less with refillable e-juice.
Conclusion
I can highly recommend you, as a beginner or experienced vapor, to try this product. It bears unique characteristics, making the product good quality and challenging. It is small but mighty and goes well with E-Liquids as it allows you to get off easy without dripping until the entire contents of your tank have been consumed.
The flavor from the pods is very intense due to restricted airflow, provides strong flavor from simple liquids, and good airflow for the fixed MTL vaping style. The battery is 340 mAh with an output wattage range of 6W-10W, a good range for a tank.