The Voopoo Baby Drag is the Voopoo Drag line's newest device. These instinctively powerful tiny box mod features come with an all-new set of coils and a proprietary tank design. Making it one of the most accessible vape kits to use for beginners while also giving a low weight, long power, and versatility that seasoned smokers want. 
The Drag Baby Trio Kit comes with three different kin. Voopoo Drag Baby Trio Starter Kit is a high-end and portable gadget. This impressive battery life is due to the new Gene Trio chipset that this device utilizes. With a range of 5-25 watts, there is enough power for whichever coil you are using from the field.
Charging the device is simple. First, plug the lead into your mod and then connect it to a suitable power supply(Max 1 Amp). A full charge takes approximately 1.5 hours to complete.
Voopoo, a company is known for its innovative vaping products, has created a highly portable vape starter kit with replaceable coils and virtually little risk of a mess. The innovative design of the PnP series of waves creates a barrier between the rings and the juice chamber, allowing for easy coil swapping.
The clever Voopoo Gene controls the DRAG Baby Trio.TRIO Chipset, which provides a rapid firing speed as well as an intelligent cold boot option. Despite its small size, the DRAG Baby Trio comes with three different coil options, including the two most versatile PnP seriesThe included PnP-C1 1.2-ohm ceramic core coil is suitable for direct-to-lung vaping with regular juice at a power range of 10W to 15W.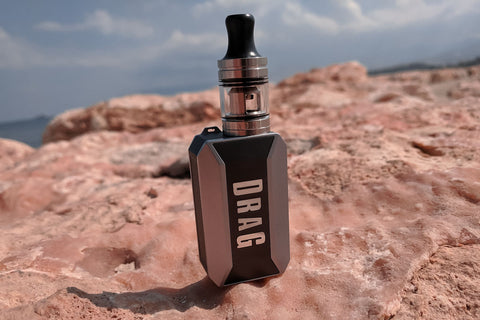 At the same time, the accompanying PnP-M2 0.6-ohm meshed ring is ideal for direct-to-lung vaping with regular juice at a power range of 20W to 25W. The PnP-R1 0.8-ohm normal coil, which is suitable with both Nic-salt and standard e-juice and has a recommended power range of 12-18W, is also used in the DRAG Baby.
Design of Voopoo Drag Baby
With the latest releases of their products, VooPoo has been on a roll. The VooPoo Drag Baby Trio is the most recent addition to a 'Drag' family. It's a multi-functional, all-in-one vaping gadget that can deliver both mouth-to-lung and direct-to-lung vaping.
The Baby Trio lacks some of the complex functions seen in other Drag devices, but it is still driven by a Gene chip, albeit a more basic version. It's also compatible with VooPoo's latest plug-and-play (PnP) coil heads for added convenience and dependability.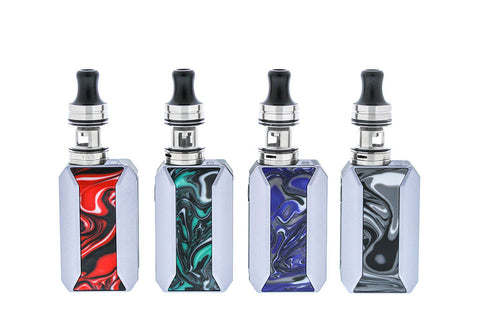 A resin panel complements the stainless steel body of the VooPoo Drag Baby Trio in Ceylon Yellow, Teal Blue, Fiesta, Aurora, and Ultra Violet Rhodonite, Violet, or Ink.
The same PnP coil-heads that we observed in our review of the VooPoo Find S Trio pod system are compatible with the Drag Baby Trio tank. All you have to do is unscrew the tank's base, push one of the two provided coils into the tank, and twist it to make sure it's all the way in, then screw the tank's base back on, and you're ready to go. 
VooPoo deserves credit for creating such an intuitive design. Violet, Ink, or Rhodonite. The same PnP coil-heads that we observed in our review of the VooPoo Find S Trio pod system are compatible with the Drag Baby Trio tank. All you have to do is unscrew the tank's base, insert one of the two provided coils, and twist the tank. Voopoo Drag is one of the e-cigarettes that has a good design.
How to use Voopoo Drag Baby
The Drag Baby by Voopoo is straightforward to use right out of the box, and its small size allows it to fit comfortably in a pocket, bag, or hand. The unit is only 55g and measures 58.5mm x 35mm x 21.5mm. As a result, it is slightly larger than the Drag mini pod, which is a significant advantage given its vaping experience.
Remove the Drag Baby, the tank, and your choice coil, either the 1.2 ohms if you are an MTL vaper or the 0.6 ohms if you are a DL vaper, from the package. A push-fit connector function is to place the coil into the open base of the tank—another great plus. Spare rings will be sold separately in packs of five. At the moment, my sources say they will only be available in 1.2 ohm or 0.6-ohm varieties.
Performance of Voopoo Drag Baby
The Drag Baby Trio is a fantastic kit nearly equivalent to the VooPoo Find S Trio in terms of performance. They both use identical coils, and neither has adjustable airflow; this is unsurprising. The PnP-M2 mesh coil has a limited DTL experience, but the PnP-C1 ceramic ring has a more open MTL experience. Because of the greater vapor temperature, the mesh coil probably wins out.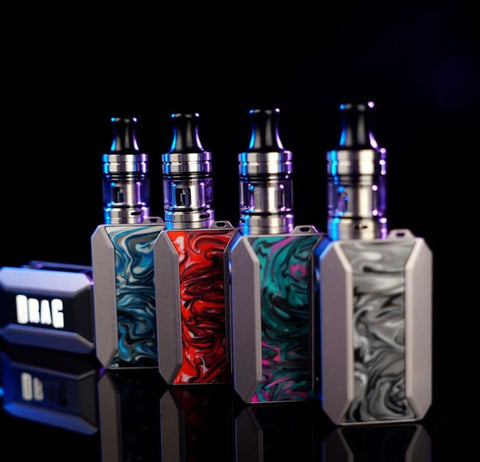 The more vapor produced, the better; because of the ceramic composition, the ceramic ring creates a colder vape, leaving it a touch short on building a solid cloud. When vaping at 1.2 ohms on pod systems, I generally use 12mg of nic, but I found that I needed to up the nic to 14/15mg to obtain the same throat hit.
One significant omission prevented me from tightening the draw and changing the airflow. I understand how difficult it was to have variable airflow with these PnP coils, but I don't think a tank with fixed airflow is suitable. Even if you could tweak it a little, I believe it would have improved the overall experience and provided vapers with a more customized vape, especially when it comes to e-liquid.
DRAG Baby Specifications
The VooPoo Drag Baby Trio's coils should easily last you a day of vaping, which is excellent. With the 1.2-ohm ceramic ring, you can get almost two days out of it. It was a brilliant idea to include a 1500mAh battery with this trim kit.
Even though it charges rather quickly at 1A, I would have preferred to see 2A charging. On the other hand, the gadget and battery are solid performers that will keep you vaping for the entire day
Pros
Simple to use

Both DTL and MTL options are available.

PnP coils are simple to replace.

The Battery Life LED indication is simple to interpret.

Exceptional battery
Cons
There is no way to change the airflow.
It is a loose MTL vape.
DTL Vape with a smidgeon of restraint
Connection to a private tank
Good build quality 
Manuals review and instructions
Switch Timeout Protection - will no burn the automizer due to intelligent overtime protection. In addition, when a short circuit is detected, the mod protects the battery by stopping the course from returning.
 Over-Discharge Protection - This will protect the battery from battery discharge and harm thanks to dedicated lithium battery protection components. Overcharge Protection will cover the battery from overcharging and damage thanks to reliable lithium battery protection components.
FAQS
How to charge Voopoo Drag Baby Battery
When using 18650 battery mods, use an external battery charger to ensure balanced charging and to extend the life of the battery and mod, which can be short due to a worn-out micro-USB connector.
UPENDS
Uppen
The Upper pod system is a vape pen that gives you satisfying draws from the initial puff you take. The performance is enhanced by the Etchip coil that has a broader heating surface. This feature is suitable for increasing the heating efficiency and giving the mesh a higher resistance.
All these factors combined give you a highly concentrated vapour, and you are assured of quality. The UPENDS products assure you of quality and reliability anytime you think of high performance.          
Conclusion
Because of the PnP coils, the Drag Baby is a good and small kit with good performance. It is well-built and has long battery life. It would have been even better if the airflow can adjust, but it's still a fantastic small travel kit. Voopoo Drag Baby is pocket-friendly and available. Their batteries last for a long time and perform efficiently.