In this beginner's guide to Vuse Vape, we will explore the various types of Vuse Vape devices, their specifications, accessories, and flavors. Whether you are new to vaping or looking to upgrade your vaping experience, this guide will provide you with all the information you need to know about Vuse Vape.
What is

Vuse Vape

?
Vuse Vape is a popular brand that offers a wide range of vaping devices and accessories. Known for their sleek design and user-friendly features, Vuse Vape devices are suitable for both beginners and experienced vapers. With their innovative technology and high-quality materials, Vuse Vape has established itself as a leader in the vaping industry.
Vuse Vape Devices
Vuse ePod Starter Pack
The Vuse ePod Starter Pack is a great option for beginners who are looking for a simple and convenient vaping device. This compact and lightweight device features a draw-activated system, eliminating the need for buttons or switches. It is available in a variety of colors and comes with a magnetic charging cable for easy charging on the go.
Review about Vuse ePod Starter Pack
Users praise the Vuse ePod Starter Pack for its ease of use and satisfying vaping experience. The device delivers a smooth and consistent vapor production, allowing users to enjoy their favorite flavors without any hassle. Its long-lasting battery life ensures that you can vape throughout the day without worrying about running out of power.
Specifications
Battery Capacity 350mAh

Pod Capacity 1.9ml

Coil Resistance 1.2ohm

Charging Magnetic USB Cable Colors

Available Black, Blue, Gold, Graphite

Weight 23g
Pros and Cons
Pros
Compact and portable design

User-friendly draw-activated system

Wide range of flavors available

Long-lasting battery life
Cons
Limited pod capacity

Limited customization options
Vuse Go
The Vuse Go is a versatile vaping device that offers a balance between performance and convenience. With its sleek and modern design, the Vuse Go is perfect for vapers who are looking for a stylish device. It features a button-activated system and adjustable airflow, allowing users to customize their vaping experience according to their preferences.
Review about Vuse Go
Vapers appreciate the Vuse Go for its smooth airflow and consistent vapor production. The adjustable airflow feature allows users to control the intensity of their draw, providing a more personalized vaping experience. The device is also compatible with a wide range of flavors, giving users the freedom to explore different options.
Specifications
Battery Capacity 500mAh

Pod Capacity 2ml

Coil Resistance 1.6ohm

Charging Micro USB Port Colors

Available Black, Red, Blue, Gray

Weight 24g
Pros and Cons
Pros
Stylish and modern design

Adjustable airflow for a customized experience

Compatible with a variety of flavors

Longer battery life compared to other devices
Cons
Slightly heavier than other devices

Limited color options
Vuse Go Max
The Vuse Go Max is the ultimate vaping device for those who crave intense flavor and powerful vapor production. Designed for experienced vapers, the Vuse Go Max features a larger battery capacity and a higher coil resistance, resulting in a more satisfying vaping experience. Its ergonomic design and textured grip make it comfortable to hold and use.
Review about Vuse Go Max
Vapers rave about the Vuse Go Max for its exceptional flavor delivery and dense vapor production. The device is equipped with a 0.8ohm coil, which enhances the flavor profile of your e-liquids and provides a more intense throat hit. Its larger pod capacity ensures that you can enjoy your favorite flavors for longer periods without the need for frequent refills.
Specifications
Battery Capacity 1000mAh

Pod Capacity 4ml

Coil Resistance 0.8ohm

Charging USB Type-C Port

Colors Available Black, Gold, Rose Gold

Weight 50g
Pros and Cons
Pros
Powerful flavor delivery and vapor production

Long-lasting battery life

Larger pod capacity for extended vaping sessions

Comfortable and ergonomic design
Cons
Heavier and bulkier compared to other devices

Limited color options
Vuse Vape Accessories
In addition to their range of vaping devices, Vuse Vape also offers a variety of accessories to enhance your vaping experience. From replacement pods to charging cables, these accessories are designed to provide convenience and ensure that you have everything you need for uninterrupted vaping.
Vuse ePod Flavors
Vuse Vape offers a wide selection of flavors for their ePod devices. Whether you prefer classic tobacco flavors, refreshing menthol, or sweet fruity blends, Vuse Vape has something for everyone. Some popular flavors include:
Classic Tobacco

Mint

Watermelon

Mango

Berry
With Vuse Vape's extensive flavor range, you can easily find your perfect all-day vape.
Vuse Vape Original 20ml E-liquid Review
When it comes to vaping, finding an e-liquid that strikes the right balance between flavor, satisfaction, and usability can be quite a task. The Vuse Original 20ml Vape E-liquid, however, manages to encompass these elements with its classic offering. As an avid vaper, I recently had the opportunity to try out this e-liquid, and here's what I discovered: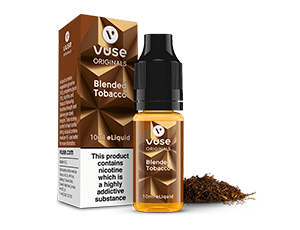 Flavor Variety
The Vuse Original 20ml Vape E-liquid boasts a range of flavors that cater to a broad spectrum of preferences. From traditional tobacco and menthol to more adventurous options like fruit blends and dessert-inspired concoctions, the line-up offers something for everyone. Each flavor is carefully crafted to deliver an authentic taste, and they manage to avoid the artificial aftertaste that often plagues some e-liquids.
Vapor Production
In terms of vapor production, the Vuse Original e-liquid performs admirably. It manages to strike a satisfying balance between a smooth draw and an impressive cloud output. This is particularly beneficial for those who enjoy performing tricks or simply relishing the visual aspect of vaping. The cloud formation doesn't compromise the overall vaping experience, ensuring both flavor and vapor enthusiasts are satisfied.
Throat Hit
One aspect that might differ for users is the throat hit. While some vapers prefer a stronger throat hit, the Vuse Original e-liquid provides a moderate sensation. For those who enjoy a smoother vape, this could be seen as a positive aspect. However, users looking for a more intense throat hit might find this a bit lacking.
Nicotine Options
The Vuse Original e-liquid comes in various nicotine strengths, catering to both those trying to reduce their nicotine intake and those looking for a more potent hit. This versatility makes it suitable for vapers at different stages of their journey. The clear labeling of nicotine content on the packaging is a helpful addition, ensuring users can easily select the right strength.
Packaging and Portability
The packaging of the Vuse Original e-liquid is compact and convenient. The 20ml bottle is easy to carry around, making it suitable for both on-the-go vapers and those who prefer to keep multiple flavors in their collection. However, a potential improvement could be a more secure cap mechanism to prevent any accidental leaks, especially when carried in pockets or bags.
Step-by-Step Guide on How to Use Vuse Vape Devices
Using Vuse Vape devices is simple and straightforward. Follow these steps to get started:
Charge your device: Connect the charging cable to the device and plug it into a power source. Wait until the LED indicator shows a full charge.

Insert the pod: Remove the pod from its packaging and remove the silicone cover. Insert the pod into the device until it clicks into place.

Prime the pod: Before taking your first puff, give the pod a few minutes to allow the e-liquid to saturate the coil. This will ensure optimal flavor and vapor production.

Inhale and enjoy: Take a draw from the device and savor the flavors. Vuse Vape devices are designed to deliver a smooth and satisfying vaping experience.
Frequently Asked Questions About Vuse Vape
Are Vuse Vape devices refillable?
No, Vuse Vape devices are not refillable. They come with pre-filled pods that can be easily replaced.
How long do Vuse Vape pods last?
The lifespan of Vuse Vape pods depends on various factors such as usage frequency and vaping habits. On average, a pod can last anywhere from a few days to a week.
Can I use third-party e-liquids with Vuse Vape devices?
No, Vuse Vape devices are designed to be used with Vuse Vape pods only. Using third-party e-liquids may affect the performance of the device and void the warranty.
How do I know when to replace the pod?
You will notice a decrease in flavor and vapor production when the pod is nearing the end of its lifespan. Replace the pod when you start experiencing a muted flavor or a burnt taste.
A Review About UPENDS Products
Aside from Vuse Vape, UPENDS is another reputable brand in the vaping industry. They offer a range of innovative vaping devices that cater to different vaping preferences. Here are some of their popular products:
UPENDS UpBar GT

: The UpBar GT is a sleek and compact device that delivers a satisfying vaping experience. Its draw-activated system and long-lasting battery make it a convenient choice for vapers on the go.
UPENDS Mirror:

The Mirror is a stylish and portable vaping device that features a refillable pod system. Its unique mirror-like design and ergonomic shape make it a standout choice for fashion-conscious vapers.

UPENDS NANO:

The UpBar Nano is a pod system that combines style and performance. With its sleek and minimalist design, the Nano is perfect for vapers who prefer a discreet vaping experience.
Conclusion
Vuse Vape offers a wide range of vaping devices and accessories to suit every vaper's needs. Whether you are a beginner or an experienced vaper, Vuse Vape has a device that will provide you with a satisfying and enjoyable vaping experience. With their high-quality products and diverse flavor options, Vuse Vape is a brand worth considering for all your vaping needs. So, why wait? Explore the world of Vuse Vape and elevate your vaping journey today.