Transitioning to vaping can be an exhilarating endeavor, yet it can also be overwhelming when attempting to determine the appropriate device and e-liquid for your needs. Opting for a high-quality disposable vape is an excellent method to embark on your vaping expedition.
Disposable vapes provide convenience and straightforwardness of use, while still delivering exceptional flavor enjoyment. If you're aiming for the greatest worth, then it's advisable to select one of the more durable devices accessible currently.
What Is A Long-Lasting Disposable Vape
A long-lasting disposable vape is a type of disposable vaping device that is designed to offer extended usage before requiring replacement.
These devices usually have higher battery capacities, larger e-liquid reservoirs, and low power consumption, which helps them last longer than regular disposable vapes.
Long-lasting disposable vapes are suitable for users who do not want to go through the hassle of frequent charging or replacement and prefer a more convenient and user-friendly vaping experience.
What Are The Things To Take Into Account When Selecting A Disposable Vape?
If you are interested in experimenting with vaping but don't know where to begin, you might be contemplating a disposable vape. There are several aspects to contemplate while selecting the appropriate disposable vape that suits your preferences:
Choice Of Flavors
When selecting a disposable vape, the range of flavors on offer is among the most crucial factors to consider. Numerous brands provide various flavors, which can range from fruity and sweet to rich and savory.
It's advisable to spend some time investigating your alternatives and selecting a flavor that appeals to your taste. It can also be useful to peruse reviews from other individuals who have already tried the same flavor before finalizing your decision.
Nicotine Strength
Regarding nicotine strength, disposable vapes generally offer three options: low (0-6 mg/ml), medium (9-12 mg/ml), or high (18+ mg/ml). Your choice of strength should depend on your personal preference and the length of time you plan to use your vape regularly.
If you're new to disposable vapes, it's advisable to start with a low-nicotine option before moving up to higher strengths if necessary.
Vape Quality
Choosing a disposable vape of good quality is crucial. Defectively made vapes can be unpredictable and prone to malfunction, so it's always recommended to check online reviews before making a purchase.
Look for vapes made with sturdy materials like stainless steel or aluminum alloy and verify that they meet industry safety standards such as UL certification.
Moreover, keep an eye out for indications of liquid leakage or parts that don't seem secure before purchasing a disposable vape.
Top 7 Long-Lasting Disposable Vape
Elf Bar BC5000 Ultra
The Elf Bar BC5000 Ultra is a well-liked disposable vape currently available in the market, mostly because it can produce a lot of vapor with its long-lasting battery and has a customizable vaping experience with an adjustable airflow system.
It can give up to 1500 puffs per charge, and users can decide from different tasty e-juice flavors like strawberry lemonade, pink lemonade, and menthol ice.
Features
Dimensions: 79 mm x 41 mm x 19 mm
Battery Size: 650mAh
Nicotine Concentration: 50 mg/ml and 20 mg/ml
Puffs: Maximum of 5000
Charging Interface: Type-C
Mesh Coil
SWFT Mod 5000
The SWFT Mod 5000 is a recent arrival in the world of disposable vapes, but it's already becoming a fan favorite among users. Its extended battery life and one-of-a-kind design are its standout features.
With its potent 3000mAh battery, this cutting-edge device can produce up to 5000 puffs per charge. Additionally, the SWFT Mod 5000 boasts a chic finish that distinguishes it from other vape devices in the market. It's also offered in various delightful flavors to choose from.
Features
5000 puffs
3000mAh battery
15mL
5% Nicotine
Type C charger
ALD Cube Box Plus
The ALD Cube Box Plus is a long-lasting disposable vape with a battery capacity of 400mAh and an oil capacity of 12mL. It has a powerful wattage of 10W and a resistance level of 1.2Ω, which makes it easy to produce large clouds of vapor. The device's design is compact and durable, with a PC mouthpiece material and a Type-C charging port for fast charging. The heating coil uses mesh technology, providing even heat distribution and preserving flavor. The device is also inhale-activated, ensuring a quick and efficient vaping experience.
Features
5000 puffs
400 mAh battery
Size of 81mmx48mmx20mm
Type-C charging
2 Ω resistance level
Mesh coil
Zovoo Dragbar
If you're searching for a disposable vape that can last longer, you might want to consider the Zovoo Dragbar. It's a sleek device that can deliver up to 2000 puffs and is available in four delectable e-juice flavors, such as grapefruit ice tea, tropical punch, blue raspberry lemonade, and pineapple orange mango.
The Dragbar also has adjustable wattage settings that allow users to personalize their vaping experience to their liking.
Features
Dimensions: 116.5mm x 26mm
Nicotine concentration: 50mg/ml
E-liquid capacity: 13ml
Coil resistance: 1.2ohm
Puff capacity: 5000 puffs
Battery capacity: 630mAh
Material: Made with PC, PCTG, and ABS
LUCID AIR TFN 5000
The LUCID Air TFN 5000 disposable vape pen delivers an exceptional vaping experience with its unique True Flavor Nicotine (TFN) formula, which guarantees unparalleled flavor intensity.
In addition to its flavorful quality, this device also offers a high puff count compared to other disposable vape pens, with up to 3000 puffs per charge.
This feature makes it ideal for individuals who desire a longer vaping session without having to worry about battery life or running out of e-juice.
Features
5000 Puffs
7ml e-fluid
2000mAh battery
Pre-Filled
Pre-Charged
Flum Float 3000
The Flum Float disposable vape pens are all about giving users a wide range of choices. Initially, they were offered in ten different flavors, but now there are 29 to choose from, and more are on the way.
Each Float disposable device contains 8 mL of 50 mg nicotine salt e-juice and boasts a substantial battery life, which can provide up to 3000 puffs.
Features
Each e-cigarette contains 8.0 mL of liquid
The liquid is made with salt nicotine and has a nicotine concentration of 5% by weight
3000 puffs
These e-cigarettes come pre-filled and pre-charged
The firing mechanism is draw-activated, meaning that the device is activated when the user inhales from it.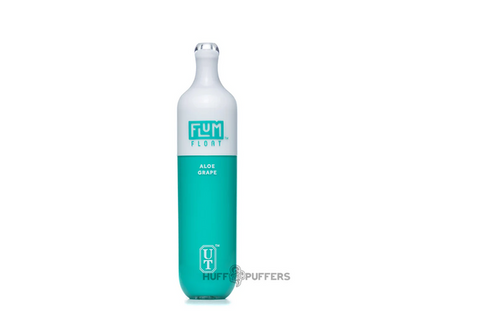 BLVK Ello
The Ello is a disposable vape pen manufactured by BLVK, which guarantees excellent flavor quality. It also features a comfortable mouthpiece that provides a satisfying mouth-to-lung (MTL) draw.
Each BLVK Ello disposable device contains 7 mL of 50 mg nicotine salt e-liquid and can last for up to 2500 puffs. With ten flavor options to select from, users have a wide range of choices to suit their preferences.
Features
2500 Puffs
Nicotine Strength: 50MG
7 mL capacity
UpBar PNT
These pens are often used as a more convenient and easy-to-use alternative to traditional vaping devices, as they come pre-filled with e-liquid and a charged battery, eliminating the need for the user to refill or recharge the device.
UpBar PNT disposable vape pens are available in a variety of flavors, such as mango, mint, blueberry, and watermelon, among others. They also come in various nicotine strengths, ranging from 1.8% to 5% nicotine by volume, which is similar to the concentration found in many traditional cigarettes.
Features
7mL E-liquid capacity

2500 Puffs

Mesh Coil

The Stylish Flavors Monster

Small box 27x27x126mm

Middlebox size:

5x142x129mm
FAQ About Long-Lasting Disposable Vape
What Period Should My SWFT Be Charged For?
According to SWFT, it takes 10 hours to fully charge and only requires an electrical outlet.
In What Way Does BLVK Ello Hit?
The Ello offers a pleasant mouth-to-lung draw that is easy and silent to take. The mouthpiece is designed to allow a secure grip on your lips, resulting in a more satisfying pull.
In terms of the throat hit, it is strong but not harsh, and the cooling effect is present in all variants, providing a frosty sensation and a decent amount of throat hit. The draw is smooth but firm, resulting in a tight but enjoyable vaping experience.
Best Vape Wholesale Supplier-UPENDS
Welcome to Vape UPENDS, where we are passionate about turning the vaping experience into a sensory-stimulating adventure. Our team of professionals is committed to developing distinctive and fashionable vaping goods that elevate your vaping experience. We create products that not only work flawlessly but are also a visual treat thanks to the use of cutting-edge technology and unwavering attention to detail.
As a respected associate of Vape UPENDS, you'll have access to our special selection of goods that are sure to captivate and satiate your customers. Discover why Vape UPENDS is the ultimate vaping destination for all discerning users by joining us on this exciting adventure.