What is Vape Boss?
Vape boss is a renowned E-cigarette retailer that offers a remarkable alternative against harmful tobacco smoking. The products sold under the trade mark feature e-juice flavors that are better than their tobacco counterparts. In addition to this, the diverse range of flavoring options coupled with the user friendliness add five stars to its performance and make it stand out among the rest.
E-cigarettes also referred to as vapes are integrated with vegetable glycol, strong fruity scent, propylene Glycol and nicotine. These materials are capable of vaporization at a specified temperature and offers you the sensation of smoking; thereby, limiting the production of ash and odor. Hence, this article offers a detailed insight into various products offered by Vape boss.
1.     Vape boss Pod System
Few of the famous pods available at your disposal on Vape Boss are following:
1.1.           Smok Nord Pod System
Smok Nord falls under the category of Vape pod. The item is versatile and features 2 in 1 functionality. Thus, it is ideal for both mouth to lung and direct lung vaping. The dual functionality of the material is attributed to the variety of replaceable coil heads integrated in the system. Besides this, the pods included in the system are capable of holding around 3mL of e-juice.
Due to the integration of multiple coils for various purposes, the Nord coils can be replaced without any inconvenience. The ease of replacement is also because of the rubber plugs that can be effortlessly pulled out. Finally, the huge variety of color options alongside sleek design featuring cobra pattern enhance the overall stylish outlook of the model.
1.2.           Innokin EQ Pod System
Innokin EQ is another outstanding item included in the pod system. The equipment feature button activation and is capable of holding around 2mL of regular juice. The long life and exceptional performance of the object is attributed to its 800mAh battery and adjustable power levels that offer uninterrupted power supply for hours.
The apparatus is durable and displays a stylish construction. Similarly, the zinc alloy based body combined with the rubberized accessories improve its durability and make it perfect for daily use. This version of EQ is available with a single magnetized drop-in pod that is better than its predecessors and offer mess-free refill system.
1.3.           Aspire breeze 1 & 2 Pod System
Aspire breeze 1 & 2 features improved design, better efficiency and extraordinary vaping experience. The item is long lasting and possess 1000 mAh battery that does not disappoint you in terms of power retention. However, the highlight of the system is the updated refill system which is different and more efficient than its predecessors.
This version consists of a refillable 3mL pod that comes with a pod-release function. The U-tech coils incorporated in the model are performance efficient. In addition to this, the transparent dust cap located on top of the mouth piece makes the item suitable for travelling purposes by protecting it against dirt in the environment.
2.     Vape boss Starter Kits
Starter Kits are a life saver for beginners. If you are a starter as well then you can try out following pod systems.
2.1.           Aspire PockeX Starter Kit
Aspire PockeX is an incredible gadget falling under the category of starter kits. The object is compact, user-friendly and multifunction tool that is ideal for beginners. The refillable tank embedded in the system possess ample storage capacity to fulfill daily needs. Similarly, the compact nature of the Vape pen contributes to its portability and a perfect travelling companion.
Another significant attribute of the system is its stainless steel construction that feels classy and protects it against external damage. The mouth piece is protected with the help of removable sheath that prevents the material from getting dirty after regular exposure to dust and pollutants.
2.2.           Smok V9 Max Starter Kit
Smok V9 Max is one of the best SMOK stick mod. The device has an extremely large storage capacity i.e. up to 8.5 mL of regular liquids. In addition to this, the material is compatible with a wide variety of coil-heads thereby amplifying the overall efficiency of the system. However, the highlighting feature of the model is the 4000 mAh battery.
This large battery possess the capacity to retain power for longer time intervals than most other products available in the market. Moreover, the LED indicator is embedded in the fire button and notifies you regarding the battery status of your apparatus. Refilling the tank is also easier than its previous versions and can be carried out via swivel style top.
2.3.           Voopoo Mojo Starter Kit
Voopoo Mojo is a perfect item for beginners and does not disappoint you in terms of performance and high quality construction. Featuring an unconventional design, the apparatus is lightweight and compact and hence, can be carried around with ease. Furthermore, the fire button is located on top of the OLED screen and adds a sophisticated feel to the overall outlook of the material.
Along with this, the UFORCE tank incorporated in the unit features triple channel airflow system that offers smooth and relaxing vaping experience. The remarkable output is also attributed to the temperature control system for stainless steel and nickel coils that prevents the model from over-heating and generate a consistent output.
2.4.           Voopoo Drag Kit Starter Kits
Voopoo Drag Kit is embedded with an accurate and precise gene chip that possess the firing speed of 0.01 seconds. The unit is not only performance-oriented but also available at an extremely reasonable price range. Along with this, the equipment displays a FIT model which is equipped with three different presets including battery, flavor and clouds.
It is recommended to use these modes on Uforce tanks to improve the quality of the generated output. Similarly, the Uforce tank features three airflow slots that are capable of storing up to 3.5 mL of regular liquid at a time with straight glass. However, it can be increased up to 5mL in case of bubble glass.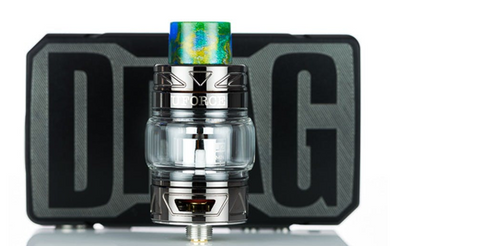 3.     Vape boss E-juice flavors
Vape Boss Wins the game with its variety of delish flavorful range of e-liquids. Some of the prominent brands on Vape Boss are following.
3.1.           Air FACTORY E-Juice
Air FACTORY is a well-recognized Vape juice available on the market. The e-juice comes with a 100ml chubby gorilla unicorn bottle that is durable and prevents it from leakage. Major flavors produced under the trademark include wild apple, strawberry kiwi, Blue razz, berry rush and melon lush etc. The liquid is cheaper as compare to other of its kind and hence can be afforded by majority of the consumers.
3.2.           Dinner Lady E-Juice
Dinner Lady has a unique flavor and comes in a diverse variety of flavor options including apple pie, orange tart, and blackberry crumble. The apple pie features a tinge of spiciness combined with a usual sweet touch. The juice is perfect for special occasions such as Christmas. Contrarily, orange tart is incorporated with a sweet
creamy touch that feels smooth and calming.
3.3.           Pachamama E-Juice
Pachamama is integrated with rich and authentic flavor that offers satisfaction and calm feeling while vaping. Some renowned substances in this regard include Blood Orange Banana Gooseberry which features a combination of various fruits. The intense flavor is nerve calming and offers a sweet taste on inhalation.
4.     How to Contact the Store?
Vape boss offers 24 hours' customer service throughout the week and thus, can be easily accessed when required. In case of queries you can either visit the store located at Carbondale Hwy, Scranton, USA or email the customer support service at info@thevapeboss.com. Apart from this, required information can also be obtained by calling at 5707030121.
5.     Reviews
Vape Boss is famous for its positive customer reviews and always performing up to the mark according to consumer's satisfaction. The customer care services are also top notch and can be accessed anytime by contacting at info@thevapeboss.com or calling at 5707030121. For further inquiries you can also reach out to their physical store via address available on their website. Vape boss has enjoyed great customer satisfaction over the years and is loved by all.
Hence, it can be concluded that Vape boss is one of the bestselling brand for e-juices and Vape mods. The products developed under the brand name are not only performance efficient but also available at extremely reasonable prices that are loved by majority.
6.     FAQs
Is Vape Boss worth it?
Yes, Vape Boss is totally worthy of spending some bucks for save shopping. You can trust the authenticity of Vape Boss as it is the official retailer of your favorite renowned brands.
Does Vape Boss sell starter kits?
Yes, Vape Boss has a variety of options for you to purchase. You can pick your desired ones like Aspire PockeX, Smok V9 Max, Voopoo Mojo and many more.
Is Vape Boss the cheapest online store?
Vape Boss might not be the cheapest online store but it has all your favorites stocked up at significantly low price. You can find your beloved pod systems, kits, e-liquids and other accessories at cheap price.