Name:Vape Attic Olathe
Address:Behind the QuikTrip off Ridgeview at 1323 E Santa Fe St, Olathe, KS 66061
Contact Number:(913) 440-9334
Timings: Monday-Saturday 10AM-8PM
Sunday 12PM-6PM
Facebook:Vape Attic
Instagram:@vapeatticshop
Twitter: @VapeAtticKC
Main Products:E-Liquids, Pod Systems, Starter Kits, Disposable Pens etc.
1.     What is Vape Attic?
Vape Attic is a small vape store located in Olathe that aims to provide best vape services to people of the town. It is a family owned business filled with warmness and homely feels as each customer is personally entertained by the owners. Furthermore, you will observe the friendliest and comfortable environment in the store for both the vape shopping and vaping. They have special in house e-juice line waiting for you to try! In addition to that, you can get your hands on a diverse collection of disposable pens, mods, starter kits, vape hardware's and much more!

2.     Main Products
Vape Attic only collaborates with high quality brands to bring the best vape service to you. You can find some premium range of starter kits, pod systems, disposable pens and other vape accessories. Additionally, there is variety of e-juice flavors to please your taste buds. Furthermore, Vape Attic constantly stocks it up with new and popular products in the vape market.
3.     Best Selling Products on Vape Attic
Some of the best sellers on Vape Attic are mentioned below. However, you can visit the store to find out about new products and others that might interest you.
3.1 Smok Nord 2 Kit Gold Edition
Smok is a brand well known to all vapers as it never disappoints in terms of quality. The Nord pod systems are everyone favorites, whether they are a beginner or a pro vaper. Smok Nord 2 Kit Gold Edition carries the legacy of its decedents in terms of performance and value but with some improvements. It comes with 0.69-inch OLED screen and 1500 mAh battery for increased performance. Furthermore, charging display interface, safety protections, and adjustable wattage are some premium features. So, with all exceptional attributes it makes its way to Vape Attic.
Pros
Long lasting battery.
Ergonomic grip.
Compact and modern design.
3.2   Voopoo ARGUS AIR 25W Pod System
Equipped with advance features and modern design, ARGUS Air Pod System has become favorite of many vapers across the globe. With its 900 mAh of battery, adjustable air flow, selectable dual firing system and two pod options it is undoubtedly the best!  In addition to that, GENE.AI Chipset takes its functioning to the next level. The cartridge can hold 3.8 ml of e-juice that will last you for significant days. Lastly, the safety measures like overtime protection, short circuit protection, overcharge protection and others ensures its longevity and durability. With all the amazing features, it takes the place on Vape Boss.
Pros
Powerful battery.
Exceptional design.
Impressive set of features.
3.3 Aegis Mini Mod
If you are looking for a compact mod that can be easily carried anywhere and effortlessly fit in your pocket, then Aegis Mini Mod is the one to go for. Along with being portable, it is also equipped with impressive performance and brilliant output. Aegis Mini Mod features aluminum alloy construction that makes it sturdy along with the light weight. The construction is further complemented by LSR injection molding technology and an ergonomic leather grip. The 2200 mAh of battery makes it an ultimate power house and just takes 30 minutes to recharge. Additionally, it gives you several output modes and resistance adjustability. The Cerberus Tank is another phenomenal attribute as it can hold 5.5 ml of e-liquid. Lastly, the dust proof, shock proof and water proof nature adds to its value.  Aegis Mini Mod is made available to vapers on Vape Attic because of the great value of money it offers.
Pros
Sturdy built.
Advanced AS Chipset for improved performance.
Charges in 30 minutes.
3.4 Hyde Icon Disposable Vape Pens
Hyde has made its name for manufacturing convenient and highly functional disposables. They are idea for people who don't want to go through trouble of refilling and replacing coils. It gives an amazing 3300 puff count and ensures your every puff hits you right. The vape ensures to keep the cotton dry and prime it only when its ready to be used. By activating the vape, the coils start priming the cotton so you can have some sensational puffs. However, make sure to wait for a minute and two before inhalation. You can also recharge the pen to fully utilize the filled e-liquid. Lastly, you will love the range of flavors it offers from peach mango watermelon to cola ice. Vape Attic loved the convenience and ease of use it offers to vapers and made it available for the purchase.
Pros
Range of flavors.
Amazing puff count.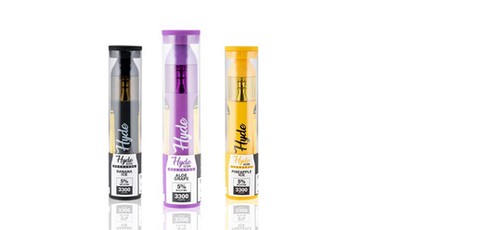 3.5 Delta 8 Vape Additive
This e-liquid has been designed to be mixed with other e-juices to mount their flavor and sensation. It will totally soothe your nerves done leaving a sensational effect. Delta 8 claims that it has been obtained from organic industrial hemp and is synthesized using only premium ingredients. Furthermore, it can also be used in combination with CBD products. In order to use Delta 8 Vape Additive, fill your cartridge with favorite e-juice and top it off with desired quantity of Delta 8 Vape Additive. Due to its multifunctional use it is available for purchase on Vape Attic.
Pros
Can be used with CBD products.
Mounts performance of e-juices.
Made from organic ingredients.
3.6   Custard Monster – Blueberry
Custard Monster is one of the top selling e-juice on Vape Attic. It is adored by several vapers for its perfect blend of blue berries and delicious taste. The sweetness of vanilla custard further enhances its flavor. Thus, it is the mix of sugariness from custard and tanginess from the berries. Furthermore, it is composed of 75% vegetable glycerin (VG) and 25% propylene glycol (PG) base that further enhances the flavoring. Lastly, it comes in the nicotine concentration of 0mg, 3mg and 6mg.
Pros
Original flavor.
Both sweet and sour.
Comes in three different concentrations.
4.     Reviews
Vape Attic has collected numerous positive reviews for its lovely and welcoming customer service. Most reviewers loved the friendly and helping behavior of the staff. Furthermore, customers also rave about their reasonable pricing and great range of flavors. If you are beginner, feel free to visit their store and receive some crucial guide regarding products to start with. Moreover, you can also save yourself some bucks as they offer the lowest pricing.
5.     UPENDS
UPENDS is the new market sensation because of its unique and intuitive approach towards refining vaping and the vape products. UPENDS pursues minimalism in the design and functioning to make vaping affordable, simple and hassle free for everyone. Along with that, UPENDS also maintains the standard quality to ensure you have pleasant vaping experience. Let's have a look at some of their popular pod systems that are worth the try.
5.1  Upcott
Upcott might be the simplest vape one can find in market. It is amazing at what it is crafted for, which is vaping! Upcott features a minimalist design and that's how it cuts 50% of the overall cost. It is significantly low priced as compared to competitors. Furthermore, the Upcott comes filled with organic cotton to ensure proper functioning. The cotton filter located in the mouthpiece maintains flawless puffing and eliminates risk of leaking, popping, condensate and spitting. You can easily replace the emptied pod with a new one. Lastly, it is easy to charge as well.
5.2  Uppen
Uppen is a pen shaped pod systems with modern and classic design. It has simple functioning but is complemented by advanced features. Etchip™ coil located near mouth piece is equipped with high resistance mesh that ensures saturated first draw and concentrated puffs. Furthermore, mesh coil is also located at the bottom to maintain the uninterrupted flow of e-liquid. The pen has magnet connection to ensure the pod is secured properly. The cap of the pods keeps the mouthpiece and e-juice safe from any bacterial contamination.
Summing up, Vape Attic is a reliable and trust worthy vape store for stocking up the vape supply. Plus, their reasonable pricing is another prominent aspect that attracts more customers. If you are still doubtful about their quality and service, then UPENDS can be your save escape. Their pod systems have won our recommendation and trust me, they will leave you in awe. So, head over to their website and shop now!
6.     FAQS
Where is Vape Attic located?
Vape Attic is located on QuikTrip off Ridgeview at 1323 E Santa Fe St, Olathe. It is the only authentic vape store in Olathe that houses premium and original products. Furthermore, the friendly staff is the cherry on top.
Is Vape Attic authentic vape store?
Yes, Vape Attic is an authentic and reliable vape store that is a one stop shop or all the vape products. You can find premium range of mods, pod systems, e-juices and other vape hardware's.
What is Vape Attic phone number?
To contact Vape Attic you can call them on (913) 440-9334. You will surely get an amazing customer service that will timely answer your inquiries.