Disposable vapes are vaping equipment developed and supplied by different vape equipment developers. Because there are a number of vapers who need vaping equipment, there is a rising demand; therefore, many developers are out to develop different vaping equipment, including counterfeit ones. Due to this, you need to get a brand that you can trust. This article is out to guide you to one of the vape equipment suppliers and developers, Vampire Vape, that you can count on.
Here is more on Vampire Vape;
What is Vampire Vape?
Vampire Vape is a popular brand of e-liquids and vaping products. They are recognized for their wide range of flavors and high-quality ingredients. Vampire Vape originated in the United Kingdom and has gained a significant following within the vaping community.
Their e-liquids are typically available in various nicotine strengths and come in both freebase nicotine and nicotine salt formulations. Vampire Vape offers a diverse selection of flavors, including fruit, dessert, menthol, and tobacco blends. Some of their popular flavors include Heisenberg, Pinkman, Blood Sukka, and Bat Juice.
In addition to e-liquids, Vampire Vape also produces vaping hardware, such as tanks and coils, to complement their products. Their aim is to provide vapers with a satisfying and enjoyable vaping experience.
It's important to note that while Vampire Vape's products are designed for adult smokers and vapers, it's always advisable to follow the laws and regulations regarding vaping in your jurisdiction and use these products responsibly.
Vampire Vape Disposable Vapes Review
Among the many pieces of vaping equipment that vape vampire stocks are disposable vapes. They stock a wide array of disposable vapes that differ in different features like size, flavors, nicotine strength, and even developer.
Here are the best disposable vapes from Vampire Vape;
SKE Amare Crystal ONE Disposable Vape
SKE Amare Crystal ONE Disposable Vape appears on the top list of the vampire vape disposable vaping equipment list. This device is unique with unique features that make your vaping experience unique.
SKE Amare Crystal ONE Disposable Vape is fitted with a mesh coil. This coil provides a base for the conversion of the e-liquid into an inhalable vapor. Because of the efficiency of this coil, you are assured of enjoying the real flavor that you choose with an acceptable amount of clouds.
Each SKE Amare Crystal ONE Disposable Vape comes pre-filled with 2ml of 20 mg/ml nic salt, providing a smoother vaping experience. The powerful 500mAh battery guarantees ample usage, offering up to 600 puffs before disposal. Its draw-to-vape inhale mechanism simplifies operation, making it effortless to use.
Features
2ml E-liquid capacity
600 Puff count
500mAh Capacity Battery
Draw-Activated
Variable Flavors
Flavors
Blue Fusion
Blue Razz Lemonade
Blue Razzle Cherry
Blueberry Buzz
Mango Madness
Kiwi Passion Fruit Guava
Lemon and Lime
Luscious Madness
Pineapple Ice
Pink Grapefruit
Pink Lemonade
Strawberry Kiwi
Crazy Blue
Watermelon Lemon Burst
Fruity Guava
Double Apple Explosion
ELFBAR 600 Disposable Vape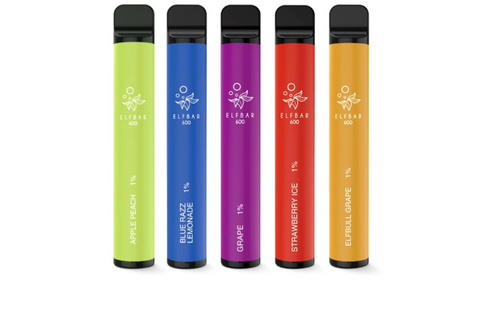 Experience the enhanced version of the chart-topping ElfBar 600 disposable vape with the introduction of the 10mg nicotine salt option while still retaining its exceptional range of flavors. With the identical 550mAh battery, the ElfBar 600 10mg ensures consistent performance and a satisfying all-day vaping experience. If you prefer a smoother and more mellow vape, the new 10mg variant is specifically crafted for your enjoyment.
Indulge in the delightful 10mg nicotine salt e-liquids, available in the same fantastic range of flavors. The 550mAh battery guarantees long-lasting vaping sessions that span throughout the day, providing a reliable power source for uninterrupted satisfaction. Delight your taste buds with delicious taste profiles while experiencing a smooth throat hit.
With the ElfBar 600 10mg, simplicity is key. The device features draw activation, eliminating the need for buttons or complex settings. Just inhale and savor the flavors. Furthermore, you can enjoy up to 600 puffs from a single device, making it a convenient and hassle-free option for on-the-go vaping.
Key Features
550mAh Capacity Battery
10mg Nicotine Salt liquid type
600 puff count
Smooth Throat hit
Variable flavors
2ml E-Liquid Capacity
Flavors
Blue Razz Lemonade
Blueberry
Blueberry Cranberry Cherry
Blueberry Raspberry
Blueberry Sour Raspberry
Apple Peach
Banana Ice
Cherry
SKE Crystal Bar Disposable Vape
SKE Crystal Bar Disposable Vape is yet another disposable vape from Vampire Vape. This disposable vape allows you to experience the enhanced taste and exceptional vaping performance. Equipped with a high-performance 1.2 Ohm Mesh coil, this disposable vape delivers an improved flavor profile that will delight your taste buds. Powered by a robust 500mAh battery, it provides a satisfying vaping experience that can last all day, boasting an average of 600 puffs per device.
The SKE Crystal Bar is available in a wide selection of 36 delicious flavors, all of which are enhanced by the advanced Mesh coil technology. This innovative coil design ensures optimal flavor delivery, allowing you to fully savor each puff. With 20mg of nicotine salts, you can also enjoy a smoother vaping experience.
Designed for convenience, the SKE Crystal Bar features a unique crystal casing with an aluminum base. Not only does it appear sleek and stylish, but it also adds durability to the device. With its 11W power output, you can expect consistent performance and satisfying vapor production. Embrace the pleasure of vaping with the SKE Crystal Bar disposable, combining technology, flavor, and longevity in one exceptional device.
Key Features
2ml E-liquid Capacity
600 Puff Count
Crystal Casing
500mAh Capacity Battery
Flavors
Banana Ice
Blue Razz Lemonade
Blueberry Cherry Cranberry
Blueberry Peach Ice
Blueberry Sour Raspberry
Cherry Ice
Cola Ice
Fizzy Cherry
Fresh Menthol Mojito
Gummy Bear
Green Grape
Kiwi Passion Fruit Guava
Lemon & Lime
Lemon Peach Passion Fruit
Black
Peach Ice
Pink Lemonade
Rainbow
Red Bull Ice
Sour Apple Blueberry
Sour Blueberries
Strawberry Ice Cream
Tiger Blood
Vimto Energy
Watermelon Strawberry Bubblegum
Geek Bar Disposable Vape
Discover the exceptional Geek Bar disposable 20mg, the top-selling puff bar offered by Geek Bar, and indulge in a wide array of delectable flavors. With its pre-charged 500mAh battery, the Geek Bar 20mg delivers a powerful vaping experience, allowing for up to 575 puffs of pure satisfaction.
Unleash the freedom of all-day vaping with the Geek Bar disposable 20mg, ensuring an abundance of enjoyable puffs. Its robust 500mAh battery guarantees reliable performance and longevity, providing an extended vaping session without the need for recharging.
Each Geek Bar disposable 20mg comes pre-filled with 2ml of 20mg nic salts, delivering a smooth and satisfying nicotine experience. Get yourself in a world of flavors as you explore the diverse range of options available.
Key Features
2ml e-liquid capacity
575 puff count
20mg Nic Salts
500mAh Capacity Battery
Flavors
Banana Ice
Blackcurrant
Menthol Blueberry
Bubble Gum
Blueberry Cotton
Candy Blueberry Ice
Blueberry
Sour Raspberry
Blue Razz
Lemonade Energy Ice
Grape
Green Mango
Guava Ice
Kiwi
Passion Fruit
Lemon Tart
Lychee Ice
Mango Ice
Menthol
Passion Fruit
Peach Ice
Pink Lemonade
Sour Apple
Strawberry
Ice Cream
Sweet Strawberry
Tobacco
Watermelon Ice
Elux Bar 600 Disposable Vape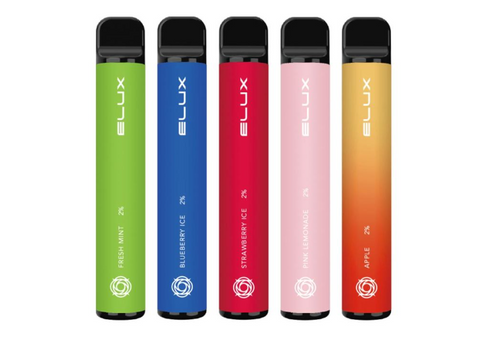 Elux Bar 600 Disposable Vape is also among the best disposable vapes from Vampire Vape. It is available for you in 30 refreshing summer flavors. This vape pen is powered by a 550mAh capacity battery and will provide you with up to 600 puffs of flavor. You can enjoy an uninterrupted vaping experience with this device, as it features a draw-activated inhale. Once your device is empty, simply dispose of it responsibly.
You can expect up to 600 puffs from the Elux Bar 600, thanks to its reliable 550mAh battery. This ensures that you have a long-lasting and nourishing vaping experience without worrying about running out of power.
The Elux Bar 600 Disposable Device comes pre-filled with 2ml of e-liquid, containing 20mg of nicotine for a satisfying hit. It's a convenient and ready-to-use option, allowing you to dive straight into the flavors you love.
Key Features
2ml E-liquid Capacity
550mAh Capacity Battery
600 Puff Count
30 variable flavors
Flavors
Soft Drinks
Ice Cream
Fruity
Berries and many more
Why Choose Vampire Vape
Wide Range of Flavors - Vampire Vape offers a diverse selection of e-liquid flavors, catering to your specific tastes and preferences. Whether you enjoy fruity, menthol, dessert, or tobacco flavors, Vampire Vape provides a range of options to suit your palate.
Established Reputation - Vampire Vape has built a strong reputation in the vaping industry over the years, earning the trust of many vapers like yourself. Their longevity and positive customer reviews are a testament to the quality of their products.
Nicotine Strength Variety - Vampire Vape offers e-liquids in different nicotine strengths, allowing you to choose the level of nicotine that suits your preferences. Whether you prefer higher nicotine for a stronger hit or lower nicotine for a smoother experience, Vampire Vape has options for you.
Innovative Flavors - Vampire Vape continuously introduces new and exciting flavors, showcasing its creativity and commitment to providing unique vaping experiences. You can always look forward to trying their innovative flavors and discovering new favorites.
UPENDS: Wholesale vape Equipment Supplier
UPENDS is a wholesale disposable vape store that offers a wide range of disposable vape devices for purchase. They specialize in providing high-quality and affordable options for vaping enthusiasts. UPENDS aims to cater to the needs of both retailers and individual customers by offering a variety of disposable vape products in different flavors, nicotine strengths, and designs. Whether you're looking for traditional tobacco flavors or more unique and exotic options, UPENDS strives to provide a diverse selection to suit various preferences.