The Uwell Soulkeeper is an uncontrolled mech mod with multiple types of batteries 18650, 20700 and 21700. The versatility is not new, but the Soulkeeper does it from a unique perspective. The Delrin sleeve makes the mod compatible with a 20700 or 21700 device's 18650-compatible.
It has a safety chip installed in its all-brass frame, which makes it not fully mech mod. The chip uses an electronic switch to make contact between the negative cell side and the button. This reduces battery degradation.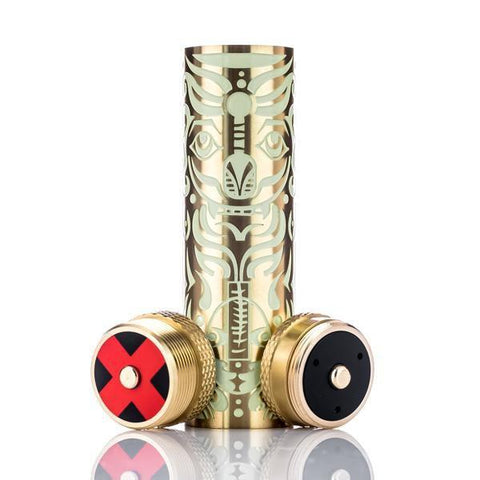 It comes in different colors; it's upon you to choose the one you prefer between fluorescent, black and white. It has an estimation measurement of 4 inches long and a base diameter of 25.6 mm. Furthermore, it features a stainless steel 510-connection with a firing switch at the end.
There are two pinned air holes for battery ventilation, and electronic control is based beneath the button, which clicks when the user depresses it. The button-click is one of the unique designs of the Soulkeeper.
There is a LED light on the lip to signal battery life; green shows full, blue shows half full and red shows a recharge of the device. The bigger diameter is wide enough to take 24 mm diameter, providing tanks without overhang. The two switching ends add the mod's length to access large-sized batteries.
There are other multi-battery mods that use separate inserts like plastic or Delrin in which the user may input or remove according to the user preference. Some may come with the device already inputted in the mod. This may give you a good vaping time if you don't prefer the other inserts.
Uwell Soulkeeper has latter which make it a gorgeous mod when you prefer it to other mods. The Derlin sleeve makes the mod compatible with 20700 and 21700 batteries, as it comes ready to take 18650 only. 
You can unscrew the firing switch together with 510-connection, switch the them around by putting the firing switch on the opposite side and the 510-connection where the firing switch is located. Instantly the mod will be ready to take 20700 and 21700 cells.
Specs and Design of Uwell Soulkeeper
Uwell Soulkeeper is wholly coated with a brass construction to prevent the brass smell. It has a streamlined design that measures 25.6 mm by 93.5 mm. It has an impressive proprietary chipset with an output of 110W maximum wattage.
Battery compatibility of 18650/20700/21700 allows you to choose which taste of running the mod with. Has it also has a LED indicator to show the battery life. Green shows a high charge, blue plays a medium battery life and red shows a low battery, so connect to charge.
It has integrated protection to protect the device from voltage damage. A short circuit through the mod has low power, the course is open, has temperature protection to prevent overheating and reverse battery protection, preventing battery damage.
Features of Uwell Soulkeeper
Have a LED light to show battery life level
Have multiple protection features make the Mech Mod tube safer

An output of 110W maximum output

  Several compatible batteries 18650, 20700,21700

Safety chipset places the mech mod as one among the advanced.

Uwell Soulkeeper has a complete brass construction

An innovative electronic switch

510-connection

 Come in three colors; fluorescent, dark and white
Ease of Use of Uwell Soulkeeper
Uwell Soulkeeper mod has battery compatibility, with a maximum wattage of 100W and allows you to choose one to choose between 18650, 20700 and 21700. When vaping or while on a charge, it is easy to show the battery percentage since it has a LED light indicator, have chip protection to prevent the battery from degradation.
Multiple protection features enhance user safety. Have a technological electronic switch, which it's incredibly comfortable to have an excellent vape experience.
Have a coating texture, smooth taste and resistance to fingerprints. The innovative electronic switch fires faster, and it's safer. It eliminates arcing and increases the battery life percentage.
Performance of Uwell Soulkeeper
Uwell Soulkeeper is the first unregulated mod to have safety features. This helps you if you are a new user of mechanical and unregulated devices and don't want to damage yourself or the batteries. The features include; short circuit protection, overheating protection, discharge protection, and the wattage output is not above 110W.
It has a protective tube inside the mod, which protects the battery in case of shortage. It's highly advised practicing battery safety measures to protect the battery and for your benefit as the user.
The beautiful thing about this Mech Mod is, its battery has a long life when vaping. The LED light is a good indicator on the battery life; green=100%-60%, blue=60%-30% and finally red= below 30%.
The button is very clicky, not like other devices whose buttons are mushy to operate. Unlike other regular mods, the hybrid mechanism mod has a 510-connection which is gold-plated. The Uwell Soulkeeper has two pinned holes around the battery area for ventilation. This keeps the battery cool. 
Pros and Cons of Uwell Soulkeeper
Pros
Have a beautiful designed

  It's effortless to use

Supports three battery set up

 Innovative battery configuration

   Have safety features

Well-built from quality materials like brass

The fire button is nice and clicky, as most mech mods

LED battery indicator shows the battery life

It's impressive the way they have designed the battery set up. It's gorgeous
Cons
   Limited color selection.

Misses technical specifications

 It cannot shut off. This isn't good, especially for those who want to put it in the pocket.
FAQs
How good is Uwell Soulkeeper?
Its mech mod designed with a chipset improves your safety when using the kit.
How friendly is the Uwell Soulkeeper?
The mod is super impressive, easy to operate and in case you need to change the battery mode, you need to switch the fir button with 510- connection.
How different is the Uwell Soulkeeper mech mod from other mods?
It has a stunning look, which could have a white, dark or fluorescent color. The mod is made with a brass wholly, have a bigger diameter to hold the large batteries and a tank in which the E-fluid is filled.
Upend Ads: Upcott
The Upcott pod is the best e-cigarette out there for someone who needs an effective and easy way to solve their leaking problems. The pod is made of organic cotton, which discourages all the sticking and spittoons familiar with other types of e-cigarettes.
All you have to do is fill it with your favorite e-liquid and twist the top. Wait a few seconds while the cotton absorbs the e-liquid, making a much faster piece of equipment to vape with no smell or mess. This product can be used both outside and inside the house and on the go.
Conclusion
The Uwell Soulkeeper is a gorgeous, exceptional-made which is semi-mechanical. The mod is impressive since it can use several batteries in tone drawing. This is remarkable, since the way it achieves all this is by its beautiful design.
To change battery compatibility of 20700 or 21700 is just by switching the fire button with 510-connection. The outer appearance is dignified. It takes unique looks of wholly solid-white to solid-dark to fluorescent with a wild, chaotic layer that lights up at night.
The Mech Mod may seem to consider only one appearance design, but the look is stunning in its simplicity. With this Mech Mod, the most admirable thing is that they have an effective safety chip to protect against common mech mod problems. The Soulkeeper is not fully Mech-mod to attract more vapers to try this mod. It has very innovative safety regulations for your safety when vaping.
If you are looking to enter the world of unregulated devices, this world is perfect for you. If you are already in the vaping world, and you want something easy to use, this is the best mod for you. The battery has a good sign of battery life, and no worry when vaping.