As a vaper, you need to be familiar with the vaping device and the regularly used e-juice. E-juices can be used in different devices, but each device has its specifications and specific features.
Most of us will agree that UWell Crown 4 is one of the best vape mods that we have today. Therefore, make it a point to read Uwell Crown 4 kit reviews following its instructions and know exactly what they are all about.
Specs and Design of Uwell Crown 4 Kit
The Uwell Crown 4 is the newest replacement atomizer for the original Uwell crown tank. This is the latest version of the former top-rated tank, which has been completely redesigned to include a new coil system and carry over all the best features from the previous version. The Uwell Crown IV has received a unique coil design with a similar configuration as before.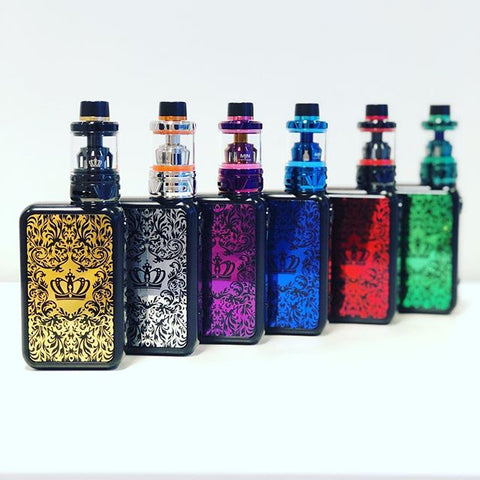 New 4 coil heads are now compatible with 100% VG E-Juice, are easily replaceable, and feature organic cotton wicks for optimal flavor and vapor production. Sharp arrow-shaped external airflow tanks now accompanied this New 4 coil setup for superior airflow and flavor delivery. Other features include adjustable top airflow control, convenient top-fill & leakproof design for easy use.
The Uwell Crown 4 is one of the hottest vape tanks on the market today. It has an excellent design, and it is straightforward to use. It comes with a resistance of 0.1 to 3 ohms, and it has temperature control features and an RBA (rebuildable atomizer).
Features of the Uwell Crown 4
Uwell Crown 4 Starter Kit combines all the prominent features of the previous Uwell Crown III and an updated chipset to make a vape kit much more intelligent! The mod comes in a variety of different colors and is easy to hold and use. The mod has a 1inch LED light display that looks fantastic and will turn heads wherever you use it.
It takes dual 18650 batteries that you can easily remove with a magnetic battery cover. The batteries are sold separately and can be either purchased at the same shop or online.
Whether you call it a clearomizer, tank, or vape pen, the Uwell Crown 4 Kit will fit all your vaping needs. It comes with a 25 mm base featuring an exclusive plug-pull mechanism for ease of use and replacement. Please note that it is compatible with Crown 4 coils only (not included). Made of stainless steel and Pyrex glass, it carries and ensures the durability of the liquid - which is the heart of vaping.
Like its predecessor, the Uwell Crown, the Crown 4 is a single button/firing system regulated mod that is easy to use and simple to learn. Its intelligent memory functionality means the complete process of firing and controlling your current vape state can be performed by a single button, meaning less time spent navigating through menus and screens while vaping.
Ease of use of the Uwell Crown 4
The Uwell Crown 4 is one of the most advanced portable vapes on the market and is the perfect travel piece to pair with your favorite pair of jeans or slip-on shoes. The sleek and portable design makes it easy to take anywhere you enjoy an outstanding vaping experience.
The extra-large capacity battery provides hours of continuous use before you need to recharge it, providing you with the convenience of having it waiting for you when you get home from work or even asleep.
The unique water-resistant body allows you to use the device in the shower or while swimming, ensuring that all the water is drained from it before using it again.
Vapor production
The clearomizer was designed to mitigate many ugly problems that vapers have long hated about the old cartomizer design: low vapor production, dry hits, unpleasant aftertastes, leaking, and more. Yet unfortunately, because of their simplicity, most clearomizers out there today are clunky or under powered for more serious vapers.
The Uwell Crown 4 seeks to change all that by producing mouth-watering vapor in a small package that can fit easily into your pocket where you'll barely notice it is there. Here's a quick rundown on how easy the Uwell Crown 4 is to use, as well as some of what we like about it and some of its shortcomings.
Performance of the Uwell Crown 4 Kit
The Uwell Crown 4 is the crown jewel of tanks. It's a top contender for the best vape tank on the market and for a good reason. This tank is effortless to fill, has an easy-to-use top-fill design, and has a tasty flavor like no other. The Uwell Crown 4 is my favorite sub-ohm tank right now because of its versatility and ease of use.
Many vapers who want a tremendous sub-ohm experience don't want to deal with "fiddling around" with complex coil builds. They look at sub-ohm tanks as the easiest way to get that type of vaping experience. 
Pros and Cons of Uwell Crown 4
There are some clear advantages of the Uwell Crown 4 kit over other similar tank kits. The first and most crucial advantage is build quality. All Uwell tanks are made using the same high-quality components.
This kit isn't merely good-looking; it also functions well and looks elegant in use. The design is indeed very nice and not at all like that of many other similar tanks currently on the market
The assembly process is simple and requires only essential tools; no special skills are needed. The only necessary items are time and patience. In short, the Crown 4 kit is a device that enhances your vaping experience by offering many features at an affordable price.
Review and Instructions of the Uwell Crown 4
The Uwell Crown 4 is the new generation of portable vaporizers. It features a revolutionary single-piece design that creates an efficient and effective dry hit, even for advanced users.
The device is easy to use and comes with many useful features such as fractal patterns for flavor delivery, an advanced heated chamber, plus usable controls.
The area around the mouthpiece has been redesigned to improve airflow and reduce the likelihood of any dry hits. The red LED light that indicates battery charging also has been moved to the battery door, which makes carrying.
FAQs
How do you use the new Uwell Crown 4 tank?
It is effortless. All you have to do is open the box and take it out. As soon as you see that this kit is complete, you need to fill your tank with e-liquid. It has a Big E-juice capacity. Your E-liquid will last for a long time. After filling the tank with e-liquid, you can start vaping.
If you add less e-liquid in the tank, it will last longer. You notice this tank has adjustable airflow so that you can adjust your airflow depending on your preference. The airflow control is effortless, and it works perfectly fine; make sure not to change the wheel by force.
UPENDS ADS
UpoX
UpOX produces an exceptional vaping experience for people looking for a better alternative to cigarettes. It's smaller than most pod systems and allows you to take it with you anywhere.
It packs six cold hits into one pre-loaded pod which gives you the entire major spectrum of tobacco flavors at an affordable price.
Conclusion
The Uwell Crown 4 kit is an excellent choice for anyone looking to vaping. It is a very well-designed and constructed device. The build quality is perfect, the tank is thick and robust, and the design is suitable for both people who are more interested in flavor than volume and people concerned about the aesthetics of their tank. The error-free new building method delivers an excellent vaping experience, without a doubt.