Established in 2015, UNO stands out as a prominent vape disposable brand that quickly rose to fame in the vaping industry. With a global reputation, the brand consistently meets the growing demands of vape users by expanding its network and diversifying its product range.
UNO takes pride in its distinctive offerings, carefully crafted to prioritize customer convenience and usability. Leveraging innovation and technology, UNO remains committed to continuous improvement, ensuring maximum satisfaction and exceptional performance for its users.
Each disposable vape guarantees an enjoyable vaping experience, delivering flavorful, high-quality, and long-lasting puffs. As a result of these exceptional features, UNO has earned recognition and multiple award nominations from esteemed institutions.
UNO Vape Disposable Products
UNO Mas Disposable Vape
UNO Mas Disposable stands out as an exceptional option among disposable vapes. With an impressive selection of distinctive fruity flavors and a remarkable capacity of 2000 puffs, there's a constant stream of new and exciting options to explore.
Beyond the extensive range, UNO Mas Disposables offer a satisfying throat hit that is hard to match among single-use vapes. Each device comes filled with 4ml of vape juice containing 5% Salt Nic, catering to the preferences of all users within their diverse collection.
Features
4ml Capacity:
24 Available Flavors
5% (50mg) Salt Nicotine
1200 Puffs
870mAh Battery Capacity
Flavors
LUSH ICE

: Experience the refreshing combination of crisp watermelon and strawberry, complemented by a cool menthol touch.

ICED PEACH:

Savor the delightful blend of sweet peaches infused with an invigorating menthol kick.

PASSION FRUIT MANGO

: Indulge in the delectable fusion of tangy passion fruit and luscious mango, packing a flavorful punch.

PINA COLADA

: Transport yourself to the tropics with a delightful mix of coconut and pineapple, creating the ultimate vape cocktail.

PINK LEMONADE

: Delight in the summery treat, striking a perfect balance between sour undertones and sugary sweetness.

STRAWBERRY YOGURT

: Relish the velvety, creamy yogurt intermingled with the freshest strawberry goodness.

GRAPE

: Satisfy your cravings with the perfect blend of sweet, tart, and juicy grape in every single draw.

ICED LYCHEE

: Enjoy the sweet drops of lychee juice infused with subtle hints of menthol for a refreshing twist.

ICED BANANA TAFFY

: Experience the nostalgia of banana-flavored taffy, heightened by a cooling icy sensation.

ICED BLUEBERRY

: Revel in the delightful mix of blueberry goodness accompanied by a rush of menthol freshness.

CUSHMAN

: Immerse yourself in a ripe, juicy mango explosion for those seeking a bold and powerful flavor experience.
UNO Magnum (6000 Puff – 9ml)
This upgraded version offers an impressive 6000 puffs, catering to the demand of avid vapers. Based on the well-loved Uno Mas vape, it retains the familiar flavors you adore but comes with the added advantage of 5% Tobacco Free Nicotine (TFN).
With the UNO Magnum, you can enjoy days of uninterrupted vaping pleasure, thanks to its long-lasting 1300mAh built-in battery and a massive 9ml pre-filled pod filled with delicious e-liquid that will leave your taste buds craving more. The use of Tobacco Free Nicotine (TFN) enhances the flavor experience, allowing the full range of tastes to shine through compared to traditional tobacco-derived nicotine.
Features
9ml E-liquid capacity

5% (50mg) Synthetic Salt Nicotine

1300mAh Battery Capacity

6000 Puffs

10 Available Flavors
Flavors
Blue Razz Slushie

: A nostalgic blend of sweet and tangy blue raspberry, reminiscent of a refreshing slushie. Provides a cool, summery vaping experience with a burst of berry goodness.

Strawberry Yogurt

: Delivers a balanced and delightful combination of yogurt's creaminess and fresh strawberry sweetness.

Cool Mint

: A straightforward, crisp mint flavor offering a refreshing and cooling sensation. Ideal for those seeking a simple, yet revitalizing vaping experience with a touch of menthol.

Jungle Juice

: An exotic and tropical fruit medley, that blends various fruity flavors. It is a thrilling and unpredictably fruity vaping option that takes you on a voyage through a luscious forest of flavors.

Blueberry Lemon Ice

: A harmonious fusion of sweet blueberry and zesty lemon, enhanced with a cooling menthol finish. Offers a tantalizing mix of fruit flavors, complemented by an icy twist, creating a refreshing and delightful vape.
UNO Eclipse (2500 Puffs-7ml)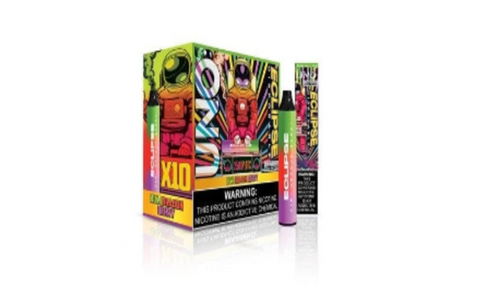 From the very first inhale, it becomes evident that UNO Eclipse stands out as anything but an ordinary disposable vape. It's robust construction and high-quality design immediately set it apart, providing a delightful and sophisticated taste experience.
With an impressive 2500 puffs and an extensive range of flavors, UNO Eclipse is bound to entice you to reorder. The device's sleek appearance only adds to its allure. It boasts a built-in prefilled 7ml tank and a powerful 1100mAh battery, ensuring a satisfying vaping experience.
Features
2500 Puffs

5% Nicotine Strength

7ml Salt E-liquid Capacity

1100mAh Battery
UNO Charge 5000 Puffs (11ml)
This distinctive rechargeable disposable device stands out with its sleek, jagged edges, providing a refreshing and modern appearance while ensuring a secure hold.
CHARGE exemplifies the concept of "big things in small packages," as it is conveniently portable and comes with an impressive 11ml tank. Each flavor offered is both refreshing and full of juiciness, and you can enjoy every last drop by recharging the battery using a Type-C USB cable.
Features
650mAh Battery

11ml Salt E-liquid Capacity

5% Nicotine Strength

5000 Puffs

Type C USB Port
UNO 4K
The UNO 4K introduces a thrilling array of fresh flavors and enhancements compared to the standard UNO Mas disposable. With a generous 9mL capacity of 5% salt nicotine e-liquid, it offers over three times the puff count, boasting an impressive 4000 puffs.
Additionally, the device is equipped with a powerful 1350mAh battery, ensuring it lasts for days. As an added benefit, the UNO 4K version features a square shape with rounded edges, preventing it from rolling like other disposables.
Features
1350 mAh Battery

9 ml Salt E-liquid

4000 Puffs
UNO NOX
UNO NOX is a top-tier disposable pod, offering an array of expertly crafted flavors in a compact, stylish, and inconspicuous device. It has garnered significant attention in the industry and has earned a devoted following due to its distinctive features. This pocket-sized gem delivers all the pleasure of vaping without any of the complexities.
With a prefilled 2ml built-in tank, there's no need for refills, allowing you to relish up to 600 puffs. The device is equipped with a built-in 500mAh battery, ensuring even heating of your 20mg nicotine-strength e-liquid for impressive cloud production. Choose from the tempting selection of 12 flavors and indulge in the delightful taste with every puff!
Features
20mg nicotine

600 Puffs

500mAH battery
FLAVORS     
Keylime Pie: A dessert-inspired flavor reminiscent of a classic key lime pie, featuring a blend of tangy lime and sweet graham cracker crust.
Kiwi Dragon Berry: Attracts vapers seeking an adventurous and fruit-forward experience that takes them to exotic destinations.
Mango Blast: A favorite choice among vapers who crave the taste of tropical fruits and enjoy a refreshing vaping experience.
POG (Passionfruit-Orange-Guava): Appeals to vapers who appreciate tropical fruit flavors and desire a complex, fruit-forward vape.
Strawberry Watermelon: A popular choice for vapers seeking a summery and fruity vaping experience.
Related products
UpBar GT
With a look that is reminiscent of high-end sports cars, the UpBar GT is a fashionable vaping gadget. Along with its alluring lines and embellishments, its slim and sleek body gives it a striking appearance.
The UpBAR GT pods carry 20 mg of nicotine and have a 2ml e-liquid capacity. About 600 puffs can be obtained from each of these mesh coil-equipped pods. A number of tastes are available for the UPENDS UpBAR GT.
Features
2ml E-liquid capacity
50VG/50PG E-liquid ratio
2% nicotine salt
Coil: 1.4ohm mesh
410mAh Battery capacity
600 puffs
Draw activated
FAQs about UNO Vape
What flavors does UNO Vape offer?
UNO Vape provides a diverse selection of flavors, ranging from classic fruit blends to unique and refreshing combinations. Flavors may vary depending on the product line and availability in your region.
How long do UNO disposable vapes last?
The longevity of UNO disposable vapes varies based on the product and usage, but they typically offer several hundred to a few thousand puffs before running out of e-liquid.
Do UNO Vape products contain nicotine?
Yes, most UNO Vape products contain nicotine in various strengths, catering to different preferences, including options for both regular and salt nicotine.
Best Vape Wholesale Supplier-UPENDS
Greetings from UPENDS, the leading provider of cutting-edge vaping technology. Our goal is to offer superior, cutting-edge goods that give users the best possible vaping experience. To deliver you the very best in flavor, design, and technology, our team of professionals is dedicated to constantly pushing the limits of vaping.
The award-winning UPENDS Plus, a stylish, refillable pod system that offers greater flavor and performance, will be available to you as an agent of UPENDS. Be a UPENDS agent today to join our quest to transform the vaping business.
Relax for a moment and get ready to enter a world where ingenuity, style, and wonder combine to create an unforgettable experience that will leave you wanting more.