Welcome to the world of Understanding RDA Vape Technology! In the rapidly evolving realm of vaping, Rebuildable Dripping Atomizers (RDAs) have emerged as a revolutionary choice for enthusiasts seeking unparalleled customization and performance. This introduction will delve into the key aspects of RDA technology, exploring how it works, its benefits, and the thrilling experiences it offers to vaping connoisseurs.
What is an RDA Vape?
RDA stands for rebuildable dripping atomizer, and it is a component used in electronic cigarettes. Novice vapers quickly become familiar with atomizers and their functionality. In an RDA, users have the opportunity to construct their own coils and install the wire manually.
To use the e-liquid, it is dripped directly onto the cotton and wire. The vapor is then drawn up through the mouthpiece, or drip tip. Typically, vapers transition to RDAs after experimenting with cig-alikes and vape pens, seeking a more potent and flavorsome vaping experience.
RDAs are specifically designed for use with Mods, which are advanced personal vaping devices. These Mods are considered the pinnacle of vaping experiences and are larger than vape pens, adopting various shapes such as tubular, box-shaped, or resembling an egg or pod.
They possess more extensive batteries, delivering higher power output. Moreover, Mods offer a wider range of functions, granting users greater control over different aspects of vaping. The introduction of Mods revolutionized the vaping world, and shortly afterward, RBAs, RDAs, and RTAs (rebuildable tank atomizers) were introduced, turning vaping into a dedicated hobby.
Types of Rebuildable Atomizers
RBAs refer to rebuildable atomizers, which may or may not include a tank or storage for e-liquid. Users manually drip the liquid onto the coils or utilize a storage tank to vape through coils they construct themselves.
RDAs are the most user-friendly among rebuildable atomizers, boasting the best airflow and vapor production. This makes them the typical first choice for vapers transitioning from cig-alikes. While there are other options with subtle yet significant differences, RDAs generally lack e-liquid storage.
Some individuals prefer Squonk atomizers, used with special mods known as squonk mods or squonk boxes. These devices have a design similar to RDAs, but they feature a hollow center pin for dispensing e-liquid from a soft bottle below to moisten the cotton.
RTAs are rebuildable tank atomizers that come with a tank for holding e-liquid, with users still building their coils. Vapers who find the frequent replenishing of e-liquid inconvenient often favor RTAs. However, the build deck is typically smaller than that of RDAs, which could be a drawback for enthusiasts who enjoy building. Additionally, RTAs may have inferior airflow compared to RDAs, as the coils are submerged in the tank.
RDTAs, or Rebuildable Dripping Tank Atomizers, serve a similar purpose to RDAs as they are used for dripping. They share similar rebuild deck design and performance characteristics.
Choosing the Right Rebuildable Atomizer: A Comparison of RBA, RDA, and RTA Options
RBA vs RDA:
RDAs are a type of RBAs where e-liquid is dripped manually onto the coils.
RDA vs RTA:
RDA: The coils and wicks are manually dripped with e-liquid.
RTA: Uses e-liquid from a storage tank, which typically has a capacity of five milliliters as opposed to an RDA's three to five puffs.
RDTA vs RDA:
RDTAs work like RDAs but have a storage tank, eliminating the need for dripping while maintaining similar performance.
RTA vs RDTA:
RTAs and RDTAs are both rebuildable tanks.
RTAs employ a chimney and bell system and have the deck underneath the atomizer.
RDTAs often have an open deck for wick installation on top of the tank.
How to build an RDA
Rebuilding an RDA or RTA might initially pose a challenge, but with practice, it becomes second nature, allowing you to create great builds quickly. To help with the process, remember the following advice:
Connect the deck to the mod using the provided screws for convenience. For a basic center build with four posts, it's best to space the coils. This involves wrapping the wire into a coil shape and ensuring each strand is evenly spaced from the rest by gently adjusting them. Install the spaced-out coils by placing one lead into a post hole and the other end into the corresponding post hole. Gently tighten the screws without overdoing it, and then pull the coils off the posts until they are not touching.
Use approximately 1/8 of a cotton pad strip for each coil, ensuring they fit inside the coils. Peel off the front portion of each side of the strips to achieve fluffy-looking cotton.
Regarding RDA starter kits, there are various options, and the best one depends on personal preferences. Squonk atomizers are considered superior choices for newcomers due to their user-friendliness and strong performance.
The Vaporesso Delta is often recommended for its oversize firing buttons, superplay mode, childproof filling system, and press the to-squonk button.
Although RDAs may not be the easiest vaping method, the exceptional flavor they provide makes any difficulties worthwhile. If you seek a more advanced vaping experience beyond cig-a-likes or vape pens and want a powerful burst of flavor, an RDA is an effective choice. Always use extreme caution when handling your RDA or any other gadget with strong batteries.
RDA Vape Options
Hellvape Dead Rabbit Pro RDA
The Hellvape Dead Rabbit Pro RDA presents a versatile airflow system, offering three distinct modes: bottom airflow, side airflow, and a combination of both, which allows you to tailor your vaping experience according to your preferences. This 24mm diameter rebuildable RDA is an ideal companion for squonk mods, ensuring a convenient and enjoyable vaping session.
Additionally, it comes with a vibrant 810 drip tip and an adjustable side AFC ring, enabling you to fine-tune both flavor and airflow to achieve an exceptional taste from your e-liquid. Embrace a premium vaping experience with the Dead Rabbit Pro RDA.
For experienced coil builders, the Dead Rabbit Pro RDA offers a postless deck and dual coil configuration, delivering exceptional control over airflow and vapor production. This perfect combination ensures an ideal vaping experience with an excellent balance between flavor and vapor output.
Features
Three airflow modes are available: Side Airflow, Bottom Airflow, and Bottom Airflow + Side Airflow
24mm Diameter
Compatible with Squonk Mods
Comes with an extra colorful 810 drip tip
Includes a Side AFC Ring for airflow customization
Size: 24*31.3mm
Features a postless deck for easy coil installation
Supports dual coil configuration
Vaperz Cloud Sith RDA
The Vaperz Cloud Sith RDA is an exceptional atomizer renowned for its top-tier performance. With a 24mm diameter and a 25.5mm beauty ring, it seamlessly fits any mod.
This atomizer is designed with a 24k gold-plated positive pin and post, ensuring excellent conductivity and an elegant appearance.
Switching between drip and squonk modes is effortless thanks to the quick release squonk pin with spare screws set in the deck. Moreover, the semi-postless deck simplifies coil installation with its two 2.5mm x 3mm post holes. To keep you vaping for longer without constant refills, it features a 4.5mm juice well.
A unique airflow system is created through the collaboration of the Ultem heat sink, airflow diffuser, and chamber reducer. This results in a smooth intake and pressure build-up before diffusing the air onto the coil, providing superior flavor compared to other similar atomizers in the market.
Features
Construction: 24k gold-plated positive pin and post
Squonk Capability: Quick release squonk pin with spare screws set in the deck
Juice Capacity: Generous 4.5mm juice well
Airflow System: Ultem airflow diffuser, Ultem heat sink, and Ultem chamber reducer for optimal airflow
Top Cap: Locking top cap and rail system for secure usage
Drip Tips: Includes both Tall and Short 510 Drip Tips for customization
Accessories: Comes with spare screws and O-rings for convenience.
Product you can try with RDA
UpBAR Nano
The UpBAR Nano is a little box-shaped disposable vape that provides portability and convenience, allowing you to vape whenever and anywhere you desire.
FRESOR technology enhances e-liquid use. The Next-Gen Mesh Coil, with its carefully designed flat-stacking architecture, substantially improves energy efficiency and produces more puffs.
Each UpBAR Nano is precision and consistency manufactured with patented FRESOR technology, providing intense taste, superb flavor reproduction, rich vapor, and reliable leakproof performance with every puff.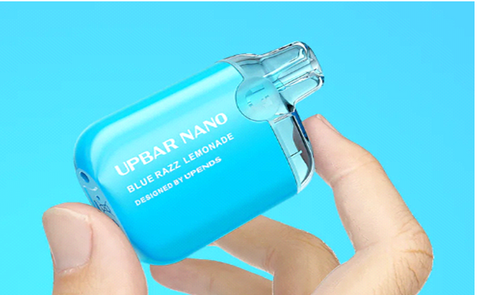 Features
0 E-liquid capacity
410 mAh battery capacity
20 mg/ml nicotine salt
0 Ω Resistance
Best Vape Wholesale Supplier-UPENDS
Vape UPENDS is fueled by a deep sense of pride in its cutting-edge innovations, exquisite designs, and unwavering dedication to perfection. Our skilled artisans pour their passion into crafting flawless and captivating products, designed to delight your senses and elevate your vaping experience to new heights.
Our ultimate goal is to astonish you with extraordinary moments as we embark on this transformative journey together, ensuring that each inhale becomes a delightful adventure for your refined taste. Discover why Vape UPENDS stands out as the premier choice for those who seek nothing but the finest.
Take a moment to unwind and prepare to be immersed in a world where creativity, style, and wonder come together in perfect harmony, creating an enchanting experience that leaves you craving for more.