Vape juice, sometimes referred to as e-liquid or vape liquid, is a critical component of electronic cigarettes (e-cigarettes) and vaping devices. It comprises key ingredients like Propylene Glycol (PG) for flavor transportation and throat hit, Vegetable Glycerin (VG) for dense vapor production, optional nicotine in varying concentrations, and a wide range of flavorings to cater to diverse preferences. Users choose vape juice based on flavor and nicotine strength, which is vaporized when loaded into the device and inhaled by users. Vaping is often seen as a potentially less harmful alternative to smoking, but it carries risks, particularly related to nicotine addiction, making careful consideration essential for those new to nicotine use.
When choosing the right vape juice, you may find it difficult for you because of the number of vape juices in the market. Here, we introduce you to Twist Vape Juice, one of the best vape juices in the market.
What is Twist Vape Juice?
Twist vape juice is a well-regarded brand of e-liquid for vaping devices. It stands out for its diverse and flavorful offerings, catering to a wide range of taste preferences. What sets Twist apart is its commitment to using high-quality ingredients, including carefully selected nicotine, to ensure a satisfying vaping experience.
Twist vape juice is renowned for its extensive flavor selection, encompassing fruity blends, dessert-inspired concoctions, menthol options, and even tobacco-inspired flavors. This variety allows users to find flavors that suit their individual tastes. Furthermore, Twist offers different nicotine strengths, accommodating both new and experienced vapers with varying nicotine requirements.
When considering Twist vape juice or any vaping product, it's essential to select the right flavor and nicotine strength for your preferences and use them responsibly while adhering to safety guidelines.
Twist Vape Juice Review: Is it Worth it?
We can get to understand Twist Vape Juice more on variable flavor ingredients, its capacity, and many other features.
Twist Tobacco Silver No. 1 Vape Juice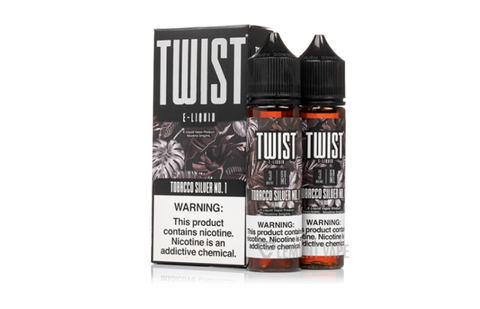 Twist Tobacco Silver No. 1 Vape Juice is specifically known for its authentic tobacco flavor. This e-liquid variant is designed to replicate the taste of traditional tobacco, making it a popular choice for individuals who seek a vaping experience reminiscent of smoking. It offers a familiar and satisfying tobacco flavor, allowing you to enjoy the essence of tobacco without the combustion and smoke associated with conventional cigarettes.
Twist Tobacco Silver No. 1 Vape Juice boasts a range of nicotine strengths, including 3mg, 6mg, 12mg, and 18mg, allowing individuals to select the nicotine level that aligns with their personal preferences, whether they desire a mild or stronger nicotine hit. The specific PG/VG (Propylene Glycol/Vegetable Glycerin) ratio of 30% PG and 70% VG influences the vaping experience, with higher VG content contributing to denser vapor clouds and PG enhancing flavor intensity and throat hit.
Safety is a priority, evident in the inclusion of a child-resistant cap, ensuring secure storage and minimizing the risk of accidental access by children. You should carefully select an appropriate nicotine strength and remain mindful of potential health implications associated with nicotine use.
Twist Vape Juice Iced Strawberry Crush Salt Vape Juice
Twist Vape Juice Iced Strawberry Crush Salt Vape Juice is a captivating e-liquid that combines the lusciousness of ripe strawberries with a refreshing menthol twist. This e-liquid boasts a well-balanced flavor profile, with the sweetness of strawberries taking center stage, while the menthol adds a cooling sensation that enhances the overall vaping experience.
Notably, it contains nicotine salt, known for its smoother throat hit and faster nicotine absorption compared to traditional e-liquids. It caters to various nicotine preferences, with options typically ranging from 25mg to 50mg nicotine strengths. The VG/PG ratio in this vape juice varies but often leans toward a higher VG content, resulting in thick, satisfying clouds of vapor. You'll find it in different bottle sizes, with 30ml and 60ml being common choices.
The packaging is typically eye-catching, showcasing the brand's unique identity. This e-liquid is widely available in both online and physical vape shops, making it accessible to a broad range of vapers.
Yellow Peach Twist Vape Juice
This exceptional vape juice offering comes in a convenient twin pack and delivers a delightful fusion of sun-ripened, succulent peaches harmoniously blended with the zesty tang of freshly squeezed lemonade, created exclusively for this unique vape experience. Savor this perfectly balanced concoction throughout the day and relish in its refreshing and invigorating taste.
This vape juice is presented in a generous 120ml bottle, offering vapers a substantial quantity of e-liquid in a single purchase. This larger bottle size is particularly advantageous for those who enjoy extended vaping sessions without the inconvenience of frequent refills. Additionally, it often proves to be a cost-effective choice compared to buying multiple smaller bottles, making it a practical option for enthusiasts who favor this delightful flavor.
Yellow Peach Twist Vape Juice is designed to cater to a diverse range of vape preferences by providing variable nicotine strengths. It typically includes three options: 0mg, 3mg, and 6mg nicotine concentrations.
0mg Nicotine - The 0mg nicotine strength is perfect for individuals who savor the vaping experience solely for its flavors and relaxation aspects, without any nicotine content. This choice appeals to vapers who have transitioned away from nicotine or those who prefer nicotine-free vaping.
3mg Nicotine- Offering a gentle and mild nicotine presence, the 3mg option is preferred by vapers who desire a subtle nicotine sensation. It's a suitable choice for those who are gradually reducing their nicotine intake or individuals who enjoy a mild nicotine buzz.
6mg Nicotine - For those seeking a more noticeable nicotine hit, the 6mg nicotine strength is moderately strong. It's favored by former heavy smokers or vapers who appreciate a satisfying nicotine experience alongside the delightful peach flavor.
The availability of these variable nicotine strengths in Yellow Peach Twist Vape Juice ensures that a broad spectrum of vapers can relish its mouthwatering peach infusion while having the flexibility to tailor their nicotine consumption to their individual preferences and requirements.
White Grape Twist Vape Juice
White Grape Twist Vape Juice presents a captivating flavor profile, blending the sweetness of white grapes with a zesty citrus twist and a hint of candied apple. This combination offers a refreshing and indulgent vaping experience, harmoniously uniting natural fruitiness, tangy citrus notes, and a delightful touch of sweetness.
Available in three nicotine levels – 0MG, 3MG, and 6MG – it caters to a wide range of vaper preferences. Additionally, it comes in a convenient 120ml bottle, ensuring vapers have an ample supply for their vaping enjoyment.
Alternative Vape Equipment: UpBar GT Disposable Vape Pen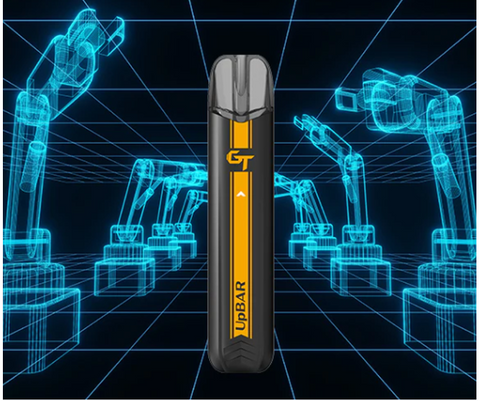 To enhance your vaping experience to a whole new level, consider incorporating the UPENDS UpBar GT vape into your repertoire. This cutting-edge vape device boasts the latest technological advancements, delivering a suite of modern features that cater to your every vaping desire.
One of the standout features of the UPENDS UpBar GT vape is its unparalleled ease of use. Unlike many other devices, it comes pre-filled with e-liquid that can be customized to your preferred flavor. What sets it apart is that you can indulge in your vaping experience right away; there's no need to charge the device initially, as it arrives pre-charged and ready for your enjoyment.
The UPENDS UpBar GT vape utilizes a mesh coil, a crucial component responsible for creating dense and enhanced vape clouds. This means that you'll savor each puff with an explosion of flavor that's second to none. Speaking of flavors, this vape device offers a diverse range of options to tantalize your taste buds. UPENDS UpBar GT vape comes with many flavors including fancy White Peach Tea, Blueberry Peach Ice, Tigar Blood, Tobacco, Banana Ice, Smoothie, or other delightful flavors,
Furthermore, with a generous 2ml e-liquid capacity, this device ensures a satisfying vaping experience, providing you with up to 600 puffs before needing a refill. In summary, the UPENDS UpBar GT vape combines convenience, flavor diversity, and longevity, making it a top choice for vaping enthusiasts. Elevate your vaping journey with this exceptional device today. Top of Form
UPENDS: Wholesale Vape Equipment Supplier
UPENDS stands as a prominent wholesale supplier in the vaping industry, renowned for delivering top-tier vaping products and accessories to businesses. Their extensive catalog comprises a wide array of innovative devices, coils, e-liquids, and pods tailored to meet the demands of vape shops, online retailers, and distributors alike. Notably, UPENDS takes pride in its advanced MTL (Mouth-to-Lung) and RDL (Restricted Direct Lung) vaping devices, meticulously designed to elevate the vaping experience for both newcomers and seasoned enthusiasts. With competitive pricing, unwavering product quality, and swift order fulfillment, UPENDS has solidified its position as a reliable partner for businesses in search of high-caliber vape equipment solutions.