Traveling is an exciting and adventurous experience that allows individuals to explore new places, cultures, and cuisines. Whether it's a short weekend getaway or a long-term journey, traveling can be both rewarding and challenging. One of the challenges that travelers often face is finding the right vaping product that can help them relax and unwind during their trip.
The Looper HHC Disposable Vape is an excellent choice for travelers who are looking for a high-quality vaping product that offers convenience, portability, and exceptional flavor.
In this article, we will explore the features of the Looper HHC Disposable Vape and why it's a great option for travelers who want to enjoy their vaping experience on the go. We will also delve into the benefits of disposable vapes and why they are becoming increasingly popular among users.
So, if you are a travel enthusiast who loves vaping, keep reading to learn more about the Looper HHC Disposable Vape and how it can enhance your travel experience.
Steps On How To Refuel Your Disposable Looper Vape
To access the Looper Vape Pen, the e-cigarette mouthpiece needs to be unscrewed by twisting it off in a counterclockwise direction. This motion should be continued until the mouthpiece loosens, and then it can be removed from the pen. It is important to handle the mouthpiece carefully and place it in a secure location to avoid damage or loss.
Add E-liquid Or Vape Oil To The Cartridge
To fill the cartridge with oil, a syringe can be used. It is important to ensure that the Vape pen cartridge is securely attached to the battery to prevent any accidents from occurring. Careful attention should be paid while filling the cartridge to avoid overfilling it. The majority of vape pen cartridges can hold either 0.5gm or 1 gm of e-fluid.
Set The Mouthpiece In Place With A Screw
After filling the cartridge with oil, the next step is to return it to the Looper Vape Pen and securely screw the mouthpiece back in place. Care should be taken not to damage the cartridge while tightening the mouthpiece. Once the mouthpiece is securely attached, the Looper vape can be used as usual.
Looper Disposable Vape Product Review
The Looper brands can be categorized into five major groups, which are:
Looper HHC Disposable Vape 2g
Take a look at Looper HHC Disposables which provide a wide range of carefully chosen strains, pre-filled with high-quality live resin, and contain either 1g or 2g of HHC cannabinoids. These vape pens are filled with live resin to deliver a top-notch vaping experience.
The HHC used in Looper Disposables is derived from CBD sourced from hemp, and does not have any THC. The Looper HHC Disposable Vapes have been tested by third-party labs to ensure they are free from solvents, pesticides, heavy metals, and mycotoxins.
Features
Has a capacity of 2g
Filled with live resin
Contains less than 0.3% Delta-9 THC
Activated by drawing
Tested by a third-party lab
Comes with a Type-C charging port.
Flavors
Looper Melted Disposable Vape
The Looper Melted Disposable Vape is designed with a 2g capacity and is available in different cannabinoid blends. It is completely pure and does not contain any harmful substances like contaminants, pesticides, or solvents.
By combining multiple cannabinoids, these disposable vapes promote the Entourage effect, making them a valuable addition to any wellness routine. Furthermore, the live resin processing technique used in the Looper Melted Vape Pens helps to preserve the natural flavors and fragrances of the hemp plant by flash freezing the harvested plant before processing.
Features
Comes with a 2g capacity
Contains various cannabinoids, including HHC, THC-H, THC-B, THC-A, Delta 8, THC-P, and HHC-P.
Packed with live resin concentrate
Contains less than 0.3% Delta-9 THC
Activated by drawing
Features a juice viewing window
Tested by a third-party lab
Type-C charging port
Available in Grape Ape, Cereal Milk, Blue Gushers, and Ice Cream Cake flavors.
Looper HHC-O Disposable Vape 2g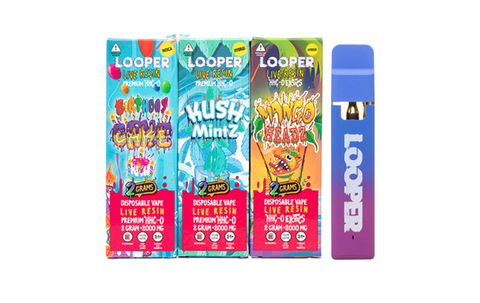 Find the Looper HHC-O Disposable Vape, which comes prefilled with 2g of HHC-O and contains some of your favorite strains and cannabinoids. HHC-O Looper Disposable Premium HHC-O live resin weighing 2g is already prefilled into vapes.
The live resin extraction process, which locks in the fragrances, flavonoids, and terpenes of the hemp plant, enables a truly pure flavor and ensures a high-grade product placed into the Looper Disposables. with varieties like Mango Headz, Kush Mintz, and Birthday Cake.
Features
Has a 2g capacity
Contains the HHC-O cannabinoid
Contains less than 0.3% Delta-9 THC
Activated by drawing
Features a juice viewing window
Tested by a third-party lab
Can be recharged using a Type-C port
Available in Birthday Cake, Kush Mintz, and Mango Headz flavors
Looper XL Live Resin Disposable 3g
Explore the Looper XL Live Resin Disposable 3g which contains a mixture of 3000mg cannabinoids, such as THC-B, THC-P, 11-HYDROXY-THC, THCP-O, D9-O, HHC-P, and THC-JD.
Features
3000 mg (3g) Capacity
Ghost Train Cannabinoids: 11- + THC-B +HYDROXY-THC + THC-P
Purple Octane Cannabinoids: 11-HYDROXY-THC + THC-JD + THC-P
Jealousy Cannabinoids: THCP-O + D9-O + HHC-P
Live Resin
Draw-Activatied
USB Type-C Charging Port
< 0.3% Delta-9 THC
3rd Party Lab Tested
Flavors
Jealousy (Hybrid), Ghost Train (Sativa), Purple Octane (Indica)
Looper Lifted Disposable Vape 2g
The Looper Lifted Disposable Vape comes in a variety of strains and uses cannabinoids and live resin manufacturing technology. With a 2g capacity and a rechargeable battery, these disposables deliver flavorful and satisfying vapor.
Third-party lab tests have confirmed that our live resin extraction process is free of solvents, pesticides, and heavy metals, and that it retains all the beneficial properties of the hemp plant's flavonoids, terpenes, and cannabinoids.
Features
Has a 2g capacity
Contains various cannabinoids, including HHC, THC-B, THC-H, THC-O, THC-P, D8, and HHC-P
Contains live resin concentrate
Contains less than 0.3% Delta-9 THC
Activated by drawing
Comes with a juice viewing window
Tested by a third-party lab
Can be charged using a Type-C port
Available in Blue Gusherz, Grape Ape.
Looper 300 Pods
The Looper 300 Disposable Pod is a type of Looper vape that can produce over 300 puffs of vapor, providing enough sustenance for any smoker or user throughout the night. These pods are available in various flavors and are sold worldwide. They contain 50 ml of nicotine, and the use of nicotine salt in these disposable pods enhances the vaping experience by reducing the harshness of the vape.
Features
3ml of E-liquid capacity
300+ puffs
5% nicotine salt
Flavors
Iced Grapefruit
Strawberry Banana Smash
Blueberry Bliss
Jolly Watermelon
Strawberry Ice
Grape
Iced Banana
Pink Lemonade
Iced Lemon
Looper Maxx
The Looper Maxx is a superior disposable vape option that stands out in its category. It comes pre-filled with 6.5ml of e-fluid, making it one of the largest capacities available. The vape contains 60mg of nicotine salt and is equipped with a 1000mAh battery, which can sustain up to four days of heavy vaping. This disposable vape can produce more than 2000 puffs and is unique in that it has no standard cartridge, color, size, shape, or battery type.
Features
0% Nicotine Salt
5ml E-Liquid
1000mAh Battery
2000 Puffs
Non-Rechargeable
Disposable Non-Refillable
FAQs About Looper Disposable Vape
How Reliable Are Looper Disposable Vapes?
This particular vape is effective in inducing a euphoric and joyful state, as well as providing relief from stress and anxiety. The Looper hybrid strain used is enjoyable and well-balanced, but it's advisable that only experienced individuals use it, not beginners to the world of cannabis.
How Long Is The Lifespan Of A Looper Disposable?
The Looper THCO Disposable Vape typically takes around 10 to 20 minutes to take effect initially, with some individuals experiencing a gradual increase in its effects for up to an hour after inhalation. It comes in three distinct strain profiles, one of which is the Indica GMO Cookies.
How Long Does It Take For A Looper Vape To Charge?
When the Timeless Vapes battery begins to blink, it is advised to charge it as soon as possible. It is advised to fully charge the battery throughout the less than two-hour charging period.
Best Vape Wholesale Supplier-UPENDS
Thanks for visiting the fascinating world of Vape UPENDS! We are overjoyed to have you along for the ride as we pioneer vaping innovation. The goal of our skilled team is to create magnificent products that expertly combine cutting-edge technology with fashionable design and rigorous attention to detail.
You'll have access to our exclusive line of goods as a member of our community, and they'll be sure to impress and leave you and your customers wanting more. We want to give you the best vaping experience possible, and we can't wait to demonstrate why Vape UPENDS is the top choice for discerning users.
So, take a seat back, unwind, and let us take you on an exciting adventure. You will become thoroughly engrossed in the world of UPENDS and fascinated by our items. We can't wait to share our enthusiasm with you and go through this amazing planet together!